In a matter of weeks, Covid-19 has gone from a distant piece of news, to a massive global shock.
It's been called a true "Black Swan" event. The term Black Swan was coined by Nassim Nicholas Taleb in his 2007 bestseller: "Black Swan: The Impact of The Highly Improbable."
Many of us have heard the term but never read the book, and we know that many of the CX leaders we work with are rapidly creating strategies to support the evolving needs of their customer base through the current turbulence, so, for our book review pick this month, we were inspired to revisit it.
Taleb's metaphor of the "Black Swan" exposes the power of uncertainty and describes unanticipated, life-changing events with the sway to alter society and our daily existence beyond their immediate impact. The shock of the 2020 pandemic has already demonstrated significant consequences with the chaos it has unleashed on the global economy, our freedom of movement and how we communicate and do business.
The long-term reverberations cannot yet be estimated. However, whilst many of us are undoubtedly feeling a lack of control at present, it is worth taking pause to consider the practical steps we can take during this period of reflection to strengthen the relationships we have with our customers, as a foundation for growth when the tide begins to turn.
CX is all about understanding the needs of your customer and building solid yet flexible frameworks to support those requirements. Our opportunity to deliver stand-out service is greatest when emotion and demands are running high, so how might current circumstances encourage us to humanize our business and maintain customer-centricity? Here's our review…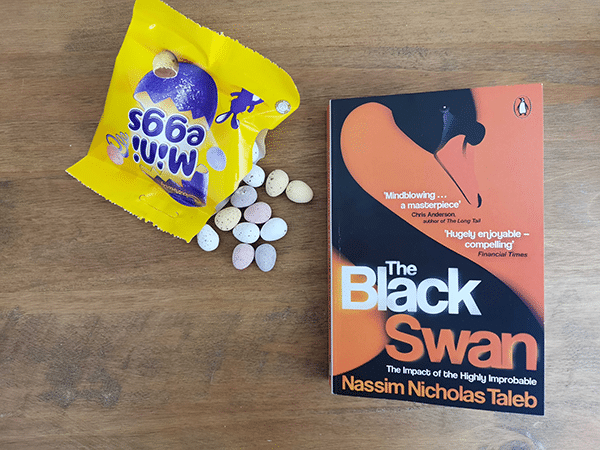 Take-Aways
Focus on Impact. It's unhelpful to focus on the likelihood of Black Swan events occurring – this is outside of our control. However, we can adapt our mindset to be prepared for the potential impact to our business and make the best of what's on the table. Resources and priorities will need to adapt as companies flex to address new issues that arise daily – use customer insight to inform urgent decisions and help keep operations on track in an effort that doesn't destabilise your commitment to quality experience.
Maintain Flexibility. We are very used to travelling for our clients, for meetings and networking events. Taleb had suggested that our dependence on connectivity and travel could increase the risk of a modern-day pandemic such as Covid-19 as he notes: "As we travel more on this planet, epidemics will become more acute. The successful killer will spread vastly more effectively. I see risks of a very strange, acute virus spreading throughout the planet." Suddenly we are stopped in our tracks, yet our customers are used to us being available to them without the obstacles of travel bans, remote working or diminished workforces. A reduced bandwidth in customer support teams and supply chains has served a shock, given our reliance on next-day delivery, 24 hr customer service call centres and support. This lack of human contact has necessitated a move towards a far greater online experience, with B2B companies investing in tech to deliver seamless video and audio conferencing, cloud storage and sharing, self-service options as well as chat features and webinar hosting so that they can continue to actively engage with their clients, provide thought leadership and boost productivity amongst employees who are working from home. B2C companies will also be adjusting as they support consumers who are quarantine and can no longer access shops or travel for necessities. They will have to consider a move towards digital or at-home delivery and also which products and items will deliver the most value for their customers given their current lifestyle or circumstances. In delivering our services by engaging and marketing online, we should be mindful of messaging and tone, ensuring that the content we share is relevant and empathetic.
Appreciate What We Already Have. Taleb reminds us that we cannot predict the future based on events that have already happened and uses the anecdote of a turkey being fattened up in the 1000 days lead ahead of Thanksgiving dinner, only to meet his unfortunate end. We cannot predict how much business we might win or how much revenue we will close in the coming months – it is impossible given the far-flung economic consequences and domino effect on businesses. It's easy to begin panicking or dine out on false optimism, but why not extend that energy to think about those already working with you and how you can bring them additional value, for free, right now. Adjust to this new normal by picking up the phone and call your customers, listen to their story and find out what you can do to help or ease their burden during this time or even a few months from now. People will remember how you made them feel during this time much more than what you say you'll do or considered doing, Taleb notes: "Metaphors and stories are far more potent than ideas; they are also easier to remember and more fun to read. Ideas come and go, stories stay." This is an opportunity to be a force for good, so gather customer insight and data and use it to help you invest in your own story, product areas or training initiatives that will serve your customers beyond the current crisis. Customer loyalty can't be underestimated and will pay off in the long run, now is the time to hunker down hard and focus on what you don't already know about your customers, so that you can safeguard what you have.
Be Mindful To What You're Consuming. Given the daily news articles and content available on social media, it can be very easy to spend your first and last waking moments focussing on the headlines which can be destabilising. Taleb advises: "Additional knowledge of the minutiae of daily business can be useless, even actually toxic." A takeaway for me during this time would be to avoid binging on breaking news and consume only the content that's essential or inspiring. Limiting the amount of time and energy we spend digesting upsetting information spares up more time for reading books that lend themselves to a little escapism or picking up new hobbies or skills for entertainment. Why not share these ideas with your customers for a bit of light relief? If your company has social media platforms, then use these channels to inspire others or as a source of discussion to see what other recommendations are out there from your network.
Quotes
"First, it is an outlier, as it lies outside the realm of regular expectations, because nothing in the past can convincingly point to its possibility. Second, it carries an extreme 'impact.' Third, in spite of its outlier status, human nature makes us concoct explanations for its occurrence after the fact, making it explainable and predictable."
"If you want to get an idea of a friend's temperament, ethics, and personal elegance, you need to look at him under the tests of severe circumstances, not under the regular rosy glow of daily life."
"We grossly overestimate the length of the effect of misfortune on our lives. You think that the loss of your fortune or current position will be devastating, but you are probably wrong. More likely, you will adapt to anything, as you probably did after past misfortunes.
"It is my great hope someday to see science and decision makers rediscover what the ancients have always known, namely that our highest currency is respect.
"The strategy for the discoverers and entrepreneurs is to rely less on top-down planning and focus on maximum tinkering and recognizing opportunities when they present themselves. So I disagree with the followers of Marx and those of Adam Smith: the reason free markets work is because they allow people to be lucky, thanks to aggressive trial and error, not by giving rewards or "incentives" for skill. The strategy is, then, to tinker as much as possible and try to collect as many Black Swan opportunities as you can.
In conclusion, Black Swan packs some big ideas and would appeal to business leaders looking for a fresh perspective on how we understand, interpret and react to such life changing events as well as how we manage our own expectations.
These are uncomfortable times, but by being open-minded and letting go of certainty, staying close to customers and focussed on actionable CX we can try to look beyond the initial impact the virus has on our business and recognise longer term potential for recovery and improvement. When the worst of Covid-19 has passed, many companies will begin to rebuild. They will be armed with a truer sense of their who their own loyal customers are and will in turn be inspired by the behaviours they saw from other companies and brands that made them feel supported and engaged during this period.
This should help them come back fighting, equipped not only with better tech and contingency plans but an empathetic understanding of their customer and the tools to radicalise their CX approach moving forward.
If you liked this, and you want us to send you the best CX and business thinking from around the web each month, sign up for our monthly email here.
No spam, no nonsense, just the 7 best things we've seen, once a month.
Looking for more book reviews?
https://www.customerthermometer.com/img/black-swan-book-review.png
248
710
Martha Pawlica
https://www.customerthermometer.com/img/[email protected]
Martha Pawlica
2020-04-09 16:01:39
2020-04-09 16:04:21
Black Swan: Book Review