David Meerman Scott's New Rules of Marketing and PR is one of the books I often associate with the start up phase of Customer Thermometer.
Meerman Scott's insights into content marketing and the concept of generating great content to bring people to your website was revolutionary at the time. He spotted a fundamental shift in the marketing landscape before many others.
It was this book, and Seth Godin's Purple Cow which formed the basis of our inbound marketing machine here at Customer Thermometer.
So, I was excited to dive into Fanocracy, his newest offering, which is aimed smack bang at our favorite topic, the customer experience space.
Fanocracy: Turning Fans into Customers and Customers into Fans has been written by David Meerman Scott, along with his daughter, Reiko.
They blend their perspectives as a student of medicine and a leading marketing thinker in an endearing way to point up some routes towards building fans for your company.
It's a mini Green & Blacks for us and a cup of English breakfast tea today… so let's get rolling…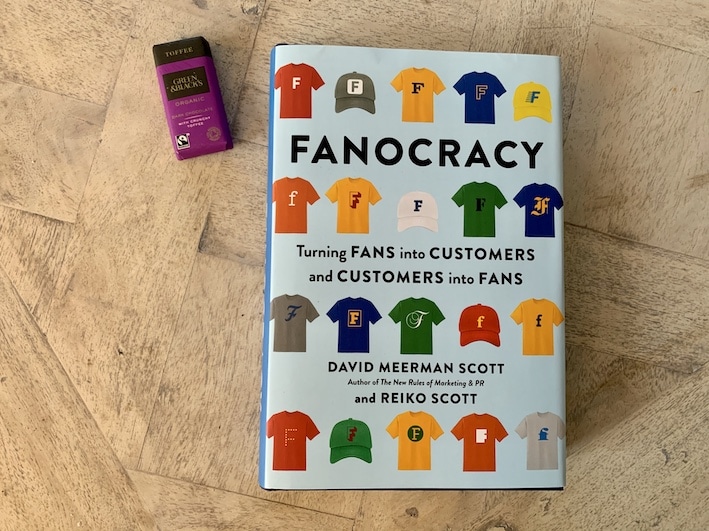 Fanocracy Review: Top 5 takeaways
Consider what kind of a positive force your business can be. By putting the needs of your customers (who then become your fans) before those of the company you are providing products and services but also understanding more about how the develop those in the right way to service your community and become a positive force in their lives, not just a supplier to them.
Look at your strategy as pertains to building a culture. We all focus on product lines, service lines, capabilities, marketing and distribution when we are considering our corporate strategies. "How do we sell more of X product to Y people?" Meerman Scott argues persuasively for the benefits of aiming instead to build and serve a community.
Think about lifetime value and profits over the longer term, not the classic quarterly focus. This reminds me very much of Tien Tzuo's book Subscribed. (You can read that review here.) In a subscription and service economy, revenues and share of wallet come in smaller "drops" rather than a big deluge. As a result, your service and the customer experience has a really big influence on whether you keep receiving those drops or not.
Why not help your fans and customers link and connect with others? The importance of listening, (and hearing) are a critical part of Meerman Scott's recommendations. He strongly advocates eschewing the purely data-driven processes so many of us adopt, and instead focus on encouraging individuality. In a world where digitisation is every company's strategy, Meerman Scott argues you can do so much more to inspire loyalty by going the extra mile to understand your customers.
Share what you love and enjoy with passion. Once you have that higher purpose as a business, seek to ignite that spark everywhere – in your team meetings, your customer communications, how you build and share what you make or do. This principle-led approach is increasingly important in a world of climate change, shared ownership, fake news. We are already seeing customers buying on principle rather than price
Fanocracy review: Top 5 quotes
"To be successful in a world where fans rule, we must be convinced that relationships with customers are more important than the the products or services we sell to them."
"The pendulum has swung too far in the direction of superficial online communications at a time the people are hungry for true human communication."
"You can't work with anyone if you don't know who they are and what they love."
"When customers have the opportunity to establish an emotional bond with others as a result of doing business with you, it sticks. They feel compelled to experience it again and tell others about the fantastic experience you gave them."
When organisations set out to provide a product or service, they typically make the crucial mistake of believing that they are only there to provide that product or service – as if they are merely there to fulfil a transaction. Is this the biggest, fastest, cheapest? Why should I buy your product instead of the other company's offering? Frequently a focus on product attributes results in a race to the bottom with price discounts and a shoddy service. This is not the way to build a fanocracy."
Hungry for more CX book reviews?
We've been reviewing the top business and customer services and support books for a few years here on our blog, here are some top picks…
Want to know more about where Net Promoter Score came from? We read NPS inventor Fred Reichheld's book, NPS 2.0, on the topic. Here are our top takeaways.
Blue Ocean Shift helps companies understand where they can drive up areas of customer satisfaction and experience to compete on a whole different level. Read our review here.
CX expert Adrian Swinscoe has written a refreshing and engaging treatise, Punk CX, on Customer Experience in the modern age – read our view on it here.
https://www.customerthermometer.com/img/fanocracy-book-review-header.jpg
248
710
Lindsay Willott
https://www.customerthermometer.com/img/[email protected]
Lindsay Willott
2020-02-13 14:03:49
2020-02-13 16:40:09
Fanocracy: Turning Fans into Customers: Book Review