This month we're reviewing The Grid: The Master Model Behind Business Success by Matt Watkinson.
We are big Matt Watkinson fans here at Customer Thermometer. We often give away Matt's excellent first book, The Ten Principles Behind Great Customer Experience, to our customers and prospects.
If you don't already, go and follow him on LinkedIn where he posts insightful comments, and inspires thoughtful debate.
So we were excited to get our hands on his latest offering.
The Grid's central tenet is that, in business, we can often identify a problem, and enthusiastically leap in to fix it, without understanding the root cause. In many cases we see things in silos, or departmentally, and we fail to see the symbiosis at play between teams, processes, markets, customers and more.
Throw a pandemic into the mix, and it's even easier to suffer from "let's fix that thing!" blinkered thinking.
Matt's book reminds you of the "mental scaffolding" required to build and grow a great business, highlighting all the interlocking elements you need to get right.
So, grab a coffee and a snack and let's get going…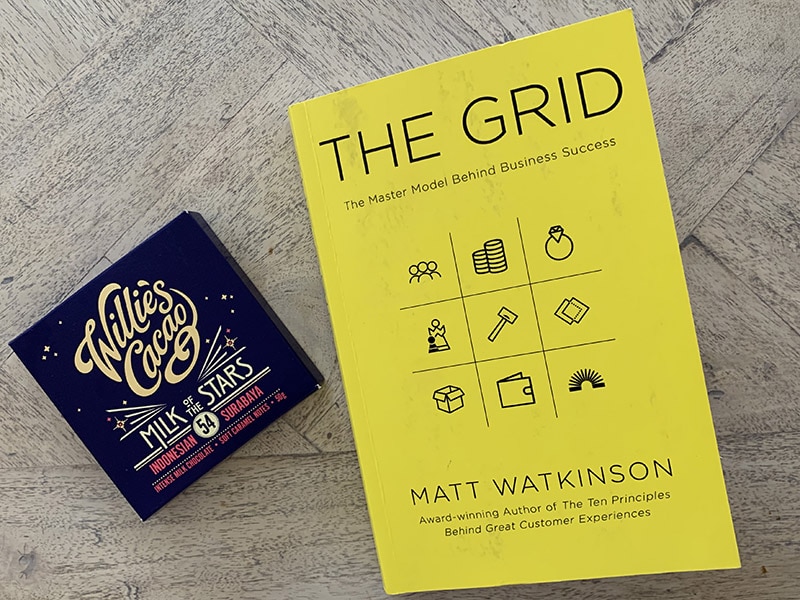 The Grid: Top 5 takeaways
Watinson's Grid is made up of two layers or axes. The first layer is your goals – desirability, profitability and longevity. The second layer is the ever-changing outside world – the customer, the market and the organisation. Where they come into contact with each other, you get 9 boxes: wants and needs, rivalry, offerings; revenues, bargaining power, costs; customer base, imitability, adaptability. What's useful is that for each of resulting 9 boxes, he offers case studies, strategies, principles and mental shortcuts to help you think in the round about the boxes and the impact any changes might have on those boxes around the one you're currently working on. I was frequently reminded (in a positive way) of The Personal MBA by Josh Kaufman in this regard; useful, actionable strategies written in a clear and accessible way, pertinent to the point in hand.
Don't let your department or team form a "horizon line" you can't see beyond. As the nine boxes of your grid are entirely interdependent, it's critical to get external and inter-company input and feedback as you move forward with planning and decision-making. In fact, I loved Matt's suggestion that the grid can form a way of creating hypotheses to validate – so that you don't miss anything. I've long been a supporter of Andy Grove's view that only the paranoid survive in business, and so a validation grid that can help your company think through possible outcomes is very attractive.
Individual decisions can easily result in unintended (and/or undesirable) outcomes. Do these sound familiar? …cost-cutting through efficiency gains can adversely affect adaptability. …perfecting a product and spending a lot on it can mean that it's too far beyond what customers want or need at the moment. I see this in many companies. A person has a great idea and delivers it without considering the other things it will affect. My first ever job was in a CRM software provider that had the great persipacity to go to SaaS rather than on-prem. However, it was ultimately only even a sales-driven strategy and the operational follow up was sadly lacking despite huge enthusiasm. Watkinson argues that only when you're making decisions that take the wider business, the other teams, and the market context into account, do you stand a chance of getting those decisions right. Again, using the Grid as a validation tool can help guard against this.
Aim to treat your business as a single, interconnected system that's inseparable from its environment. There are two really important parts bound up in this. The first is that your business is a system and needs to be treated as such. The second, and I hear variations of this phrase a lot in start-up and software land, "a business plan rarely survives first contact with the market". By understanding intuitively that you have to both respect the system and seek market a "sense and response" you go a long way towards a more successful strategic and self-correcting machine, before you even put a toe into the actual decision-making waters.
There will always be conflicting goals and trade offs between the core elements or principles. I was reminded of those sliding picture puzzles you would win in crackers as a child, where to get a certain piece of the picture into the right place, you had to accept that you'd have to slide another one out of position. It's natural to want every single square of the grid to be perfect but they can't be. In fact some of the trade-offs will be what makes you, you. (If you can't get resellers into what you're selling and have to go direct for example, that might not be 'perfect' in your book but it does come with a host of benefits and – as customers of ours like Glossier, Dollar Shave Club, Victorian Plumbing, Lands' End and more show – direct to consumer can bring massive customer experience and brand benefits.)
The Grid: Top 5 quotes
"…I mentioned that business thinking generally focuses on reduction and analysis; splitting problems down into smaller and smaller pieces, and exploring them in exhaustive detail. Now you can see that the real challenge isn't analysis at all; it's synthesis. Decision-making isn't about optimising one area at the expense of the others. It's about keeping these nine elements in balance; picking your battles to win the war."
"You can't change directions you refuse to accept something is wrong, and you can't learn from mistakes you refuse to acknowledge."
"Every technology creates a new problem in place of the one it solves. The combustion engine creates poisonous emissions; smartphones have made us perennially distracted; social media has eroded our privacy; plastic bags end up in the ocean. Once the problems start to overshadow the brilliance of the solution, a new opportunity is born."
"The risk with an exclusive focus on [customer] satisfaction is that it may blind you to other issues. Sometimes doing the same but better simply isn't enough. You are on far safer ground if you focus on increasing the overall desirability of the offering. You must always question where you should focus your attention to get the best results."
"In 2004, two firms launched wearable cameras for recording action sports: GoPro and Contour. Nick Woodman, GoPro's founder, became a billionaire. Contour went out of business. What accounts for the difference? 'We spent our money on great product and distribution, leaving nothing left to compete against GoPro in the marketing arms race.' explained Contour's founder, Marc Barros. 'I learned a very hard lesson… The best product doesn't always win, the product everyone knows about does.'"
If you liked our review, definitely read the book, you won't regret it and it will become a shelf reference for you in no time.
In the meantime, if you want us to send you the best CX and business thinking from around the web each month, sign up for our Lucky Sevens email here.
No spam, no nonsense, just the 7 best things we've seen in the customer service world, once a month.
Looking for another of our fab book reviews to complement this one? Read on:
The Culture Code: The Secrets of Highly Successful Groups Daniel Coyle's book on understanding and running great teams is fascinating, here's our review.
The Art of Statistics – The pandemic has meant that understanding and interpreting stats has never been more important. So we reviewed Cambridge's Professor David Spiegelhalter's book on how to do just that, here.
The Ultimate Question 2.0 Fred Reichheld created the Net Promoter Score system. This is our review of his updated book covering how and why to use the measure.
https://www.customerthermometer.com/img/The-Grid-book-review-Matt-Watkinson.jpg
248
710
Lindsay Willott
https://www.customerthermometer.com/img/[email protected]
Lindsay Willott
2020-09-04 09:07:50
2020-09-04 09:51:03
The Grid by Matt Watkinson: Book Review