At its heart, managed IT service provider (MSP) Grant McGregor is all about solving problems and creating better, safer places for their customers to work.
This focus on business outcomes rather than just bits and bytes comes from 20 years spent among Scotland's leading MSPs. Today, the Edinburgh and Dundee-based firm finds that putting people first pays dividends, both in terms of its own company success and equipping customers from all sectors to harness IT so they can achieve their goals.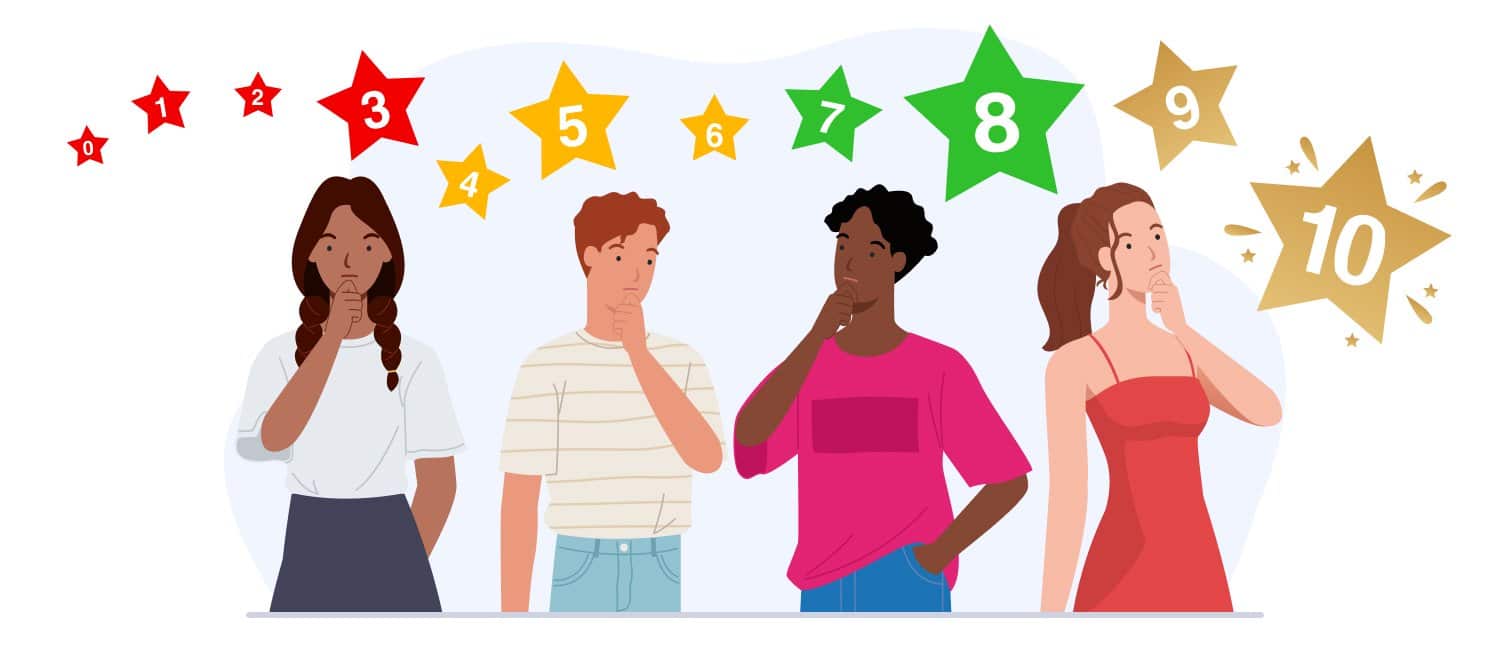 Using NPS to gauge performance and inform future improvements
Grant McGregor uses NPS (Net Promoter Score) and CSAT (customer satisfaction score) to assess its current performance and predict its future explains Operations Manager, Katerina Konstantinou​:
"We follow a Customer Voice program, the goal of which is to consistently gather feedback throughout customers' interactions with us. We think it's very important to ask customers what they think of us and how we're doing. We use this feedback to not only deliver high customer experience but also guide future campaigns and improvements to products and services."
Finding the right platform to support real-time NPS survey feedback
Grant McGregor started out on its customer feedback odyssey using some basic software tools, which have since been changed and updated to the full-featured Customer Thermometer solution. Initially the focus was on tracking CSAT as the sole metric but Katerina and her team have since adopted NPS, which was the catalyst for putting a new customer feedback platform in place.
"NPS is such a valuable tool for measuring not just customer experience, but also customer loyalty, because it exceeds single experiences. We'd tried two different solutions in the past but the functionality of both was limited, particularly for NPS."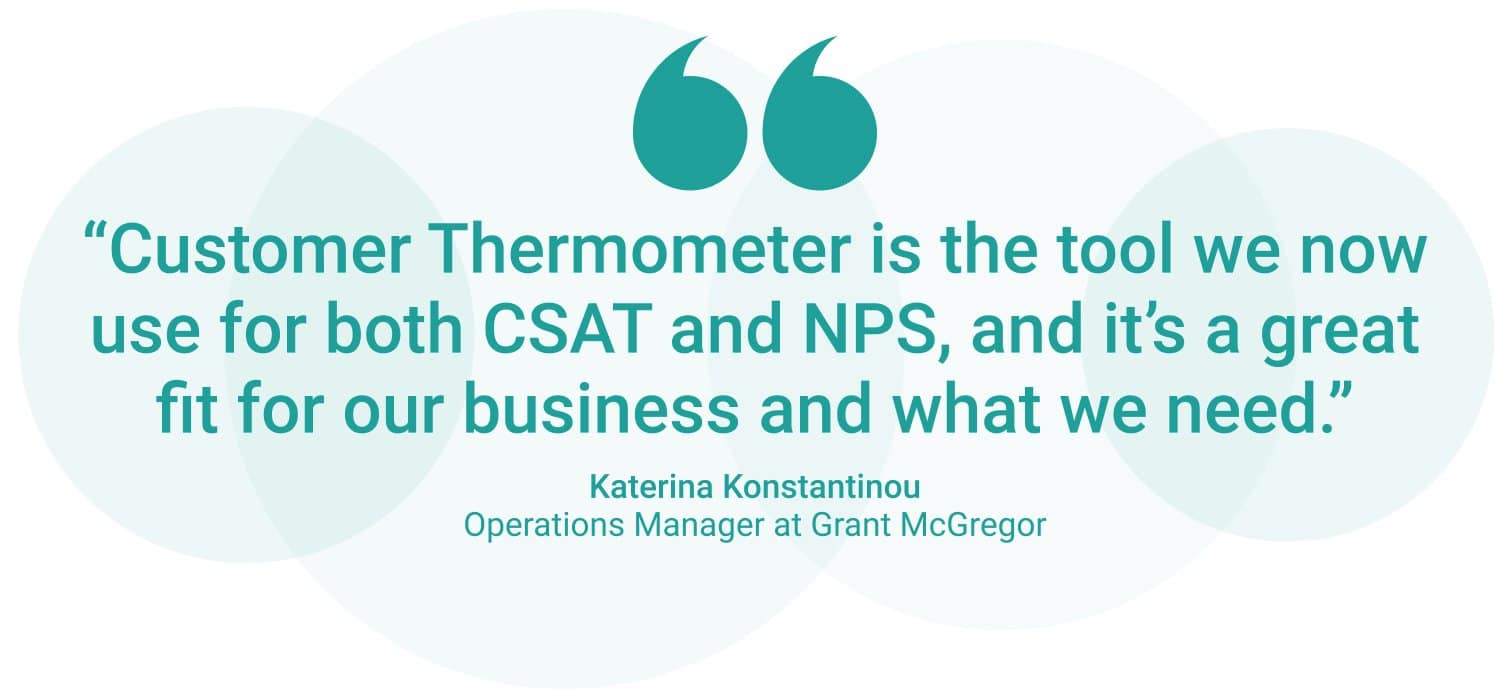 The chosen NPS approach is to ask the "How likely are you to recommend us? "question every 6 months, aligned with the IT Business Review meetings Grant McGregor holds twice a year. The team simply applies Customer Thermometer's "NPS enabled (full 0-10 scale)" option to capture the full scope of 11 response ratings. The results are captured in real time on the Continuous Service Improvement board of Grant McGregor's PSA system that fully and seamlessly integrates with Customer Thermometer out of the box – and a full report with action items is also created when each campaign ends.

NPS benefits include customer loyalty and service innovation
"NPS data and feedback overall brings a series of benefits to the business, enabling us to understand and therefore serve customers better," says Katerina. "We can see what needs to change and act upon that to increase customer loyalty. Plus we can compare progress from previous months or quarters to gauge improvements in customer satisfaction, and even see correlations with individual products and services."
Continual improvement is a cornerstone of the business philosophy at Grant McGregor and one that sees customer voice put firmly in the driving seat. It also gives rise to innovative practices as the team strives to heighten customer satisfaction.
According to Katerina, teaming up with the support team at Customer Thermometer (known to all CT customers as the 'Ministry of Magic') helps stimulate bright ideas and resolve issues quickly.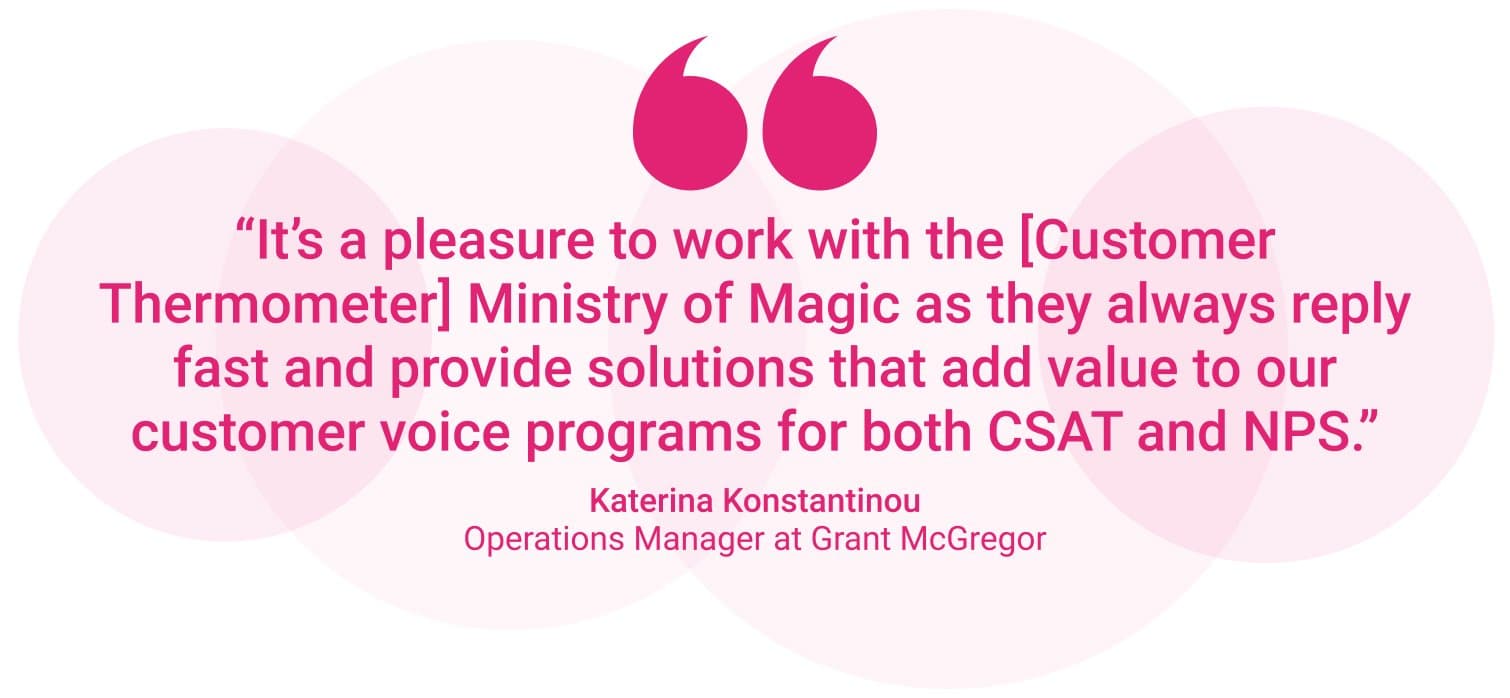 "With CSAT in particular they've been of great help providing tailored solutions to support us build the Power Automate flows that capture real-time responses from the thermometers in our team collaboration and PSA platforms. On the NPS side it's important to us to achieve the highest possible response rate for NPS surveys, so we've come up with a variety of ways to get more replies."
Breaking new boundaries in NPS measurement
Not content with achieving business value by tracking customer sentiment, the Grant McGregor team has set its sights on new ways of harnessing NPS. Among its future development goals is to incorporate employee CSAT and NPS measurements alongside its existing customer-focused feedback.
More and more organizations are choosing to engage in structured programs of employee feedback as they recognize the outstanding benefits this approach delivers. These range from better harnessing employee knowledge to educate and train the whole team, to optimizing internal communications, prioritizing individual staff wellbeing and fostering a collective esprit de corps.
"We're at an early stage but we plan to see how our existing use of Customer Thermometer could be extended to fit this purpose too," adds Katerina.
Want to see success like Grant McGregor?
Give Customer Thermometer a try . Our free trial should give you plenty of opportunities to experiment with fast, effective customer feedback surveys. We integrate with practically every platform and generate some of the best response rates in the business. Simply fill out the form below to get more happy customers.
https://www.customerthermometer.com/img/MSP_Case_Study_NPS.jpg
496
1420
Gavin
https://www.customerthermometer.com/img/[email protected]
Gavin
2021-10-27 16:42:16
2021-11-01 11:12:10
Scotland's No.1 MSP drives success using Customer Thermometer's real time NPS feedback