A clever and distinct business idea requires just as much hard work and ingenuity to deliver on it. So when Sydney-based Trudi Yip started out 15 years ago with a new concept for the centuries-old practice of bookkeeping, it was with a mission to stand out from competitors.
That company – Numeric Eight – is now the biggest independent bookkeeping and accounts management firm in Australia. Its difference? A flexible service delivery model that provides everything customers require, with exceptional customer service, without the costs of being onsite. 
Some might call it a virtual bookkeeper or 'bookkeeping-as-a-service' – Numeric Eight calls it 'beyond bookkeeping'. 
Andrew Rootes heads up sales and marketing at Numeric Eight. "We have lots of different kinds of customers across most industry verticals and what they have in common is a desire to have us deliver a tailor-made mix of bookkeeping and finance function services. A lot of our business comes from referrals, we have a strong reputation and are always looking at new ways to innovate and add value. Customer success is very important to us – we've recently hired a Client Success Manager to focus 100% on this – we want to play an active role in seeing our customers' businesses being successful." 
Customer feedback survey trials uncover exceptional ease of use
With this customer-centricity in mind, Andrew began researching survey feedback tools that would give Numeric Eight richer customer insights to maintain competitive advantage. "We've had a lot of good feedback and reviews, but never measured this in a structured way. We were looking for a tool that would tell us what our customers thought; what we were doing well and what we needed to improve on."
After trialling a few different tools, Customer Thermometer was deemed the best Andrew evaluated: "Customer Thermometer is just so easy to use. And that's not just me – I've had colleagues up and running on it without a minute's training. We run all of our sales and marketing through HubSpot and CT integrates seamlessly with that too. It's how software should be – it's intuitive and just works."
Industry-leading NPS shows the Numeric Eight difference
Andrew was particularly keen to measure NPS (Net Promoter Score®) and had discovered that, according to a 2021 ClearlyRated report, the average for the accountancy services industry was +38.
"We had a good idea of the score we wanted to beat. Our first NPS survey came back with an NPS of 65. This was a great score that validated our customer approach, particularly because so many of our customers participated. We're getting a response rate of 30% and believe we can get that higher with a few more tweaks. When we tested NPS again a few weeks later, the score rose to 69!"
Benefits extend to employee engagement and employee NPS
Customer Thermometer has delivered exactly what Numeric Eight wanted, and more besides – as Andrew explains:
"We'd just started using CT with customers and the penny dropped: why don't we use this with Numeric Eight employees too? So now we do. As well as the customer NPS, we also track employee NPS. We also use it to poll over 35 staff as a means for them to acknowledge their peers, and just, to keep in regular contact about how they're feeling and what they need. With the whole Covid situation, staff had to keep away from the office during two Covid lockdowns, so CT was very important during that time. And by linking with customer feedback, we've been able to identify best practice together with foresight into targeted training initiatives."
Using CT for employee and customer feedback best practice
Andrew has been applying more best practice to his use of CT by split-testing samples, experimenting with different kinds of response icons and setting alerts for certain kinds of feedback so that they can be responded to immediately.
"We have an internal SLA to respond to any amber or red feedback within 1 hour; so we can find out if the customer or employee is OK and what needs to happen to fix their issue. On the response icons, we'd like to come up with some bespoke designs to make feedback surveys an extension of the Numeric Eight brand experience. Trudi – and her trademark bright red glasses – is so recognisable, we're making icons of her!"
As Numeric Eight continues to grow, they see Customer Thermometer as a key part of the customer and employee success in the future.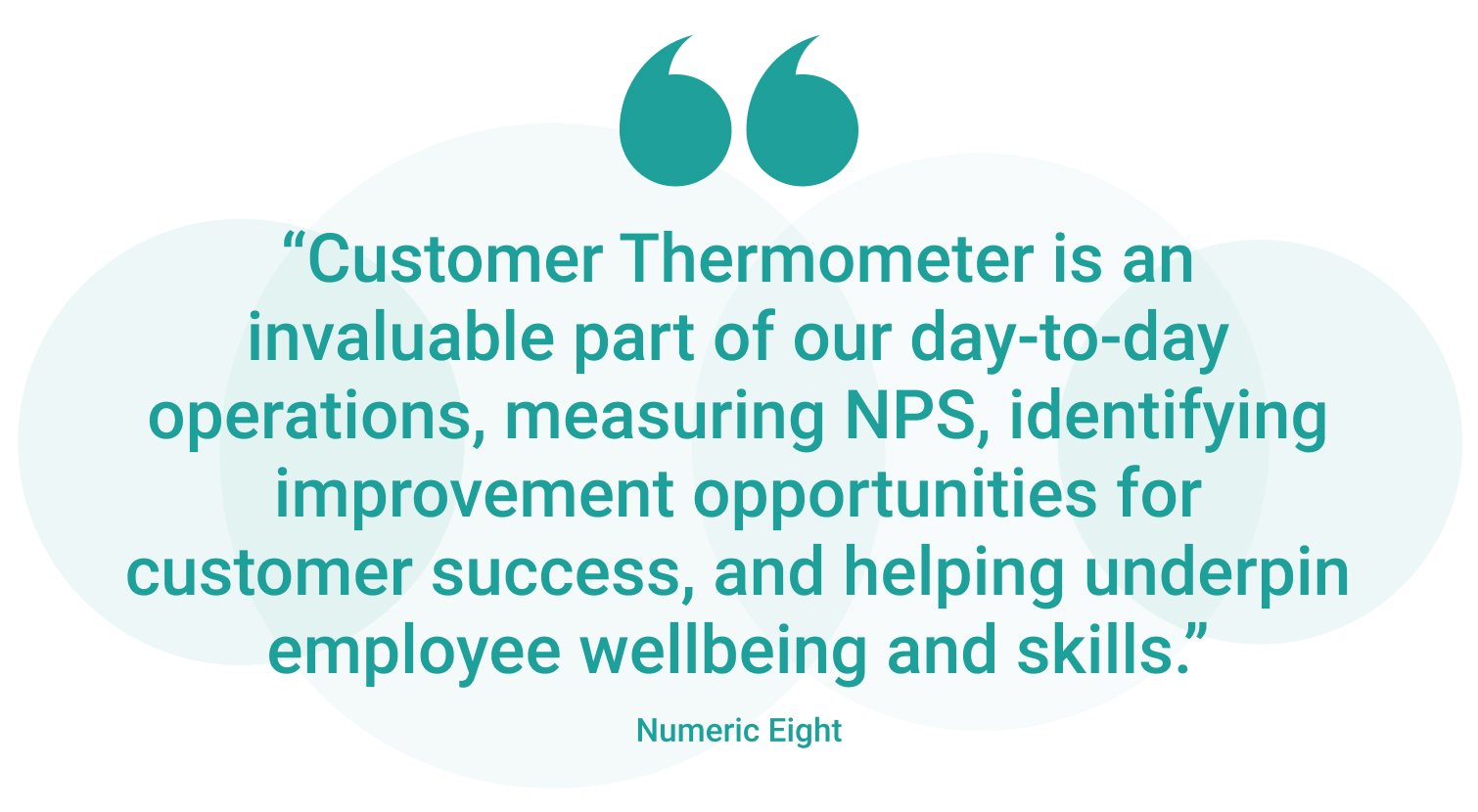 Want to see success like Numeric Eight?
Give Customer Thermometer a try . Our free trial should give you plenty of opportunities to experiment with fast, effective customer feedback surveys. We integrate with practically every platform and generate some of the best response rates in the business. Simply fill out the form below to get more happy customers.
https://www.customerthermometer.com/img/Blog-8.jpg
496
1420
Gavin
https://www.customerthermometer.com/img/[email protected]
Gavin
2021-12-06 10:25:47
2022-01-13 12:30:21
Numeric Eight puts employee wellbeing first and hits top NPS scores with Customer Thermometer