The fastest online survey in the West
In the fast-growing world of IT managed service providers (MSPs), one innovative business is leading the market.
By using customer feedback from the very heart of its interactions with customers, The 20 is helping its MSP clients reach their ultimate growth potential. Here's how The 20 uses Customer Thermometer to gather fast, effective feedback.
When hindsight really is 20/20
The 20 has rapidly established itself as the go-to business development organisation for growth-minded MSPs; empowering them through a successful, repeatable model with no limits on scale. The 20's name stems from its intent to propel its MSPs into the top 20% of the market.
This is backed up by a proven sales model, lead generation engine, unified IT management resources and a 24/7 US-based help desk and NOC (network operations centre).
Everything about The 20 carries the promise of success, from the Texan charm of its CEO through to the extreme professionalism of its people. But, like a swan elegantly gliding across the water, The 20's progress is powered by plenty of intelligent mechanics (and monumental efforts) going on below the surface.
Having best in class tools is a major part of The 20's proposition, and drove its transition to Kaseya BMS for its help desk ticketing system, which receives 4,000+ enquiries per month.
"We wanted to build customer satisfaction metrics into our help desk workflow but it had to integrate with Kaseya," recalls The 20 CIO, Jonathan Blakey. "Kaseya recommended Customer Thermometer, and once we tried it out we loved how easy it was to gain the right insights."
Quick-draw online surveys
Every customer with a help desk ticket receives a notification email, with Customer Thermometer embedded, as soon as their ticket is closed. Responses are fed back in real-time, enabling both the MSP and The 20 to chart trends and plan improvements.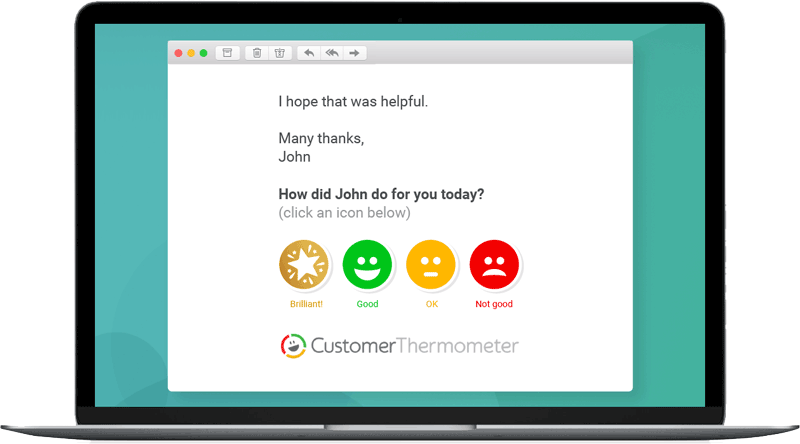 "All MSPs have CT as part of their standard model, so can track the prevailing level of customer satisfaction over time," says Jonathan. "We can see this too with data aggregated a level higher into a management dashboard. This is even faster than extracting reports from Kaseya and shows us the overall performance of the help desk, as well as drilling down into individual MSPs."
As The 20 is effectively defined by the success of its model, maintaining high standards across the board is imperative, and this is borne out with around 99% of CSAT responses scoring excellent or good.
"I can honestly say we don't get much negative feedback, but anything less than 'very happy' prompts us to find out why," explains Jonathan. "Any poor responses are routed directly to the management team so that the customer is contacted within an hour. Each time it's an opportunity to work out what we can do better, and apply that across the entire help desk."
Actionable CSAT intelligence
Delving into the detail of this uncovered a group of instances where customers actually apologised for giving a poor response on account of being 'hangry' (hungry, and therefore angry), which was more likely to occur at pre-meal times of day.
In other cases, some customers were disappointed when the finer details of their tickets were not picked up by the help desk technician. This led The 20 to instruct all help desk staff to spend extra time ensuring all details are read over thoroughly, even if that means compromising time to resolution metrics. The extra time needed averages out at only 30 seconds, so the impact has been a net positive.
"We take customer satisfaction extremely seriously – it's a source of pride. Expectations are set high, and only the best is good enough." says Jonathan.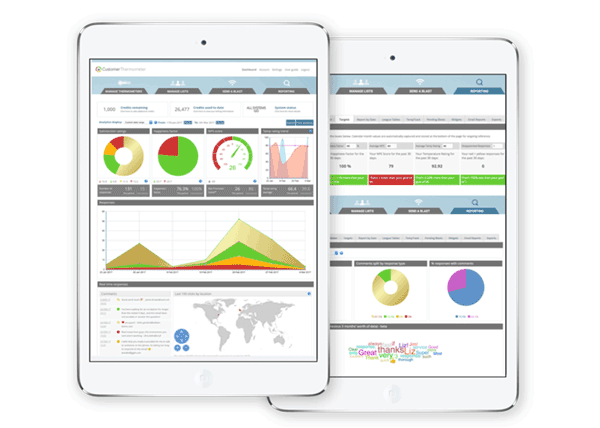 Measuring value, and delivering it too
With Customer Thermometer, The 20 has a tool that both measures value to MSPs and delivers it. This is critically important to a business that hangs its hat on creating, implementing and continuously improving a proven model for MSP growth excellence.
"It's definitely a partner relationship we have with Customer Thermometer, rather than vendor/customer. There's trust and a good degree of honesty – if there's something we want changed, Customer Thermometer gets it done. They made the Kaseya integration easy, and right now we're working through some improvements to the data visualisation so it gives us exactly what we need."
"It's an incredibly powerful product that just happens to be very simple. It's well crafted and well integrated and brings a lot of value to our business. What else is there to say?"
Want to measure CSAT like The 20?
Give Customer Thermometer a go. It's simple, quick, and you can pop it into emails you're already sending customers from dozens of systems like Outlook, Salesforce, Zendesk, Kaseya and ConnectWise.
Your free trial starts here, no credit card or other info needed…
https://www.customerthermometer.com/img/the-20-online-survey.png
248
710
Lindsay Willott
https://www.customerthermometer.com/img/[email protected]
Lindsay Willott
2018-04-25 09:00:27
2021-05-05 12:43:42
How The 20 uses Customer Thermometer to help MSPs reach their ultimate growth potential