Everybody loses when parents can't get access to good childcare for their kids. Young children miss out on crucial early years education while parents – women especially – are compelled to withdraw from the workforce; diminishing their incomes and career prospects, and directly impacting employers across the US to the tune of $4.4bn each year.
San Diego-based TOOTRiS is the contactless technology service provider to change all that, connecting parents with quality childcare via its core software platform and associated web and mobile apps.
A digital response to the childcare crisis
"Millions of people have experienced how matching up your child's needs with the right provider in the right part of town at the right time – often at short notice – can be an impossible task," explained TOOTRiS Chief Marketing Officer, Eric Cutler.
"We're solving problems like this through digital empowerment, bringing together families, approved childcare providers, employers and other stakeholders to address the growing child care crisis."
TOOTRiS (from the French word tutrice, meaning tutor or guardian), started out in 2019 and has already outgrown its original premises to accommodate growing product development, support and other business functions in line with demand.
According to Eric, technology experience is key to the value of TOOTRiS: "We want people to love using our platform and aim to provide exceptional levels of user support so that they feel they can trust us with their childcare journey."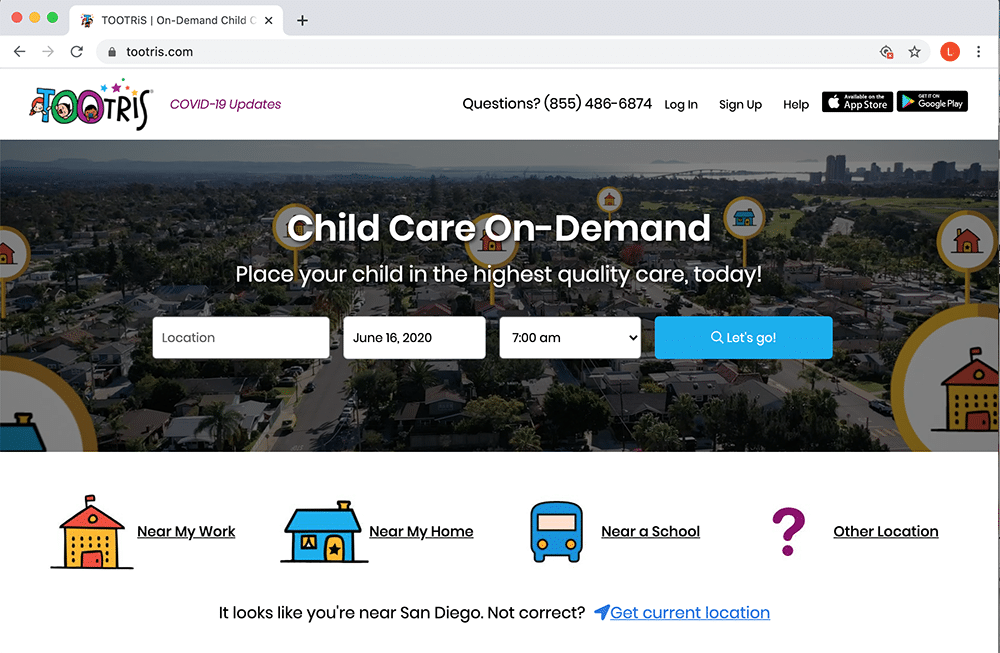 Acting on customer support feedback
Since building its business operations from the ground up with Zendesk as the key IT support ticketing application, TOOTRiS deployed Customer Thermometer comparatively early on in its development.
"The primary use case is closing the loop on support tickets so that we can get a sense of overall trending feedback as well as specific responses to specific issues from specific segments of our user base – that's incredibly valuable."
"I'd used CT in a previous company, knew what it could do and wanted to gain those benefits at TOOTRiS. For me, Customer Thermometer is an indispensable element in obtaining and learning from customer feedback, right down to granular audience segments and use cases. We have a bunch of Customer Thermometers giving us live data everywhere, not just on the core 'closed ticket' customer support function."
Integrating CT with other applications and even embedding it into HTML has been very straightforward, largely because – in Eric's words – "it's a pretty non-obtrusive code" that has delivered "ease of integration and a complete lack of compatibility challenges".
Every response is potentially two gifts from the customer
The other major application for CT is to gauge feedback to TOOTRiS marketing outreach such as email campaigns pushed out via its Hubspot and Salesforce platforms.
"We're constantly trying new things from a marketing perspective but we care deeply about what our audience thinks," says Eric. "It all adds to the transparency of our mission because it shows that we're listening and always follow up to ensure we're acting on feedback in the right way."
Eric's philosophy on customer feedback is to consider every response as a chance to improve service levels, adjust the approach and potentially open-up further opportunities that create value for TOOTRiS and its customers.
"The 1-click response is literally the least amount of effort a customer has to give to provide us with important data, but each time that's a doorway to a more qualitative engagement.
Customer Thermometer gives us a crucial touchpoint to reach out and gain accurate, honest feedback in a non-intrusive, seamlessly integrated way. It's a springboard into deeper levels of customer engagement that tells us so much more than just how we're doing."
We use the 'smileys' format which allows us to delineate the positive Gold and Green responses from the Yellow and Red. The first group triggers a thank you with an invitation for the customer to provide additional context for why we did such a good job and what else we could do to improve further. These often lead to new customers joining our user group, beta program or to contribute testimonials.
The second group triggers us to find out how we can do better next time, and more importantly what we can do right now to make them more satisfied. This can elicit the most valuable feedback of all."
"Even the coders get a kick out of happy customers"
Every one of TOOTRiS's many Customer Thermometers drives continuous improvement in the business, as well as fueling the very accurate perception that this is a company that cares about being transparent with its customers and partners. But sharing the feedback data is also an uplifting and instructive experience for the TOOTRiS team as a whole.
"Data is useless unless people are looking at it but the CT analytics and dashboards are easy to manipulate and share, which spreads that transparency across the company.
Everyone likes to see happy customers, not just in marketing and support. A happy, engaged client base means our mission is working. And feedback is creating value back into the platform itself. The development team are getting insights that they might never have had without Customer Thermometer as our tool to hook lots of responses and go deeper with a more detailed engagement."
Scaling up for the challenges ahead
As with cities across America and around the world, San Diego was hit hard by the COVID-19 lockdown. Many childcare providers have been forced to temporarily close or change their services, leaving essential workers like nurses and first responders scrambling to find suitable alternatives.
"If anything, COVID-19 has brought the childcare crisis into sharper focus," says Eric. "We've seen a steep rise in parents and childcare providers coming onto the platform as local businesses get back on the road to recovery. We are committed to serving the community in the best way we can, by matching parents and their children with safe, secure childcare."
"Our long-term strategy continues to be to target growth and geographic expansion with a proposition that has wide appeal and untapped potential. We have built our platform for maximum scalability and are very confident of CT's role in our future."
——————–
If you want to get awesome feedback like TOOTRiS does, get a free Customer Thermometer trial account right now, no credit card needed:
https://www.customerthermometer.com/img/Tootris-case-study-blog-header.png
248
710
Lindsay Willott
https://www.customerthermometer.com/img/[email protected]
Lindsay Willott
2020-06-16 05:39:03
2020-06-16 05:50:51
How TOOTRiS Uses Customer Feedback as a Springboard Into Deeper Customer Engagement