How much do you know about the service desk experience your customers receive? How much time do you put in to making sure it's the best it can be? It can be hard to know where to start to tackle such a mammoth task, so we've broken it down into a few starting points for you…
1. Overhaul your auto-responder email
Does your automated support response email look like this?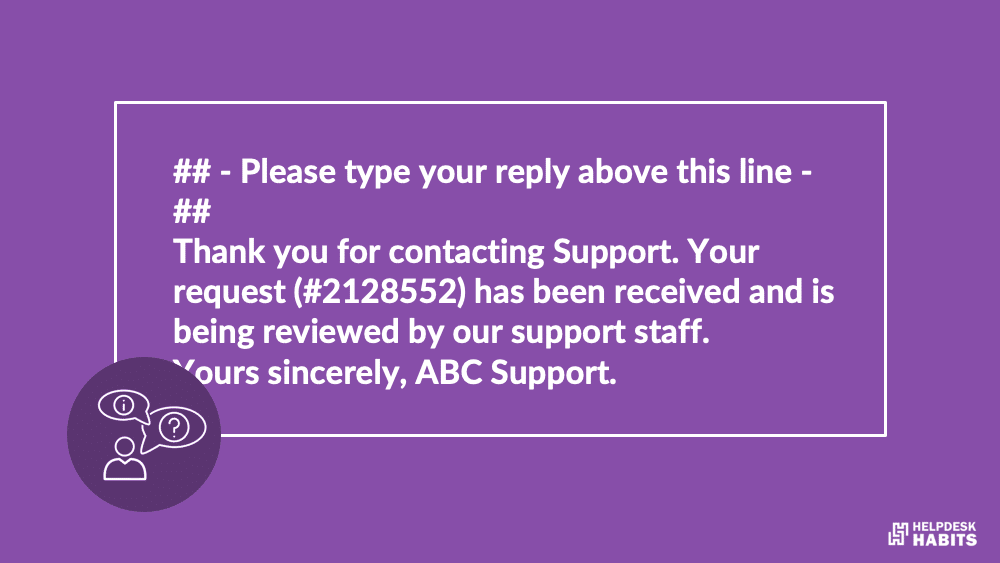 We've all been on the receiving end of this robotic, emotionless email. The "thanks for your email, we have your ticket" message is never expected to be particularly glamorous, but it isn't exactly reassuring when you're waiting for a resolution to a problem.
Thankfully, Mark Copeman of Helpdesk Habits has given us the answer. It might seem obvious but so many haven't made the simple effort of updating their automated response to sound as though it's come from a real service desk with real support: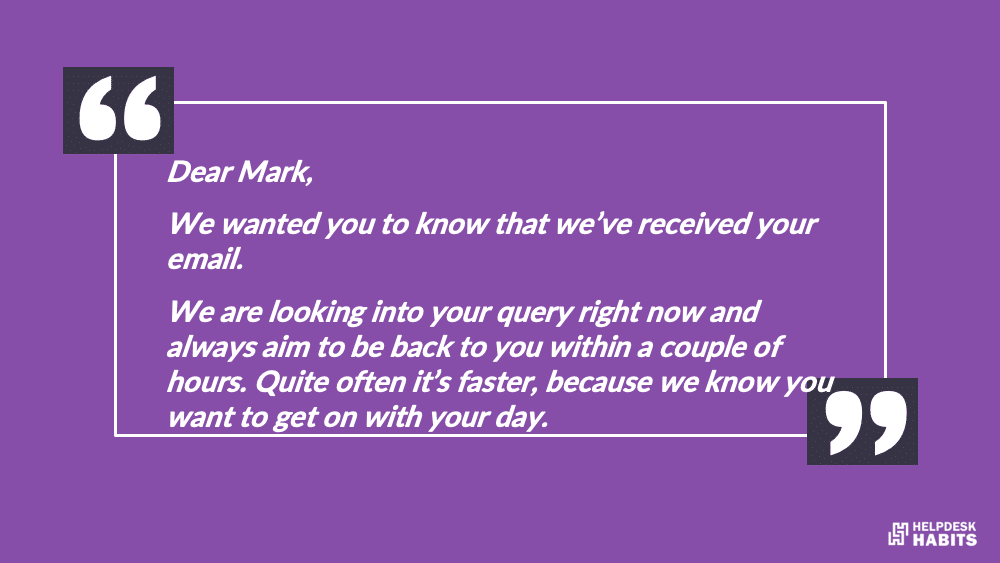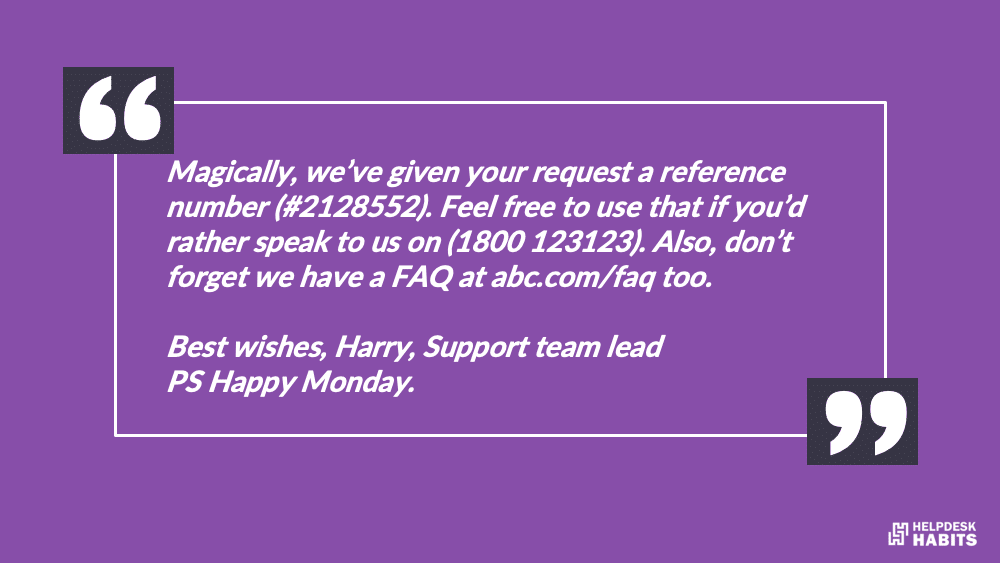 Action: Set-up a new, more friendly, automated response message. You don't have to change it much, even just making it slightly more conversational (see above) can make a huge difference.
2. Reward your team for top drawer feedback
We spoke to CMI, a brilliant customer of ours who are using CT to get amazing feedback. One really inspiring thing we learnt from their customer satisfaction program is their focus on rewarding the team for positive feedback: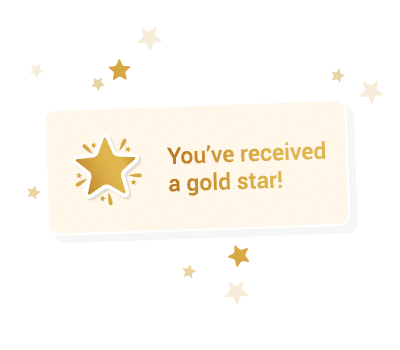 "Customer Thermometer has become a central component of CMI's CSAT programme. Its data is used to feed into an array of staff reward projects. For example, for each gold star the team receives, CMI contributes £1 into a 'staff pot.' A red star means that £5 is taken from the pot. The total is calculated each quarter and is normally in excess of two thousand pounds. The money then pays for a staff event/staff entertainment." (source)
It's easy when gathering feedback to focus on the negatives, but we think this system recognizes the issues while rewarding truly great customer service. Not only that, but the team are incentivized and motivated by a quarterly reward, so it's a win-win.
Action: Set-up Customer Thermometer to ask for feedback from your recipients, and be prepared to add to a pot for each gold star click. It could be like our example, a pound for each to go towards a treat at the end of every quarter – use it how you like, get creative.
3. Use automated customer comment exports for training
We love using CT to get real-time feedback so you can take action straight away, but it's also really cool to think of the long-term benefit to such rich data. Not only can resolutions be made in the short-term, but you could consider exporting the data on a regular basis to sit down and review with the relevant team member. In this way, feedback becomes a key training tool for managers to coach their team, and to share the results where needed.
Action: Why not try using our API with Zapier to drive customer comments into Google Sheets? By automating the export you create another platform to sit and review performance with your team, so you can not only reward the good feedback, but ensure that the not-so-good feedback becomes a constructive tool for improvement.
4. Identify one basic and one magic touch to improve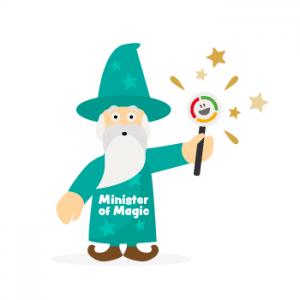 We've written before about Brilliant Basics and Magic Touches – it's a simple customer service idea but also pretty effective. Basically, think about a part of your customer's service desk (or product) experience that you know has perhaps not been much of a dealbreaker, but it has been a long-term nuisance for many. It's not been top of the priority list because of this, but maybe it's time to just get it out of the way.
It might seem minimal but your customers will notice, and the impact on their satisfaction will be lasting. The example we love is of Virgin Media, who are known for adding magic touches to their service, but they also know that the basics are important too:
"Virgin deliver this service by encouraging the whole team to observe the customer's behavior acutely and acting on it. In an example the COO cites a barman at the Heathrow airport clubhouse who saw an elderly lady struggling to eat a meal on her lap because the sides of the chairs were too high. The chairs were redesigned and replaced."
Action: Sit down with your team and ask about any long-term gripes they've heard about, or perhaps any annoyances they find in their day-to-day. Make a to-do list of brilliant basics and any ideas for magic touches across the customer journey, and pick two you can change this week.
5. Put yourself in the customer's shoes
Not literally, we should say… but it's worth checking up on what your customers experience when they contact your service desk. It doesn't have to be a mammoth task with endless research, you can give it a go yourself and see where service could be improved – it's sometimes hard to feel inspired from the same perspective everyday, so why not?
Action: Have a little mystery shop of your own ServiceDesk team. Use a generic-sounding gmail address and contact your support team today. Done in under 10 minutes and can generate a wealth of actionable insight.
6. Make sure your customer surveys are short and sweet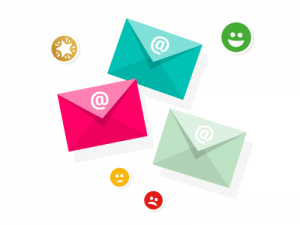 We'll be the first to tell you that customer surveys should be a speedy and painless part of the customer process. We love having customer feedback as part of our customer interaction – we get feedback all the time about all areas of the business and it helps us to constantly monitor and reflect on our service.
We still hear from prospects and customers about their outmoded and laborious 'click to fill in our survey' links with every question but the kitchen sink, and it's not surprising that response rates are worse than ever. Give our feedback icons a trial – customers love them:

Action: Remove any surveys that take longer to fill out than the interaction itself took. Add 1-click feedback or anything else you can think of to meet the requirement – if it takes the customer longer than the time they spent talking to your service desk, it took too long.
7. Take time to thank your customers
Now this might seem a little old school, but we regularly send love packs out to our customers, old and new. It's one of the most enjoyable ways to interact with your customers – you get to say thanks for their continued custom and they get to enjoy some branded merch and a bit of chocolate. Add personal touches where you see fit, and an extra step we like to take is to handwrite our notes to each individual, which is the cherry on top.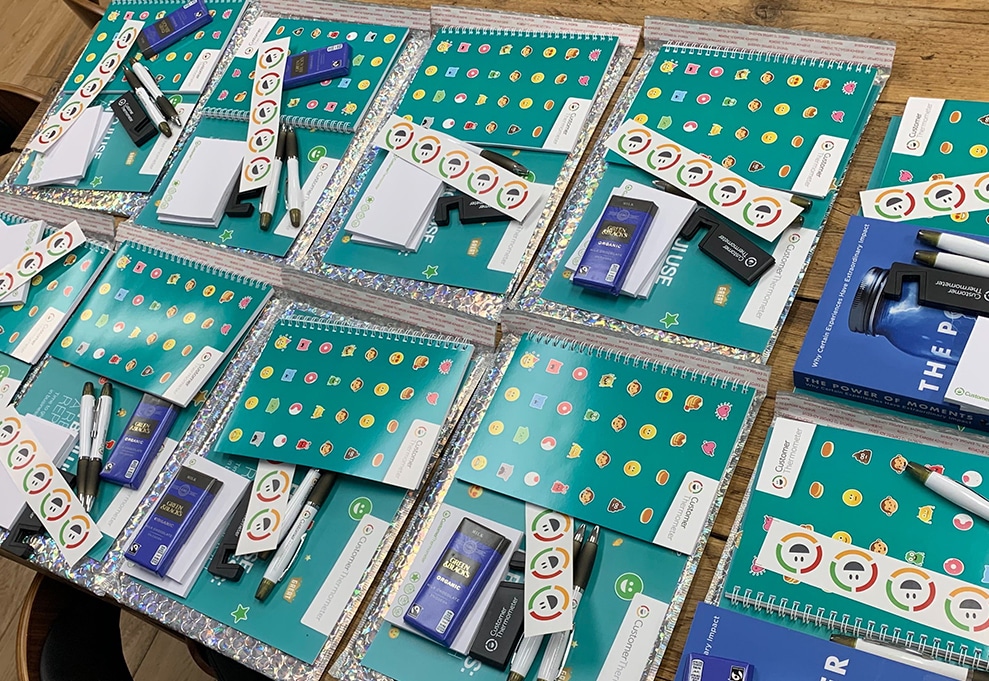 Action: Make a list of 10 customers who deserve a treat and put together some goodies for them. Buy some shiny envelopes (optional – we like them, but you do get funny looks at the mailing office) and write a note. The effort you put in is worth it for the response you'll get.
8. Examine your customer journey at all stages
So many businesses still rely on sending out a survey to their customers days, weeks or months after the customer's journey began. By this point, so much has happened and so many touchpoints have been and gone unmonitored. Often by this time, if a customer is unhappy the damage is likely to be done, and any action to be taken from the feedback obtained (if response rates aren't terrible) is futile.
With simple and easy feedback solutions like Customer Thermometer, you ensure that feedback is gathered regularly and at each customer touchpoint. If the customer feels that their feedback is appreciated and responded to from the first time they click, you can be pretty confident that they will keep reaching out as they continue to interact with you, and the data you obtain throughout this entire journey is likely to be rich and detailed.
Recency is key for customers in giving feedback, so consider adopting a 1-click feedback solution that's always available for your customers every step of the way – this creates a bottom-up guarantee of the status of the customer journey, rather than top-down coverall for all customers regardless of stage of journey (if at all).
Action: Have a conversation in your team about how you're currently receiving feedback, and talk about ways you could be monitoring service desk experience more consistently for a richer result. If your current survey tool isn't timely enough, make plans to change it.
9. Improve your agents' process for canned responses
So many of us are focused on pace in service desk experience, which is reasonable – responding to queries as soon as possible is obviously an essential part of giving great service. But this unfortunately can come at the cost of losing our human touch when responding to customers. The fact is, the best support teams have a great knowledge base to take information from for speedy responses – but those same teams will add a human element to the response.
When your agents respond to issues that have straightforward answers, it can be tempting to send a simple template email with the answer – and to be fair, the customer is engaging with you just to find a solution. But that's not to say that they won't appreciate a touch of personalization, even a simple "happy Friday" or a reference to their business will suffice, and the increase in time taken to respond will be incremental.
Action: Make sure that your service desk knowledge base is up to scratch and as convenient as it can be – this way your agents will find it easier than ever to provide quick answers, and they can use the freed up time to connect with customers.
10. Close the loop on positive feedback
If a staff money pot isn't for you, there are other ways to make your service desk team feel valued. Why not ask your senior team members to call up customers that have left positive feedback and ask for a further comment, that you can then pass onto the relevant agent? Customers will love that a senior team member has taken the time to reach out to them, and that their feedback has been valued in this way – they'll definitely be keen to leave more feedback in future.
Not only this, but passing on a cheerful comment or positive piece of feedback to your team member – perhaps in front of the whole team – will really increase morale and boost the team's engagement in aiming for positive customer feedback. This will shift the focus on your customer feedback strategy from avoiding a red alert (negative feedback) to hoping for a positive comment to brighten the team member's day.
Action: Struggling to gain any feedback to use for this system? We're here to help.
Sign up for a trial account and give our 1-click feedback a go – your service desk experience will be improved tenfold and your customers, and your team members, will thank you for it:
https://www.customerthermometer.com/img/10-things-to-improve-your-service-desk.jpg
248
710
Sophie Leaver
https://www.customerthermometer.com/img/logo@2x.png
Sophie Leaver
2020-02-18 12:33:07
2021-01-18 15:04:50
10 things you can do this week to improve your Service Desk Experience