The shelves at Customer Thermometer HQ are always stuffed with the best customer service books and we love learning new things from big thinkers, industry commentators and – naturally – customers too.
Sometimes the wisdom comes not from a 200-page treatise on customer strategy, but from a short quote that sums up an important concept.
After all, we're all so busy coping with new, fast-moving challenges and the shift to the next new (new next?) normal that there just isn't time to absorb it all.
So we've researched this quick list of customer service quotes to nourish and inspire your thinking as you plan ahead.
It's not always the time for "wow"
Micah Solomon is a heavyweight of the customer experience industry and author of a new book: Ignore Your Customers (and They'll Go Away).
However, it's on the subject of "wowing" customers that he is perhaps best known.
His advice to businesses who struggle to understand exactly how to "wow" customers (and whether it's even worth bothering) involves empowering employees to take responsibility, modelling what "wow" customer experiences should be like, and celebrating them when they happen.
But he also warns that you must learn to wow at the right time:
"From a customer's perspective, it's not always the time for wow. At times, customers are in too much of a hurry or are feeling too unsociable to want to have anything to do with being wowed. It's up to your employees to pick up on this and not be forcibly wowed. Because that's not the kind of story you want customers to take home with them."
Marketing managers are like medieval doctors
We're big fans of customer feedback and keen to underline how it helps all kinds of business processes beyond the help desk and other front-line customer engagement. For instance, in marketing where feedback loops can be used to efficiently fine-tune messages and offers to best effect.
Richard Shotton's new book on behavioral biases, The Choice Factory features Byron Sharp, Professor of Marketing Science at the University of South Australia drawing parallels between the ill-fated medical experts of the last 2,500 years and the marketing professionals of today.
"For centuries, this noble profession has attracted some of the best and brightest people… typically far better educated than other professionals. Yet… these experts enthusiastically… taught and practiced bloodletting (a generally useless and often fatal 'cure'). Only very recently, about 80 years ago,.medical professionals started doing the very opposite, and today blood transfusions save numerous lives every day. Marketing managers operate a bit like medieval doctors – working on anecdotal experience, impressions and myth-based explanations."
Harsh, perhaps! But a valuable perspective to understand the challenge at hand.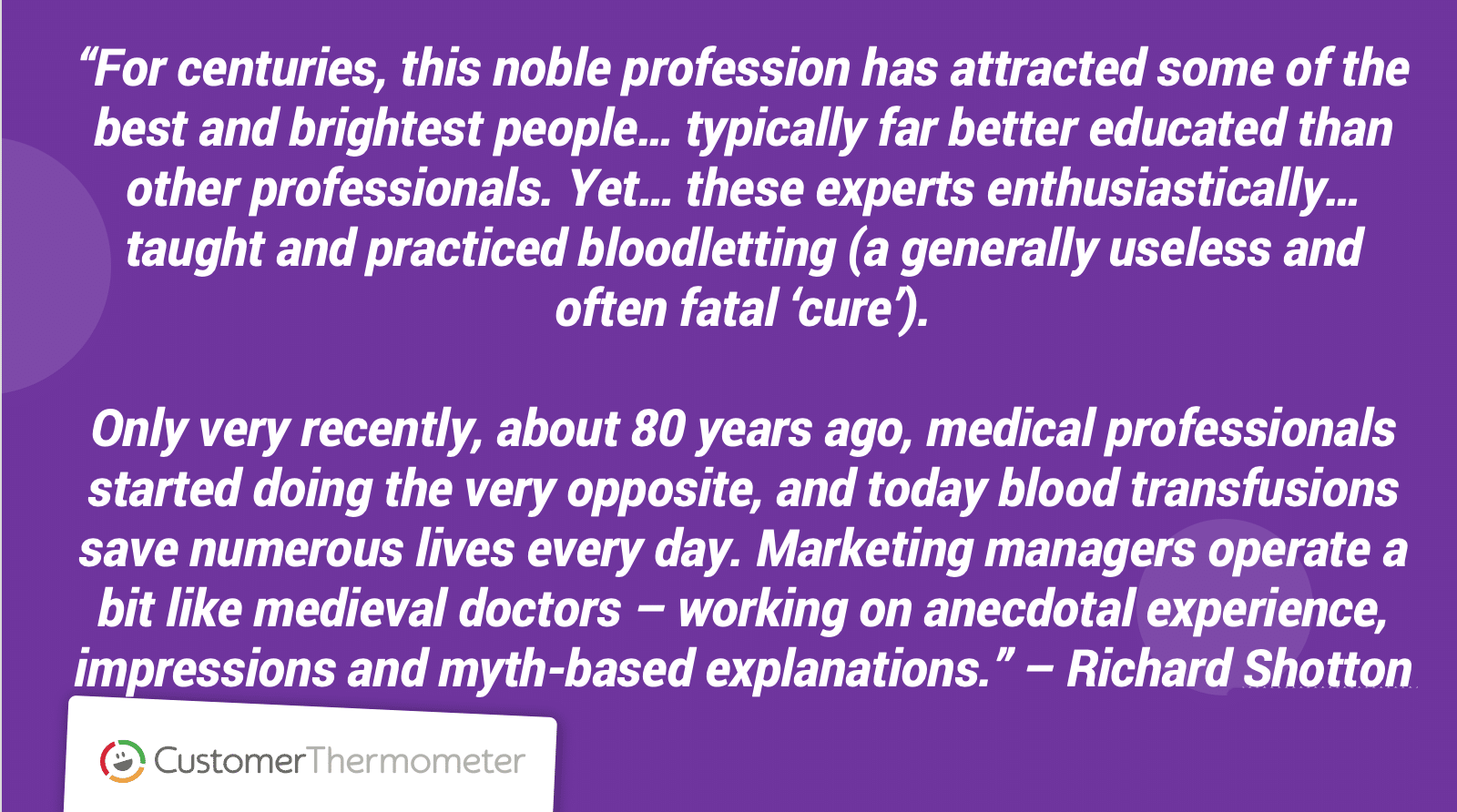 You need to be Uncopyable
The hamster wheel of competition is exhausting, if all you're ever trying to achieve is keeping up with or even getting ahead of your competitors.
Steve Miller takes a different tack in his book Uncopyable: How to Create an Unfair Advantage Over Your Competition.
It's a genuinely thought-provoking concept; that the competition is irrelevant for as long as you can change your approach with customers and make it unique. Miller doesn't claim for one second that uncopyable businesses have particularly different or superior products or services.
Somewhat arrestingly, he points out:
"If something can be copied, it will be copied. You don't want to be copyable. You want to escape the bonds of commoditization. And that requires a new approach, a new way of thinking about competition and your relationship with your customers."
Now is a dangerous time for word-of-mouth
Authors Jay Baer and Daniel Lemin have come out with a book about word-of-mouth marketing called Talk Triggers (Baer also wrote the amazing Hug Your Haters) that claims the discipline is at a crossroads:
"On the one hand, our concepts and terminology have never been more mainstream. On the other hand, there have never been so many of the underwhelming laying claim to our craft."
That struck us as being a little uncharitable. But they have a point. At least, it's very clear that there is plenty of potential improvement in how organizations put structure and purpose into getting people talking about their brands. The real killer quote is this one:
"One hundred percent of businesses care about word of mouth, but less than 1 percent have a plan for achieving it."
This sounds like a challenge worth taking up!
Why leave 'moments' to chance when you can create them?
Our last customer service quote is from brothers and bestselling authors, Dan and Chip Heath. There is plenty to mine from their scholarly canon: Decisive, Switch and Made to Stick – but we were enthralled by one of their latest: The Power of Moments. (We wrote an in-depth book review and key quotes and takeaways here)
Here at Customer Thermometer we talk about 'magic moments', and most people will use the terminology to put their own spin on something broadly referring to a memorable or meaningful experience. Moments can be fleeting, and are typically small. The idea is that they can still be impactful.
The Heath brothers quote that caught our eye was this:
"The surprise about great service experiences is that they are mostly forgettable and occasionally remarkable."
And when you strip it all back, of course they are right. That's because 'moments' in a customer service sense don't have to be defining moments in context of that person's life, just in the context of that person's purchase experience, enquiry, etc.
In other words, you aren't trying to change someone's existence with a great service experience. But if you can change their day, you (and them) are really winning.
________________
If you fancy trying something new to boost your customer service efforts, give Customer Thermometer a spin today for free:
https://www.customerthermometer.com/img/customer-success-new-nextimage.png
248
710
Lindsay Willott
https://www.customerthermometer.com/img/[email protected]
Lindsay Willott
2020-08-04 18:05:10
2020-10-21 07:31:15
5 Customer Service Quotes for the New Next