Podcasts have gained renewed popularity, largely due to the breadth of topical information that's available and the convenience of the podcast format. You can find podcasts on everything from chickens to childcare that you can access at any time from almost anywhere, as long as you have a connected digital device.
But abundance doesn't necessarily reflect quality. That's why we've highlighted just 7 of our favourite podcasts that tackle various aspects of Customer Experience and CX management.
The Voices of CX Podcast is provided by Wothix.com, a business that is focused on using cutting edge mathematical modeling and Artificial Intelligence to derive valuable, actionable insight directly from customers. Their podcast presentations are very high quality and cover the full range of topics within the CX arena including customer retention, social media strategies and importantly, CX metrics, KPIs and A.I. One of our favorite podcasts is S2 E17: CX Metrics and KPIs in the Age of A.I. from Gustavo Imhof.
Described as 'the one customer experience podcast you can't afford to miss' this excellent podcast from well known industry luminary Jeanne Bliss is packed full of engaging, informative podcasts from experienced CX professionals. What we like about these podcasts are the industry related case studies along with the actionable CX tactics which we can all use. One of our favorites from 2019 is this one in which Monica Whiting shares practical guidance in how to strategize short term and long term goals for CX in any industry: A 3-Stage Approach to Your Company's New Customer Experience.
This podcast, provided by Adam Toporek and Jeannie Walters, will help you understand your customers by providing real-world examples of what works and what fails. People enjoy the informal banter, fun and insightful personal stories that are surfaced through the podcast interviews with innovative business leaders. One of our favorites is: 354: Are you neglecting key moments in the customer journey? In this episode Jeannie Walters, who is a recognized authority on Micro Moments, explains how to identify and make use of those valuable key moments which have a great emotional impact on customer experience but are often overlooked.
ClearAction is a customer experience management business focused on growing customer value by aligning with customers' goals. Their excellent CX podcasts are filled with great examples from well known brands including Cisco, Coca-Cola and Dell. In one of our favorite shows (Customer Experience Transformation via Customer-Focus Immersion at Adobe) Barbie Fink, who is Adobes Customer Experience Transformation Leader, describes how they transformed their customer experience by immersing employees in every aspect of customer interaction to gain a firsthand appreciation of what customers go through.
The CX Cast from Forrester's customer experience team is regularly updated with fresh podcasts almost every week. The information presented is therefore always up to date and amongst the most authoritative in the CX arena. If you were to choose just one customer experience podcast channel to monitor then this should be on your shortlist. One of our favorite recent episodes is: 177: Forrester's Top Customer Experience Research Findings Of 2018.
Described as the association for customer loyalty, Loyalty360 provides premium content and events for members. Their podcasts are packed with excellent, real-world examples which will be of interest to anyone who is getting to grips with customer experience management. One of our favorite recent episodes is called: Know Your Customer Better which highlights how the number of ways in which businesses can access and gather data is growing exponentially every year presenting both challenges and opportunities for CX professionals.
Forrester's 'What it Means' podcast series aims to examine the changes that are taking place in the age of the customer. These regularly published podcasts examine everything from GDPR to Brexit. One of our favorite recent episodes is: Predictions 2019: Highlights in which it's acknowledged that 2019 is a challenging year with a possible (likely) economic slowdown that presents a number of questions related to market volatility and investment.
Customer Thermometer and CX Management
Customer experience management involves a lot more than gathering customer feedback – but this is an important element. Customer experience surveys enable organizations to collect meaningful feedback at key customer touchpoints throughout the customer journey that helps in developing an accurate understanding of customer motivations and needs. The Customer Thermometer system is simple, easy to implement and readily integrated with various platforms to make the process intuitive and seamless.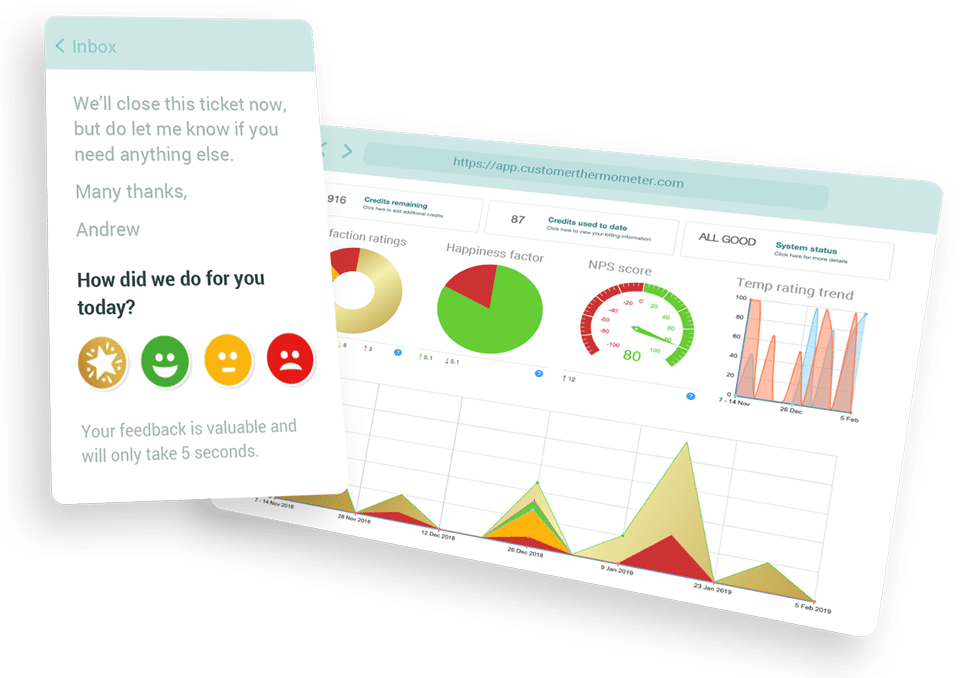 Give Customer Thermometer a try to see how it can help your Customer Experience Management. Send yourself an example here:

https://www.customerthermometer.com/img/7-Inspiring-Customer-Experience-Podcasts-Blog-Header.png
248
710
Lindsay Willott
https://www.customerthermometer.com/img/logo@2x.png
Lindsay Willott
2019-05-16 10:33:43
2020-06-03 14:05:36
7 Inspiring Customer Experience Podcasts