What is brand experience?
Brand experience (BX) describes the total effect that interacting with a brand has on an individual's consciousness. BX is highly subjective and can be vastly different between individuals. For example, at the simplest level, a brand experience can be positive for one person and negative for another. It can also take shape in highly specific ways, typically in terms of the impression the individual takes from the sum of their brand experience e.g. "nerdy", "passionate", "environmentally responsible". BX is influenced by the many interactions, touchpoints, communications and content streams instigated by brands and consumed by people. 
Brand experience applies not only to customers of a given brand, but literally anyone who has enough of a brand 'encounter' to formulate an opinion. The origins for such encounters and experiences can range from the brand's advertising and marketing activities to its day-to-day business activities and transactions with customers. 
The drive to develop a coherent brand experience strategy is partly in response to the desire of brands to better 'engage' with customers and differentiate from competitors. Allied to this, organizations are using the concept of BX to optimize brand experience consistently across all of their customer touchpoints and communications channels.
Why is brand experience important?
Brand experience is a key measurement in successfully managing the evolution of brands. A brand is essentially the device through which customers perceive and understand products, services and the organizations that create and provide them. However, brands are not static in terms of their audience perception. This is both a threat and an opportunity to brands and brand owners. 
Understanding brand experience allows organizations to perpetuate and shape the perception and emotional response of customers. BX measurement is particularly useful in ensuring consistency of brand experience. It also plays a key role in allowing organizations to anticipate and influence new directions in brand experience.  
All this ultimately adds up to a strengthened brand that:
Engages new customers

Re-engages and reinvigorates existing customers

Remains fresh and relevant as times change

Stands out against competitors

Generates positive emotional response and sentiment

Engenders customer loyalty 

Is memorable for the right reasons
How to create an unbeatable brand experience
Creating a great brand experience should be the aspiration of every organization. However, brand experience is all-encompassing which means it can be affected by practically everything your organization does. 
This is why measuring brand experience is so important. By establishing a baseline for how your brand is perceived and experienced, you can evaluate the success of improvements. You can even use brand experience measurement to identify where improvements are best made in the first place.
Key components of brand experience
The key components that create an unbeatable brand experience include:
Visual identity

How the brand logo looks and feels. Logo designs tend to remain static for years at a time, with periodic updates, refreshes and major rebrands.

Other aspects of visual identity include color palette, typography, iconography and photography

Other tangible and intangible brand design elements

Brand values

The principles that the brand stands for and are closely associated with the goals of the organization. Done right, brand values are exemplified by individual employees, leaders and brand ambassadors.

Tone of voice

This is how the personality of the brand is expressed in written language. Some brands will opt for a more relaxed, informal tone of voice, even using slang vocabulary and simplifying ideas and concepts in very basic terms. That tone of voice might be perfect for a surf shop, but not so much for a pension company.

Social conscience

Many brands are becoming more involved in social issues and taking up activist causes. Whether for commercial advantage or pure altruism, the intention is to align with target customers on matters such as LGBT rights, racial equality and cutting carbon emissions.  

Experiential marketing

A key aspect of brand experience is the notion of 'experiencing' the brand in ways that transcend their common usage. A good example is Red Bull, the energy drink brand. Red Bull has created hundreds of events – such as its Soapbox Race series – that inspire and engage people in adventure, entertainment, sports and music.  

Customer experience (CX)

CX is everything a customer goes through when buying and consuming a product or service. This is closely related to brand experience but, as the name suggests, exclusively pertains to existing customers. It stretches across all aspects of customer interaction from initial onboarding to post-purchases stages and renewal.

User experience (UX)

UX is again similar to both CX and brand experience but is narrowly defined as the experience of using or consuming the product or service itself. Hence it deeply influences product development and service delivery business functions. More so than, for example, social media presence and marketing communications.

Customer service / customer support

This is a specific business function with the capacity to disrupt the brand experience for better or worse. Imagine a carefully crafted and entirely consistent brand experience. Now imagine one of that brand's tired and irritable customer service agents being rude and unhelpful to a customer in need. 
6 ways to optimize the brand experience
A good starting point is to evaluate the key components listed above to refine and improve them. Do that and you're on your way to addressing brand experience. 
However, for greater strategic impetus, consider the following best practice approaches. 
Actively engage and be where your audiences are
Brand presence and awareness and essential factors in promoting brand experience. The most recognized brands in the world tend to be those with a significant commitment to getting their brand across.
But unless your addressable market is 'everyone', the only important consideration in brand visibility is being where your audience is. Research your market and your customers to learn more about where to be and what matters to them.
To be truly engaging, your brand also needs to be 'accessible' in every way. Look at your digital touchpoints to ensure you have all the bases covered. Be proactive in reaching out to audiences to experience and experiment your brand, at live events, via social media, and through samples and trials. 
Achieve universal brand consistency
Brand experience is only as good as its weakest human touchpoint. Brand consistency is essential to brand experience.
To make this happen, find instances of best practice in your organization. For example, if you're a retailer, it could be that the brand experience in your stores is what you'd love to replicate everywhere. Or maybe it's the amazing ad campaigns you run that really set you apart and offer a compelling brand promise. Then it's a case of bringing all your communications channels and touchpoints up to the same feel and standard.
Tell stories
One of the most engaging aspects of brands is their storytelling capacity, which draws people in and gives them an authentic take on what the brand really means.
There are lots of sources for stories that communicate your brand and elevate the brand experience. For example, customers' stories about using your product, the origins story of how you came to be, stories about your team and what drives them, or 'imagined' stories about your brand in fictional, futuristic or farcical settings!  
Stories bring remarkability and distinctiveness to your brand experience and can really inspire people too.
Define your unique purpose
The business author Simon Sinek famously came up with a theory called the Golden Circle. Otherwise known as "start with why". It's the idea that most brands get it wrong when trying to formulate a differentiated value proposition. They invariably focus on putting 'what' and 'how' into communicating their brand. Their raison d'etre; their purpose – their 'why' – is often just an afterthought.
Correcting that by defining a unique purpose is very instructive to managing brand experience. This is because it encourages brands to stand for a set of beliefs that customers are invited to associate with. This can have a powerful effect on achieving customer mindshare, acceptance and loyalty. 
Target brilliant basics and effortless experience
So much of brand experience is a pre-purchase promise of what it might be like to be a customer. Therefore being easy to do business with is fundamental to living up to customer expectations. These are what we call 'brilliant basics'. Anything less is bursting the bubble!
The process of acquiring and consuming a product or service should be as effortless as possible. This is not a straightforward objective, but it should be prioritized. Meeting expectations is key to achieving customer satisfaction – the foundation for loyalty and advocacy. 
Begin by picking apart the customer journey into its constituent elements. This is known as journey mapping, and there are some useful customer journey templates. As live customers pass through each stage, you can elicit feedback on their experiences in order to reduce points of friction and delay.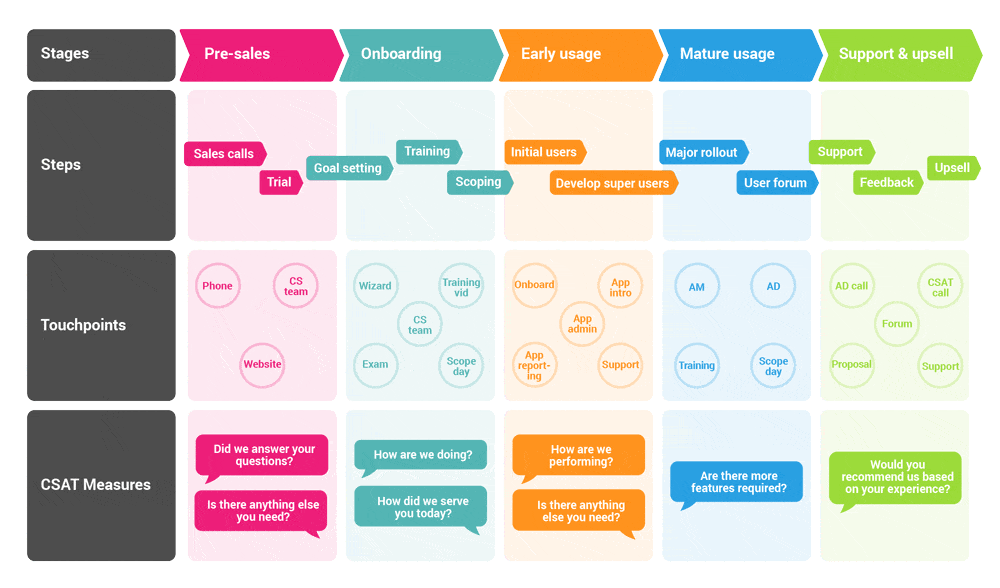 Listen and measure through real-time feedback
Central to each of the brand experience initiatives described above is the collection of real-time feedback. After all, the only way to understand brand experience is to get people to tell you about theirs. Specifically:
Get feedback on brand recognition and what people believe your brand stands for

Get feedback on changes to your brand logo, visual identity, marketing campaigns and so forth

Get feedback across communications channels to evaluate relative brand experience/s and uncover inconsistencies

Get feedback on how prospective customers like to engage

Get feedback on the reasons why some people have a positive brand experience, and others negative

Get feedback from employees to see how they align with key brand messages

Get feedback on customer successes and follow these up to create stories you can share more widely

Get feedback you can use to improve staff training in customer support

Get feedback on specific aspects of the customer journey you can improve on to make as effortless as possible

Get feedback to identify relationships between brand experience and customer loyalty
The list could go on and on. What's really important is being able to achieve a representative sample of people interacting with your brand. And the only way to do that is by making your feedback system highly engaging and non-disruptive in order to achieve a high response rate. 

Brand experience surveys
To collect feedback on brand experience, you'll need to use a BX survey. When collecting brand experience feedback from existing and prospective customers, it's really important to focus on the following objectives:
Engaging the maximum number of individuals

Capturing real-time, in-the-moment feedback that is contextually relevant to the aspect of brand experience you're researching

Maximizing the volume of feedback received

Removing any barriers to feedback being given quickly and easily

Reassuring survey participants that their feedback will be used appropriately

Having a process ready to sort, analyze, report and act upon on feedback findings  
We'll explain throughout the remainder of this guide how to achieve these objectives with simple brand experience surveys. 
The importance of keeping brand experience surveys 'on brand'
We advocate that all customer feedback surveys are designed with precise adherence to the brand look and feel (and overall brand experience). This is especially critical in brand experience surveys.
Many organizations fail to make their customer feedback surveys and customer satisfaction surveys consistent with their brand. The effect is to diminish and disrupt the overall brand experience. It stands to reason that conducting a feedback survey on brand experience should not be guilty of the same failure. We explore this in further detail in a later section.
6 more tips on maximizing response rate for brand experience surveys
Getting the most feedback possible is absolutely vital to data accuracy and reliability. Brand experience is highly subjective, so quite significant differences in responses won't be unusual. What you're looking for are patterns to help influence your understanding of where brand experience is at, as well as hard metrics like "brand recognition". Getting only a small number of responses is hardly representative and will likely be skewed by some form of statistical bias. 
Here are some tips for optimizing widespread participation in brand experience surveys: 
Create surveys that everyone can understand

Make surveys that can be completed in a few seconds or less

Go for a single question, with maybe a follow-up question for those who engage. You can learn more through different questions in subsequent surveys if necessary.

Make the feedback process effortless

Make it a point and click exercise off the back of an email. Even try to minimize the number of clicks. It's not that people are lazy, it's that they're busy and completing your survey is giving you a favor.

Go for gut feel, in-the-moment responses

Context is important. If you can launch your email survey at the right time – straight after an interaction for example – then you get real gut feel response and aren't asking people to recollect something that happened days previously. One way to do this is by embedding quick survey questions into emails you're already sending.

Be engaging

A great way to extend the brand experience into your BX survey is through bespoke response icons and emojis. Stand out and make it fun!

Offer reassurance and inspire confidence

Concisely explain the purpose of the brand experience survey and how you'll use the data. It's a good idea to anonymize responses for data protection purposes.

Brand experience survey question examples
Achieving a high response rate with your BX survey is very important. To do this, surveys should be as short and easy to complete as possible. This discipline naturally places limitations on the number of questions that can be asked at one time. 
The main types of questions to use in brand experience surveys are:
Yes/no questions

Rating questions

Multiple choice questions

Open-ended questions
The last of these – open-ended questions – tends to be more closely associated with qualitative research. It is highly likely that a BX research exercise would necessitate both quantitative and qualitative research, with survey questions to suit.
The following are brand experience survey question examples:
How does brand experience differ from user experience and customer experience?
The first thing to understand when considering the differences between brand, user and customer experience is that all are based on the opinions held by individuals. In a B2B arrangement, organizations have no BX, CX or UX. These are explicitly held by people who work there, not the entities themselves. They frequently differ between people within the same organization. 
The second thing is that none of these terms are wholly independent. Each covers much the same ground as the others. However, there are important distinctions that set them apart.
One way to explain it is to consider who the terms apply to:
Brand experience

applies to anyone with any knowledge of or interaction with the brand. However it is most applicable to those with deeper and/or more frequent engagement and interaction.

Customer experience

applies to anyone that has bought from or otherwise entered into a customer relationship with the brand. However it is most applicable to current, 'live' customers.

User experience

applies to anyone who uses the product or service of the brand. By inference, this is most applicable to current users/users of the current version of the product/service.
How does my customer experience affect brand experience?
Let's take the example of a well-known brand, WD-40. WD-40 is a multipurpose spray used for lubrication, water displacement and preventing rust. It stops squeaks! Most people will have heard of or seen WD-40, whether they use it or not. This qualifies all of those people for some level of brand experience. Understanding what people think about the WD-40 brand is important to WD-40 because other cheaper alternatives are available. Brand trust and loyalty is imperative, and so WD-40 will be going to great lengths to ensure consistency and relevance of brand experience across every interaction, media, etc. This will also be crucial in acquiring new customers by converting brand recognition into a purchasing commitment.
Among the many customers of WD-40 are both households and businesses. In the household, WD-40 will be kept in a closet drawer or in the garage. Here, the customer and user are one and the same. The customer experience of this individual is almost exactly the same as their user experience. The CX is everything about being a WD-40 customer, including using it. The UX is a subset of the CX – without the purchasing and so forth. 
However, some WD-40 customers will use it professionally. For example, a car mechanic or plumbing engineer. It may be that the procurement department of a large chain of car repair shops or a major plumbing services provider buys WD-40 by the crate, on behalf of hundreds of users distributed in many places. This is where customer and user experience become quite distinct; 'customers' don't use the product and users aren't really the product 'customer'. This also has implications for brand experience. For example, WD-40 users that swear by the quality of the product and the UX could be extremely passionate and loyal about the brand in ways that procurement colleagues (the 'customers') simply don't understand. WD-40 will want to understand and accommodate these differences and dynamics in how they communicate their brand to particular audience groups. 

Does brand experience result in loyal customers?
Yes, it does result in loyal customers. Though it can be difficult to measure this. The best justification is the investments organizations are happy to make in building and evolving their brands. The entire purpose behind this effort is to influence customer behavior. Organizations ultimately want these brand investments to pay back multiple times over through more purchases and more revenue. These will either come from existing customers or new customers.
Net Promoter Score ® (NPS) – the customer loyalty metric 
Customer feedback is very important to measuring brand experience on a regular basis. By using customer surveys in the right way, you get a constantly updated picture of how people view the consistency and impact of your brand.
Undoubtedly the most popular customer feedback metric is NPS (Net Promoter Score) which is designed to measure customer loyalty. The following question (or minor variations thereof) is used to collect data to produce an NPS score:
On a scale of 0–10, how likely are you to recommend BRAND to a friend or colleague?

This would be an appropriate question to ask as part of a brand experience research exercise, but it isn't entirely conclusive about brand experience itself or its relationship with customer loyalty. Far better would be to correlate responses to this question with a related question on brand favorability.
For example, if you asked people:
On a scale of 0–10, how favorably do you think of BRAND?

You could then segment responses to this question into the most and least favorable. The most favorable would clearly be those answering 9 or 10 (people answering 6–8 may be positive but not definitively).
Then, pose the NPS question above to the same sample. If it shows that people who think favorably of your brand are also predisposed to recommend you (defined as NPS promoters) then you can begin to demonstrate a link. 
A final note of caution, however. Some studies have shown discrepancies between NPS respondents saying they will recommend and actually recommending. Likewise in respect of proclaimed versus evidenced customer loyalty. The ultimate correlation would be between those expressing brand satisfaction and favorability and those who remained customers over a given period; longer than average customers/those who were not favorable.
Using customer feedback to shape your brand experience
Customer feedback is essential to brand experience management, particular when conducted at a regular cadence. This ensures insights are contemporaneous and resulting actions can be executed quickly enough to make a difference.
Customer feedback can be used to shape BX in two principal ways:
By enabling continuous improvement of brand experience and equipping the organization to evolve a brand to be forever relevant.

By having the feedback mechanism be part of the brand experience that target individuals witness and interact with
Applying feedback for continuous improvement of the brand experience
Continuous improvement requires a regular cadence of measurement so you can track how well you're doing. For this reason, regularly polling your contacts about brand experience is crucial.
However, there is a limit to how much it makes sense to ask for feedback – do it too much and it could prove counterproductive. Choice of frequency ultimately comes down to your own judgement. Base this on your existing understanding of the people you're surveying, but also on doing some testing. If the data looks like you can do surveys monthly or weekly, then plan for that. 
Every continuous improvement program starts with a benchmark of where you're at. Your ground zero. Take care to get a good, representative sample of a range of metrics. Here are some examples of the main ones to choose from. You'll also want some brand experience-specific ones – check out our brand experience survey question examples in the relevant section above. With your benchmarking done, apply your cadence to track and review.
As much as possible, you'll need to garner real-time, in the moment and contextual feedback. Market research gets old very quickly, largely because people's recollections fade fast.
Don't just me
asure brand experience feedback – act on it!  
We cannot overstate just how important it is to go beyond simply recording brand experience data. Brand experience reports look great and will help colleagues and managers understand what's going on in the minds of customers and the market at large. But it's a wasted opportunity if you aren't geared up to act on this customer feedback, before it arrives.
That's why you should put a response plan together for how you'll act on the feedback your surveys will elicit. Consider the following as a minimum:
Proactively contacting customers that appear extremely upset, disappointed or confused about their brand experience. Is there a problem you could fix? 

Proactively contacting those that appear to be raving about your brand and everything in connection to it. Are these allies and advocates that you could recruit for reviews, user testing and case studies?
Clearly if you're using brand experience surveys to pinpoint improvements you could make to the brand experience – you need to be ready to make them! Ensure that you have the internal decision processes in place for the changes you need to make or you'll risk unnecessary delay.
Feedback surveys as an extension of the brand experience
Every interaction with a customer or target individual influences their perception of your brand. Therefore, a brand experience survey sent by 'BRAND X' must be consistent with the familiar elements of that brand.
This applies most obviously to visual elements such as color palette and imagery. Also, to the tone of voice and use of language. Take a look at some of these great examples of on-brand customer feedback survey designs.
Less obvious is the very fact that instigating a customer feedback program contributes toward positive brand attributes more generally. Attributes such as:
Being attentive to customer needs

Treating each customer as an individual

Acting on customers' wishes

Having consistent standards

Evolving to address new requirements and contexts 
Some of these attributes can be cancelled out if your feedback surveys don't appear to be brand consistent, don't make sense or have no apparent purpose behind them. And all that positivity can switch to negativity if your surveys are intrusive, disruptive, time-consuming and take too much effort to complete. Ultimately, with a great survey, you want to add to the list of attributes with the following:
Being easy to do business with

Showing you value their time as well as their opinion

Not being pushy
Be sure to accentuate these attributes when conducting surveys so that customers look at your brand more positively by virtue of asking for their feedback.
How to start improving your Brand Experience?
Keep refreshed with new insights from the Customer Thermometer voice of the customer blog. Or get stuck in with applying CX best practices with the market's best feedback tool. Grab a free trial account now to get started.
https://www.customerthermometer.com/img/Blog-10.jpg
496
1420
Gavin
https://www.customerthermometer.com/img/[email protected]
Gavin
2022-02-25 12:52:45
2022-02-25 13:05:12
What is Brand Experience? Definition, Examples and 6 Ways To Improve It