2021 is going to be utterly unique.
Sweeping changes in our habits has created a rush to do everything digitally…
One of the most fascinating bits of research to cross our desks of late is the 'Gartner Top Strategic Technology Trends for 2021' edited by Brian Burke.
It arrived just as we put the finishing touches to our new Customer Experience 2021 eBook – full of up-to-the-minute tips and advice in time for 2021. Download it here.
Cheerleading customer and employee feedback insights
As far as annual tech predictions go; yes they have grown to be a bore sometimes. But this year is different. Predicting the technology hallmarks of successful businesses in 2021 is unlike predicting any other year before.
Pick any year in the last 20 and these things typically read like shopping lists of 'early majority' technologies with some unusual innovations thrown in. Today the world has truly changed and businesses must adapt to succeed.
That's because what Gartner is saying has an awful lot of relevance to what Customer Thermometer does. Customer Experience, with Employee Experience alongside, are front and centre for every business we speak to right now and with good reason. The digital rush has disrupted so much and companies are planning a 'touchless' 2021.
The concept of total experience
Gartner's predictions are laid out on three threads, one of which is 'people centricity'. This reflects the enduring principle of having people at the heart of your business thinking, irrespective of how they work at and interact with organizations. Understanding what people think and how they behave is critical, and needs to be constantly facilitated and acted upon.
The concepts within this thread include the 'Internet of Behaviors' (IoB). This describes the collection of tiny pieces of information from which to draw insights that benefit the business (cue the sound of CT pom-poms shaking).
However, the concept that really stood out to us is 'total experience strategy'. According to Gartner, total experience:
"…combines traditionally siloed disciplines like multiexperience (MX), customer experience (CX), employee experience (EX) and user experience (UX), and links them to create a better overall experience for all parties. Not only does this streamline the experience for everyone…it offers an excellent opportunity to differentiate…from competitors."
This chimes loudly with the themes of our guide to preparing for 2021. It contains lots of practical guidance on how to encapsulate the entire multi-stage journey of both customers and employees. And that's essential for your long-term post-Covid response (here we go beyond pom-poms to some kind of human pyramid).
Resilient delivery
Another of Gartner's three threads is 'resilient delivery'. This breaks down into further areas such as 'intelligent composable business' and 'hyperautomation'.
Within all this is an acceptance that new technology platforms and further digitalisation are in high demand. But the problem with implementing such platforms is that, with people remotely scattered and little scope for traditional in-person user support, doing so effectively is in serious doubt.
What's needed are lightweight platforms that operate across organizations, and are fast, simple and low-cost to deploy.
These must, like CT (wooooo!), abstract and interpret complex information as a single pane of glass layered above people, processes and systems.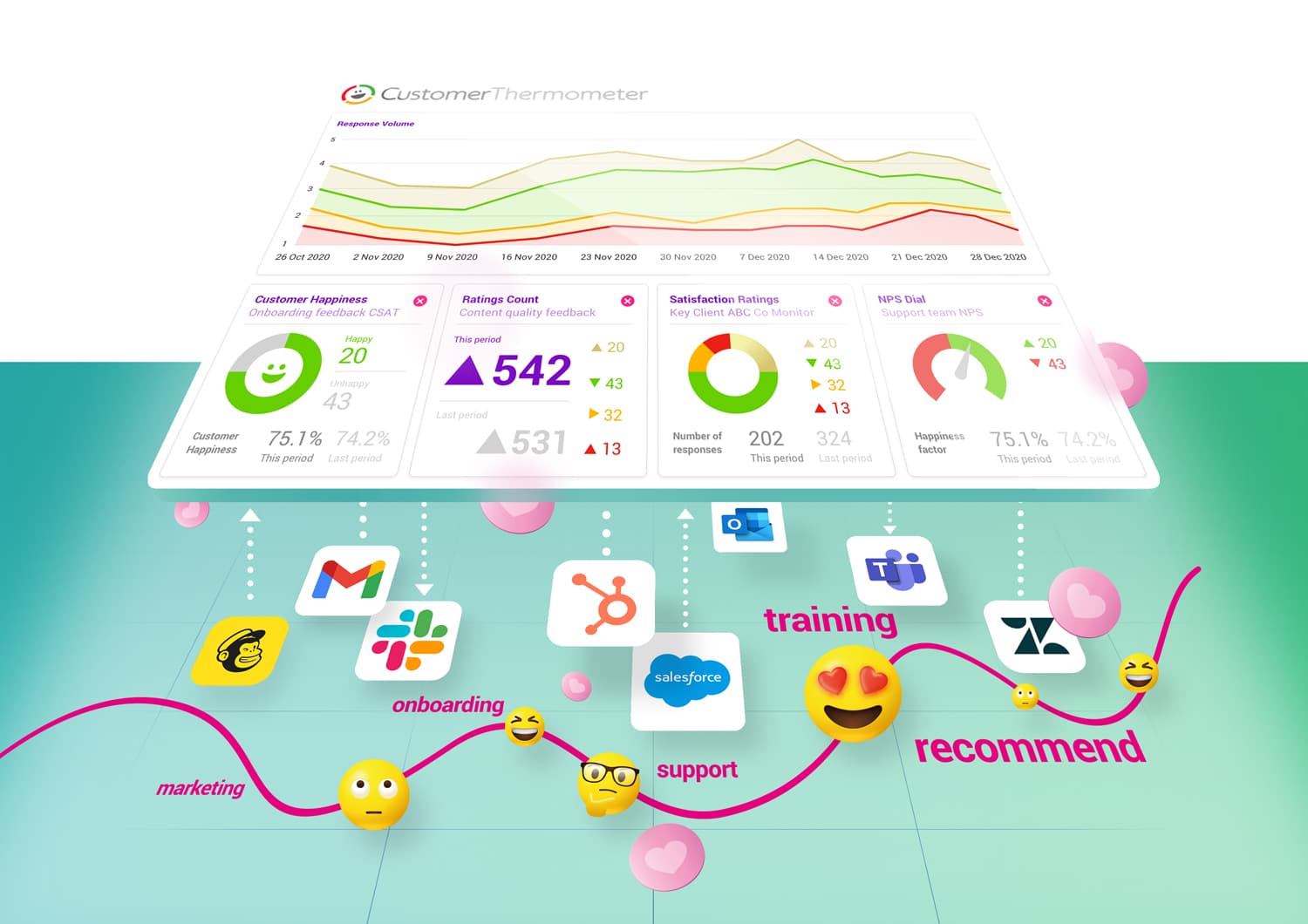 Another consequence of this platform issue is the added strain that new technology projects will place on customer service and support teams. Could your tech projects drive a wedge between you and your customers or employees?
6 top CX Program tips for 2021
Customer support should be ground-zero for using feedback insights among organizations geared up for a successful 2021. Customer (and employee) insights can be used far more widely – <<read our 2021 guide to find out more>>.
As as taster, here are 6 quick tips to get you on your way:
Always explain why you're asking for feedback, before you ask for it
Some customers will give you feedback whether you ask for it or not, but this leads to biased results from a comparatively small customer cohort. So, when aiming for as wide a response as possible, it's a good idea to level with everybody about your plans.
Write to them explaining why it's important you hear their feedback after every relevant interaction. And, just as importantly, explain what you'll do about it.
Tie feedback to customer-facing staff and celebrate their successes
Behind every positive customer interaction is the team member in your company that they dealt with. League tables can both measure and incentivize performance and help you identify stars. Use it to run periodic prize-giving both for teams and individuals. This will also help stimulate best practice and raise the bar for everyone involved.
Put your customer feedback program front and center by including it in your welcome pack
Customers have a right to know what to expect before they commit to you. The best companies already anticipate this with a 'welcome pack'. So why not incorporate a view of your customer feedback program within this?
By being transparent about your willingness to collect and act upon feedback – particularly around critical events and processes – customers can be more confident choosing you.
Provoke real opinions – not vague uncertainties
You should always be grateful for customer feedback, but what if it doesn't tell you anything? That isn't the customer's fault – it's yours. If you give customers the option of sitting on the fence, don't be surprised if they take it.
When customers are honest with themselves, they will either lean toward being positive or negative. It's crucial to uncover that insight. So never offer a sliding scale choice of 3 or 5 responses – always make it an even number instead (we recommend 4).
Create a framework for responding to customer feedback – and test it!
There'll be customers at different stages of their journey, responding in different ways to different events. If you don't plan how to respond, you risk missing the opportunity to act upon insights and change customer perceptions.
We have lots of resources to help create a response plan based upon how your customer journeys work. Applying these will bring instant value, but don't miss the step of testing these to check they are optimized. Customer feedback programs are organic and benefit from constant refinement. Your customers deserve nothing less!
Have a 'disappointed customer' process
Admit it – unhappy customers crop up from time to time. People make complaints. Having an internal process with KPIs (i.e. have senior managers personally answer bad feedback within XX minutes) in place to manage these is critical in responding effectively.
And it all starts by asking the right question in the context of a relevant customer touchpoint. Go one stage further and see how successful you can be at turning 'frown face' incidents into 'happy face' resolutions.
https://www.customerthermometer.com/img/CX-customer-experience-2021-program.jpg
497
1420
Lindsay Willott
https://www.customerthermometer.com/img/logo@2x.png
Lindsay Willott
2020-12-18 00:36:26
2020-12-18 08:09:41
How To Keep Close To Customers: Customer Experience 2021