Customer journey mapping is really important to ensure you fully understand your opportunities for garnering and applying customer feedback. You can find your way through this challenge in our Journey Mapping Guide.
A critical step in putting customer journey mapping into practice is drawing it out in a logical way. It doesn't have to look perfect; you'll probably go through a few iterations. Having a customer journey map template to work from would sure come in handy.
We've researched a varied bunch of journey map templates to help your thinking. So sharpen your Sharpies, unwrap a bumper pack of Post-its or fire up your paint app of choice. This is going to be an adventure!
"The Equilibrium" Journey Map Template 1
This template from Meridian Health is persona driven and, like most of the templates reviewed here, breaks the journey into logical stages. The biggest feature is the colored chart showing a line of equilibrium above and below which are increases and decreases in customer satisfaction.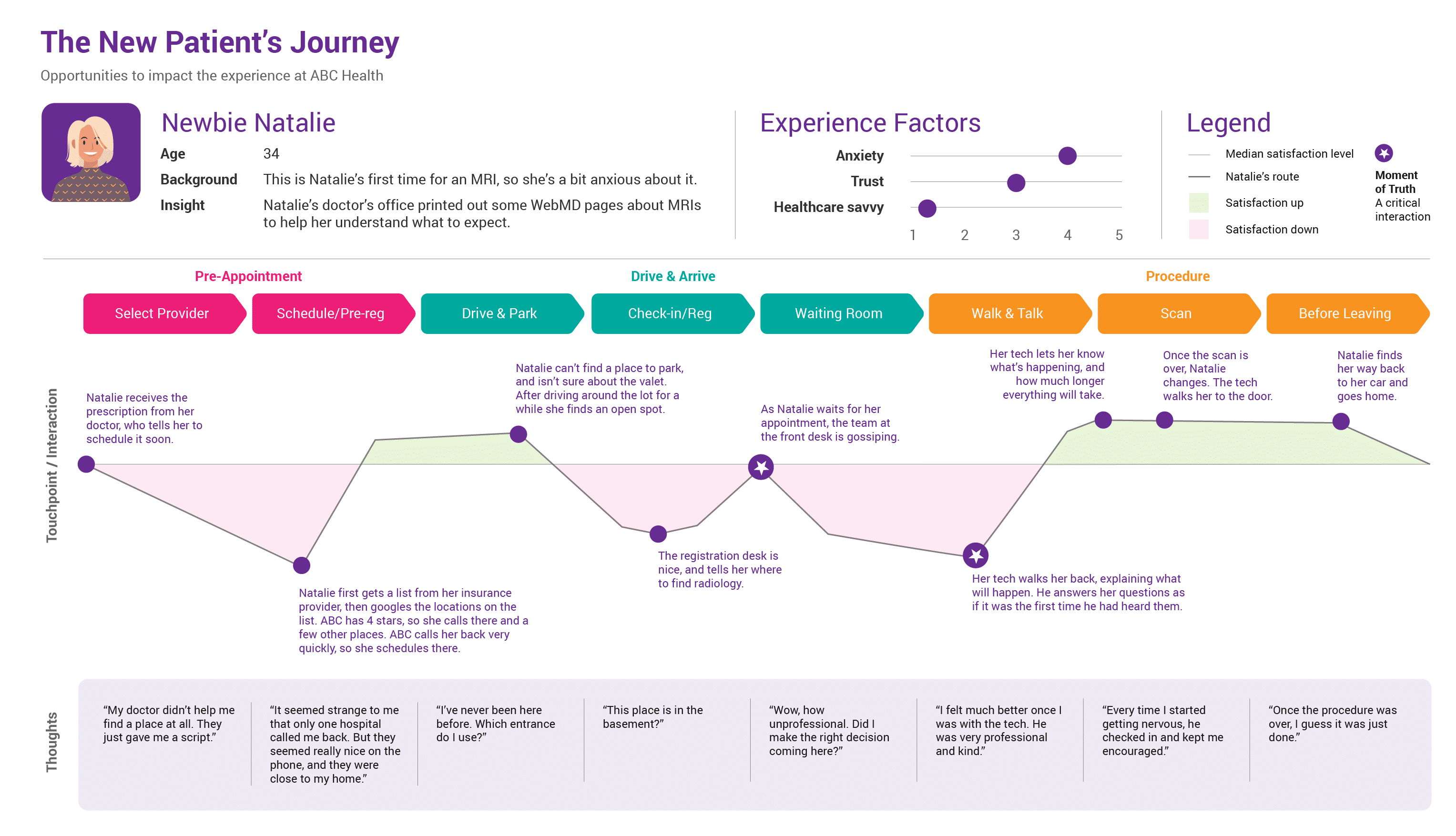 Good for: seeing the world through the customer's eyes in rich detail.
Not so good for: clearly pinpointing structured touchpoints and the systems that govern them.
"The Kaleidoscope" Journey Map Template 2
This template builds on some of the attributes of 'Equilibrium' in being persona driven and showing above/below the line satisfaction over time. We love the richness of added detail around touchpoints, actions and opportunities. However, the multi-colored key (with 8 colors denoting very specific emotions like joy, disgust, anticipation and more) might be overdoing it somewhat.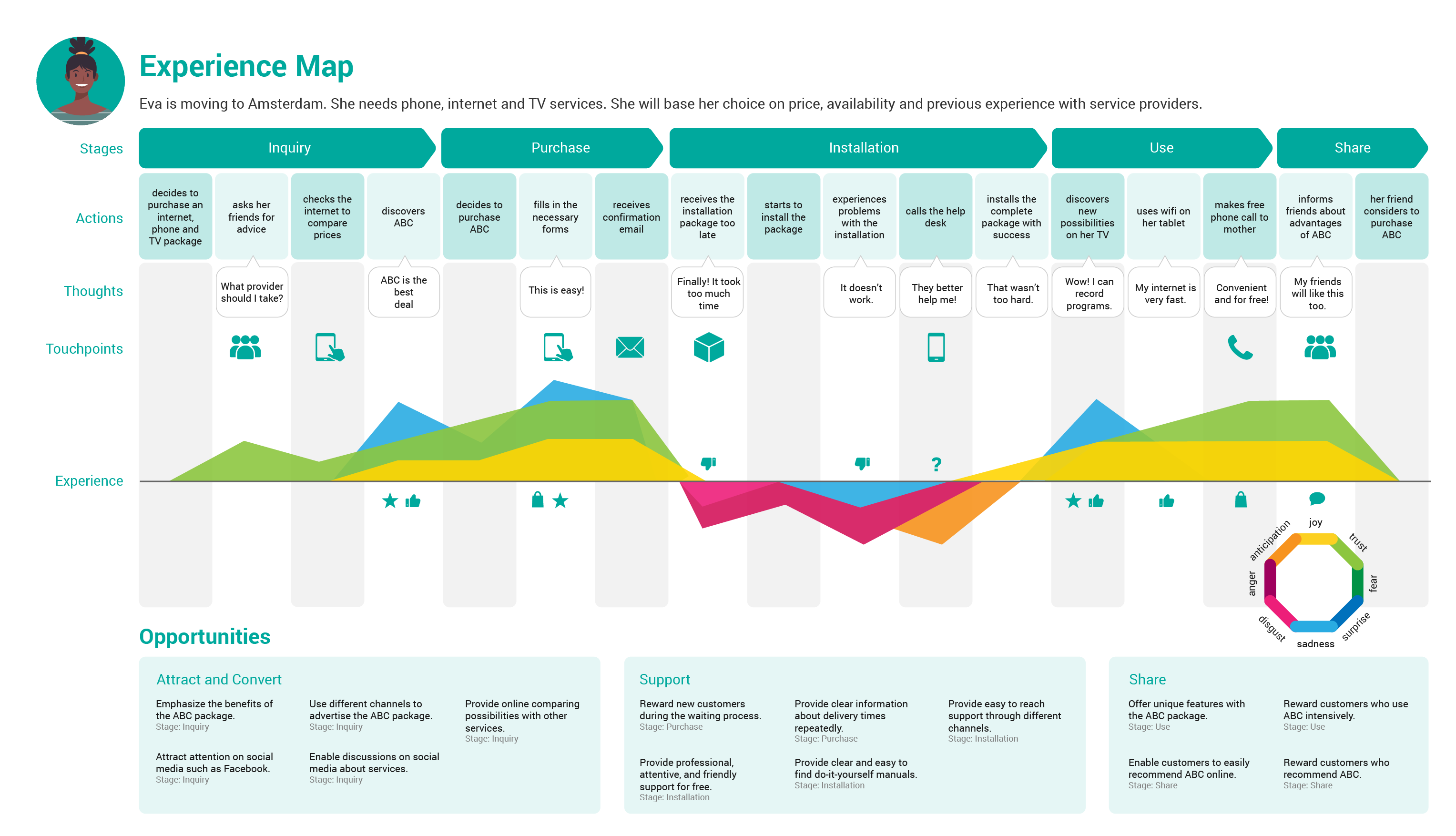 Good for: getting loads of detail into a single template.
Not so good for: considering the lifecycle of a customer relationship rather than a single transaction.
"The Mystery Shopper" Journey Map Template 3
Our next template takes its cue from the proven principle of 'mystery shopping'. This is less of a dashboard view for the journey map itself and more of a thinking framework for putting the journey map into the appropriate context. The idea is to enable a deeper dive into the customer experience.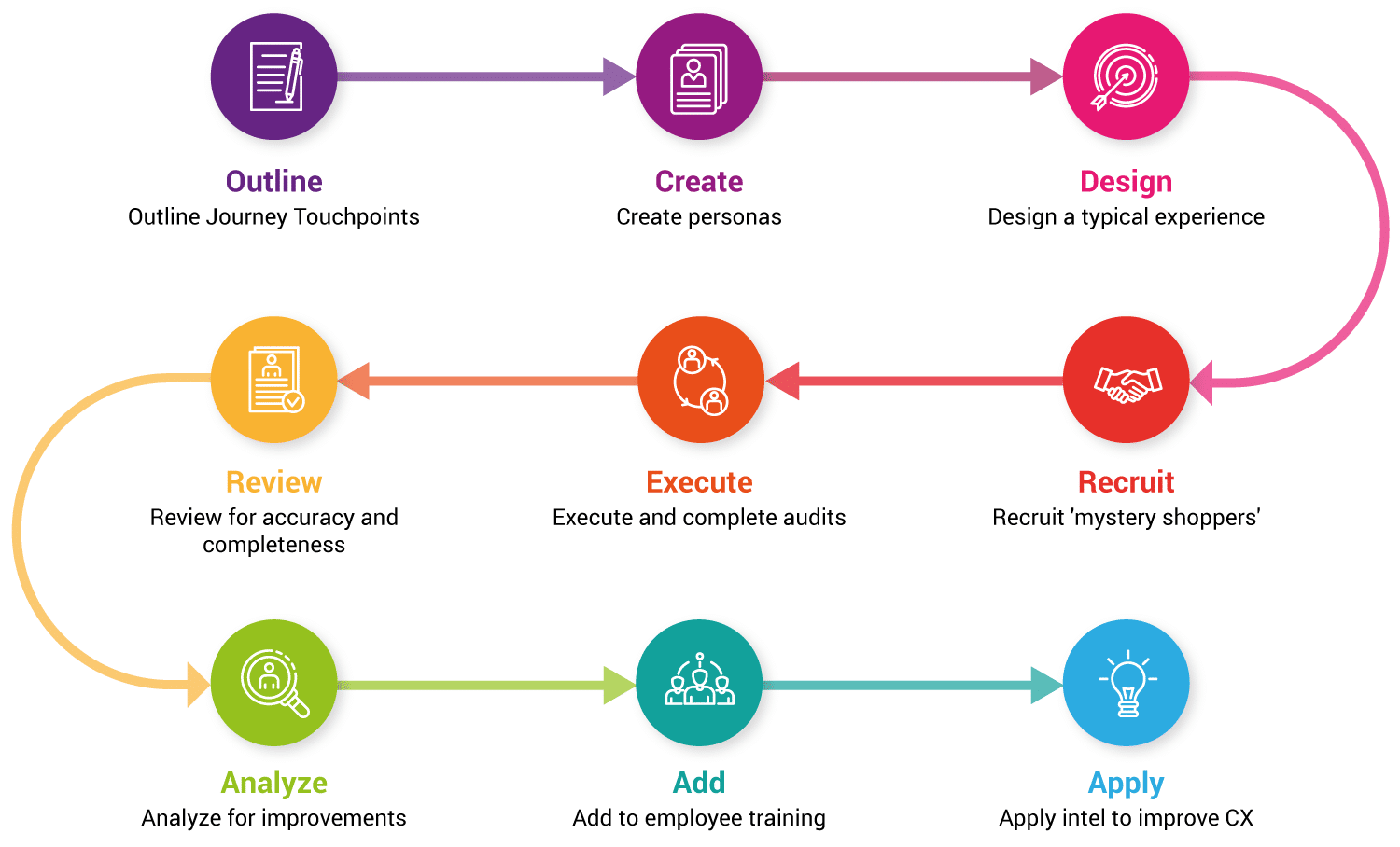 Good for: approaching the whole customer journey mapping challenge in the right way.
Not so good for: documenting the various components of a journey map.
"The Cartoon Strip" Journey Map Template 4
This is a really visually-driven template that breaks down human interactions into a series of stages using cartoon-like graphics. We think it could help very process-driven companies remember to keep people front and center in their thinking. Plus there's plenty of scope for providing added detail around action points, systems and platforms.
Good for: bringing the customer journey to life with lots of question ideas.
Not so good for: charting the ebb and flow of customer satisfaction.
"The Departmental" Journey Map Template 5
This template breaks the mould of many others by showing journey stages as a perpetual lifecycle. No space is given over to icons and graphical flourishes – this is text-based all the way, but its subtle color-coding gives it an easily accessible style. The big feature is how it shows the implication/s upon internal departments, which is unique to this template.
Good for: helping understand wider organisational implications of the customer journey.
Not so good for: providing sample questions for eliciting feedback at various stages.
"The Keep it Simple" Journey Map Template 6
Our last template manages to keep the customer journey map nice and simple without compromising too much detail. It's all about touchpoints, questions and systems and how they link into stages of the customer lifecycle. There's plenty that could be used to embellish it, but we think this is ideal for a first foray into customer journey mapping.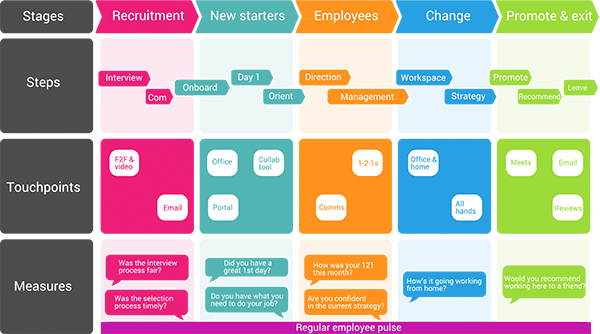 Good for: quickly and easily getting the basics down on paper.
Not so good for: showing every contextual aspect to maximize journey map understanding.
Need to get light-touch, transactional feedback from different aspects of your customer journey? Get a free trial of Customer Thermometer here:
https://www.customerthermometer.com/img/customer-journey-mapping-templates.jpg
496
1420
Lindsay Willott
https://www.customerthermometer.com/img/[email protected]
Lindsay Willott
2021-02-25 13:35:58
2021-03-22 13:20:13
6 great customer journey mapping templates