What does digital customer experience mean?
Digital customer experience (DCX) is closely related to customer experience (CX), and is the part that entails the sum of all digital and virtual interactions a customer has with your brand. Digital customer experience therefore does not include aspects such as customer support contact centers, physical retail stores and face-to-face interactions. Instead, digital customer experience focuses solely on:
The company website and other owned or affiliated web properties

Digital communications channels like chatbots and email

Owned apps, particularly mobile apps

Corporate social media accounts and content

Other digitally-enabled ways to access the brand or use the product/service such as via specialised IoT devices, etc.
Digital customer experience can also be an important consideration in 'brand experience'; more so than non-digital aspects. This is because so much of how brands are communicated exists in the virtual realm and relies implicitly on internet connectivity for interaction and content sharing. 
Why does digital customer experience matter?
Digital customer experience matters because customer experiences matter. Digital is also the biggest and fastest-evolving competitive battleground for the best experiences, so it's worth mapping out, focusing on and innovating specifically. This in turn will enable the development of excellent omnichannel customer experiences. 
Accordingly, good digital customer experience does not arise organically by virtue of a good overall customer experience strategy. It must have a dedicated approach, particularly to capture the hearts and minds of that growing category of customers who increasingly orientate themselves to 'online-only' or 'digital-first' consumption. This trend, which exploded during the pandemic, shows no sign of abating and has instituted new consumer behaviors that are here to stay.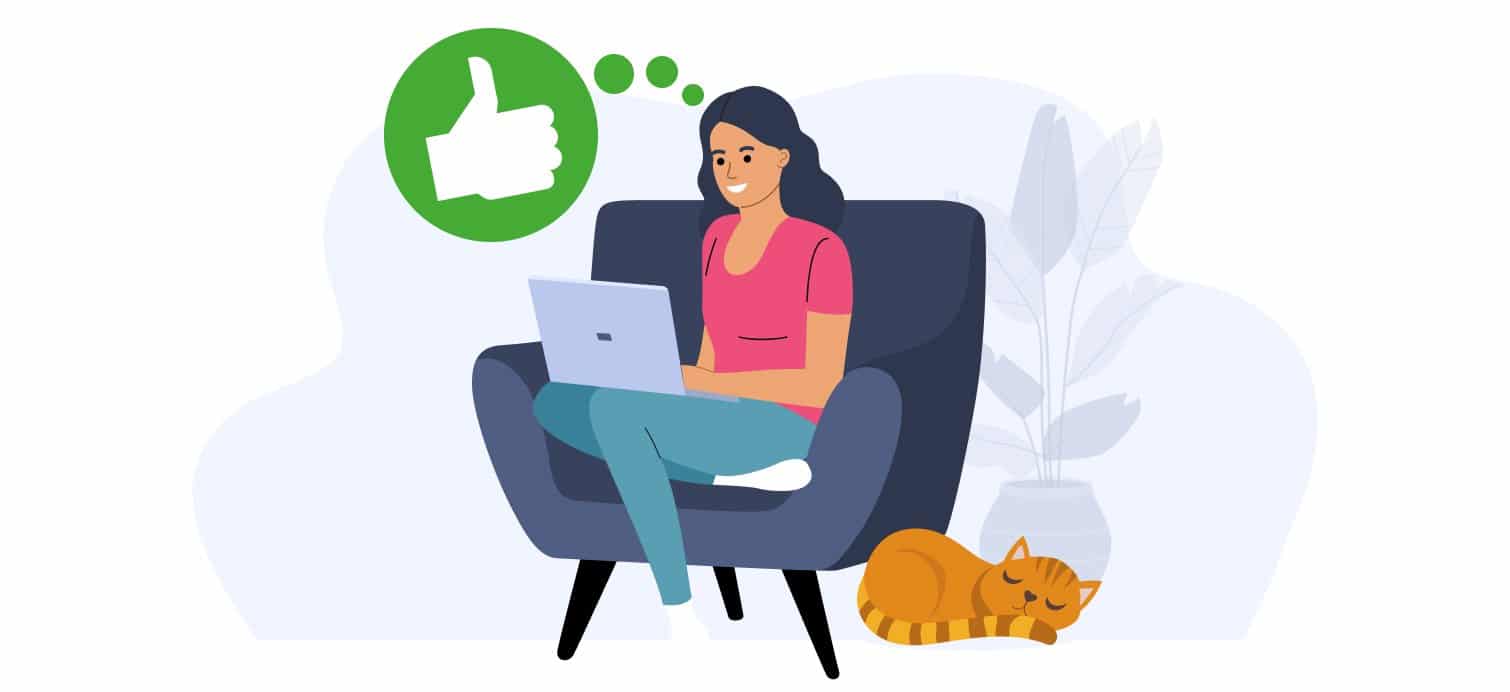 How does digital customer experience differ from customer experience?
Picking apart digital customer experience apart from the wider, overall customer experience can be a difficult process. They will naturally overlap a lot. This is because the journey customers take could include physical or virtual touchpoints. It's very important to acknowledge that customers don't regard their experience as being digital or non-digital – just one customer experience. However, it remains crucially important for organizations to be able to separate digital customer experience, in order to improve it.
For many businesses, digital customer experience and plain old customer experience are the same thing. Or at least they can appear to be. 
A good example is the interactive home exercise platform, Peloton. The digital aspects of the Peloton service are absolutely key to the value proposition offered and the experience provided. For example, the comprehensive array of exercise routines, progression through levels, and social interaction with other riders – all of which is supported by the Peloton application and community, which in turn are only accessible via an internet connection. Other aspects of the digital customer experience for Peloton will transcend the service usage, and involve visits to the website, online ordering, webchat or social media interaction with support queries, etc. 
However, this digital customer experience does not incorporate everything. Peloton operates physical showrooms in many countries, where customers can get a personalized walk-thru or experience a test class – before purchasing. Peloton is also a deeply tangible and physical experience centered around a 140lb platform of metal and plastic. The bike (or treadmill) is central to the experience. As is the process of taking delivery of it, deciding where to put it, learning how to use it, cleaning after each use, etc.
Benefits of excelling at digital customer experience
The benefits of being great at digital customer experience extend beyond revenue retention to greater efficiency, lower cost to serve and even higher employee morale. Here are the top 4 benefits in more detail:
Greater customer loyalty and retention

. A great digital customer experience means customers stick around. Loyal customers not only generate repeat business but they also tend to spend more per transaction and be more amenable to cross-selling. Loyal customers are also more likely to recommend and refer you to others.

Reduced customer churn

. This might sound the same as 'more customer retention and loyalty' but actually it reveals the costs saved in customer acquisition to 'replace' lost customers. Customer churn also impacts your reputation negatively – something you definitely want to avoid.

Lower cost to serve

. One of the attractions of digital customer experience is the lower costs compared to physical channels and models. Enterprise technology mightn't be cheap, but provides a significant opportunity to provide excellent customer satisfaction at scale, using automation, AI and other breakthrough innovations. Addressing digital customer experience helps get this right, enabling you to convert game-changing ROI.

Improved employee morale

. It's often said that happy employees create happy customers, but this phenomenon works the other way round too. And with staff attrition and skills shortages plaguing businesses in all sectors, having a positive and engaged workforce pulling in the same direction is an unparalleled asset.
How to turn digital customer experience into increased loyalty
The ultimate aim for digital customer experience is to make happier customers. Those that enjoy positive customer experiences are more loyal, more forgiving and spend more. They contribute significantly to revenue and customer retention, and can directly influence customer acquisition through referrals and indirectly through recommendations and advocacy. 
Digital customer experience and customer loyalty are inexorably linked. According to research by Salesforce, 91% of consumers and business buyers say they're more likely to make a repeat purchase after a positive experience. PWC found that a great digital customer experience delivers a higher share of wallet too, with 86% of buyers willing to pay more to get one. 
Achieving this requires 5 key elements:
Being committed to digital customer experience across the business, with clear objectives

Understanding customers and the digital journey they experience with you

Collecting customer feedback to determine requirements, preferences and problems as they evolve

Identifying and executing on digital customer experience improvement opportunities

Tying this all together as part of an omnichannel customer strategy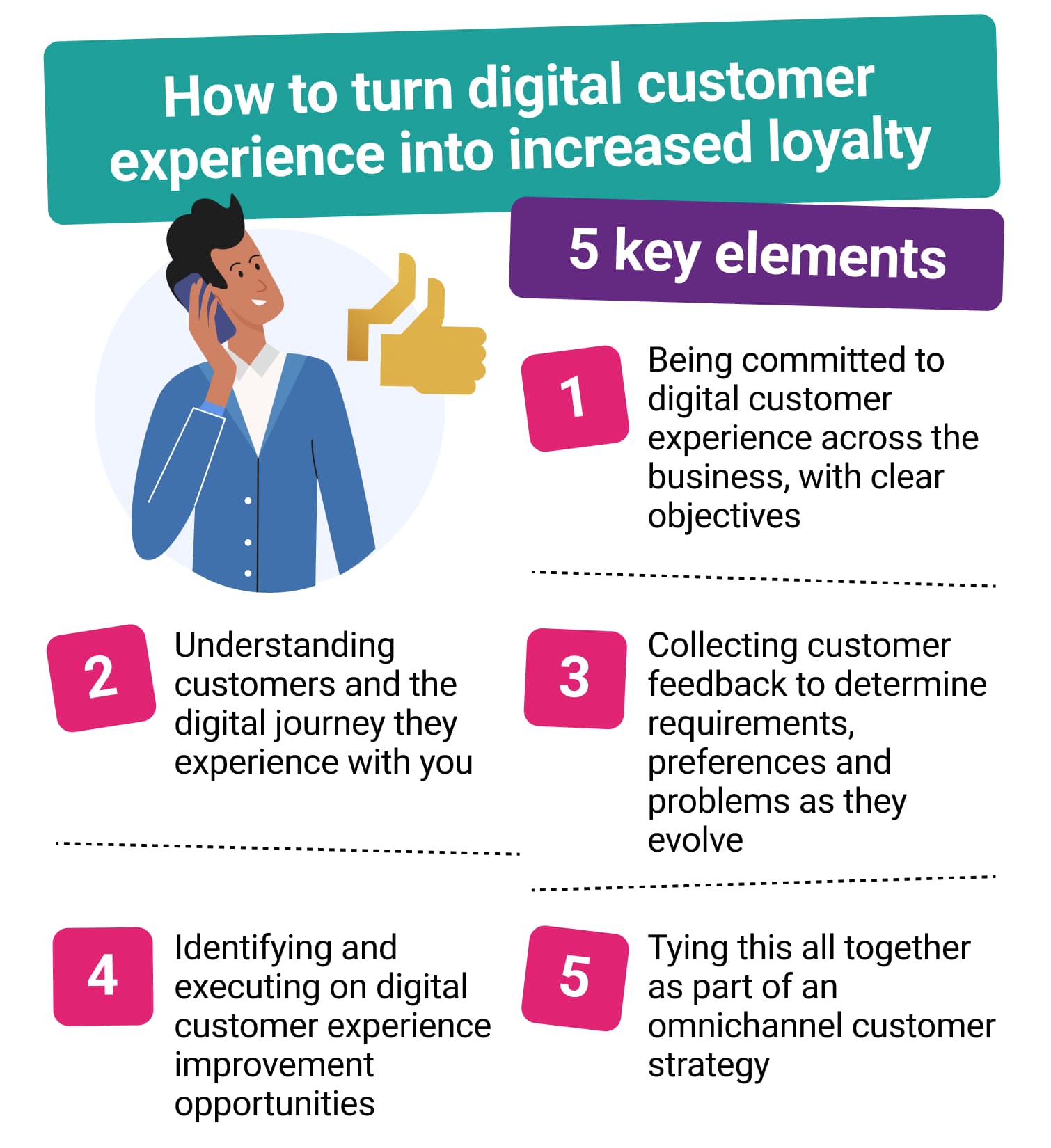 10 ways to create unbeatable digital customer experiences
Here are 10 steps to create digital customer experiences that will help you win.
Take a strategic view on achieving consistent, sector-leading omnichannel experiences
You've got to be serious about supporting and investing in your digital customer experience as a central pillar of a wider omnichannel customer strategy. There's no point paying lip service to digital tools, apps and communications channels. It won't happen overnight either. Create a vision for the experience you want to provide customers and set realistic timescales and budgets for achieving it.
Know your customers and develop accurate personas for them
Conduct some detailed research into your existing customers, in terms of how they buy and engage with your brand, product and service. If you are moving into new customer segments, take care to research these as well. In particular, you need to identify common characteristics and get to grips with the outcomes these customers ultimately want to achieve by using your product or service. What does success look like to them? What are their habits and preferences with regard to digital and non-digital touchpoints and processes? 
Map customer journeys
A customer journey map is a visual representation of a typical customer's journey with you. These are typically designed with all touchpoints, both digital and non-digital. Some digital CX journey maps focus solely on digital/virtual touchpoints. 
The customer journey map is a fundamental management tool for planning optimizations to the customer experience. By logically setting out the stages that customers go through – in a graphical format, much like a map – each interaction and element of process flow can be analyzed and improved, resulting in better business outcomes.
Check out these customer journey map template examples.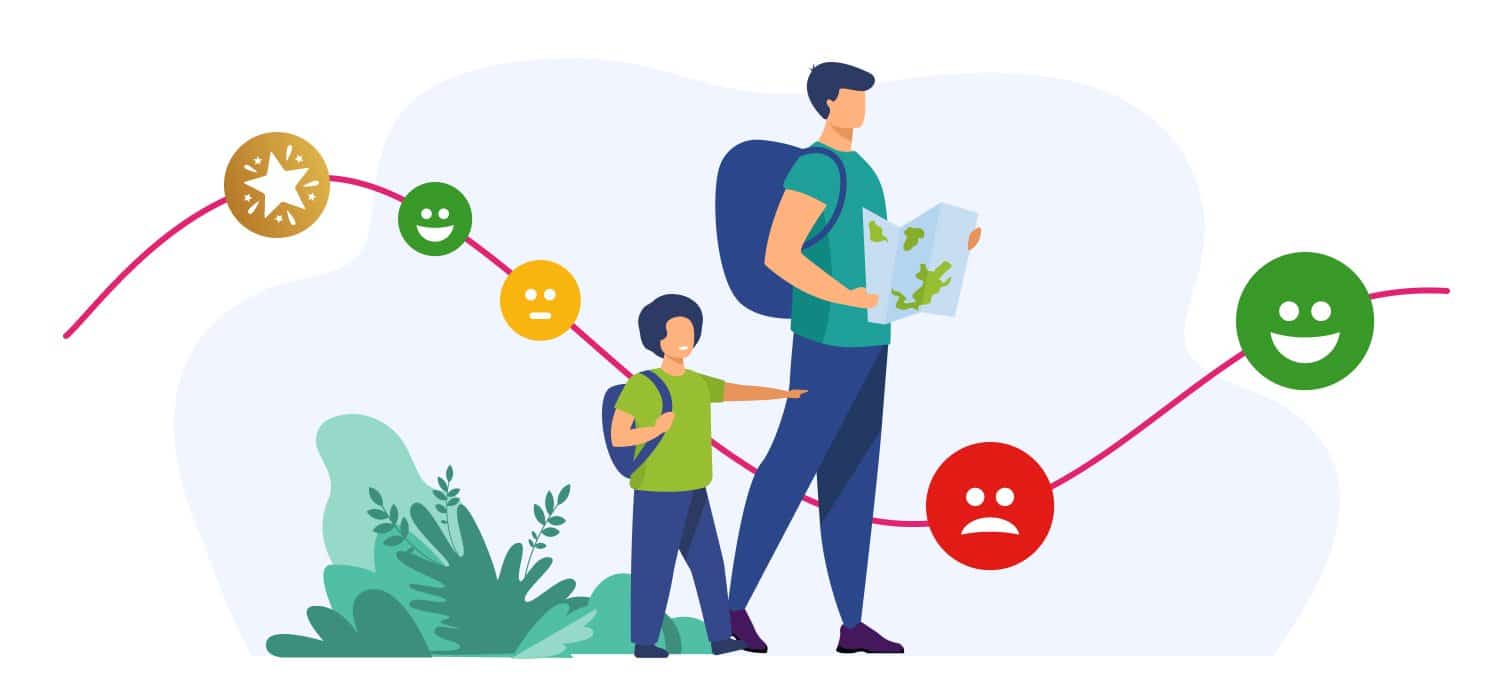 Personalize customer interactions, demonstrate empathy and anticipate requirements
Personalization of customer interactions has long been understood as a mechanism for imbuing trust and rapport. Achieving this at scale, across multiple communications channels and process flows, as part of a seamless omnichannel experience – is the challenge organizations must grasp. Intelligent data analytics, cloud technology and AI are all seen as enablers for this. At a simpler, less technical level, companies that operate in a genuinely customer-centric culture are best at responding and appealing to emotional cues. They are also well positioned to translate their culture externally via digital means.
IDC says companies that provide "empathy at scale in safe, secure and seamless experiences" now have the advantage over those who merely offer the best price, coolest product or most memorable marketing.
Similarly, Deloitte forecasts greater penetration of "human-first data experiences" in the digital domain.
And Forrester believes tech leaders are under pressure to be more creative in meeting higher digital expectations, turning from "digital sameness" to "human-centered technology transformations".
Probe for and collect customer feedback at every opportunity
Armed with a solid understanding of the digital customer journey, you can begin to gain a more detailed understanding of the actual experience via customer feedback. Collecting customer feedback is essential to understanding customers in general, and particularly very specific aspects of their experience. For example, what makes customers pleased, angry, dissatisfied, or needing to expend too much effort? Your customer journey map will indicate points of interaction (touchpoints), all of which represent opportunities to collect feedback. Naturally, doing so rests on selecting a feedback mechanism that is suitably engaging and non-intrusive. 
The customer feedback you collect may take many forms, from quantitative metrics like CSAT and NPS, to more qualitative insights. When choosing which customer feedback opportunities to utilize, it's important to bear in mind their context in the mind of the customer. In other words, asking a customer how satisfied they are will be contextually relevant to the point of interaction (touchpoint). For example, asking for CSAT feedback directly after a support ticket has been closed with a survey question embedded in the ticket closure email notification.  
Select a sufficiently lightweight, flexible and engaging customer feedback process to elicit a high response rate. 
Go for effortless and frictionless
When applying customer feedback to your customer journey map, try to identify points of friction in the digital experience that you could potentially alleviate with changes to process. These are often difficult to identify until customers regularly engage with them as part of a larger experience; they aren't always picked up at the development stage. 
Friction and unnecessary efforts can have a major impact on customer loyalty. If it's too much trouble, customers won't bother. Research documented in the famed CX book, "The Effortless Experience" shows 96% of customers putting forth high effort to resolve issues are more disloyal, compared to just 9% with low-effort interactions. Customer effort can be measured in various ways, more often with the use of the Customer Effort Score (CES) metric.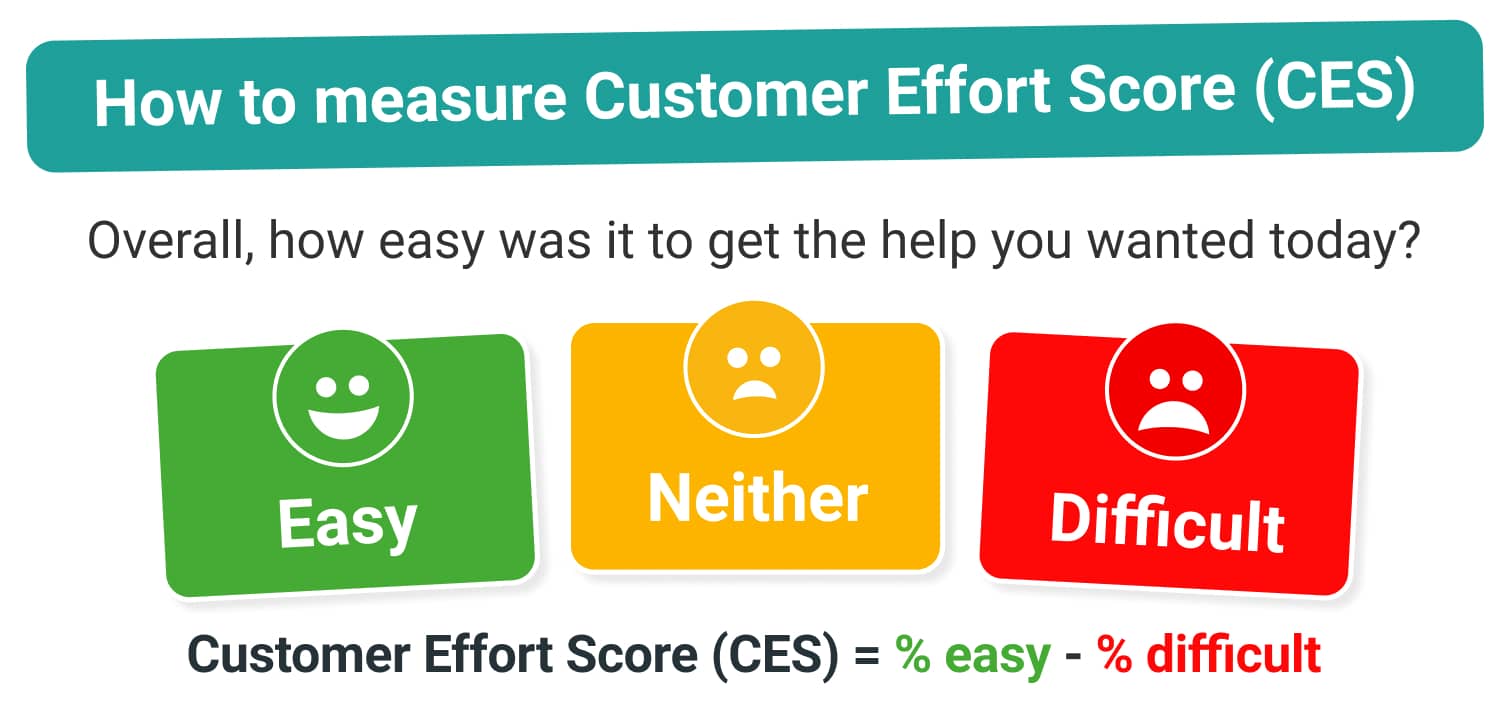 Close the loop on all customer responses 
Closing the loop with feedback respondents is considered best practice, and you should implement this in your digital customer experience program. It basically entails taking steps to ensure you follow up with customers who have provided feedback, until you reach a resolution. The scope of this process is typically limited to negative feedback i.e. customers that have provided negative feedback, in order to check why and try to make things better. This is good practice for customer retention, but also as a valuable learning process to ensure you understand as much as possible from customers whose expectations you failed to meet.
The ultimate scope for closing the loop would be to extend this to all customers who provide feedback. After all, it isn't just negative feedback that is worthy of acknowledgement and follow-up actions. Alongside a disciplined follow-up process for closing the loop – with checklists, auto-reminders, management sign-offs, etc. – you could institute a feedback response planner that provided guidance on what to do with feedback emanating from all digital channels and touchpoints. People giving positive feedback could – if followed up appropriately – become more loyal and develop into great sources of referral and public testimony. As we've seen in NPS® (Net Promoter Score) initiatives, it pays to have a strategy for promoters as well as for detractors.    
Commit to continuous improvement
Competition is fierce across industries, and firms are constantly investing in new ways to get ahead with superior customer experiences. Digital is undoubtedly the domain for greatest opportunity and potential, and where many organizations have proven the capacity to reinvent themselves or even to 'come from nowhere' to generate terrific word of mouth. 
With your wheels moving on a dynamic digital customer experience tracking and management process, set your sights on a commitment to continuous improvement. This should become a necessity because, with the right measures in place, there will be plenty of insights to respond to, resulting in tweaks to digital customer experience aspects, which then need to be tested (and potentially tweaked again) in order to demonstrate tangible benefits. 
Don't be afraid to fail with further innovation 
Last but not least, the digital realm is likely to continue to be a hotbed of innovation for the foreseeable future as organizations embrace new technologies and consumers evolve their buying behaviors and communication preferences. This is not an environment for cautious conservatism; there is considerable latitude for experimentation and trialling innovations to see how customers react.
This mindset comes with its risks – potentially creating adverse effects that compromise how customers think about your brand. However, these can be mitigated by knowing who your most stalwart and most sensitive customers are, and then testing out new digital experiences in a segmented A/B testing regime accordingly. In this scenario, it also pays to have a customer feedback system that is super fast and super responsive, able to give you an accurate real-time picture of customer satisfaction in enough time to do something about it.
How to create powerful digital experiences in different industries
Now let's take a look at some digital customer experience examples. Here, we're concentrating on small aspects of an overall digital customer experience provided by a brand – not the whole thing. In each of these, the brand has worked out what the customer wants to achieve and provided a better solution to delivering it than if they attempted it without a structured digital customer experience approach.
HOSPITALITY: Starbucks My Rewards loyalty program
This is a great example of customer experience gamification. Starbucks has combined two key digital assets – the Starbucks app and its My Rewards program – to drive greater engagement and an enjoyable experience. It's certainly a boon for customer loyalty, as collecting more stars and attaining new levels incentivizes more purchases.
This digital customer experience also breeds greater personalization, as the program learns about spending habits based on previous purchases to make tailored recommendations and  rewards.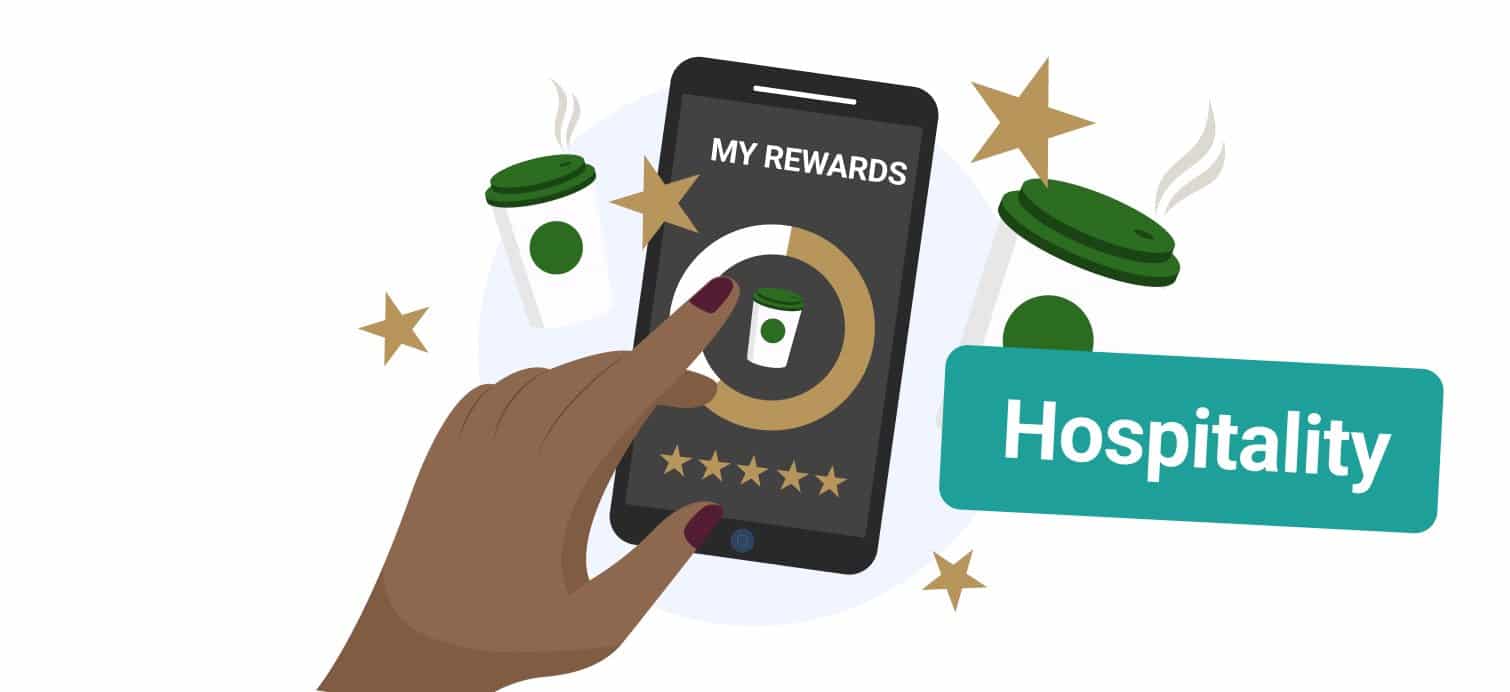 RETAIL: Ralph Lauren & Snapchat dressing room collaboration
This example shows where digital customer experience meets virtual customer experience. Rather than go to a store to try-on the latest Ralph Lauren threads, this collaboration lets customers use their Snapchat avatars (Bitmojis). We love the imagination and how seamlessly customers are taken from virtually trying clothes on to actually buying the real thing. 
We saw a few examples like this emerge during the Covid-19 pandemic, the Warby Parker glasses Home Try-On experience being another similar example.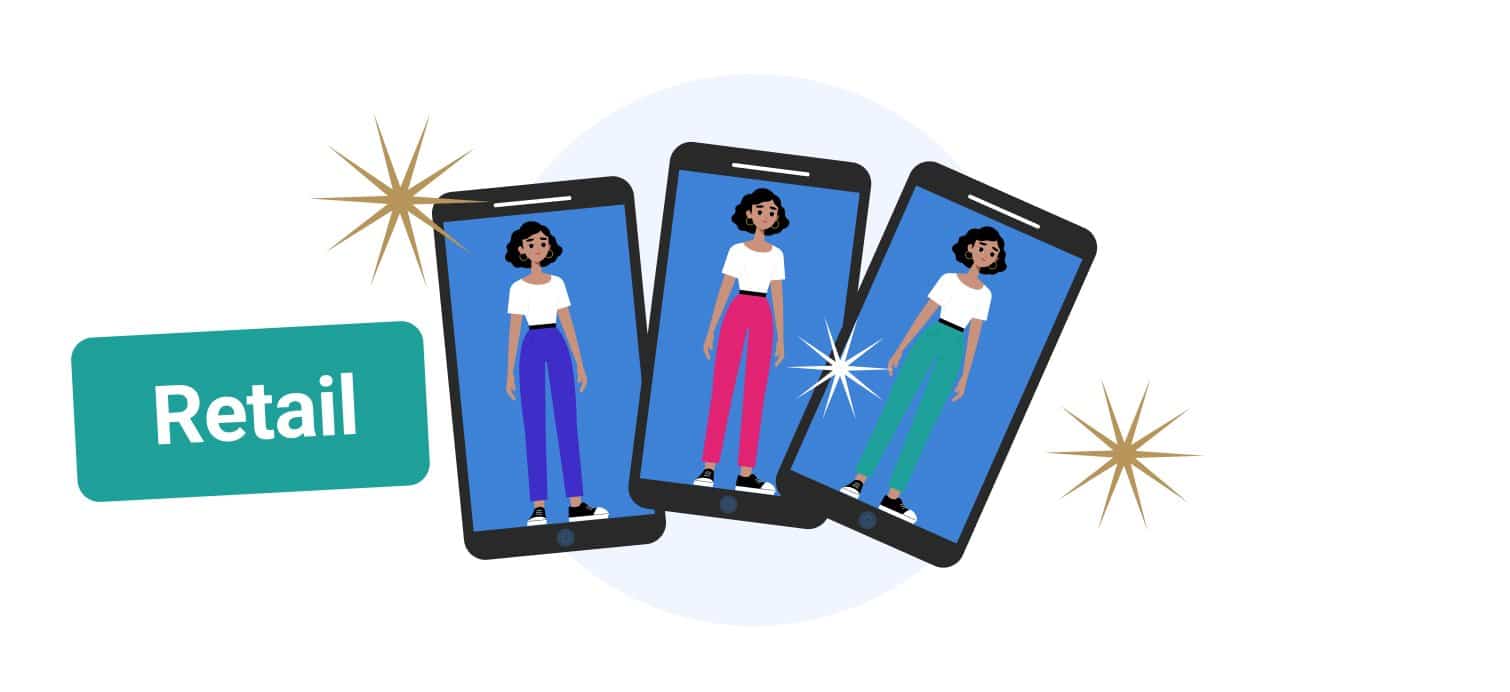 BANKING: Sberbank AI-powered virtual assistants
You may not have heard of Sberbank, one of Russia's biggest banks, or know that it boasts some of the most advanced customer-facing AI technology in the world. It has created an AI tool called TIPS to complement its app experience and provide advice and recommendations for 'better financial habits'. A great feature is how Tips allows customers to access this information on three levels: simple, mid-level and complex. This strips away the information overload typically presented to banking customers, giving them a more frictionless customer experience. 
Start Getting Customer Feedback to Create a Better Digital Customer Experiences
Give Customer Thermometer a try and start sending customer feedback surveys in minutes. Our free trial should give you plenty of opportunities to experiment with fast, effective feedback surveys. We integrate with practically every platform and generate some of the best response rates in the business. Simply fill out the form below to get more feedback to feed your loyalty program.
https://www.customerthermometer.com/img/Blog-16.jpg
496
1420
Gavin
https://www.customerthermometer.com/img/[email protected]
Gavin
2022-01-26 12:30:52
2022-03-16 15:58:08
What is Digital Customer Experience? 10 Ways To Create Unbeatable Digital Customer Experiences