It wasn't so long ago when you had never before uttered the words "social distancing" and polite opinion considered the wearing of face masks in public somewhat eccentric. You don't need me to tell you how much the world has changed.
What's interesting is how fast consumers have adapted, and organizations – to their credit – have innovated. Necessity is the mother of invention, and she has been awfully busy with lockdown rules and public health restrictions that may have forever altered how business is done, services delivered and communications fulfilled.
So while many of these things have rapidly shifted, the way you operate customer engagement and collect customer feedback may be struggling to catch up.
And catch up they will need to, because these changes will persist for many months yet and be subject to gradually staged or even occasionally reversed easing up of legal frameworks; embedding learned behaviors and preferences that may never go back to how they once were.
There are opportunities to change, but not for change's sake. Always be looking through the lens of new customer behaviour and the market situation.
Keep your eyes peeled for signposts in behavior change, and adapt to that.
Look at your data. For example:
What's changing?
Who are the old buyers, have you got any unusual new customers or new requests, is there a market there you can serve?
What's the most popular help content on your site?
What are the newest and more frequent support queries?
What use cases are appearing that you haven't seen before?
Where are new leads coming from?
What's changing across the business?
Tune up your processes to engage with the 'new normal' of customer behavior in the following 7 ways.
1. Look afresh at all your digital touchpoints
We all have to accept that, pre-COVID, digital channels were largely being supplemented by face-to-face engagement of some kind. Now you need to face up to marketing, selling, servicing and supporting 100% from afar. And whoever in your marketplace does that best has a compelling advantage over everyone else.
It doesn't matter how 'digital' you already were before.
Go back and map all those touchpoints, look at the data and consider opportunities to optimize your approach. Be courageous and tackle those areas that are not fully digital. What examples of 'brilliant' have you experienced as a consumer these past few months?
How can you apply those to your business? Have you made any proactive improvements to your digital channels since lockdown? What if you could never see a customer F2F again? How will you get feedback on whether you're succeeding?
2. Look at how customers are likely to behave now
Some customers might have been a mystery before, but the unique circumstances of today demand little imagination to discern what pretty much everyone is thinking and feeling because we're all experiencing the same situation.
Use this angle to understand what your customers want to achieve in this new environment.
Can you offer services that cater to this? Can you reframe your market or your buyers? Can you apply your skillset to new markets and applications? Instead of looking at what you sell, and what customers might like to buy, try instead to understand what jobs they want done.
The fact is that there will be many underserved needs, and you can choose to go after them by flexing your approach and innovating your offerings, or not. A case of 'help now, sell later' could prove a worthwhile investment.
One of the major keys to your survival will be how you can keep pace with evolving customer habits as the manifold waves of recovery batter us all.
Someone else is reaching out to your customers if you are not, and by doing so building a picture of how they might change over time and what new skills and offerings will be most relevant to supporting them.
Here are just four examples, left to right, of companies who are doing something new to support customer needs.
-An escape room company making escape games they send to homes.
-A sneaker company making face masks.
-An entertainment company using their car park for drive in movies.
-And a theatre set manufacturer making flat pack home stand-up desks!
3. Assume customers need more help than you are giving them
People are largely coping, not thriving. They are less certain of their expectations; customers used to know how to deal with you, maybe now they aren't so sure – so move decisively to remove that uncertainty.
Can you provide assets and tools to help them? Consider going twice as far as you normally would for a customer, way beyond just delivering the service they paid for. What can you do for them by way of extra service wraps, more time and more consideration – whatever it takes to make them feel supported and safe?
Would a customer describe or recommend you as both welcoming AND 'COVID-approved'? Are you coming across as conscious of the role you play in people's lives, beyond the basic platitudes all companies have across their websites?
More questions to ask yourself:
Have we examined the prospect to customer to advocate funnel and worked out where people are getting stuck?
Are we creating self-help content that's easy to access from home?
What about training that's easier to consume and share?
How will we know if customers are finding us responsive to deal with?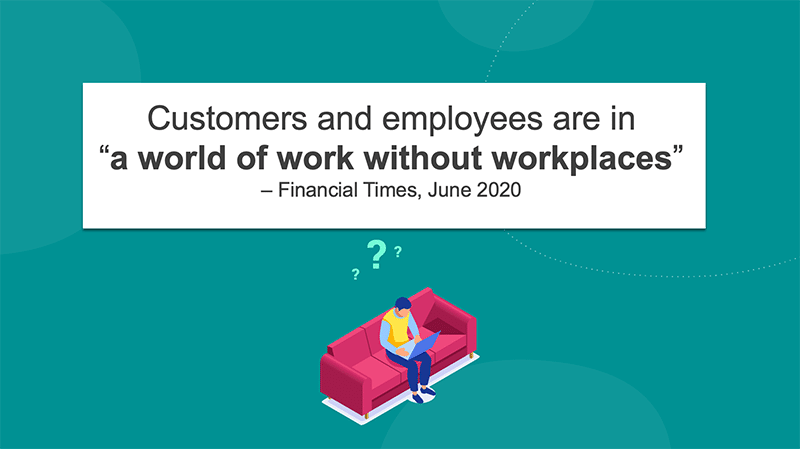 4. You will have to make reasons for conversations
Serendipity has left the building. Happenstance went AWOL on day one of lockdown.
It's unlikely you'll be bumping into a potential customer or running into an ex-colleague any time soon.
You'll need to get proactive on opportunities for customer interaction.
Salesforce's State of Service report found that 80% of customers value their experience with you as highly as what they actually buy from you. That is great news if you're able to keep those experiences moving along in these difficult times and – by stark contrast – absolutely devastating to your business if you can't.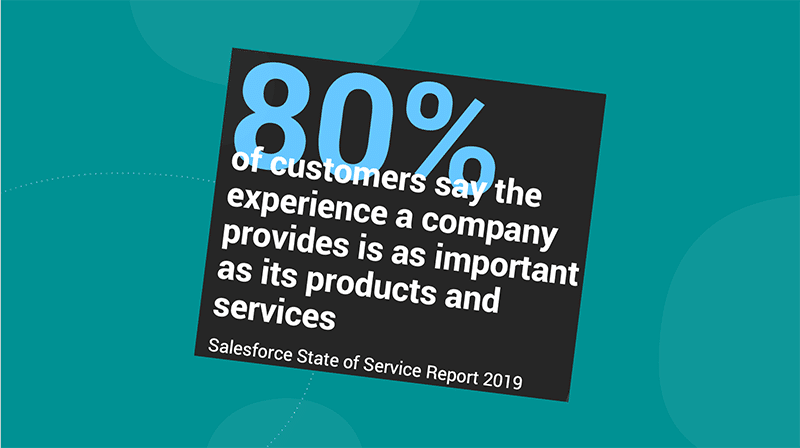 Word of mouth and recommendations will be essential, as will your SEO. You need to be adaptable and creative; ready to redeploy focus, invest in new standards of service experience and collect the right kind of data about what customers think in response to specific stimulus as well as on a more general level.
Questions to ask yourself:
What have you stopped doing that you believed to be temporary? What's "waiting for the recovery?"
What's been moved out of your budget that would have given you an opportunity to meet, network with or influence people? Have you replaced that effectively?
What are your customers Googling that you could be providing for them?
What noise are you making in the market, right now?
What's it like to do business with you, right now?
What are you doing to make customers rave about you publicly?
5. Get on top of customer success
Organising your team to deliver the best customer success and experience is one of the very few things you can control right now. Do this right and you'll drive everything from word of mouth and referral, through to increased cross/up sell and longer lifetime value (LTV).
This crisis will have spread your customers out on a spectrum from 'run off their feet' at one end, all the way to "struggling" or even "shuttered" at the other. Look beyond how you can increase revenue per customer, to how you can help them survive.
Can you offer payment holidays or discounts for customers who are struggling? Or new kinds of services for those buckling under the extra pressure?
Do everything in your power to help your customers succeed. If they come out of the pandemic in good shape, so will you.
Don't underestimate the role of significant employee engagement and team training to drive your customer success at scale. A simple 3-stage program would entail:
Journey mapping "new normal" customer interactions – what does your customer's new journey look like now?
Implementing a shared brilliant basics/magic moments attitude to service excellence
Ongoing training, real-time feedback and measurement
6. Value speed over precision
If you wait around for perfect, you'll quickly run out of time.
Today's environment is low on solid information about tomorrow.
As the author of 'Black Swan: The Impact of the Highly Improbable', Nassim Nicholas Taleb posits: "Understanding how to act under conditions of incomplete information is the highest and most urgent human pursuit."
It is instructive that one of the foremost innovation industries – software development – has focused so much of its long-term evolution on iteration and continuous improvement. Your ideas can be 'good enough' to be released as long as you are committed to iterating your creation, and being transparent about that with your customers.
Remove any barriers to accessing your products and services. Reduce friction, unblock the funnel that connects your prospects and your company. Make it easier for customers to do business with you (because if it was hard to do business with you pre-COVID, 10x that now).
Some of what you try WILL fail and you need to be okay with that.
Just some of the items you'll need to review and tweak:
Channel preference
Pricing models and scales
Delivery models
Purchase cycles
7. Measure success differently
The ultimate measurements of success naturally rotate around P&L, but in such periods of unprecedented change (the consensus view of economists is the deepest fall in output for centuries) it would be remiss to ignore the data insights that are readily available if you care to extract and analyze them.
These include customer retention, reach, access, influence and 'share of ear', not just share of wallet. These will be the measures of 2020 and beyond.
Taking a lead from macroeconomics, where there are increasing calls to replace 'GDP' with more progressive indicators of prosperity, businesses on a smaller scale can accurately chart the real difference they are making as well as how influential, kind, caring and community-oriented they are perceived to be.
It may be time to embrace things like giving away IP and content of real value, giving distressed or vulnerable customers payment holidays or discounts, and completely changing the way you communicate with customers and staff to ensure their mental wellbeing.
—
In summary, life will change. It will be hard if you don't go with that change. It will be different but it can also be better.
Don't wait to make your 'touchless experience' brilliant. Get a journey map moving and look at each element in the digital element and how you elicit feedback. Iterate, tinker, improve.
Always look at your approach through the lens of the new customer behaviour and the market situation. No-one knows what will happen next. So keep your eyes peeled for signposts in behavior, and model and adapt to that. Keep your eyes peeled for signposts.
Remember: your customers will point the way if you listen.
Customer Thermometer can help you listen. In real time. With just a single click needed from your customer or employee. Grab a free trial, or just talk to us. Now more than ever we're here with a friendly ear and to help all we can. :-)
https://www.customerthermometer.com/img/7-ways-engage-new-normal-customer.png
248
710
Lindsay Willott
https://www.customerthermometer.com/img/[email protected]
Lindsay Willott
2020-06-09 20:24:11
2021-06-14 14:38:28
7 ways to engage with the 'new normal' customer