One of the most interesting conversations we've heard regarding the feedback economy came from The Bottom Line radio show and podcast on BBC Radio 4. The proliferation of review sites like TripAdvisor and TrustPilot (often called the 'Feedback Frenzy') has altered the relationship between business and consumer; brand names are less influential now that we can immediately find out the quality of an item from consumer reviews.
The implication of this is that the market is much more scalable for new business, reducing the monopoly of established brands and allowing the product or service to speak for itself.
The significance of the feedback economy, as discussed in the show, is the sheer scale of reviews and ratings. Consumers have been reviewing businesses and their products for all time, but what was previously a face-to-face network is now an online manifestation of opinions – word of mouth on steroids. Caroline Wiertz, Professor of Marketing and Associate Dean for Entrepreneurship at the Cass Business School in London, argues that "the idea is not new, how it manifests itself is new."
Where we previously relied upon family and friends, we now turn to the reviews written by our peers for judgment of a business or product.
How Businesses are Benefitting from the Feedback Economy
Conversely, businesses benefit as a result of having much more insight than before on successes and areas to improve upon, often without having to input much effort to garner reviews.
"Businesses are now taking this seriously. They are actually spending time, energy and money on improving customer experience."
Rob Paterson, Chief Executive of Best Western Hotels GB Best Western Hotels, agreed with this. Best Western Hotels constantly review hotels to add and remove from their franchise, using TripAdvisor for themes at a broader scale. But for the hotels themselves, the General Managers read reviews on a daily basis and use them to interact with the individual reviewers, offering resolutions or compensation for service failures.
Paterson also discussed the impact the review economy can have and how a single bad review can be made into a positive; a business' response to a service failure can become a marketing tool. Because of this, a bad review does not make for a negative image, but it's when rankings start to drop, i.e. there are more overall negatives than positives, that the brand is impacted.
Matt West, Chief Executive of Feefo, highlights the important of not only the volume of reviews, but the context of them too. Some businesses prefer to order reviews by product aspect – for example, The Perfume Shop will categorize reviews by price, scent, type of bottle, etc., so that feedback is offered in a way that's relevant to the buyer. Allowing the consumer to focus on what matters to them has meant for The Perfume Shop an increase of 13% in online purchasing; consumers are able to navigate the product reviews effectively and the outcome is increased confidence and willingness to buy.

Reviews often carry detail about a product that the vendor themselves does not represent well, such as fit for clothing or compatibility for technical products.
Wiertz mentioned that London Business School have studied the importance of order effects in review listings, and found that:
"If the first review shown has a 5-star rating, it can increase sales by 8%."
This is regardless of whether there is an aggregate review score at the start of the page. Clearly, not only are the quantity of reviews important, but the ordering and context in which potential buyers find them can have a huge impact.
Presentation Effect
The Bottom Line also asked how reliable the feedback economy is, and how representative the consumers' opinions really are. Do people only review in exceptional (good or bad) experiences? Wiertz argues that reviews are predominantly positive online for all product categories, which is largely due to presentation effect. With reviews being on a public domain, consumers are aware of how they come across to others:
"If you continuously have bad consumption experiences, you're just a bad consumer. Nobody wants to portray themselves as a bad consumer."
Interestingly, TripAdvisor have a reviewer score against the reviewer that displays their reputation to others reading their reviews. It's certainly questionable the effect this has, it can surely help to manage any fraudulent reviews but does it also cause manipulation to give a good review and look like a 'good' consumer? Despite presentation effect, however, with so many reviews being published over time, it's tricky to achieve manipulation amongst the authentic reviews.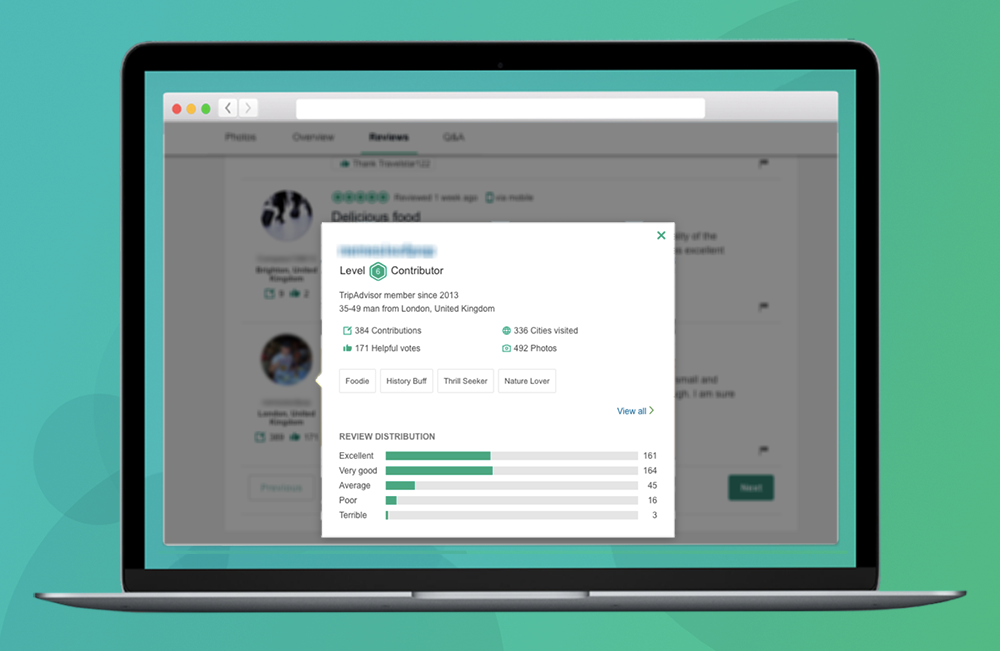 The other method for policing review sites is to require an invitation, i.e. confirming that the reviewer has transacted with a business and their review can be tied back. Being a 'verified reviewer' instills confidence in readers and improves authenticity. This is important for consumers who are sophisticated and have their own strategies for analyzing reviews. Consumers looking to buy will often scrutinize the reviewer to see if they seem similar to themselves and overly- or underly- critical.
An individual will read roughly 10 reviews when deciding on a purchase, but Wiertz also describes consumers as sophisticated in having their own differing ways of navigating. We know that consumers will often return to the first review on the page as a decider due to the anchoring effect, but there are also those who will go straight to negative reviews to cover all bases, for example. Consumers have created their own methods for savvy shopping, with the review economy functioning as a key player in this way.
The Future of the Feedback Economy
Paterson mentions one downside of reviews that Best Western often suffer from, which is blackmail from customers who demand a full refund of their stay with the threat of leaving negative reviews on every site. The threat is often a disproportionate response to the issue they faced, but it's a real sign of the gravity of online reviews that this leverage exists.
Broadly speaking, the feedback economy is clearly changing the way that we interact as businesses and consumers. Reviews are expanding in their reach, with systems like Uber has introduced, with not only Uber drivers being rated, but also the passenger. In this way, customers are also being held to account for how the service runs and drivers are able to decide upon whether to accept a customer or not based on ratings from other drivers.
The feedback economy is an increasingly powerful system which continues to permeate western society. The reviews out there are a real consumer empowerment effect and also a powerful marketing tool for businesses, potentially offering a level playing field for large conglomerates and small start-ups to boast their service and quality over their brand reputation, creating exciting dynamics for the future.
It can be tricky to get customers to leave reviews online, but we find that response rates to 1-click feedback icons is vastly increased, providing a simple but powerful review machine right at the point of contact with your customers. Why not give it a go?

https://www.customerthermometer.com/img/Feedback-Frenzy.png
248
710
Sophie Leaver
https://www.customerthermometer.com/img/[email protected]
Sophie Leaver
2019-12-02 15:56:24
2020-10-21 07:32:04
Feedback Frenzy