Extracting maximum value from customer feedback requires structure rather than a scattergun approach. Welcome to the world of customer journey mapping, for which we've created a cartographic-inspired guide to help you navigate. 
You can download our Guide to Journey Mapping here.
At the center of the journey mapping universe is the concept of customer touchpoints. These are the various opportunities to engage with each customer that happen according to their lifecycle stage. 
Knowing exactly where these 'touchpoints' are along the customer journey should ensure you are never far away from a treasure trove of real-time, customer-driven insight.
Why creating a customer journey map should be top of your to-do list
Creating a journey map is a particularly good idea right now, what with the disruption to regular customer touchpoints we've seen in response to the unfolding Covid pandemic. A case of reassessing where the land lies across the customer journey. 
Forrester predicts a 40% increase in digital customer interactions, and it's easy to see this trend accelerating as physical touchpoints have been forced to switch online.
Journey mapping is doubly important today because there are strong signals that, once lockdowns end, customers won't automatically switch back to how they used to engage. 
Another Forrester study found 42% of US online adults were against returning to shopping stores once stay-at-home restrictions are lifted. Digital could be the new default for many, though perhaps not all, of those touchpoints.
STEP 1: Get Your Team Together 
Mapping customer journeys is a voyage of discovery and, as any map maker will tell you, good local knowledge can get you a long way. Recruit a tiger team including those who engage with customers every day and who manage customer processes. Add experts from sales, product management and service delivery. 
STEP 2: Plot All The Touchpoints On The Customer Journey
A standard customer journey will have 4 main stages:
Pre-sales and sales

Onboarding

Usage, support and service

Renewal and growth
That doesn't mean just 4 touchpoints. Each of these stages may have multiple touchpoints of their own: a marketing e-shot, a sales call, a training session, a support ticket, an annual renewal notice, etc. 
The trick is to identify the stages of the customer journey and where it makes sense to measure CSAT and ask for feedback. Look out for key events, customer motivations and areas of possible friction.
Our guide goes into loads of detail on every journey map stage, with helpful ideas on what to look for.  The focus here is on maximising feedback opportunities around each touchpoint. 
STEP 3: Apply a Mystery Shopper Mindset to Add Richness and Response Triggers
By now you should have a visual representation of a typical customer's journey with you, broken down by touchpoint. The final stage is putting more meat on the bones e.g. questions you could ask at each touchpoint, and the systems governing each touchpoint (CRM, ITSM, etc.)
We think that taking a mystery shopper approach adds huge value to this exercise. Applying a mystery shopper mindset to customer journey mapping helps you delve deeper into the customer experience. You could follow a process like the one below: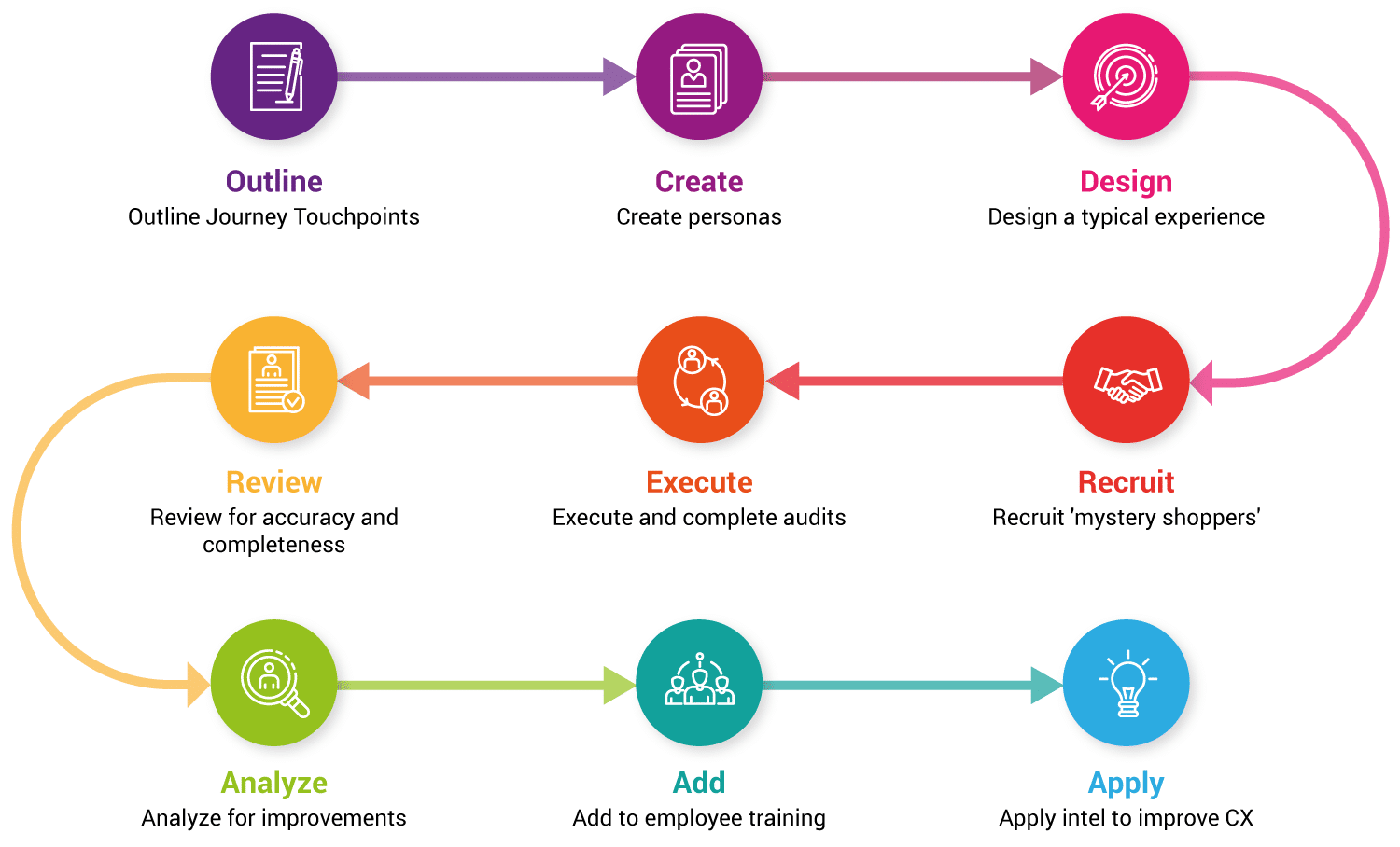 There's never been a better time to create a customer journey map. Customer behavior has hardened against poor experiences.
And the new post-Covid reality demands brands take stock of their long-term, digitally-driven customer strategies.
Download the Guide to Journey Mapping ebook today and chart your course to the customer satisfaction promised land.
https://www.customerthermometer.com/img/Journey-mapping-how-to-Blog_Header.jpg
496
1420
Lindsay Willott
https://www.customerthermometer.com/img/[email protected]
Lindsay Willott
2021-02-10 06:52:45
2021-02-11 12:24:22
How to create a customer journey map