Consumer habits are constantly changing and technological developments are continuously supporting new ways for customers to interact with retailers. We have previously talked about the challenges involved in customer experience management, so in this post we're looking specifically at retail customer experience management.
Ever-Changing Retail Environment
We are all familiar with how big online brands like Amazon have effectively changed the way in which people shop. Advancements in digital technologies and the widespread availability of superfast broadband has transformed consumer behaviour. Bricks and mortar retail establishments are facing tougher challenges than ever before and all are seeking ways to differentiate from competitors.
The Amazon Effect
'The Amazon Effect' refers to the impact that the popular digital marketplace has on what are considered to be more traditional retail business models. The impact has most notably affected consumer expectations. Customers now expect their buyer journey to be simple, frictionless and fast. And customers are applying these new expectations to other retailers, both online and offline, where they expect the same simple, frictionless, fast and painless transactions.
2019 Retail Trends
At the end of 2018 Forbes published an interesting article projecting retail trends to expect in 2019. Here's a summary.
Brands-as-a-culture and emotion based consumerism
People are becoming less influenced by price and more influenced by customer experience. The emotional experience that customers have when interacting with a vendor is now a higher priority than product or service costs in many contexts.
Brands are increasingly becoming cultural figures, engaging potential customers outside the traditional retail paradigm. Retailers need to look at the image that their brand presents to the market and work toward creating cultures which match the world views and values of their target audience.
E-Commerce shipping speeding up
E-Commerce is fast becoming the most popular retail medium. Most major brands are active online and price matching is commonplace. Retailers are therefore constantly looking for new ways to differentiate themselves from the pack.
Shipping times is another area in which the Amazon effect has had a notable impact. Amazon Prime has made two day delivery the standard which other retailers aim to beat.
Experience retail
Millennials have driven a trend toward their preference for experiences over things. Consumers have moved away from simply shopping for products, these days they are seeking engaging experiences.
Subscription e-commerce
The trend for subscription based e-commerce is related to the growth in experience-based retail. Customers are more willing to commit to regularly spending their cash on services that are tailored to their specific preferences and deliver tangible benefits.
Muti-channel retail
The methods used by consumers to make buying decisions have changed and continue to change. Brands are now using multiple channels to capture leads and convert them. The old brick-and-mortar stores can still play an important role but there are now many other channels that need to be considered.
There are interesting and contrasting metrics regarding various social platforms and the demographics of those who tend to shop on them. Retailers need to deeply understand their audience and the various channels through which they can be engaged. An omni-channel approach is recommended for a smooth, holistic customer experience across all touchpoints.
Measuring Retail Customer Experience
Quantitative user data is numerical whereas qualitative user data is descriptive. In order to usefully represent retail customer experience a combination of both quantitative and qualitative data is required.
In the context of e-commerce, quantitative metrics include page views, bounce rates, conversion rates and much more. These figures are readily available from website analytics platforms such as Google analytics. Analytics platforms provide a wealth of useful insight regarding popular landing pages, the amount of time that visitors spent on various pages, the channels through which they came to the website along with their demographics and the technologies they used.
Quantitative and Qualitative Data
As noted, quantitative data is abundantly available from Google Analytics and other website analytics tools. But valuable qualitative user feedback takes some effort to collect. By combining both the quantitative with the qualitative data a true and accurate representation of customer experience can be derived.
An effective technique for gathering qualitative customer experience data is to use simple customer surveys immediately after a specific interaction or touchpoint. By asking just one, succinct and relevant question and perhaps providing the facility for respondents to add more detail it's readily possible to collect valuable, subjective customer experience data.
For example, quantitative assessment may have highlighted that a relatively high proportion of customers are dropping out the the sales funnel, abandoning their purchases. By deploying a simple, engaging survey to elicit some useful qualitative feedback it should be possible to determine exactly why people are not completing their transactions and then take appropriate steps to remedy the issue.
Retail Customer Experience Management
It's clear that retail businesses are facing significant challenges due to technological advancements and importantly, changing customer behaviour and expectations. In addition there is increased competition, often from new online enterprises.
Customer experience management in retail is challenging, but it's also very exciting and potentially highly rewarding. By devising and implementing winning CX strategies a retail customer experience manager can deliver significant results by reducing customer churn, increasing customer retention and extending the customer lifetime value. By building the best possible customer experiences retailers can 'stand out from the crowd' and gain widespread brand recognition.
Here are just a few practical, actionable customer experience enhancement tactics that have been used to engage customers and go beyond fulfilling their expectations.
Remember and Appreciate Repeat Customers
Repeat business from retained customers is exactly what most retailers want to see. And repeat customers love it when retailers remember them and show their appreciation.
So you need to keep track of your customers, who they are, their purchase history and perhaps some personal details like their birthdays. Then put that information to good use by acknowledging their repeat business with polite, sincere notes of gratitude. And you could send them a nice, appreciative birthday greeting thanking them for being a loyal customer.
Educate Customers
People will often be more engaged by an educational message than by a hard-sell message. Identifying the specific needs of individual customers and then educating them regarding the benefits of your products or services and how these will fulfil their needs will be appreciated by many. Their customer experience will be enhanced by the free and helpful guidance you provide without pushing them toward placing an order.
Greet Customers Warmly
First impressions are vitally important in retail. In face-to-face encounters its essential that customers are greeted in a warm and friendly manner. The aim should always be to make every customer feel special.
In an e-commerce context the initial contact may be as a result of an enquiry or an initial purchase. It's important to acknowledge people and warmly welcome them as new or prospective customers. Provide guidance regarding the help you are ready to provide and make certain they are aware of all of the channels through which you can be contacted.
Always Apologise Sincerely
Unfortunately, things don't always work out as intended. Items can be lost in transit, they can be damaged, websites can go down and customers can simply be unhappy with what they have received. When things go wrong and customers are unhappy the best course of action is to apologise sincerely and unreservedly. Apologising for the difficulties that a customer has experienced is always the right thing to do, even when the problems were not your responsibility.
If the issue was your fault it is always best practice to own up, take responsibility and aim to make it up to those customers who were affected. For example, you might offer them a discount or provide some special offers specifically for them.
The Future for Retail Customer Experience
We've already looked at some of the projections regarding what's happening in retail customer experience such as the growth in subscription based shopping along with experiential shopping. But there are some exciting technological developments in the pipeline which will have a significant impact in some sectors.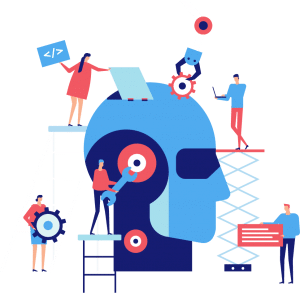 Augmented Reality
Augmented reality is already being used in some stores to allow customers to effective try on clothing items without actually changing their clothes. Using AR to try on new outfits allows customers to try things that perhaps they would have never considered trying before. Shoppers today demand comfort and convenience which is supported by AR that allows them to effectively see what they will look like in various outfits, all from the comfort of their homes,.
Artificial Intelligence
It's now well known that customers are far more likely to engage with a brand that offers personalized messages. People expect retailers to provide personalized offer that are based on their previous purchases and are entirely appropriate for them. AI supports the creation of ever-more detailed customer profiles that include purchase history along with personal preferences and tastes. AI and big data makes it possible for retailers to gather more useful information on their customers than ever before.
Retail customer experience is an exciting arena that is advancing very quickly. Retail customer experience managers face many challenges to meet customer expectations, remain competitive and stand out from the crowd. Adopting a customer-centric position in order to continuously improve customer experience, delight customers and exceed their expectations is what's required for many businesses to survive.
Give Customer Thermometer a trial and find out how your customers feel! You will quickly see how easily implemented, simple surveys deliver great response rates that will improve your customer service.

https://www.customerthermometer.com/img/Retail-Customer-Experience-Management.png
248
710
Lindsay Willott
https://www.customerthermometer.com/img/[email protected]
Lindsay Willott
2019-09-27 16:19:53
2019-09-27 16:19:53
Retail Customer Experience Management