HiTech Computers, a Louisiana, US based Healthcare IT specialist, is led by President Richard Raue. The business uses the ConnectWise helpdesk system to manage client jobs and support enquiries.
HiTech Computers recently added the Customer Thermometer 1-click survey tool to its ConnectWise surveys to gain more insight into client satisfaction. We interviewed Richard to find out more about how he is using ConnectWise and Customer Thermometer...
What were the problems you wanted to solve?
We were looking for something more effective to measure customer satisfaction. The business has been in operation for almost 20 years. We have always had some sort of informal feedback flowing into the company – maybe somebody brought us some cookies, or sent me a personal note via email, but it was irregular.
What we were looking for was a way to get consistent feedback. Basically, an outlet where customers can tell us how we did, whether that be good or bad. That way, we'll know if we need to make adjustments to our service delivery.
How did you find Customer Thermometer?
I was at a conference in Los Angeles, and at a CEO round table my peers were discussing what customer feedback solutions were out there that actually worked. Somebody mentioned Customer Thermometer.
I checked it out and got some of the guidance from that person. And basically, I liked it. It was simple, it was geared towards getting measurable results, and it didn't require a major financial commitment to get up and running.
How easy was it to get started?
Other guys offer 30-day free trials, but Customer Thermometer ConnectWise surveys are a breath of fresh air. There's no time limit on the trial, so you can really see if it works first. So the risk of getting into it was a lot lower than with others.
Whereas with some other providers, the deal was, "30 days, you can try it out. And then it's going to be hundreds of dollars per month." So we weren't quite ready to do that, but we were able to just ease in with Customer Thermometer.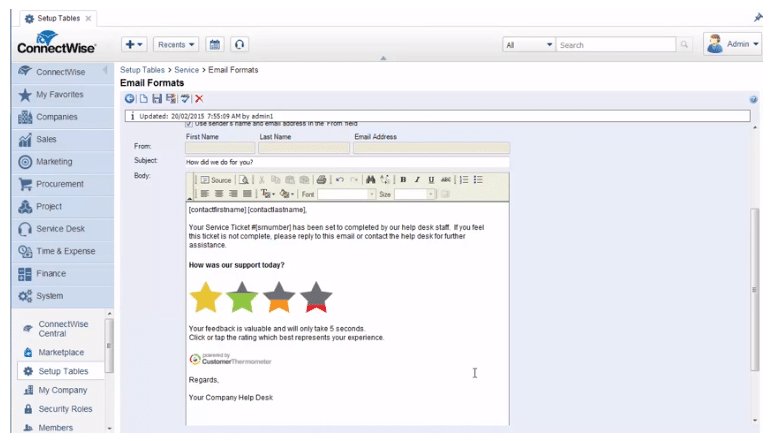 Also, because you don't charge by ConnectWise seats, just one account for the whole business, it's much more affordable.
What results are you seeing from using Customer Thermometer's ConnectWise surveys?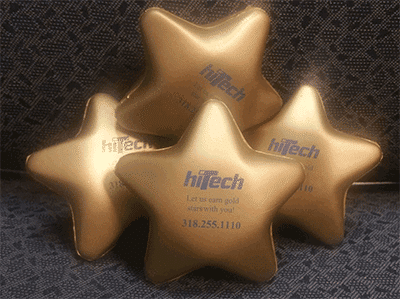 We're just amazed at the results that we saw even within the first few days of putting it into use. The top rating customers can give us, the gold star, is a theme we've really latched onto. So we've even had real gold star stress toys made!
We can now give them out to customers. So, when we earn a gold star with them, next time we go out there, we bring them a real gold star and say, "Thank you for giving us a gold star. Here's one back." It's a great way to thank them for their feedback, and reinforce the process.
It's well known in the industry that implementing software is often 'the easy bit' and it's about how you actually embed that software into a business that matters. How else are you embedding CT in your business? 
Embedding the feedback mechanism is extremely important because if it's just peripherally used by management to keep track of people, it's not going to be as effective.
In our case, we have buy-in from everybody so that they actually like looking at the leaderboard that we have at the meetings every morning. We see who's ahead for the last seven days and who's got how many stars. So it really has some buy-in from everybody.
"In just 2 months of use we received over
100 top ratings – gold stars – from customers."
We had our monthly meeting recently, and I basically handed $100 cash to every one of the employees there and said, "Look, y'all earned those 100 gold stars from our clients. Here's $100 cash for doing a good job." So, it's been motivational and very important.
And what actions do you take in the rare event of negative feedback?
So, we haven't yet had a really bad rating, and when we do, we'll imagine that the customer is not actually giving us a "you did terrible" rating, but rather, "Hey, something went wrong. Please call me so we can fix it."
It already puts the customer in a mood towards resolution. And it puts us in the mood too, so that the idea is once we call them, we'll take care of it, we'll talk about what the issue is. So it's been really encouraging.
But should a negative rating come one day, we're confident that with the alerts that we're getting, somebody is going to call them, somebody's going to take care of it, and we're ultimately going to turn it around.
We know a high response rate is important for you. How's that looking?
That's one of the most surprising things for us…
The response rate is around 80%. That's not something we've experienced with the previous ConnectWise surveys that we've used. The really cool thing is that, out of that 80%, two-thirds leave us a comment too.
So, sometimes it's just, "Good job" or "Thank you very much." But a lot of times it's a sentence or two about a specific person doing something specifically for that customer that really either helped them out, or saved the day. That makes me feel good about the guys that I have working for me.
And we read it out at the morning meetings if somebody gets a good comment. Initially, my vice president and I were the only ones getting the messages as far as their comments, and the alerts. Then we opened them up to everybody.
So, every single person in the office, down to the accountant and the receptionist, gets the messages about how we're doing. That way, everybody can brag on each other, and sees when something is going really right.  
How have you communicated the introduction of Customer Thermometer to your clients?
We actually wrote an article in our client newsletter that basically explains the gold stars, what we're doing with the ConnectWise surveys; the theory behind it. We talked in there about how we appreciate the feedback from the customer.
We invite them to not just let us know about the gold stars, and don't feel pressured into giving us a good rating if they feel like it wasn't a gold star.
So we are really homing in on that honest feedback so we can make some real changes that actually effect the service delivery and bring it to that gold star level, or as close to 100% of the time as possible.
There are plenty of people that would say, "One question isn't enough, I need to ask five questions. I need to ask 10 questions." What would you say to them, with the results you're getting with one question alone? 
If you ask the right question, all you need is one. Our question simply states: 'Did we earn a Gold Star with you today?' The answers range from: 'Yes, you get a Gold Star! Awesome Job!' to 'My issue is not resolved. Please call me."
The traditional canned 'Great, Good, Fair, Poor' questionnaires never got results for us.
How do Customer Thermometer's ConnectWise surveys produce actual value for HiTech Computers?"
What we found is that the low entry cost that Customer Thermometer has, in combination with the really high response rates and the comments that people leave for us, is so valuable that it easily made up for the cost. We're actually using those as a marketing tool.
That huge number of comments we're getting? Those are really valuable testimonials. We can use them.
And the widgets that Customer Thermometer already has built in, we can take the last 100 comments and put them onto our website.
Previously it took a really long time to get testimonials agreed. But now when we get a gold star, and somebody writes two, three sentences, we simply call them and say, "Hey, do you mind if we put that on our website?" If they say, "No problem," we get it right up online. We have three, sometimes four testimonials a day, where previously we might only get one a month.
A big thank you from us to Richard for being so generous with his time. You can find out more about his business at HiTech here.
If you're a ConnectWise user and want to add Customer Thermometer's 1 click feedback buttons into your ticket surveys, take a look at our ConnectWise simple integration here.
Or, check out our other case studies.
https://www.customerthermometer.com/img/Hitech-computers-80-CSAT-response-rates.png
248
710
Lindsay Willott
https://www.customerthermometer.com/img/[email protected]
Lindsay Willott
2016-07-04 08:16:11
2018-08-31 11:04:49
Case study: HiTech Computers run ConnectWise surveys using Customer Thermometer