Welcome to this ultimate guide to customer feedback. It's a big topic so we've broken it down into key questions about the nature of customer feedback, its importance and what to do with it. The aim is to provide actionable insights you can carry forward into your organization, improving how you collect, analyze and respond.
What is customer feedback?
Customer feedback is information provided by customers about their experience using your products and services. It comes in two broad types:
Structured feedback

Typically when customers answer a question or questions by choosing from response options. For example, yes/no, multiple choice or a ranking/rating scale.

Unstructured feedback

When customers deliver feedback by articulating verbally or in writing. This may be instead of preset response options or in addition to them.
Customer feedback can be volunteered unexpectedly or proactively elicited via questioning. It is unhelpful to define feedback only as information in response to questions. This is because the distinction is largely unimportant. Many organizations are so well advanced in being open to feedback that customers feel naturally inclined to provide it – with or without the opportunity presented by, for example, an email survey. 

The stimulus for feedback doesn't have to be a question. Think of the product or service first being consumed as the point after which any data from customers is feedback.
Customer feedback is distinguished from other sources of feedback such as partner feedback, employee feedback, supplier feedback, etc. 
Customer feedback can often involve prospective as well as existing customers. However, only existing customers will have experience of actually using your product or service (though engaged prospects may have otherwise engaged in the sales journey and have valuable feedback on it). The distinction here is important because customer feedback is not the same as 'market research' among individuals/organizations with no knowledge or experience with your organization and who simply fit your target customer profile.
Customer feedback can be anonymous or traceable to individual customers. Clearly there are significant advantages to knowing who has provided feedback and reconciling this information with purchase history and other customer data. This also supports the segmentation of customer feedback data according to demographics and other splits.
Why is customer feedback important?
Customer feedback has been around for as long as there have been customers. It doesn't have to be complicated. You'll be doing it already, even if you don't have a defined customer feedback process in place. 
If your organization serves customers, you care about what customers think about you, your product and what you do for them. That's called valuing customer feedback.
8 reasons why customer feedback is so important
There are countless reasons why customer feedback should be your guiding light for innovation, but lets take a look at the most important eight here.
It tells you what you're doing right so you can do more of it
This is especially true once you work out what makes customers happy; not just whether they're happy or not. Based on that, you can make changes that encourage customers to come back for more. Not only that, it can make a difference to other existing customers and even attract new ones. 
It tells you what doing wrong so you can do less of it
The flipside of the point above. It could be pinpointing customer-facing staff who need retraining. Or dealing with certain customers in a particular way. The customer is always right, and customer feedback ensures you know what 'right' means!
It helps you improve your product or service
Customer feedback should have an impact across your organization, including the boffins who develop your products and services. Customer feedback is great for identifying bugs and feature enhancements. Again this is great for long-term customer retention and loyalty. It also makes your products and services more relevant in the market and more robust too.
It helps you be easier to do business with
Sometimes it's the hoops you make customers jump through; the little creases in your internal workflows that can cause friction. Create a customer journey map and aim customer feedback at each process stage and touchpoint. Iron out those creases for an effortless customer experience. 
It makes customers glad they chose a customer-centric supplier
Customer feedback is an exercise in showing that you value what your customers think. Better still when you act upon that feedback! Never underestimate the importance that customers place on being listened to, especially when they take the time to gift you feedback that they could have just kept to themselves.
It enables you to retain customers who would otherwise churn
Improvements as a result of customer feedback are great for retention. But this is even more powerful than that – giving you advance warning of customers who look likely to churn so you can come to the rescue. Very few customers who feel like complaining actually do – they just leave without saying why. Always asking for customer feedback increases the likelihood you'll spot downward trends in customer satisfaction with individual customers.
It maximizes word of mouth
Customer feedback activities will surface some great comments and stories you'd never hear about if you hadn't asked. Treasure these internally and amplify them externally. Happy customers should be happy to share their experiences with others, so will welcome a helping hand. 
It lets you set the right expectations
If you know what existing customers are saying, it will help you market yourself accurately and set the right expectations upfront. Expectations are central to how customers gauge their opinions. You will doubtless be striving to keep the promises you've given to customers. But do yourself a favor and set the right promises to keep!
How to get customer feedback?
Getting customer feedback is all about making and taking opportunities to ask and listen. There are many different forms of customer feedback (this article lists 41 examples) but they all boil down to one thing: being in the right place at the right time.  
Some communications channels work better than others for customer feedback, depending on what customers prefer and what's logical as part of the customer journey. We'll return to this in more detail later.
Having a customer feedback process is very important and collecting feedback is naturally at the beginning of that. However, before setting out to collect feedback, consider first what you intend to do with it. For example:
Improving customer service levels

Training staff better

Generating ideas for product/service improvement
These objectives are key to forming a customer feedback strategy. Don't just collect feedback without knowing why. A clear purpose will enable you to ask different sorts of questions and employ specific customer feedback techniques.
Customer feedback collection challenges
The primary issues with customer feedback collection are scale, complexity and action.
Imagine an organization with one employee. It has a single person as their only customer. The two individuals occasionally discuss things pertinent to their supplier-customer relationship. The employee listens to what the customer tells them, retains that information and acts upon it to make a change. That change makes the customer more likely to stay as a customer. And new customers are attracted too.
Add more employees and more customers and things start to become harder to manage. Pieces of customer feedback get lost. Issues aren't followed up. Without a process to follow, feedback isn't properly collected, categorized or analyzed. Actions don't result and improvements aren't made.
Driving customer feedback to be structured instead of unstructured helps manage these issues. But you still need to ensure you capture snippets of impromptu feedback that arise in conversations, webchats, emails and so forth. 
5 ways to gather customer feedback
There are lots of ways to gather feedback from customers. Here are a variety of some of the most popular and successful:
1. The email customer feedback survey
Using email for customer feedback surveys are great because:
Email is such a popular platform

They're real time, or very close to it

Emails are typically received within a couple seconds of sending. Latency risks can be reduced by configuring email server performance. This is really important for asking for 'in-the-moment' customer feedback.

You have customer email details (or it's logical to have them)

Most organizations have customer email addresses in their CRMs for general comms and/or in directories as user credentials for digital-based services. This means the email data you have on customers will be correct and up to date. And the nature of email communications means the feedback you receive is highly likely to originate from the customer you sent the request to.

You're sending emails to your customers already

It makes sense, therefore, to use this established communications channel to collect customer feedback. One approach is to embed a customer feedback question into an email you're sending anyway (rather than separately). This means fewer emails for the customer to deal with, and added context when the question you're asking relates to what you're emailing about. For example, asking "how was your delivery?" in an email confirming that the delivery has been made. 

Emails are great for designing and branding unique surveys

The humble email is a blank canvas with huge 'real estate' potential when opened on the customer's screen. The sky's the limit on survey designs from the very simple to 'high concept'. 

Embedding survey functionality and tracking code into emails is simple

Emails enable you to track survey clicks and opens for analytics purposes, and redirect traffic to any link anywhere. It makes feedback instantly identifiable. Feedback survey functionality can be embedded inside emails too, meaning fewer jumps and faster responses.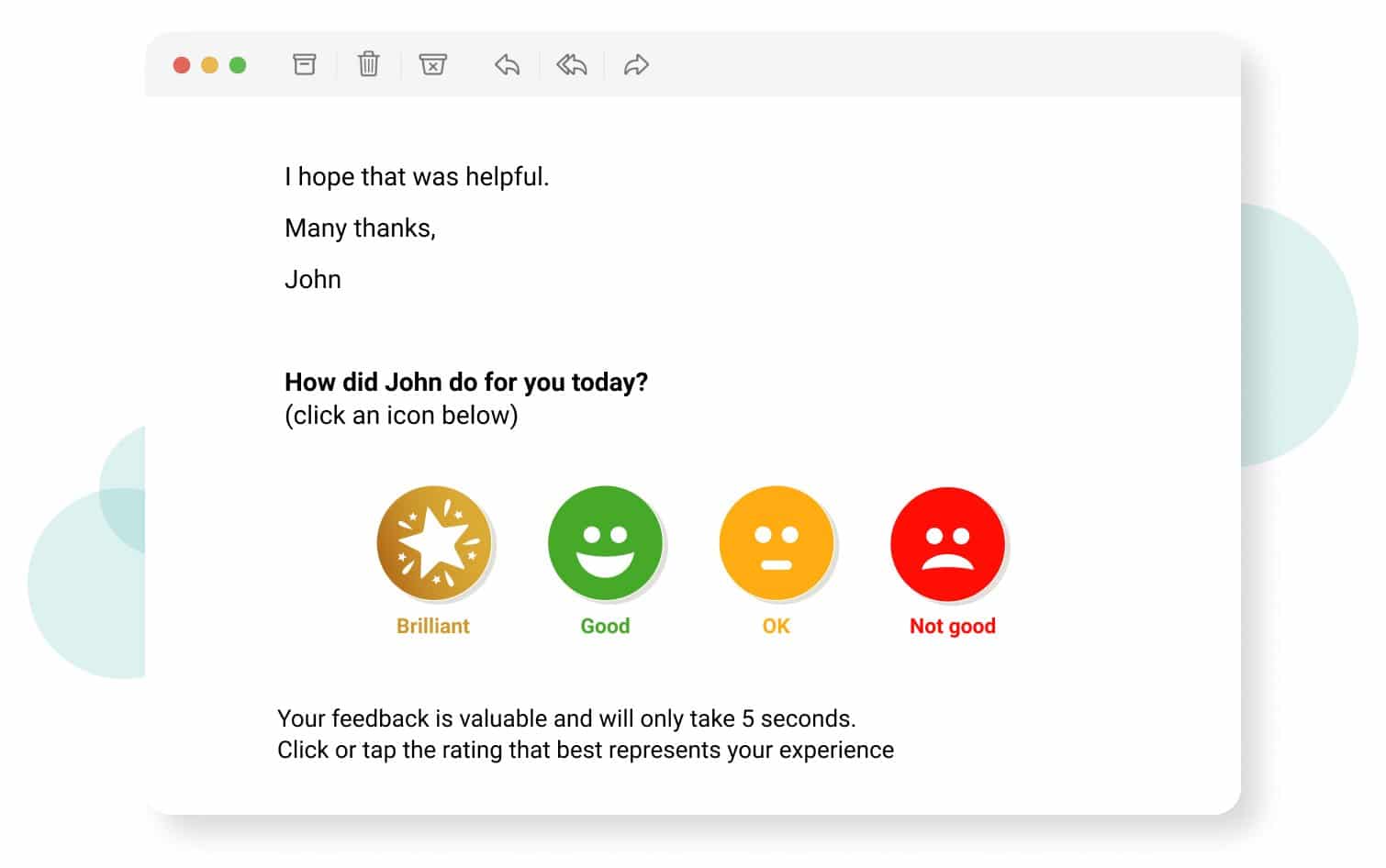 When to use email customer feedback surveys
Timing is everything with email customer feedback surveys. There are a number of ways to think about this. Let's start by breaking down the principal approaches to email survey timing:
The Periodic Survey

This is where you stage each email customer feedback survey as a one-off or periodic event. That's what the email is all about and the survey is inside. It might be a monthly, quarterly or annual thing. It could coincide with their anniversary of becoming a customer. In this instance, the organization sets the cadence and creates the opportunity on its own terms. 

The Operational Survey 

This is where you bundle your survey question in with emails you're already sending in relation to (typically immediate after) service events. For example:

In the e-commerce order confirmation email ("Did you find everything you were looking for today?")

In the tech support ticket closure email ("How would you rate our service?")

In the hotel check-out email ("How was your stay?")

The effect of doing this is to survey your customers more frequently and with greater relevance to recent touchpoints and interactions. It provides richer, more contextual feedback data. It also allows you to rapidly identify problems and do something about it.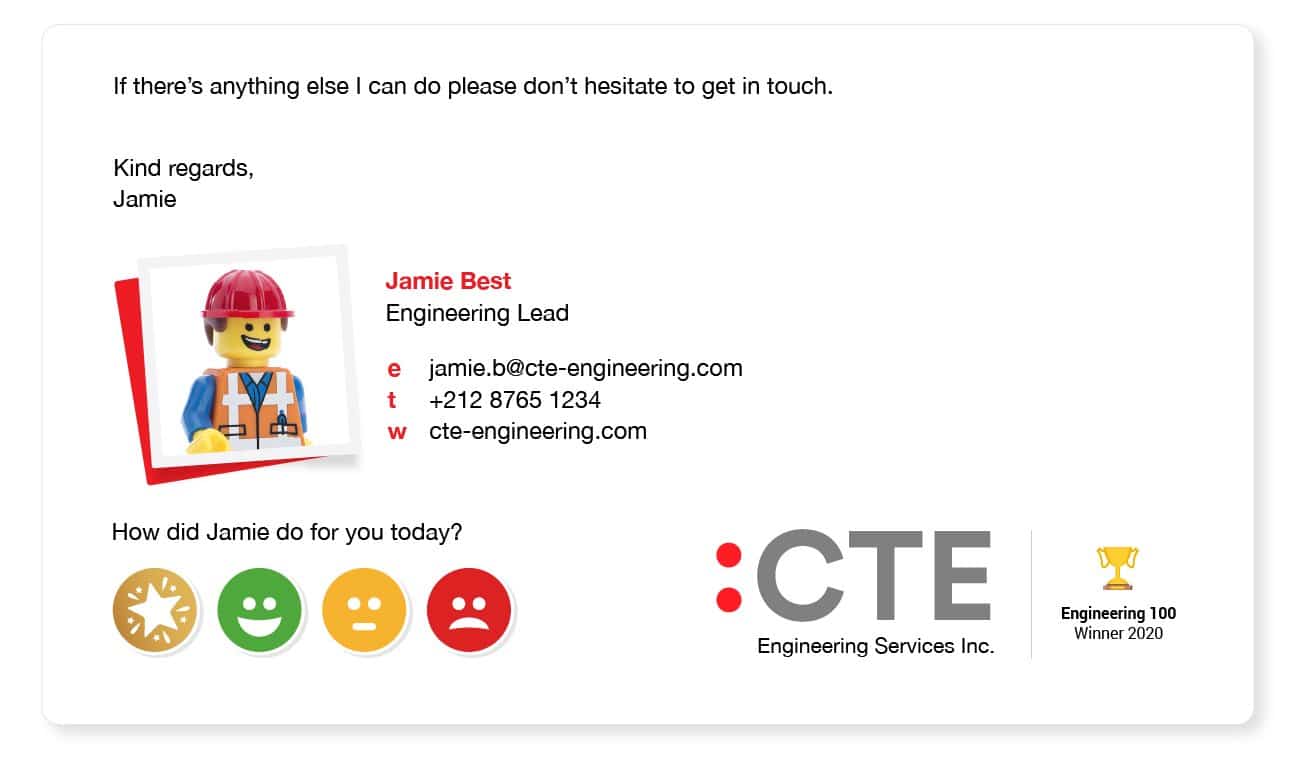 The Lifecycle Survey
This is similar to the transactional survey in that it seeks context from its timing. Lifecycle surveys differ in being targeted to better understand specific parts of the customer lifecycle, or journey. For example:
At the conclusion of product/service trial

At the conclusion of the initial sales process

At the conclusion of the customer onboarding phase

At upgrade

At renewal

At termination
The objective here is to learn more about the customer's impression of these phases so that they can be improved. Often the changes are quite subtle and unexpected.

There is a fourth type: the perpetual survey. There's nothing stopping you asking for feedback inside every email. For example, in email signatures. This is really simple if you use a signature management solution like Exclaimer. You could tailor questions by team or even individual. And you could operate it continually or else run 'Feedback Fridays' to capture attention and keep customers' interest fresh.  
2. Social media
Social media is billions of people expressing their opinion at the same time. It can get very unstructured but it's a valuable source of customer feedback that can help organizations learn and improve. 

The two things to remember about social media are that:
Feedback will happen out there whether you ask for it or not. There could be beneficial feedback just waiting to be found! You need ways of using social media to ask questions and elicit feedback. But you also need ways of searching for and finding what's there anyway.

Most feedback is publicly accessible. That's a double-edged sword. Fantastic when it's customers shouting about their great experience with you. Terrible if it's a customer telling the world about your mistakes and neglect. The very public, global nature of social media stands it apart from a customer feedback perspective. Most forms of customer feedback are between the customer and their supplier. Garnering private feedback via social media is possible, of course, and there are ways to maximize this. 
It's worth drawing a distinction between customers giving feedback on their experiences and customers answering 'hypothetical' questions about preferences, habits, etc. We know that social media is a great research tool for polling people on their views. But that more general purpose sits outside the scope of this guide.
So we're not covering 'polling' in this guide because it's an imprecise way of deriving feedback from verifiable customers. Needless to say, most social platforms have this feature and it's very useful for getting insights from people who fit your customer profile.
Are 'followers' the same as 'customers'? It's a tricky one. Depending on how you're set up on various platforms, polls could be restricted to followers only. We've got to draw the line somewhere.
Collecting customer feedback via social media
With that out the way, here's 10 ways to leverage social media to get customer feedback from actual customers:
Leverage your presence
Pretty much everything you do on social hinges on being present with an account or accounts – preferably with a 'blue tick 'or equivalent. Implement all the accepted best practice to amass a relevant following. 
Get listening
Set up some social listening and analytics services that tell you about relevant debates and trending topics that affect your brand. Scan for your mentions, messages and hashtags so you don't miss anything.
Post relevant and engaging content that provokes responses
Social posts should be 10% propaganda and 90% trying to engage and make a connection. Why not post something asking what people's experiences are in relation to a new product? 
Jump on positive comments 
So someone has said something nice about being one of your customers? Take the time to reply. Avid customers love shout-outs and obliging them will encourage more. Replying to them makes a one-on-one connection while also broadcasting their initial comments to a wider audience. Ignore them at your peril – Twitter found 81% of customers won't recommend a company that ignores their comment!
Address negative comments and complaints
Your reputation can take a hit when irate customers start tagging you in angry complaints posted on social. A swift response is essential, starting with engaging the individual, apologizing and finding out what went wrong. You learn a lot from negative comments and, depending on how you respond, your relationship with that customer might enjoy a 'bounce' afforded by the service recovery paradox.
Answer questions left on your page
Questions are even more important than comments because they typically help convert sales. Giving well-considered answers also shows how much you value customer opinions and want to offer a great service.
Position your social media team as an extension of customer support
If customers believe they'll get support by interacting with you on social channels, they will freely engage with more comments and questions. Jump on unusual requests and problems as an opportunity to display the best of your support capabilities in action. A great example of this is when Southwest Airlines went above and beyond to solve a wedding hiccup that was none of their doing.
Big-up user-generated content (UGC)
This is a slightly different tactic to simply jumping on positive mentions. When users generate their own content about or featuring you – videos, pics, memes – then the way you respond can encourage others to generate UGC too. UGC is often rich (especially video) and can contain enlightening nuggets of customer feedback. Sometimes you can stimulate UGC with some kind of creative campaign; other times you need to follow the lead of your customer base to cultivate more of the same.
Know when to switch conversations onto DM
Not everything needs to be public on social media. Knowing when to switch from public posting to private DMs (direct messages) can calm or excite customers the way you want to. It can also lead to higher quality customer feedback you can deal with in the optimum way. With dissatisfied customers, it's a case of understanding their situation better by taking some personal details privately (this also has the effect of stopping more negative posts until the situation is resolved). You can also use DMs to reach out to your social media promoters and advocates by, for example, asking them to DM their postal address so you can mail them a treat!
Grow a community
Some industries such as technology have a long history of "user groups" – communities of customers who share knowledge about getting the most out of a specific product or service. This is great for customer success strategy, and you can fuel it by harnessing the power of social media. A word of warning however; just because you set up a community doesn't mean you get exclusive control over it. These things take on a life of their own, but can be extremely powerful ways of collecting customer feedback and experiences.
3. Smile screens
What could be simpler than pushing one of four buttons with faces on them to communicate how you feel? Smile screens are just about the easiest ways for customers to give feedback. And when it's this easy, customers have almost no reason not to participate.  
There's two things going on with smile screens that it's worth dwelling on in more depth. These are:
The physical nature of manually inputting customer feedback

The use of stylised smiley faces as icons that signify emotion
Lets cover one at a time…
The physical nature of manually inputting customer feedback
Smile screens are tangible objects. Unlike emails and social media, you can reach out and touch them. It is therefore vital that smile screens are positioned where customers are. The advantages of smile screens closely match many of the best practice attributes of the ideal customer feedback system: 
Easy to understand? Check!

Fast to complete? Check!

Take minimal effort? Check!

In the moment?

Well absolutely. But this relies on positioning the smile screen in the right place and making it available at the right time. A smile screen positioned at the exit of airport security asking "How was your experience through security today?" is totally in the moment and contextual. The same screen positioned 800 yards away at the departure gate, not so much. 

Engaging?

Yes! That's what smiley faces are. Check out below where we cover this off more.

Make you feel good about giving feedback?

Yes! It stands to reason that participants will understand how their smile screen customer feedback will be used, assuming it is placed correctly. In the example above, you would expect more airport security lines to be opened if most responses were negative. Likewise, with a smile screen positioned outside the restrooms asking if the facilities were clean to your satisfaction – you'd expect the feedback to inform restroom cleaning arrangements.  
The customer feedback data from smile screens is highly structured and easy to collect and analyze in real time. Smile screens can also be manufactured as tactile buttons on a raised plinth or wall mount, or alternatively hosted on a touchscreen tablet that's been fixed in a convenient position. 
Downsides to the physical nature of smile screens are anonymity and repeat participation. Being so fast and easy, there is no time to collect customer information so you can tally smile screen feedback with other data. You also can't tell if the same individual has answered multiple times, or prevent them inputting more than one response. Positioning the screens in fast-flowing areas at least mitigates the potential for abuse. 
The use of stylised smiley faces as icons that signify emotion

Using smiley faces in customer feedback collection is useful for lots of reasons, over and above those listed above. Smiley face icons and buttons:
Stimulate emotional response

. And the customer feedback that really counts is driven by emotional response. Emotional responses are instinctive and therefore reflect truth. 
Connect to understanding that's hard-wired into customers from an early age

. In fact, demographically speaking, there are no cultural, racial, gender-based or age-related distinctions in understanding what smiley faces signify.

Break down barriers in literacy and language

. Some 32 million Americans can't read. The full extent of dyslexia and other barriers to textual interpretation is still largely unknown. English isn't everyone's first language either. Smiley faces overcome all these obstacles.

Capitalize on the popularity of emojis

. According to Emojipedia, more that 20% of tweets include an emoji. Who knows how many are in all those WhatsApp and SMS messages!? Emails with subject lines that use emojis are more likely to be opened and read. Smiley faces speak to us in a language we already know and use more and more…
A final word on smile screens and smiley face surveys in general. Bear in mind that some neurodiverse people (non-neurotypical, such as those with autistic spectrum disorder) may not instinctively respond to smiley faces as visual cues. That being said, understanding what smiley face icons signify (irrespective of whether they are personally significant) will be almost universally understood.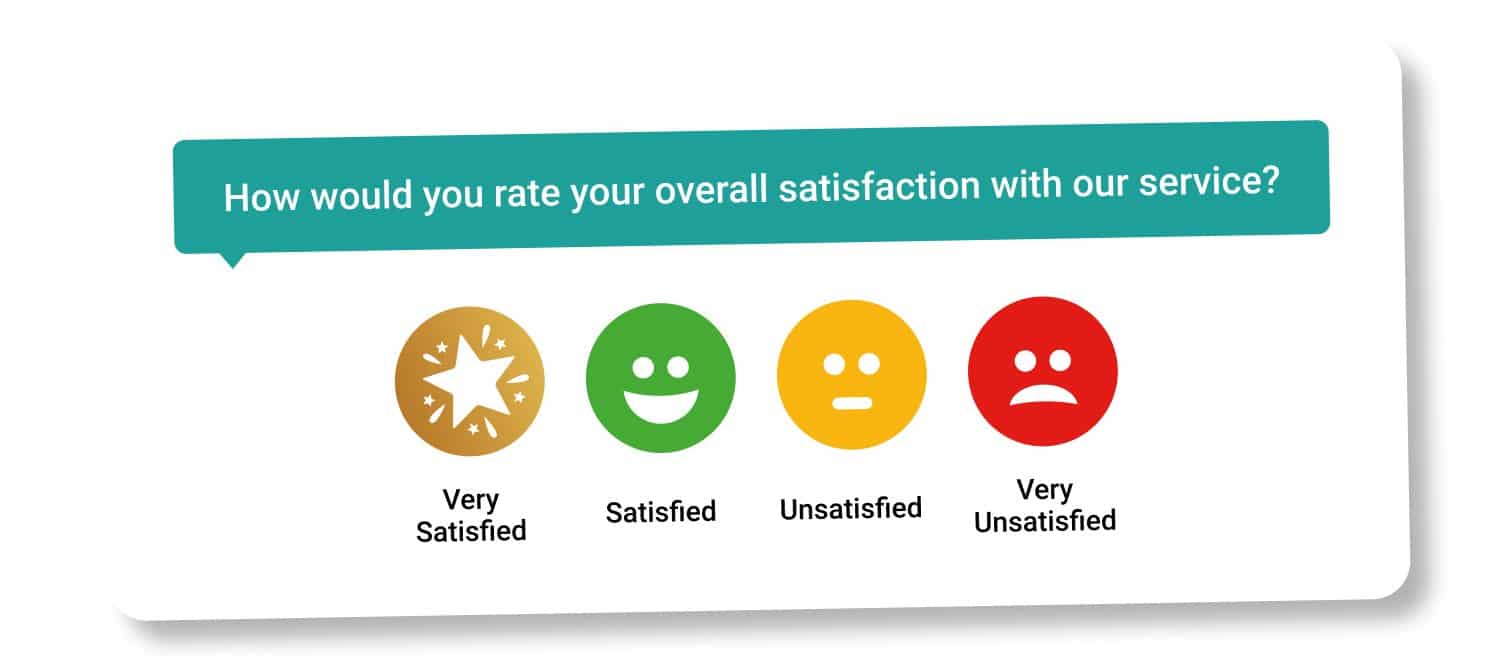 4. Conversations with customers
It's easy to forget that talking to customers surfaces valuable, qualitative insights you can apply in your business. However, this is a type of unstructured customer feedback that can be difficult to categorize, analyze and action.
Chatting with customers is a good use of time and one that organizations probably don't do enough of. Here are some examples of what exactly you could do more of and why:
Shooting the breeze with no particular agenda other than to see how things are going

When was the last time you called up a customer at random with no agenda; just to see how things are going? Now imagine if you did this 3 or 4 times a week. And so did 10 of your colleagues. You'd get a ton of feedback to share and decide what to do with!

Customers are used to being contacted when you want to sell them something extra, so a "how's it going?" call is actually quite refreshing. Catching them off guard could mean you get more honest feedback too.

Be sensitive to customers' time pressures when doing this. Never tie them up in a conversation they don't have time for.

Recording sales calls and learning from common objections

Upselling existing customers and want to improve success rate? Listening to how customers react and the objections they raise will make you better at handling objections in future.

Adding to your knowledge base based on support conversations

Like with the sales calls approach above, this time with support desk conversations. What are the common problems customers are having? You can use this to spot patterns that different areas of the business should know about e.g. shipping has a problem with a certain courier. 

You can also use it to collate more customer feedback data into your ongoing knowledge base that you publish for self-service support enquiries.

Dropping a question into the end of a transactional discussion

Discussions and conversations don't get very far without one or both participants asking questions. What we're talking about here is having a polling question you ask customers at the end of discussions, which you can record and analyze later. If you're talking to customers all the time anyway, it isn't imposing upon them to take an extra 10 seconds to "talk about a little survey we're doing".
Phone surveys
A phone survey is a verbal questionnaire guided by an interviewer. Anyone can conduct a phone-based customer feedback survey so long as they have a list of questions to work from. Typically the customer's permission would be obtained and a convenient time agreed in advance to conduct the survey.

Phone surveys usually involve multiple questions in order to maximize the time dedicated to the task. Phone surveys are also a good opportunity to pose open-ended questions that elicit qualitative feedback. The reasoning being that it's easier on customers to talk through experiences at length than ask them to write it all down. 

We should point out that phone surveys are not typically popular among customers who consider themselves time-poor. Many who you contact to prearrange or discuss their interest in a phone survey will decline the offer.  

A variation on the phone survey is phone-based customer research that many organizations outsource to specialized third parties. Having an appointed third party (a reputable industry research company, for example) interview a select number of customers will reveal significant findings. What's more, the third party will have none of the hangups associated with asking 'difficult' questions, and the customer will feel more comfortable being open, honest and 'not holding back'. Such exercises are often very expensive to commission.
5. Net Promoter® Score (NPS)
OK so this is part method and part a means of orchestrating customer feedback to tell you something in particular.
One of the issues organizations face when confronting the challenge of customer feedback is deciding what to find out. NPS is often what that process boils down to: if there's one thing you can ask customers to feedback on, it's an NPS rating.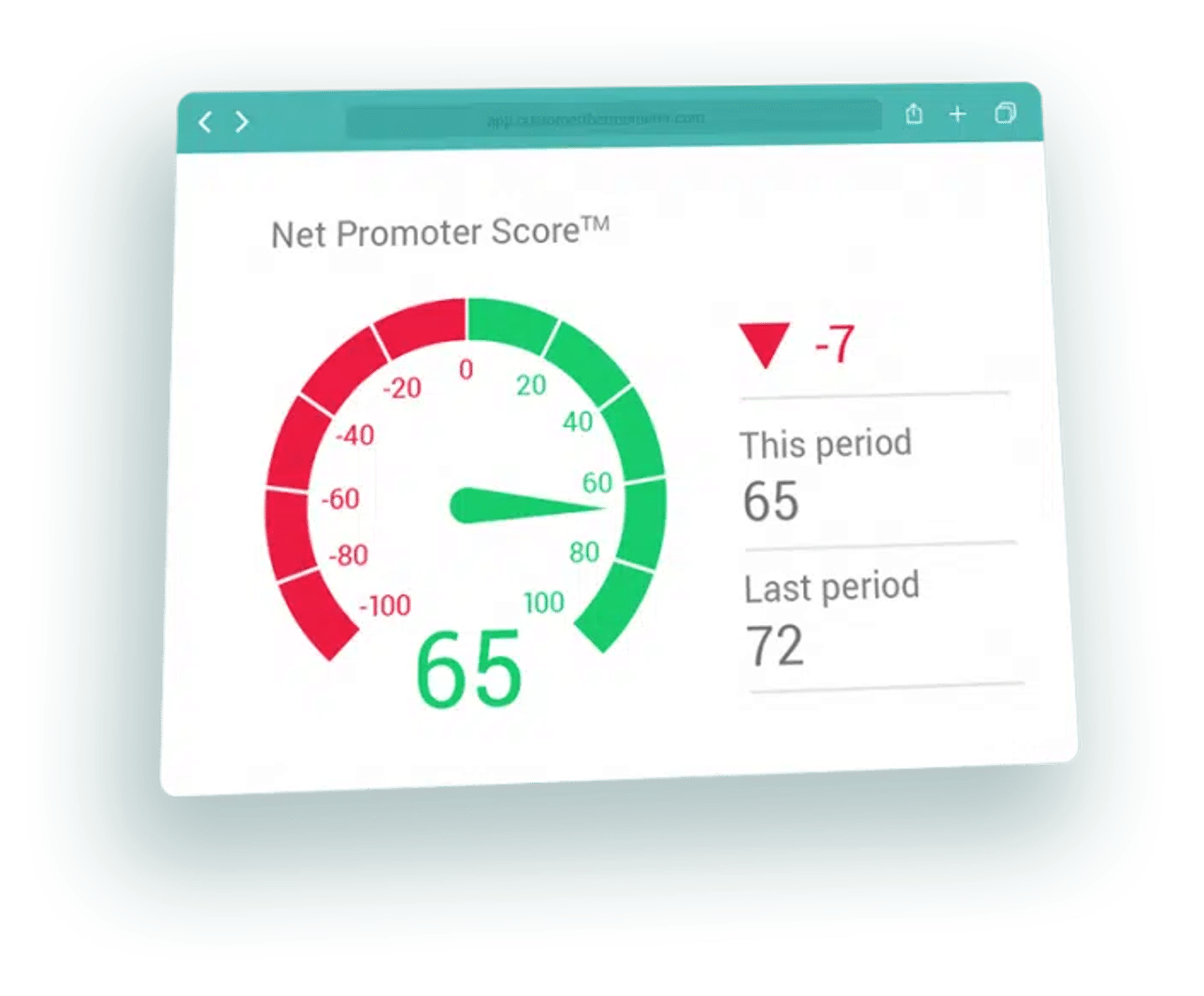 NPS, or Net Promoter® Score, is an extremely common form of customer feedback. You can elicit it in any number of ways, such as via apps, on your website, via email customer feedback surveys, on the phone, etc., etc. 
NPS works by asking customers a single, simple question as follows:

NPS is effectively a market of customer loyalty. Clearly the more high scores you get the better you're doing. A good NPS score signifies a contented customer base that you stand a good chance of retaining over time. They'll be more likely to advocate and promote you to others too.
You can track NPS scores over time, and drill down into what individual customers and customer groups think of you. 
For (lots) more information, check out our Ultimate Guide to NPS. As well as loads more tips, examples and ideas, we lay out strategies for improving your NPS score over time. 
What to do with customer feedback?
How to manage customer feedback
Getting serious about customer feedback requires a process for managing it. You don't want a bunch of feedback and no system for dealing with it. That's a surefire way to dishearten customers who gave feedback and won't see any return.
To manage customer feedback effectively, follow these 3 steps: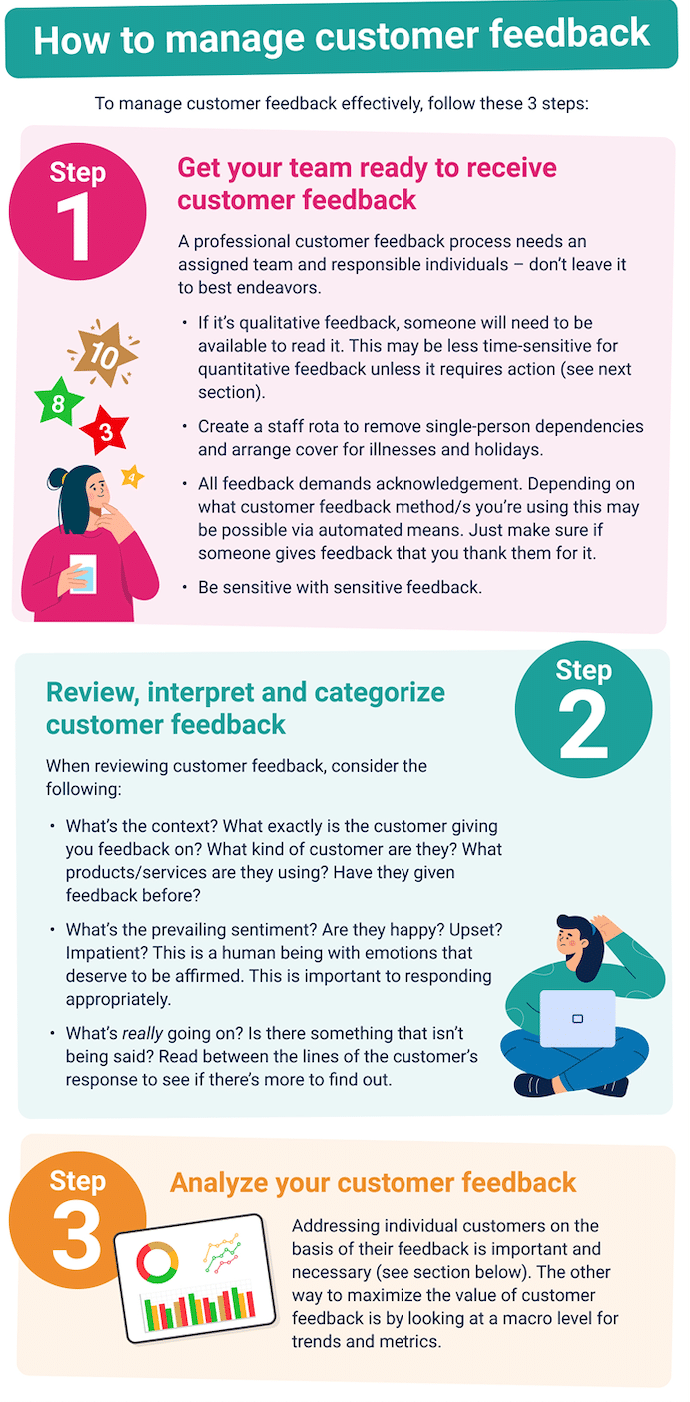 Step 1: Get your team ready to receive customer feedback
A professional customer feedback process needs an assigned team and responsible individuals – don't leave it to best endeavors. 
If it's qualitative feedback, someone will need to be available to read it. This may be less time-sensitive for quantitative feedback unless it requires action (see next section).

Create a staff rota to remove single-person dependencies and arrange cover for illnesses and holidays. 

All feedback demands acknowledgement. Depending on what customer feedback method/s you're using this may be possible via automated means. Just make sure if someone gives feedback that you thank them for it.

Be sensitive with sensitive feedback. For example, a complaint about a colleague or a customer who has suffered an embarrassing experience. In the case of the colleague, it may not be appropriate that they deal with the issue themselves. The embarrassed customer, meanwhile, needn't have their experience disclosed among more people than strictly necessary.
Step 2: Review, interpret and categorize customer feedback
When reviewing customer feedback, consider the following:
What's the context

? What exactly is the customer giving you feedback on? What kind of customer are they? What products/services are they using? Have they given feedback before?

What's the prevailing sentiment

? Are they happy? Upset? Impatient? This is a human being with emotions that deserve to be affirmed. This is important to responding appropriately.

What's

really

going on

? Is there something that isn't being said? Read between the lines of the customer's response to see if there's more to find out.
Speed is of the essence here, particularly if it's negative feedback. As a minimum, such feedback should be addressed within 24 hours. The quicker you follow up, the more likely you are to keep the customer on side.
Categorizing data is the essential precursor to data analysis. For example, in being able to calculate metrics like NPS, customer effort score (CES) and happiness factor.
Step 3: Analyze your customer feedback
Addressing individual customers on the basis of their feedback is important and necessary (see section below). The other way to maximize the value of customer feedback is by looking at a macro level for trends and metrics.
There are many customer experience metrics to consider tracking. You might even have your own bespoke requirements for slicing and dicing customer feedback data. 
Even so, here are some aspects to consider:
Splitting by agent and/or team

What does your customer feedback say about agent performance? Are there  star customer-facing people or teams that stand out (positively or negatively)? There could be lessons here for applying more widely…

Splitting by product or service type

Good for showing which products/services get the best or worst feedback. What explains these differences – price, expectation, availability?

Splitting by issue or driver

Getting more specific now, what about specific aspects of the customer journey (e.g. onboarding, order process, etc.) or individual products. Are there any patterns in frustrations and bottlenecks? 

A keyword cloud to throw up common themes

Good for parsing unstructured, qualitative data into some semblance of order. The built-in Customer Thermometer Word Analyzer let's you see phrases that pop up more often.

Correlating metrics with other customer data

If you track multiple customer feedback metrics then it's worthwhile to compare them to isolate correlations and causations. Chances are you'll have tons of customer data too, from purchase histories to enquiries and visits. 
Following on from this is of course acting upon customer feedback data, which we address in the next section.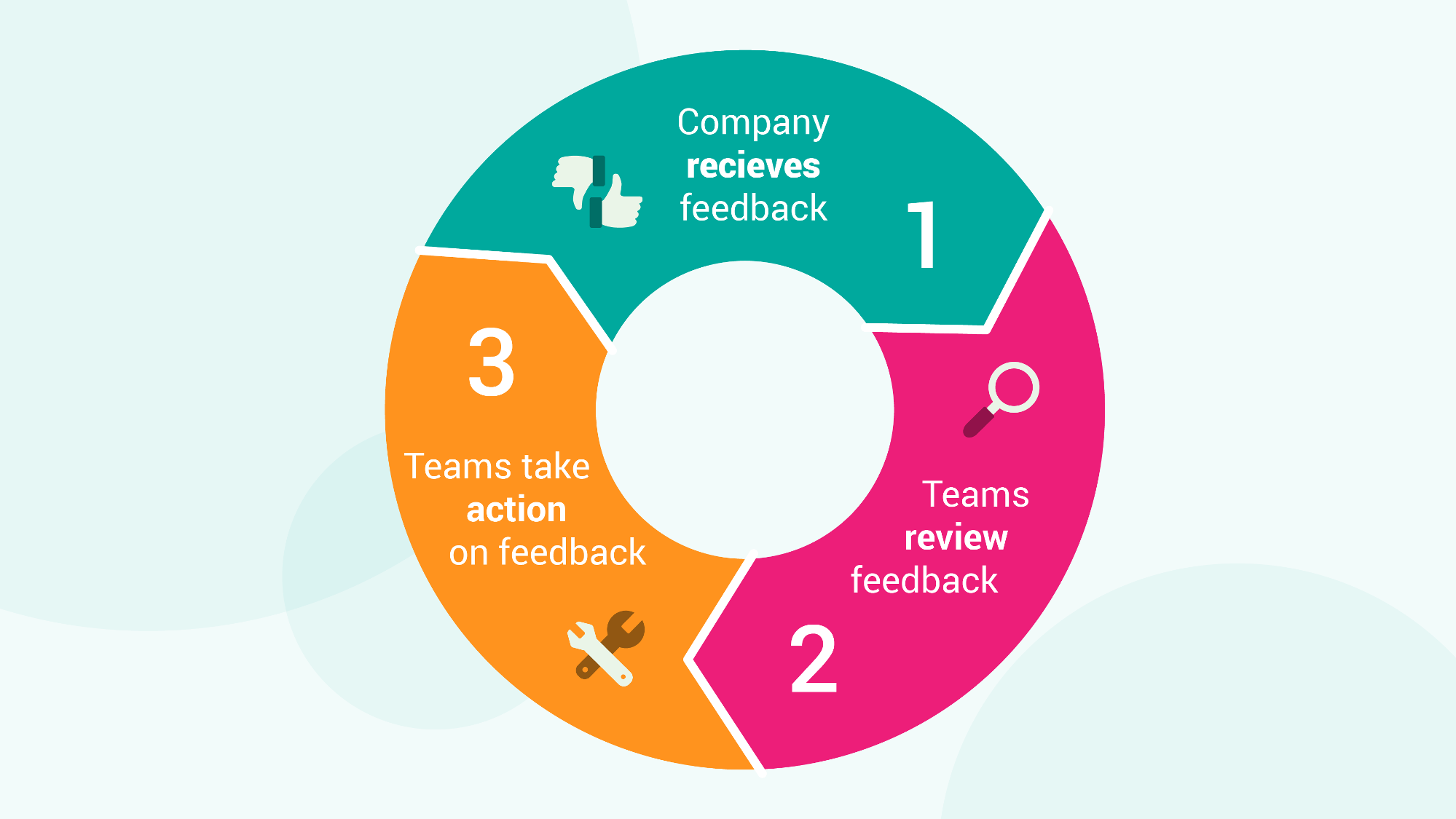 How to act upon customer feedback
It should bear repeating that collecting customer feedback is largely pointless unless you're prepared to act on it.
First, you need to acknowledge feedback because that's the polite and courteous thing to do. Say thank you. Point out that you value feedback and use it to maintain standards, implement improvements and optimize the customer experience. None of that is really acting on customer feedback though. So what is?
10 ways to act on customer feedback
Here are just a few ways organizations can and do act on customer feedback:
Fixing issues that customers raise – right away

Reducing product packaging where customers say they want less waste to deal with

Pulling ads that customers find annoying or offensive

Changing how products work, what they look like, even what colors they're available in

Retraining employees who lack customer skills or knowledge

Championing and rewarding employees who do a great job for customers – encouraging others to do the same

Making it faster and easier for customers to get the right support

Streamlining the customer journey in ways that the organization never considered before

Promoting stories of customer success to attract more customers

Updating service definitions, SLAs and pricing to reflect evolved customer expectations
How to get equipped with a customer feedback response planner
All of the feedback you receive needs to make its way into a data analysis process to evaluate trends and metrics that, in turn, will result in action. Some customer feedback will require direct action with the individual customer concerned.
The customer feedback that demands the greatest attention – and rapid, direct response – lies at the extremes of positive and negative. Below is an example of a response planner for dealing with this. Below we'll go into some more detail.
Assuming you have the necessary resources, you should commit to personally respond to all dissatisfied customers. In doing so, you need to satisfy 3 objectives:
Apologizing

Finding out what went wrong

Stating your intention to resolve the issue
Now here's the crazy thing. Customers that you messed up with often become more loyal afterwards than they were before. This is called the service recovery paradox. Ensuring you benefit from this phenomenon relies on following up properly and making things right.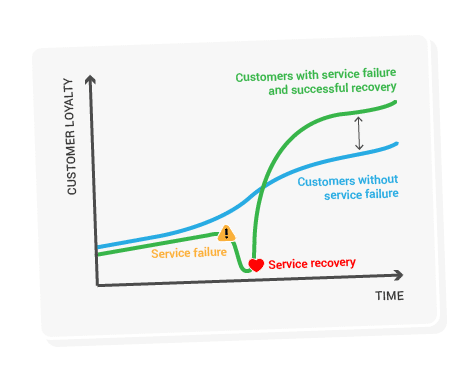 Negative feedback is a great opportunity to identify improvements that benefit all your customers – not just the ones that complain. Make sure you capture and escalate these insights.
Positive customer feedback is just as important. You can learn just as much about what customers love as what they don't. Your personal response to positive feedback should revolve around:
Matching their enthusiasm in your thank you response

Finding out what went so well

Stating your desire to share their feedback and potentially get them involved in a review or some marketing activity
Happy customers are a great source for case studies. If that's not possible, maybe you can encourage them to post a review or share their story on social media.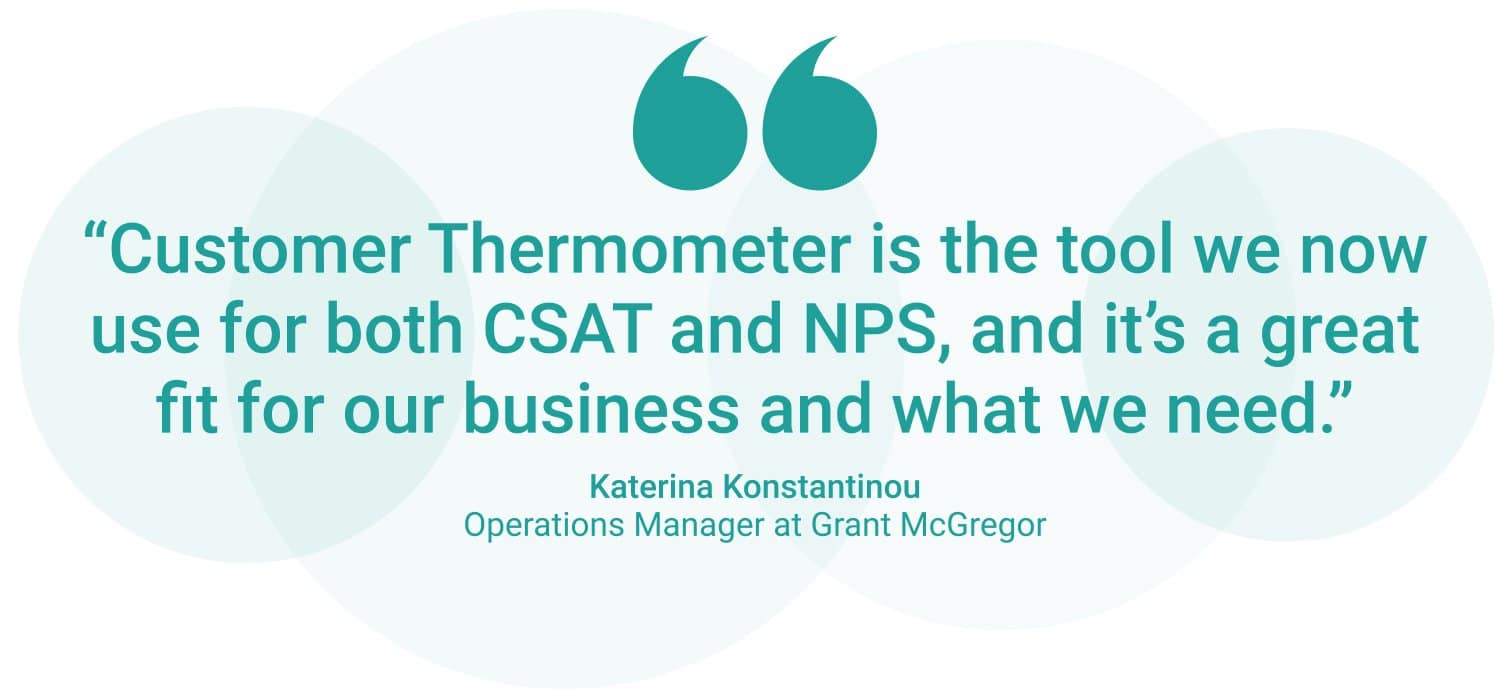 A note on "just OK" customer feedback
We think your priority should be responding to negative and positive customer feedback. At least taking the time to make personal contact and find out more. That doesn't mean you should ignore the 'middling' feedback – customers that think you're OK, adequate, so-so…
In fact you should absolutely have a strategy for these guys too. This is because customers who think you're "just OK" are dangerous. There is very little keeping them from leaving you the moment something better comes along. 
Your plan should be simple: find out what would make them think better of you. What could you change to move them from satisfied to very satisfied, or from a 7 on the NPS scale to 9 or 10?
Set aside a workstream to obtain this kind of customer feedback solely from this group. If you act upon their suggestions, you could increase customer retention and herald a host of new customer advocates! 
Why you should ask follow-up questions
Obtaining customer feedback in response to a given question doesn't have to be the end. It can be just the start. Follow-up questions are 50% acting on customer feedback and 50% collecting it. But we've put it here in our guide, to show it's importance to digging deeper into the meaning behind customer feedback.
There are two ways of looking at this:
A second question to uncover response drivers to an initial 1-question survey

Single-question surveys are extremely popular and successful in customer feedback, gaining very high response rates. But being only one question long can sometimes leave you searching for deeper meaning. The answer is a follow-up question asking for reasons why the initial response was given. For example, having asked "How was your hotel stay?" and offering 4 possible responses ("amazing", "good", "meh" and "terrible"), you direct customers to a follow up question. This says "We'd love to know more about why you gave that rating" and gives a selection of further options like "room ambience", "cleanliness", "in-room facilities", "checkout process" and so on.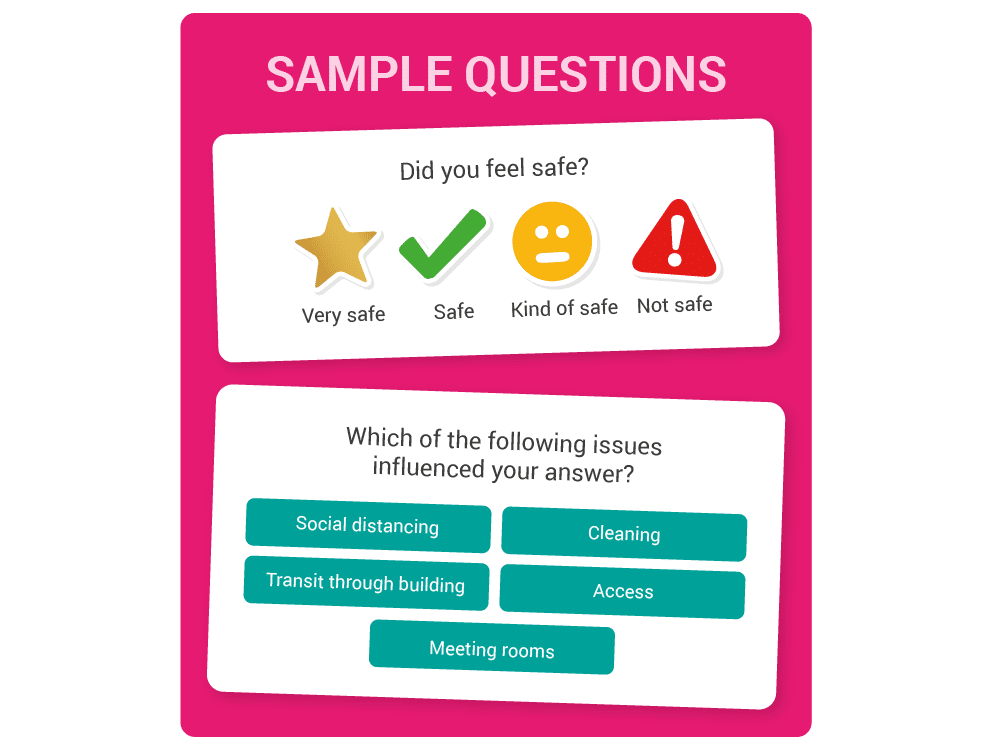 A second question posed to a segmented audience

Here you've collected feedback from your customers and it shows that a number of them feel a certain way about a certain aspect of your service. To drill deeper into the reasons why, you contact this group and ask a follow-up question/s to learn more.
What you should put continuous improvement into your customer feedback process
Acting on individual customer feedback works wonders, but also applying learnings across the board will benefit more customers. Here's how you can use customer feedback to develop continuous improvement of your customer experience.
Examine feedback for areas of customer concern where you can create the greatest impact. Prioritize this so that the maximum number of customers are benefited in the shortest possible time.

Spitball 2 or 3 further improvement ideas over the next 30–90 days. These can be the gnarly, 'never-get-around-to-it' tweaks that actually make a difference to how customers experience your service. Look for points of friction and stress that you can remove.

Commit to executing on these improvements. Map out your necessary resources and roadmap and deliver on it. Keep an eye out for the next wave of improvement to plot into after these are well underway. Be prepared to change course if you see changes in customer feedback! 

Measure customer feedback in these areas over the coming period. You should see an upswing but don't be disappointed if you don't; these things can take time and – besides – people don't also vocalize improvements in satisfaction even though you know those improvements were justified. Don't be afraid to experiment. Keep testing and learning!
Close the customer feedback loop
"Closing the loop" is an industry term for completing a customer interaction to its optimum conclusion. In this context, a closed loop customer feedback process is all the best practice described above in terms of:
Triggering customer feedback via customer journey events and touchpoints

Collecting this and other, unsolicited customer feedback through various channels

Systemizing a process for interpreting, analyzing and responding to customer data

Actioning responses based both on a defined customer feedback response plan and dynamically

Identifying when individual customer feedback loops have been closed based on completing interactions with each customer
Closing the customer feedback loop is particularly important if measuring customer metrics like NPS. NPS, or Net Promoter Score, is a key business metric for evaluating and tracking customer loyalty and retention. The idea is to make your NPS score as high as possible, using it as a yardstick to make improvements against.
Improving NPS scores is supported by implementing a closed loop system to follow-up customer feedback on an individual basis. By connecting on a one-to-one basis off the back of NPS feedback responses, you can employ tactics aimed at improving each customer's given score. Do a good job and they'll like you more, is the general idea. The more you convert from detractors into promoters the bigger your NPS score will get.
7 tips for maximising customer feedback
Maximizing customer feedback volume and response rate means being proactive rather than hanging around for feedback to arrive. So, in prompting customers to provide feedback via a survey, you have to make it as easy as possible. Achieve each of these in your customer feedback collection and you're well on your way:
Surveys that are easy to understand

Garbled questions and complex language get in the way. Keep questions short, direct and unambiguous.

Surveys that are fast to complete

The fewer questions you ask the less time it takes customers to give feedback. Be choosy about what you ask. Consider single-question surveys.

Surveys that take minimal effort

Asking for feedback is asking a favor. Customers are busy so be as close to totally non-disruptive as possible. Make it a "one click and you're done" survey. Not fiddly menus and lines to type (though have free-text comment boxes as optional extras).

Surveys that are in-the-moment

Pinpoint insights into specific parts of the customer journey by asking for feedback at exactly the right time. For example, straight after the delivery, onboarding stage of job completion – not days, hours or even minutes later. This way your surveys don't require context, making them even shorter as well as giving you fresh, accurate insights.

Surveys that are engaging

Design a survey that stands out, feels fun and mirrors your brand. Use engaging response icons like smiley faces, or customize your own. Don't miss this opportunity to be distinctive

Surveys that make customers feel good about giving feedback

Engaging with your feedback survey shouldn't leave a 'sour taste'. Ensure you say thank you and tell them how their feedback helps drive you to make improvements.

Surveys that offer incentives

This may apply better to certain groups than others. Rewards for feedback completion should be small and in no way tied to the type of response (good vs. bad). The danger with incentives is encouraging self-selecting bias – but if you can navigate that then this can be a potent tactic.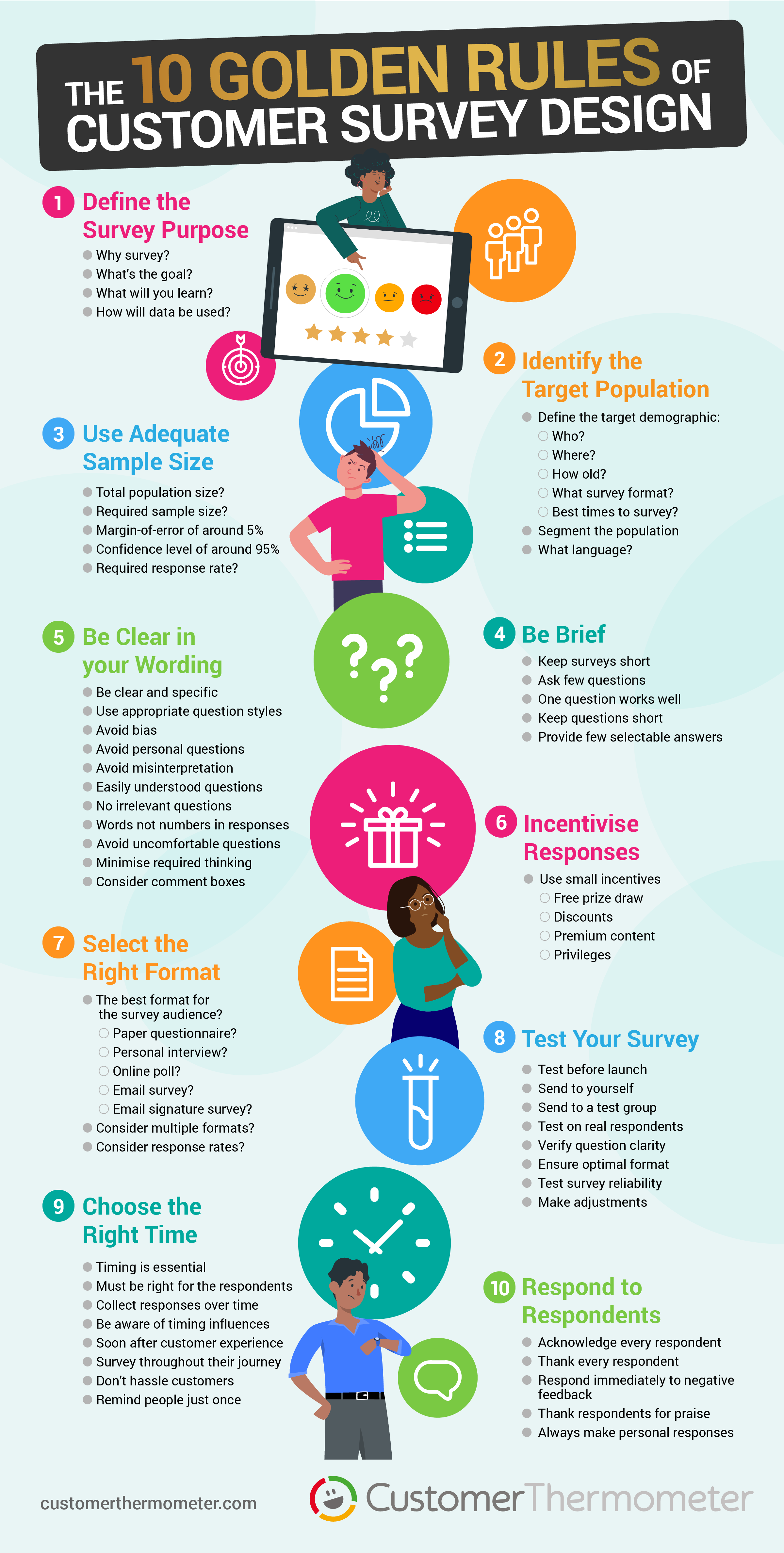 Best practices for collecting customer feedback
As we explore later in this guide, customer feedback is extremely valuable. Therefore any customer feedback system must be geared to:
Maximize the total amount of customer feedback

Support and capture both structured and unstructured customer feedback

Facilitate customers in being able to give their feedback without obstacle

Encourage customers to have faith and confidence that their feedback is being listened to

Capture feedback in ways that are logical to the customer's experience and journey

Capture customer feedback in ways that support the organization in making best use of it

Ensure customer feedback provided to the organization is as close to 'real-time' as possible

Ensure a regular flow of customer feedback, thereby reflecting an up-to-date picture

Mitigate any risk of bias in customer feedback data

Empower all employees to understand the importance of customer feedback and their role in feedback collection processes
Taking the first of these, it's vital to maximize the customer feedback yield you get from querying customers. The benefit of doing this trickles down to satisfy many of the other objectives listed above. In particular: inspiring customer confidence, ensuring regular real-time data and mitigating response bias.
5 more best practices when collecting feedback
Other best practice tips for collecting feedback include:
Gearing up to receive and store both structured and unstructured customer feedback.

As this grows, it will be important to look up historic data for comparison purposes. 

Being ready for feedback 24/7/365

. Customer feedback is not a 9–5 job; it's anytime, all the time. Customers will assume you're always listening, so either cater for that or manage expectations accordingly. Covering the bases could include allowing messages to be left on your phone lines out of hours, rather than simply having a recorded message saying when you're next open. 

Never letting feedback go cold

. Put a realistic but aggressive customer feedback SLA in place for the maximum delay you'll allow between receiving feedback and acknowledging it. Institute processes for ensuring all feedback channels are checked regularly.

Getting feedback to the right person or team – fast.

The customer feedback flow should be like oil in an engine. Always circulating to the right place and keeping the business engine purring along! This means having systems in place for diverting certain types of feedback to key individuals where necessary. Think of it as a two-stage process. The first stage is ensuring the customer feedback is acknowledged, counted and ready to analyze. The second stage is supplying the feedback in the most appropriate format to internal departments best placed to fix the issue, or otherwise learn from the insights. For example, the service department or a specific retail outlet.  

Ensuring you have the relevant data protections in place for legal compliance purposes

. If you have customers in different parts of the world, consider the implications of local data protection laws in certain jurisdictions (e.g. GDPR in Europe). Publish your data protection policies and explain your commitment to privacy and security so that customers are reassured.

Start Getting Customer Feedback Today
Give Customer Thermometer a try and start sending Customer Feedback Surveys in minutes. Our free trial should give you plenty of opportunities to experiment with fast, effective feedback surveys. We integrate with practically every platform and generate some of the best response rates in the business. Simply fill out the form below and fire up your customer feedback program.
https://www.customerthermometer.com/img/5_Star_Feedback_Guide.jpg
496
1420
Gavin
https://www.customerthermometer.com/img/[email protected]
Gavin
2022-01-13 13:26:28
2022-05-06 12:49:22
Customer Feedback: The 5 Star Guide To Happy Customers