Customers interact with businesses, organizations and suppliers via multiple channels. Email, phone, social media, chat, mobile apps, SMS, face-to-face – are all used for customer feedback and interaction. People also leave online reviews and widely exchange and share opinions on forums and other platforms. There is clearly a massive challenge to remain in touch with this feedback.
What is Enterprise Feedback Management?
Techopedia.com provides the following definition of Enterprise Feedback Management (EFM):

Remaining aware of customer opinion and how this change is obviously essential. The challenge is magnified for larger enterprises operating multiple business locations, possibly worldwide.
A key objective is to facilitate effective communications between businesses, their staff, customers and stakeholders. This is in order to identify issues and concerns, ensure these are shared appropriately and action is taken.
Enterprise Feedback Management History
The term 'Enterprise Feedback Management' was first used by Perseus Survey Solutions in a 2004 article. It was further promoted by Gartner who defined EFM as:

Since then an increasing number of enterprises have embraced Enterprise Feedback Management to solicit, centrally manage and analyze data from customers.
Benefits of Enterprise Feedback Management
Effective Enterprise Feedback Management is all about the systematic collection and management of feedback. EFM should improve efficiencies and reduce the overall costs of gaining valuable feedback. Key attributes of an effective EFM system include:
Centralized data collection.
Insights derived from customers, employees and market research combined.
Integrations with existing Customer Relationship Management (CRM) systems, help desks, databases and IT systems.
Some of the key benefits of a good EFM system and strategy are these:
Gathered information readily shared, internally, between staff

Ideas and insights easily shared and collaboration supported

Data rigorously protected by IT security and permissions

Surveys present a consistent brand image

Teamwork simplified and more efficient with duplication of effort avoided
Organizations using an EFM can integrate customer feedback directly into day-to-day business operations. It enables businesses to develop a more holistic understanding of the opinions and needs of customers and stakeholders. It can also be beneficial in identifying negative issues in real-time. That way they can be promptly addressed before turning into much bigger problems.
Importantly, Enterprise Feedback Management will help improve customer loyalty, reduce customer churn and maximize revenue.

Enterprise Feedback Management and Total Experience (TX)
The concept of Enterprise Feedback Management has been around for almost 20 years. In that time, plenty have predicted its demise in favour of other technologies including:
Customer Insight and Action (CIA) Platforms

Customer Insight Platforms (CIP)

Customer Data Platforms (CDP)
The use of the EFM term might be in decline, but the idea behind it has never been more important. The technologies above are effectively all variations on the EFM theme. Today, that means harnessing cloud technology, big data analytics and even artificial intelligence.
Having popularized EFM in the early days, Gartner is now championing a new term: Total Experience (TX). This is the meeting point for all 'people experience' perspectives.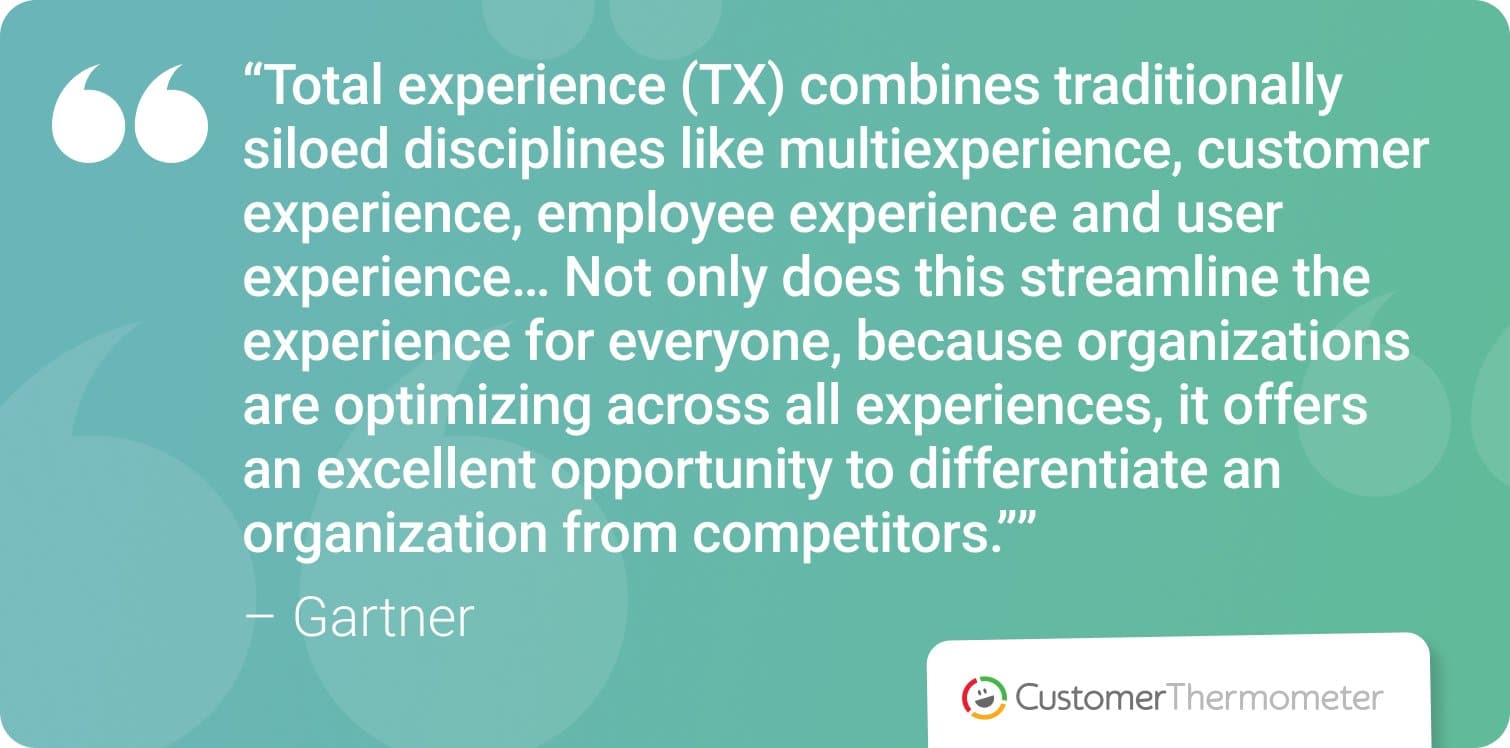 The Enterprise Feedback Management Data Lake
Whether or not you call it Enterprise Feedback Management, at the heart of this concept is the customer-level data lake. McKinsey's excellent analysis on the future of CX brings this idea full circle with new ideas for how to exploit the value of this data with new technology.
According to McKinsey, there are major failings in traditional customer survey programs. And this is something we happen to agree with wholeheartedly. Their bet is on greater use of predictive analytics, which is to take the foundations of EFM and apply it to decision making using highly advanced software.
Enterprise Feedback Management Software
Enterprise Feedback Management is very much based around the chosen software platform – and there are a lot of them. Many are no longer even called EFM. Here are 4 ways of considering your next feedback management move for your business.
If you search for 'Enterprise Feedback Management Software' via Google you'll see that there are an astronomical (176,000,000 at the time of writing) number of returned results. Finding the system that is right for your organization can therefore be daunting.
Feedback Management System
As with other strategic enterprise-wide software choices, you need to clearly define what you want your Enterprise Feedback Management system to do. Consult with all relevant parties in your organization to collate needs and requirements.
Consider Systems Integration
A very important aspect of EFM software is the integration with existing software systems. Is your organization distributed over multiple locations? If so, this could compound the issue. You need to clarify exactly how the EFM system is required to interconnect and interact with all of them.
Feedback Management
This is a short-cut way to identify an Enterprise Feedback Management system that will work for your organization. Don't overlook the need to verify that the software will integrate with your existing IT systems. And ensure it addresses what all stakeholders require and will meet the future needs of your enterprise.
Consider the customer's feedback survey experience
Many EFM platforms focus on reporting output rather than the customer feedback survey experience. This can be a fatal mistake. Always ensure surveys are as engaging and interesting as possible. Ask as few questions as possible and try to keep survey invitation emails to a minimum.
Stay nimble and lightweight
There is no need to get railroaded into a massive software implementation when the solution could be simpler than you think. A system like Customer Thermometer acts as a single pane of glass for your feedback needs. Integration is simple and deployment very fast.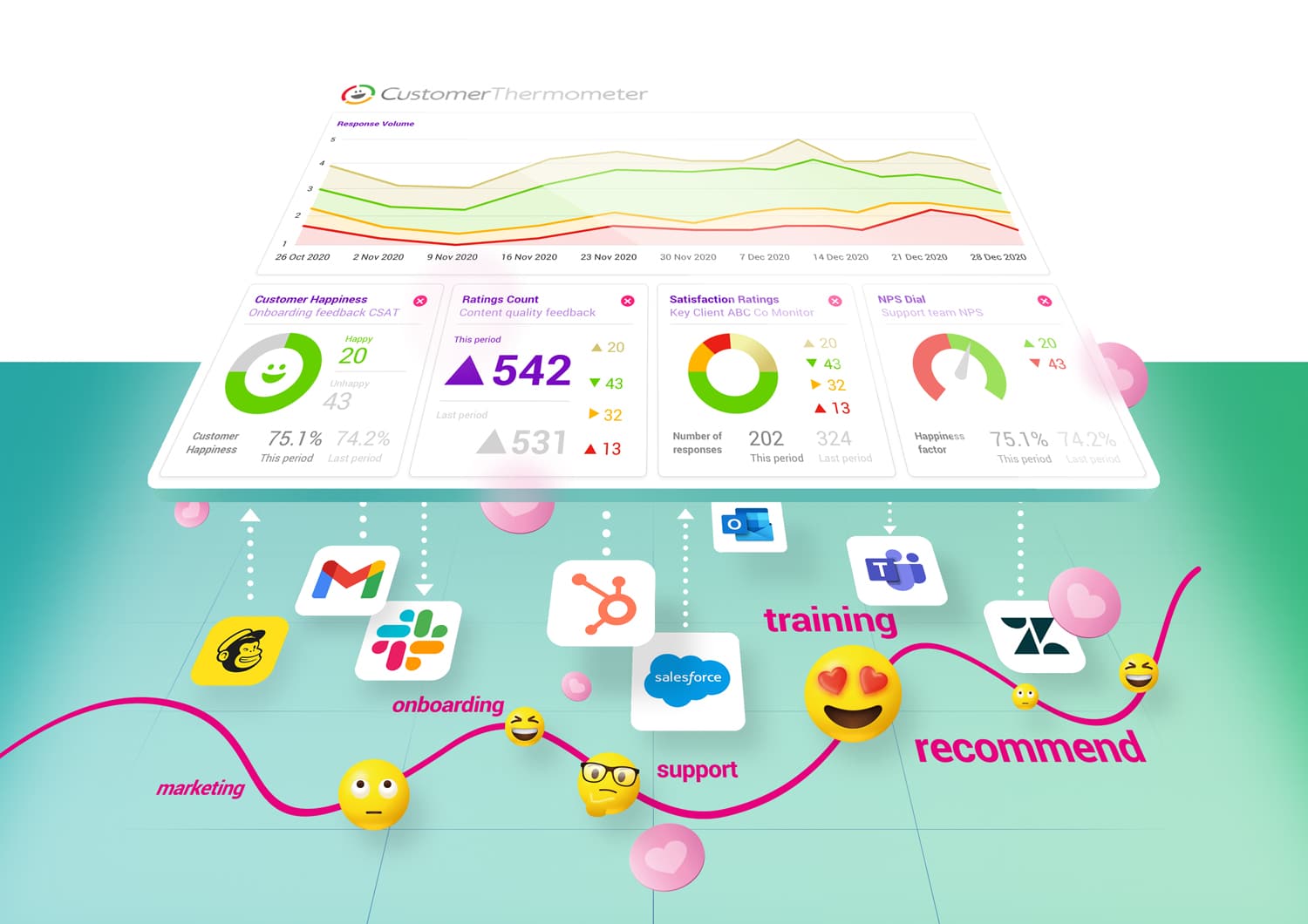 Why not give Customer Thermometer a try in your customer programs? Sign up for a free trial to see how quickly you can be up and running. 
https://www.customerthermometer.com/img/Enterprise_Feedback_Management.jpg
496
1420
Lindsay Willott
https://www.customerthermometer.com/img/[email protected]
Lindsay Willott
2021-07-12 17:42:15
2021-08-05 13:32:15
Enterprise Feedback Management: Everything You Need to Know & More