Net Promoter Score (NPS®), first developed by Fred Reichheld and Bain & Company in 2003, is a well-established measurement of a business' reputation with its customers. It acts as a league table for competing companies to benchmark their customer satisfaction ratings against one another. We now offer a brand new, fully-functional NPS survey tool, so what better time to discuss some tips and risks of NPS, so you can decide for yourself and give it a go.
Net Promoter Score Calculation
One of the key reasons why NPS has gained such widespread popularity is its simplicity. The Net Promoter Score metric is calculated based upon answers received to just one simple question:
How likely is it that you would recommend our company/product/service to a friend or colleague?
Respondents are asked to select their answers on a scale from 0 to 10, where 10 means 'extremely likely to recommend' and 0 means 'not likely to recommend'.
Those who selected either 9 or 10 are classified as promoters.
They are enthusiastic about the products or services provided and are most likely to tell others.
Those who select either 7 or 8 are classified as passives.
These are people who are not actually dissatisfied but are unlikely to either promote or criticise the product or service.
Those who select scores from 0 to 6 are classified as detractors.
These are people who will most likely not become repeat customers and are most likely to disseminate negative remarks about the product or service.
The Net Promoter Score is calculated by subtracting the percentage of respondents who were detractors from the percentage who were promoters.
NPS = Promoters% – Detractors%
Here are a few examples to illustrate this calculation.
If 50% of respondents scored 0 to 6 (detractors) and 50% scored 9 or 10 (promoters) NPS would be: 50% – 50% = 0.
If 20% were detractors, 30% were passives and 50% were promoters the NPS would be: 50% – 20% = 30.
If 0% were detractors, 50% were passives and 50% were promoters the NPS would be: 50% – 0% = 50.
If 100% were detractors then the NPS would be: 0% – 100% = -100.
If 100% of respondents were promoters then the NPS metric would be: 100% – 0% = 100.
It should be clear that the NPS scale from -100 to +100 provides a simple indication of the relative proportions of people who are happy with a business, product or service and those who are not. Higher, positive Net Promoter Scores tend to reflect a healthier business and lower, negative Net Promoter Scores can indicate the existence of customer happiness and loyalty issues which should be investigated and resolved.
When used appropriately, NPS is a highly effective benchmarking tool for customer satisfaction and loyalty. Customer retention is not something to take lightly – an increase of just 5% can grow profit by as much as 95%. Of course, we want to be attracting and acquiring new customers, but just as much energy – or perhaps more – should be applied to customer retention to maximize on our ROI and average lifetime value (LTV).
How to get a better NPS score through action
First, and most fundamentally, getting a better NPS score relies on strategizing and making significant changes to your customer service offering. It might sound obvious, but it's simple enough to set up a customer satisfaction feedback tool and see the results, the real challenge is to influence improvement in the scores over time. Once you get it right, though, the combination is extremely powerful.
1. Think of customers as people first (and only then consider technology)
Shep Hyken wrote about the human aspect of customer service and reminds us that we're not only processing a claim, but addressing a person with a problem:
"They make their customers feel like customers. They must restore confidence. Solving their customers' problems is expected. The key is to do it in such a way that also restores confidence. That means with the right attitude, a sense of caring, empathy and urgency."
Indeed, customer service agents are often the first port of call for any and all customers. If you send a survey after their interaction asking if they would promote your business to a friend, you want to have done the upmost to ensure that the customer's confidence in you has been sufficiently restored.
If you don't have a respectful, empathetic and genuine customer service wrap, there's likely no need to send a survey as you will already know the answer – and it's not looking good.
2. Getting more people to "promote" you is a mentality, not a metric
Focusing on the numbers is dangerous as it can mean you lose the human approach in favor of the metric. Try not to let the process dehumanize your business and focus on what makes your feedback process interesting. The mentality of truly wanting to gain and act on feedback will become apparent to your customers in your approach to their queries and concerns.
When you focus on a positive and proactive mentality towards your service wrap, this is when your customers will truly want to promote you – then the numbers, as a byproduct, will speak for themselves.
3. When things go badly – action and the service recovery paradox
The absolutely vital end-result of gaining customer feedback at regular touchpoints is the ability to gauge when a customer is dissatisfied. An unhappy customer will often just go elsewhere, and you might not realize either until they're gone or perhaps have left a negative review online. Either way, we clearly want to avoid this where possible.
With acting upon regular customer feedback, not only can we try and prevent a customer from leaving, but this fast action can be a real boost to customer satisfaction. To be able to almost predict dissatisfaction, and especially to tackle it without the customer needing to ask, can cause what is known as the service recovery paradox.
This occurs when there has been a 'service failure' with a successful recovery, turning a negative experience into a positive and actually delighting your customer into feeling more confident in and loyal to your business than before the issue arose (more on this here).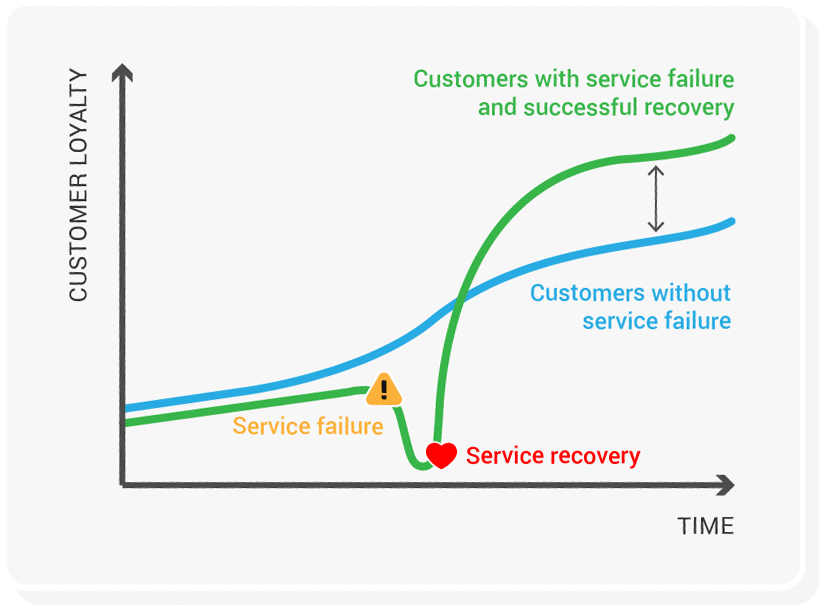 4. When things go well – make sure you celebrate and share success
Conversely, and arguably the most fun aspect of this process, is the increase in positive feedback you will gain. Respondents are incentivized to respond because it's fun, engaging and easy – so those who are pleased with their experience are now able to tell you in seconds, and trust us – they will!
This makes the process infinitely more rewarding for both your business and your employees – you can boast your good reviews, big up your high-achievers and motivate those who need the boost to offer the best service they can. We love to share our positive feedback so customers can see how much work we put into our service offering, why not do the same?
Embedding a celebratory performance culture – a culture of positivity around customer success – into your company is one of the best ways we know of creating a team that constantly drives NPS improvement.
How to get a better NPS score through measurement
Okay, so we've talked about how to manifest a good NPS score through your actions, but it's also important to get your survey out at the right time, in the right way. How you measure NPS can have a major impact on the score.
If you make it too lengthy or difficult to respond, or ask at the wrong time or with the wrong question, you'll get an unrepresentative view. It'll likely be the unhappiest people who respond, which can make the score much harsher than it should be.
Be aware that there are only a few times when the NPS question "makes sense" to customers. We have seen people ask it too early in the engagement cycle with customers and potential customers, only to find that their response rates are lower than normal. The "would you recommend us?" question can sometimes cause customers to worry that if they say yes, you'll be straight on the phone to you asking for a recommendation or a Google review!
1. Ask infrequently
It's common to receive an email after a customer service experience asking what you thought… days, weeks or months after the event. It's unclear why this is a common approach, when often the respondent has likely lost interest or forgotten about the experience, or it's perhaps at completely the wrong stage of their customer journey, therefore making little sense.
You don't want to pester customers with constant questions about their experience, or longform surveys that take ages to fill out, as you'll most likely gain unrepresentative responses – sometimes it's the ineffective survey itself that causes dissatisfaction!
For a helpdesk, for instance, a simple 1-click survey embedded within the 'ticket closed' email can encompass the customer experience at just the right time, encouraging the customer to engage with the feedback solution and improving response rates like nothing else.
2. Respect people's time
An NPS survey can be offered in any number of ways to customers, meaning that this 'only number you need to grow' is often thrown in as part of a lengthy customer experience survey to find out all manner of CX metrics – often to keep every department lead happy. We've heard stories of 'Frankensurveys' sadly often, which is astounding considering how low the response rates are for these.
Think about it yourself – when you've experienced customer service and are asked to complete a '5-minute survey', how likely are you really to engage with this? Of course, we recommend 1-click surveys, where you can ask any question – including NPS – and find out instantly what the customer thought. It's a no-brainer.
3. Close the loop
Before you start gaining regular feedback and receiving alerts for unhappy customers, determine a process to deal with this. It's futile to introduce a developed customer feedback system without knowing, when a customer clicks to give feedback, what you'll do. You could introduce some SLAs to your managers:
0-6

= senior manager calls customer within 4 hours, swift apology and resolution to drive service recovery

7 and 8

= comments are captured and shared for training. How could we have driven even better satisfaction with these customers?

9 and 10

= customer rep or team are mentioned in team meeting; actions noted and replicated
Some of the best turnarounds have happened when a senior person has very swiftly personally called or emailed the unhappy customer to gather their feedback. It defuses the situation and the customer thinks "wow, they really care about me".
Have a timescale in which you will respond. Call or wrote to the unhappy customer within an hour for example, or promise to fix their issue within a day. Whatever's right for you, but make sure it's a commitment that you can keep and organize your people to deliver against it.
Check back to ensure the customer is happy after an agreed number of hours or days.
4. Measure small and act BIG
Overhauling or introducing a customer feedback system is a daunting task, no doubt. Don't fret though – strategize by breaking down large goals into chunks you can actually tackle.
Looking at a single large number (like an NPS score) and attempting to move it won't work. It's like trying to run your first marathon by just having a go at it.
Build up in manageable areas, set smaller and achievable SLAs and plan for the next steps once you've reached these first microtargets. The feeling of taking small but sure steps will be so much more rewarding, and sustainable, than attempting to throw everything at getting an arbitrary number from point A to point B. Celebrate the little victories as you go.
How to Use Net Promoter Score to Grow Your Business
In isolation your Net Promoter Score does nothing to drive business growth. Net Promoter Score assessment needs to be just one part of a broader overall strategy which is continuously striving for improvement and excellence in customer relations. You must close the loop with the customer who has had a bad experience in order to drive up NPS.
The key attribute of NPS which makes it so widely popular is its simplicity. But the data derived using NPS needs to be analysed properly in order to derive value. It is important for businesses to delve more deeply into the data in order to understand why customers are providing their surveyed responses.
AirBnB
A good example is the worldwide accommodation service AirBnB. Back in 2013 they started using Net Promoter Score in order to add value to their customer feedback program and to determine whether their NPS score correlated with the likelihood that a guest would become a genuine advocate and potentially return to book accommodation again in the future.
They surveyed around 600,000 guests and found that two thirds of those who responded were promoters and just 2% were detractors. It was determined that guests who were promoters were more likely to recommend the service to friends and family and would most likely book again in the future.
High Point Networks
Another great example of NPS providing real value is Customer Thermometer client: High Point Networks. They started using Customer Thermometer because their existing in-built survey tool simply wasn't providing the response rate that they needed. From in excess of 1000 tickets raised in a month they were only receiving around 20 responses. Using the Customer Thermometer system boosted their response rates by a factor of x5!
It's vital that High Point Networks consistently delivers exceptionally high standards of customer service. By using NPS they found that around 95% of their survey responses were either good or excellent. They have an NPS score that is consistently in the 90s, which is remarkable. They are monitoring their NPS score in order to ensure that their standards don't diminish and to quickly identify where they may need to make changes in response to negative feedback patterns.
Along with our 4-icon survey icons, we now offer a fully-functional NPS survey through our app, with 11 icons, actionable feedback and thorough reporting. Now we've given you all our best tips, why not give us a go?
https://www.customerthermometer.com/img/How-to-Get-a-Better-NPS-Score-CT.png
248
710
Sophie Leaver
https://www.customerthermometer.com/img/[email protected]
Sophie Leaver
2021-01-05 08:01:22
2021-01-05 15:08:52
How to Get a Better NPS Score