"The reports of email's demise have been greatly exaggerated," Mark Twain might have said.
Email is the big daddy of business communications. More and more are sent every year despite repeated predictions to the contrary. Whatever gets thrown at it, it seems determined to come back for more.
Email, like home cooking, had a 'good' pandemic. HubSpot research showed an increase in email traffic of 44% in the wake of the initial lockdowns. Annual growth in email volume will be almost 5% over the next 4 years according to Statista. The Radicati Group forecasts a global total of 380 billion per day by 2025.
Apparently, more than half of all senders increased their email volumes during the pandemic. Almost 80% of senders said their open rates have either stayed or increased over that period. Click-through rates are up too, by 40%.
During uncertainty, many investors rush to commodities and currencies like gold and Swiss francs. It feels like that with email in 2021. The "trusted gold standard" for communicating one-to-one with customers, staff, and other stakeholders in a controlled manner…
All very interesting, but what does it mean for you?
Turn your emails into a feedback channel
Communicating with customers and other stakeholders is very straightforward with email. Far easier, typically, than getting customer attention onto your brand or a new customer proposition. Organizations that 'misuse' the email channel to pump spammy sales messages don't tend to succeed very well. But what about using that 'real estate' in subtler ways to drive different sorts of engagement?
Embedding 1-click surveys into the email signature is a great example of this. It's been a mainstay for Customer Thermometer deployments all over the world for many years. And its popularity and relevance is only getting stronger. This approach turns your growing email output into a feedback engine; capitalizing on existing real estate for engagement purposes.
3 trends in email-driven customer feedback
Customer Thermometer and Exclaimer recently hosted a webinar with fresh research findings probing the subject of email in 2021. In it, we outlined three trends that drive the importance of using email signatures and feedback together.
1. Change the way you ask for customer feedback
The first trend is that companies globally are questioning the way they collect customer feedback. Previously, businesses were relying on a "one shot" annual survey. New research by McKinsey shows how these surveys are failing the companies who send them.
"Leaders pointed to low response rates, data lags, ambiguity about performance drivers and the lack of a clear link to financial value as critical shortcomings." – McKinsey Research
Leaders really need to question if their businesses are listening across the customer journey on a regular basis.
They also need to consider 'feedback' as a discipline distinct from 'market research'.
Long format surveys simply digitized a paper process. They make no sense in a fast-paced, multichannel world. Add to this Forrester's 2021 prediction that money is going to shift into retention methods, such as email, customer service and the creation of products that drive growth from an existing base. Email Feedback is here to stay.
2. No one likes complaining, so make it easy for them
Psychologist Guy Winch has repeatedly highlighted that human beings hate to complain. In his research, only 1 in 26 people ever bother complaining. 92% of customers will just leave after two negative interactions, without telling you anything about it.
Customers generally don't like effort. CEB Board shows that 96% of customers going through a high level of effort to deal with you are likely to churn, versus only 9% of those who went through an effortless experience.
All of this should be encouraging you to take a fresh look at your customer journey. Look closely at the micro funnels; the micro stages. Making it as easy (and enjoyable!) as possible to give feedback makes perfect sense. So does making everything as easy as you can for customers.
3. 'Middling' customers are crucial to your business goals
Whatever feedback system you have, you'll always get to hear the 'extreme' feedback. In other words, people who love you or hate you stand the greatest chance of getting through. That might sound enough, but it isn't. Rushing to repair negative experiences is, like caressing the most positive ones, not as effective at driving revenue as concentrating on those in the middle.
The happiest people in any industry tend to spend more. So moving a middling customer to become a happy customer generates more additional spending than moving an unhappy customer up to middle.
In fact, Forrester research shows that by making a "middling" customer happier you can generate 9 times more revenue than by focusing on the unhappiest customers. Thus, by focusing on making 'OK' or good experiences better — creating defining moments — firms can receive a 9x higher revenue return.
This is only possible with a feedback mechanism where all your customers respond, not just those at either end of the spectrum. High-response, low-effort surveys, embedded into email signatures, for example…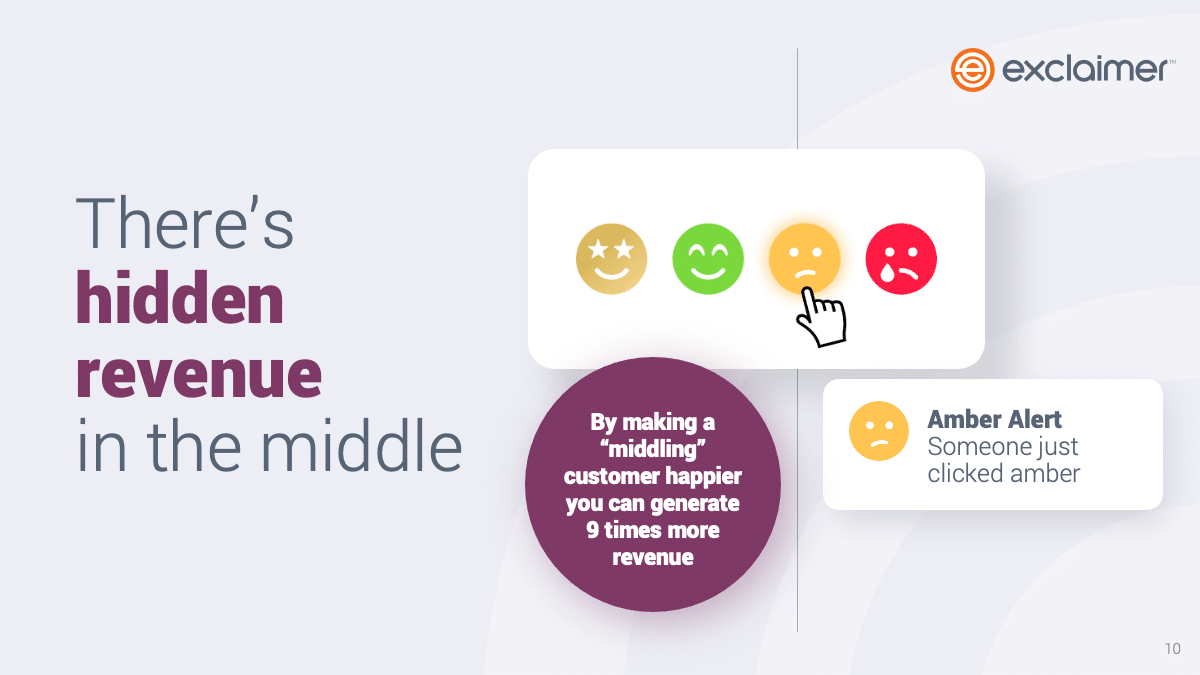 Webinar replay: Turn your business emails into a marketing and feedback channel
Watch the on-demand webinar with Customer Thermometer and Exclaimer to discover the opportunities for maximizing email real estate with customer feedback. Learn the 9 C's of email signatures and some quick and easy tips you can apply today.
—
Whatever email platform or PSA system you use, Customer Thermometer's wide range of APIs and pre-built integrations make it simple to get up and running. Start your free trial by filling out the form below to see for yourself!
https://www.customerthermometer.com/img/How_to_Get_Email_feedback_from_Customers.jpg
496
1420
David Evans
https://www.customerthermometer.com/img/[email protected]
David Evans
2021-05-27 10:48:10
2021-07-20 18:54:10
How To Get Customer Feedback From The Emails You Are Already Sending