People are managing ever-increasing volumes of daily email messages. When they triage their unopened emails they look at two things: who the emails are from and the email subject lines. If you are looking for customer feedback, survey subject lines play a huge part in response rates.
Messages which appear spammy, uninteresting or suspicious will be immediately consigned to the trash. So, when it comes to maximizing responses to your surveys, the right email subject lines make all the difference.
Why survey subject lines matter
Recipients won't take part in your email surveys if they never open them. According to the Convince and Convert blog, 35% of recipients will open an email based solely on the subject line.
So the subject line of your survey invitation email really needs to work hard to return great response rates. Here are 10 tips to crafting the perfect survey email subject lines…
Prevent survey subject lines from triggering spam filters
It's vitally important to consider the common trigger words used by email spam filters. This will stop survey invitation emails from being intercepted and filtered out before recipients have a chance to open them.
Luckily there are lists of bad email subject line keywords you can consult. It's worthwhile reviewing these terms when composing your email messages. For example:
Free installation
Amazing stuff
Cash bonus
Free preview
No investment
Target email open rates for your industry
Email open rates vary by industry sector and depending on the type of email message. For example, routine newsletter emails tend to have far lower open rates than transactional emails from the same sources. It's a good idea to research typical email open rates in your industry. Here are pertinent email statistics for 2021 showing average industry-specific open rates:
Colleges/Universities: 19.55%

Nonprofits: 21.7%

Professional services: 14.3%

Retail: 11.27%

Technology: 12.44%

Transportation: 14%

Overall average (all industries): 17.13%
As can be seen, the typical open rate for retail industry email messages is half that of nonprofits. Use this to set yourself the right goals.
Go for simple and specific subject lines
Make your email subject lines clear, simple and specific. Don't be cryptic. Seemingly clever, creative email subject lines are more likely to put people off than engage them. Likewise with subject lines that require thought.
Research by Aweber.com found that 'clarity trumps creativity', and very significantly. Clear email subject lines resulted in 541% more clicks than creatively composed subject lines.
Genuinely effective survey invitation email subject lines succinctly provide everything that the recipient needs to know.
Tell them the purpose of the survey.

Tell them why they should take part.

Make it clear what's required from them and how long it will take.

Inform them how long the survey is running for and when they need to respond by.
Keep survey subject lines short
Long, rambling email subject lines are a bad idea. First, they may not display completely on the recipient's email client, and lose meaning. Second, they waste the recipient's time. And they won't like that.
The influence of email subject line length on open rates has been extensively tested and retested. An updated study by RetentionScience.com confirms 6 to 10 words is the 'Goldilocks zone' (not too cold, not too cold): 
0 to 5 words: 16% open rate

6 to 10 words: 21% open rate

11 to 15 words: 14% open rate

16 to 20 words: 12% open rate

20+ words: diminishing returns
Sending out an email survey? Keep subject lines below 10 words long or you're asking for fewer and fewer clicks. Some studies go as far as recommending the optimum number of characters in an email subject line (around 30–50 characters seems to be the consensus).
Personalized and incentivized subject lines are appreciated
Personalization is highly effective in all forms of email communication and a critical element in strong customer experiences. Personalized email subject lines can increase open rates by over 60%. Examples might include: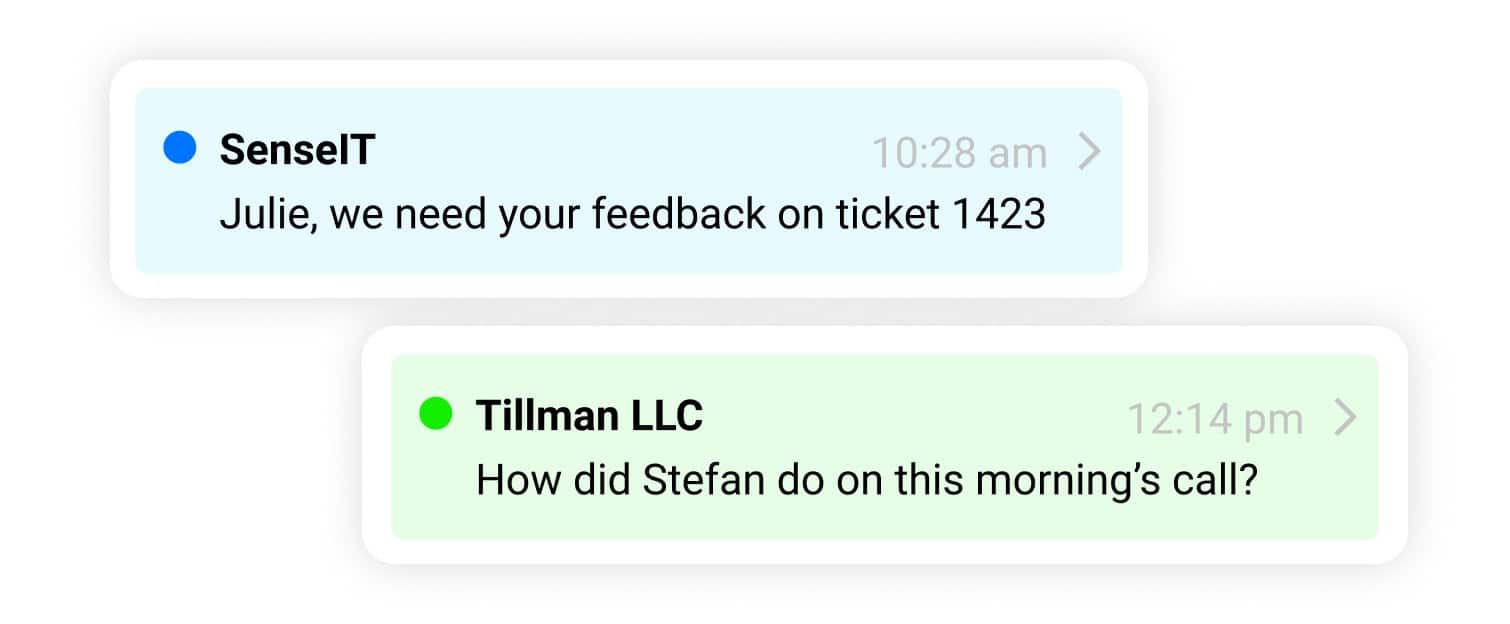 Personalization conveys importance to the recipient. It makes your survey request email look more like a personal invitation, which people like.
It can also be useful to offer an incentive. For example:
Switch up subject line language to stand out from the crowd
You will no doubt have received survey invitation emails with subject lines like these:
Rate your experience

Tell us what you think

Your opinion matters

Share your thoughts with us
Everybody does it this way, so why should you? Subtle differences in language can make your survey invitation email stand out from the crowd. Experiment with different phraseology or be more specific in your approach. Consider these:
Did we do well?

Did we make your Wednesday better?

Your input

Your feedback
Add symbols, punctuation, and emojis for extra survey subject line impact
A simple but effective way to differentiate your emails from others is to use punctuation or unicode symbols.
Tests have demonstrated that limited use of punctuation in subject lines can have a beneficial influence on email open rates.
A full stop (period) at the end of subject lines can increase open rates.

Conversely, the use of question marks has no beneficial impact on email open rates.

The exclamation mark can have a beneficial impact, but shouldn't be overused.
The key recommendation regarding punctuation is to use it sparingly and not in every email subject line.
The other opportunity to create added interest in your subject line – without using words – is emojis and unicode characters. Using an emoji survey can boost response rates by 80%.
An Experian study found that including an emoji in email subject lines results in a 56% increase in open rates, compared with plain text subject lines. But not all the time. The wrong emoji in the wrong context can negatively impact responses, so it's always worth testing first.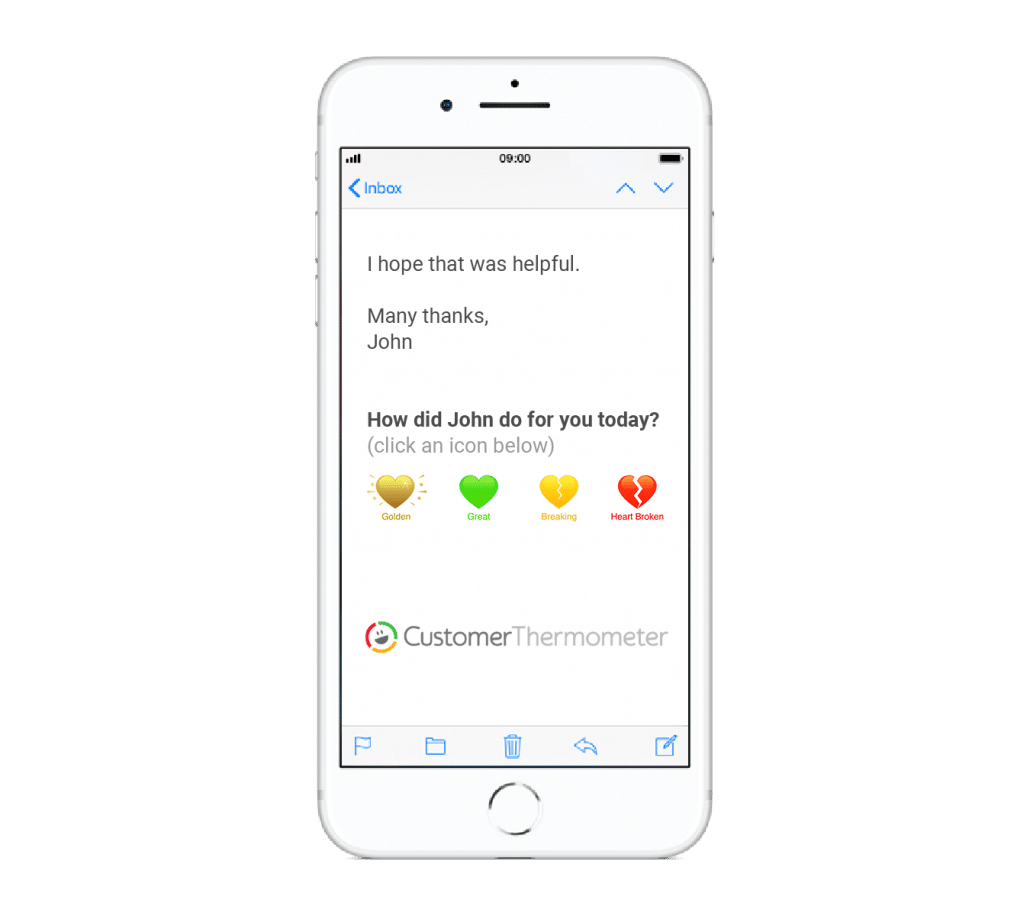 Want to see what it looks like in an email: Send yourself an example

Emoji images immediately capture the attention of a recipient and can save space by using fewer characters. For example, a 'heart' emoji instead of the word 'love'. Emojis, such as smiley faces, are also a great way to convey emotions in an engaging way. Here are a few examples.
This email subject line uses a running figure emoji in relation to an email about activewear.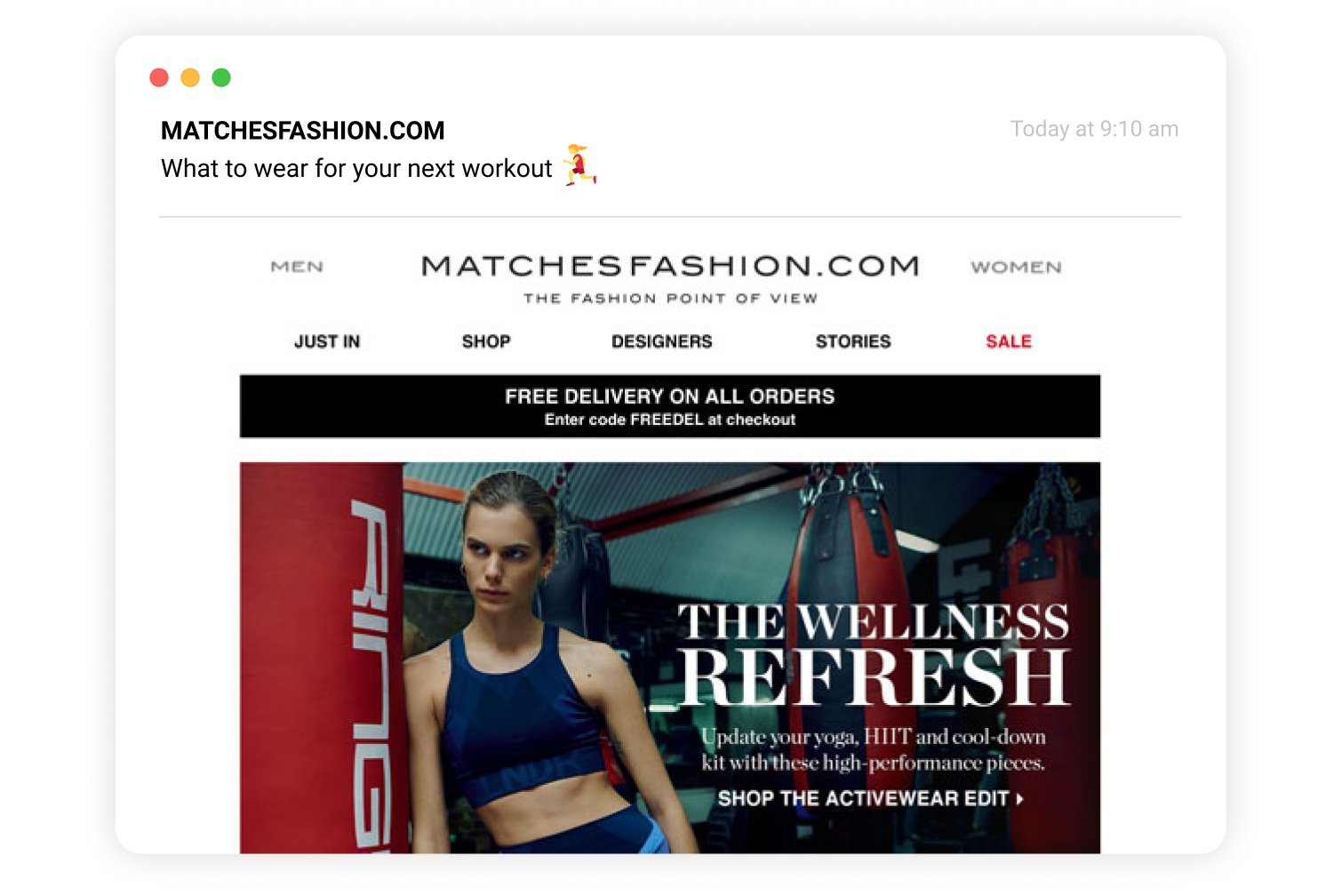 This next example has a lipstick emoji in the subject line to illustrate an email around cosmetics.

And this next example uses a delivery truck emoji because the email subject is a shipping update.

If you want to play around with different emoji options you can use in your surveys have a look around our emoji playground.
Timings are crucial when sending out survey request emails
Optimally timing your survey invitation request is very important. People often ask: 'When is the best time to send an email?' Generally, if your aim is to survey people after a specific event or action (such as a customer service request or a purchase), then do it right away. In other words, as soon after the event as possible. Don't leave it for longer or you risk them forgetting how they felt about their experience. It is important you know how to get customer feedback.
The best days and times of day for sending emails
Sometimes, however, your request may be unconnected with a specific event. Many studies have been carried out to evaluate how people respond to email requests at different times of day and days of the week.
Multiple studies have shown that Tuesdays are by far the most effective day for email communications. Wednesdays are second best. Thursdays are a good day for sending follow-up emails to those sent on Tuesdays.
In terms of times of day, be careful to choose the time zone in which the majority of your target audience resides. Ideally, you will be able to segment and schedule email sends by time zone. Here's what the main studies tend to agree on:
10.00–11.00 am. Late morning has been found to be the most effective time period in multiple studies.

Around 2.00pm. Early afternoon is the next most popular time for emails to get opened.

8.00 pm to midnight. A large proportion of emails are read late in the evening, just before people go to bed.

6.00 am. Many people appear to start their day by checking their emails from bed, very early.
Assuming all email is successfully delivered, what difference does timing make? Well, apparently a lot of people are disinclined to open email if it doesn't arrive while they are paying attention. People who receive large email volumes could miss it altogether. 
So, timing is important to how quickly a recipient opens your survey invitation email, but so is 'urgency'. Try out some compelling phrases in your survey subject lines to gently push people to open your message immediately. For example:

Always test your subject lines (and test them again)
Data from various studies are enormously useful but does not necessarily reflect what will work best for you and your industry. The best way to determine what's right for your needs and objectives is to test, test, and test some more. Consider the following:
Carry out A/B split testing of your email subject lines

Trial sending emails at various times on different days of the week

Test various forms of incentive
By gathering and analysing your own data you'll be able to optimize email subject lines for the very best survey response rates.
Avoid these pitfalls at all costs
We've provided what we think are some realistic, actionable recommendations that will improve your survey invitation email open rates and response rates. Here are a few key things to avoid.
Never use ALL CAPS in your email subject lines and don't overuse uppercase characters. They look like shouting and can have a negative impact on open rates.

Never lie or be misleading in your email subject lines.

Always spell-check your email subject lines.

Don't use email subject lines that are overly long.

Don't use spammy words in your subject lines.
Want to improve your customer survey response rates? Customer Thermometer's 1-click survey will help take your feedback game to the next level. Create your free account below:
https://www.customerthermometer.com/img/Email_Survey_Subject_Lines_B.jpg
496
1420
Lindsay Willott
https://www.customerthermometer.com/img/[email protected]
Lindsay Willott
2021-06-17 11:05:45
2021-07-20 19:06:24
10 Email Survey Subject Lines For Great Response Rates