Advantage Technologies is an IT Managed Services Provider based in Michigan, USA.
The company has more than 600 clients in seven states and has been listed in Inc. Magazine's Fastest Growing Companies in America for 3 consecutive years.
Josh Currier is Advantage Technologies' Operations Director. We spoke to him about the challenges of running operations across so many technically-complex clients, and how he gets feedback from them to ensure they are happy.
Why did you decide to seek more customer feedback?
About two years ago I'd been concerned that we weren't getting as much customer feedback as I'd like. Primarily the only time we would receive much feedback was if we had an inbound call from someone because they were unhappy about something, coupled with the occasional call to let us know how well things were going. As we all know, it's incredibly rare for a customer to call in just to say how happy they are!
I wanted to be able to have a regular gauge on customer feedback to allow me to tackle any areas of dissatisfaction.
I was convinced that the law of averages meant at least a small percentage of our customers weren't happy and I was determined to find out more and put some real data behind our inclinations.
We looked at the standard survey software out there, including the native survey system within ConnectWise but most of them offered a "click this link to take our survey" approach. It was all very long-winded and unnecessary. We were convinced that nobody was going to bother to fill all that in.
We believed that there had to be a better way, so we searched around and found Customer Thermometer's 1-click survey for ConnectWise.
How did you feel about getting started with customer feedback?
We were a little bit nervous. It's really tough to put yourself out there to see how people feel. You're really opening the door for everybody, and making it simple for them to complain.
In our experience previously, concerned clients make the most noise, the happy clients don't say anything. We weren't sure if this split would change, now that we made it easier to provide feedback.
We went for a simple question "How was your support experience?" …  click just one button, and tell us how happy or upset you are.
What was it like to implement Customer Thermometer?
It's incredibly simple and easy. There's no over-complicating, plus, the pricing model really works for us.
We were able to implement it in under an hour too.
The team were really receptive to the idea. Everybody likes to know whether they're winning or losing. I didn't get any real push-back. I think we all shared the same feeling: "Well, we're really throwing ourselves out there saying, 'Hit us with everything you've got.'"
Of course, we were apprehensive, but it was a really positive experience.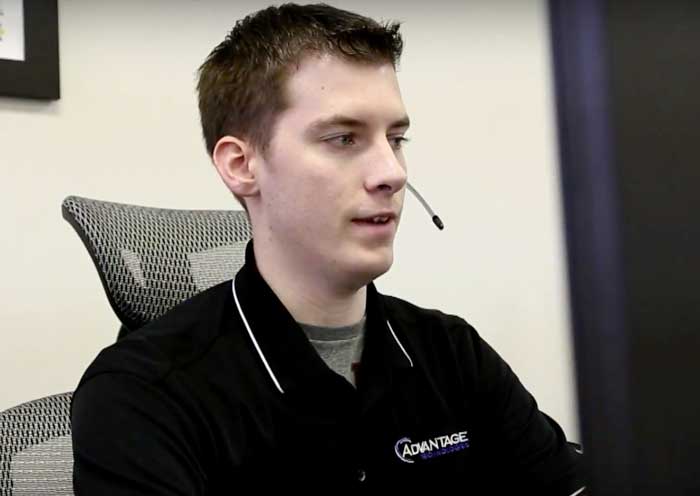 And what happened when you let your CT survey out into the wild?
I was stunned, because although I thought our clients were pleased, now I know for sure they are and can back that up with actual data, rather than just a feeling.
I really didn't think the number of people that actually replied would reply. And I was also shocked by how many people love to give us comments.
It's been a huge success for us.
It totally turns my experience of surveys on its head.
Our customers have positively and constructively engaged with Customer Thermometer as a feedback mechanism.
And, when we have the occasional client that has a concern, it's nice to be able to have a conversation with them, now that we know right away rather than later once things have built up.
How do you and your team handle any negative feedback that's received?
Any client that clicks a yellow alert or below gets an automatic call from one of my team leads here.
You get a million surveys on everything in today's culture, yet it always feels like if you do reply, the answer goes off into the abyss.
Our clients are amazed that they can click, just once, and if they have concerns, they get a call. It is fantastic… they are shocked that we call and delighted too, because it makes them feel cared for.
Actually, it's another major benefit of Customer Thermometer – it's opened up a lot of customer conversations.
Customer Thermometer changes the conversation you can have with your clients, because you're giving them an awesome feedback channel.
Even conversations around negative feedback are so much more comfortable. You are ready for the call and can check back over the history of their satisfaction with you. Having that history at your fingertips means you can remind customers of all the positive feedback previously submitted and work together with them to solve their issue on that particular day. It de-escalates the situation.
We have been blessed with great numbers. I think about 97%-98% of our ratings come back green or above. But the few that don't, we can now have a totally different conversation with them by asking, "What can we do to make this a better experience?" Having the Customer Thermometer survey software has given to us that dialogue with our clients.
We are also able to give recognition to our team that we could never give before.
It has allowed us to have a screen up on our support floor featuring our
real-time ratings and customer feedback.
When we get really great comments, we share them throughout the whole company, to really acknowledge what that individual technician did. This inspires them and others to really aim for the same type of feedback from our clients. It helps them understand what clients value and what they need to do.
What's the main value of Customer Thermometer's survey software to you?
The reason I would recommend it, is because it's fast. It's simple.
It's also extremely user-friendly for both us and our clients …
… and it really does give you the opportunity to have conversations; both positive and in areas that you can work upon in your business.
It helps us demonstrate that we care very much about what our customers have to say. There's not a lot of tools out there that can get you such powerful information with just a simple click.
______________________
Our sincere thanks go to Josh and the team for being so generous with their time in telling us their story. Congratulations to them on their ongoing success.
Want to try the Customer Thermometer 1-click feedback survey for yourself?
Great news… there's a free trial:
https://www.customerthermometer.com/img/survey-software-advantage-tech.png
248
710
Lindsay Willott
https://www.customerthermometer.com/img/[email protected]
Lindsay Willott
2017-12-14 19:37:10
2018-08-31 11:04:43
Survey software dramatically ups customer feedback for Advantage Technologies