Customer feedback: a cornerstone of your business
"Click here to complete the survey, it'll only take 5 minutes".
This is possibly one of the most overused and unwelcome phrases to read in an email in the last few years.
Think of your recipient's thought process…
Ah, I've just been interrupted with an email asking me to rate my experience.
It was a few days ago and I had a very minor interaction…
I'll quickly open it.
You then read this:
Do you click it?
I doubt it… unless you had a terrible experience at the reception desk perhaps? You'd have to be really motivated.
The 4 signs that your customer feedback mechanisms need an overhaul
These 4 points were inspired by academic research into customer feedback and complaints management. The fundamentals are that you need to make it quick, painless & feel like part of your everyday process.
You are making it too complicated for your customers to give you feedback
You're making the process of giving feedback too slow
You're putting the onus on your customers to do everything for you
You're not following up with customers who've complained to check they had their complaint resolved satisfactorily
If customers have to step outside of their perceived "normal" interaction with your company to give feedback then they are much, much less likely to do so.
It stands to reason.
Examples of the wrong type of feedback mechanism
If I deal with a company who never normally asks me, and doesn't make it clear that they are interested in my feedback, then I'm a lot less likely to waste my time filling in their lengthy surveys, as I'll think that my opinion doesn't matter to them all that much.
Especially if my feedback disappears into a big, black hole and I get no clue as to what (if anything) they did as a result of me taking the time to update them.
Let's share some more examples…
IT customer satisfaction surveys are commonplace amongst IT departments and MSP's (Managed Service Providers). Many of us get IT issues resolved regularly. Many of us will also receive 20 question, long form surveys like this, and will simply ignore them.
The 0% bit at the top is the real concern here: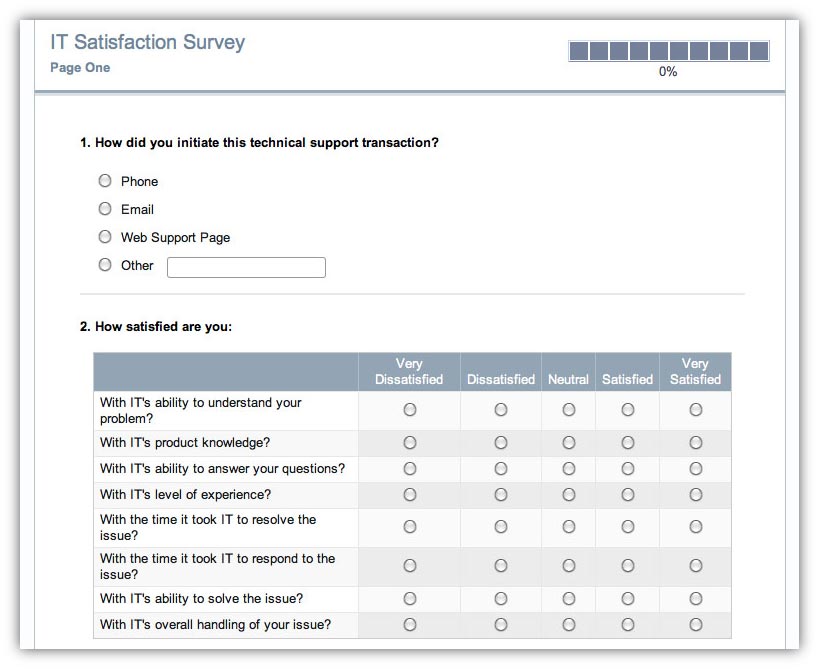 Here's the verbatim excerpt from the research I mentioned at the earlier in this post…
"Our data indicate that complaint actions do not always come from very dissatisfied customers, but are developed by individuals who have a positive attitude to complaining, who attach importance to the situation, and who perceive a certain probability of success of the complaint.

Since attitude and the importance of the situation depend on the predisposition of the consumer and, hence, are variables out of the control of firms, it would be possible to encourage the lodging of complaints by developing strategies which increase the client's perception of the probability of success of the complaint."
Taken from: Antecedents to Complaint Behaviour, International Review of Retail, Distribution & Consumer Research
So providing the right mechanism and engagement of the recipient is absolutely key in soliciting the right type of feedback.
Below is an example from a customer of ours, who was happy for us to publish how they used to ask for feedback. Should anyone actually be enticed to click, the actual feedback questionnaire had many, many questions and you had to be logged into the internal network to view it.
They got a sub-1% response rate. Until they switched to Customer Thermometer.
This is a great example of how NOT to engage a recipient into providing feedback.
(click to view the detail).
An alternative feedback mechanism
If I have a firm I work with regularly who constantly asks my opinion in a way that's low-hassle for me, and then shows me how they've acted as a result, my fear that giving feedback is going to be a waste of time or an embarrassment goes away.
In fact, I'm very likely to give feedback – as I want my voice to be heard.
We think this is an example of a no hassle request… Give us your feedback in 1 click.
It's what you could be doing, if you used Customer Thermometer:
If you want a business that's amazing at service, stop making it the customer's problem to help you get better. Your customer's time is much more important than yours.
Stop asking them to fill in forms and take lengthy online surveys. Make it as easy as humanly possible for them to give feedback quickly and follow up intensively.
You will notice an immediate difference!
Want to switch to a better way of getting feedback?
You can grab a Customer Thermometer account below:
https://www.customerthermometer.com/img/4-reasons-for-getting-poor-response-rates.png
248
710
Lindsay Willott
https://www.customerthermometer.com/img/[email protected]
Lindsay Willott
2016-10-21 16:20:38
2018-08-31 11:04:48
The 4 signs you're getting customer feedback all wrong