Do you have a well-established customer experience (CX) strategy? Are you gathering analytical data and properly using that data to improve your customer service? Major retailers and businesses are using a wide variety of channels to pinpoint performance, both good and bad, enabling them to strategize for the best outcome. CX analytics offers a comprehensive insight into ways to maximize opportunities from every customer interaction throughout the customer journey – but we have a long way to go to fully utilize such data.
Whether you're a Customer Experience Manager (CEM), customer service lead, or just have an interest in improving your business' reputation with customers, we wanted to show why CX is so suited to support from simple but effective analytical tools.
Why customer experience analytics are so important
We know that customer experience has become an integral part of business success, with a proliferation of options within each industry making it even more difficult to compete for customers. Along with this huge pool of options comes a vast wealth of information with which for customers to arm themselves, making them far more savvy and aware of what makes for high standard customer service.
Don't worry though, there's plenty of information out there for businesses too – information about demographics, target audiences, demand and current trends, in real time. Out of this comes a very strong, current need for personalization – and when time is so scarce, businesses *have* to utilize customer experience analytic tools if they want to be giving customers the very best experience.
Data powers the agile, automated, personalized, omnichannel experience customers want. It helps you 1) understand who your customers are, how they shop, what they buy, and how they prefer to engage; and 2) build better, more intelligent tools to serve and retain them. – Twilio
Sounds daunting, but the first, important thing to do when considering your customer experience analytics is to consider what your end goal is. It might be to:
Reduce churn and improve customer retention
Improve customer engagement
Become more personalized
Create a consistent customer experience
Improve representation
Whatever the reasoning behind it for you, it's possible you'll find that all of the above benefit from monitoring and acting upon data over a long period of time. The engagement with your customer satisfaction performance from a tangible result has a surprisingly significant impact.
How customer experience analytics can benefit your business
In order to grow into a business that truly caters for each customer, it's not enough to guess based on a small subset of people or to decide from an internal company conversation. Customer experience analytics and data can be used in all manner of ways to inform a business as to what customers expect, or what they might like to be recommended in order to further their involvement. In this way, you can form your service into more than a transaction, forming a relationship with your customers that creates a personal touch, simply through something as impersonal-sounding as analytics.
Some data is within our control and some isn't – take online reviews as an example. We cannot directly prevent negative reviews, nor can we remove them. Instead, a proactive approach has to be taken if we are to reduce the likelihood of a customer feeling impassioned enough to post a negative review. Customer data is essential for us to predict this – we cannot always know if a customer is unhappy – but if we are asking for feedback at regular intervals and touch points, we can make it so much more possible to catch dissatisfaction and hopefully deal with it before it becomes irreparable.
Being data-driven means enquiring and engaging with your customers to hear their feedback – good, bad, and ugly. There's no point developing and executing a beautiful strategy for CX for it to only go untracked and unappreciated – how do you know that it's truly working for your business? Engaging with your customers might mean asking questions like:
"How did we do today?"
"What could we do to improve next time?"
"Did you have any issues using the product/service?"
"Would you recommend us to a friend?"
It's not always fun to receive constructive feedback from your customers, but don't forget that if you work hard and are proud of your product and your service, the chances are that your customers will have plenty of positive things to say. And any negative feedback you receive is empowering – you can deal with issues before they escalate, reduce the likelihood of negative reviews online, and over time you can improve your service wrap beyond all expectation.
Make customer experience analytics positive for your team too
Not only is customer experience analytics useful for customers, but it's great for employees too. Being at the front of your service offering and often a first (or only) impression to customers, it's vital to track and support your team as best as you can, and learning about how customers are perceiving them is perhaps the best way available. Your employees embody your company culture, so why wouldn't you invest in their performance?
Take the time to thank those that put the best foot forward to customers, reward them for their hard work and offer them as a perfect example to the rest of the team. If you're proud of your customer service/support team, why not find a solution to share their excellent feedback with your customers? It's why we have our Ministry of Magic ratings posted live to our website.
Conversely, CX data can also show which employees might need a bit of mentoring or support to reach optimal performance, reducing the chance for unwanted interactions and negative feedback.
It's vital to keep gathering CX data and analyzing it – it's not good enough anymore to send out a lengthy survey once a year, or even once a month. For one, customers aren't likely to bother filling a long form survey in so response rates will suffer, but also, for some customers it might be long after they last interacted with your business, or it might even be too late to resolve any issues. Customer satisfaction often fluctuates from month to month, and this irregular sample will not be able to show you this pattern of data, and any changes, or causes for changes, might not be clear.
Reaching out at regular touch points – ones that are relevant to that customer at that moment (remember personalization!) – is vital to receive accurate and rich data that you can confidently act upon.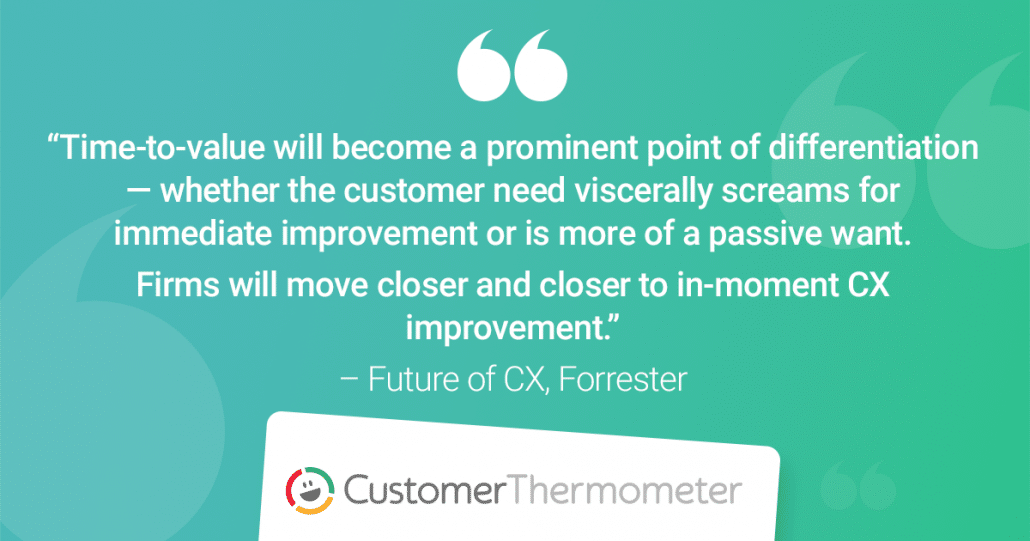 It's important to build your own customer experience analytics to suit your business and typical customer journey. You won't regret taking the time to follow through with your customer service offering that you've worked so hard on, to measure the results and build real time data to continuously improve upon. At the end of the day, it's all about understanding your customers and better serving them.
Try Customer Thermometer, a 1-click feedback solution with a real time and thorough reporting dashboard. Our customers receive amazing response rates and the analytics offered helps them to improve year on year. Send a test here:

https://www.customerthermometer.com/img/How-to-Improve-Customer-Experience-Using-CX-Analytics.png
248
710
Sophie Leaver
https://www.customerthermometer.com/img/[email protected]
Sophie Leaver
2019-10-04 17:03:18
2019-10-04 17:14:40
How to Improve Customer Experience Using CX Analytics