Retaining customers amid all that Covid throws at you is a tough ask.
Fans of the longrunning 'Lost' TV series will see the similarities with crash-landing on a remote island. First you focus on surviving, but sooner or later you need to move on and thrive in your new surroundings.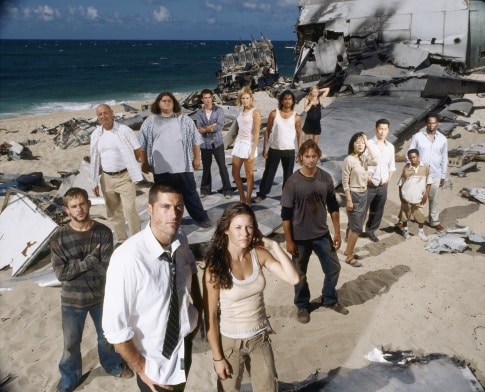 As we turn our thoughts from mere survival to planting the seeds of future growth, the customer has to be at the center.
How do they want to use products and services now and in the future?
Starting with industry research, stats and analysis about business success in a post-Covid world from McKinsey amongst others, we've added our own take on what this means for tuning customer feedback to keep it aligned with best practice.
Retaining Customers (and finding new ones) on the Road to Recovery
At its core is this concept of needing 5 qualities on your road to recovery: resolve, resilience, return, reimagination and reform.
Many of us have seen the first two or three of these evidenced in our own businesses. Or in those high-profile stories of organizations that pivoted to new opportunities by innovating rapidly.
Those first few months bred confidence in newly acquired 'technology toolbelts' helping businesses cope with their survival situation. They'll likely contain Zoom, Dropbox and Slack, or something like them. Whatever could be grabbed in a carry to stabilise things to some kind of normality.
But that's only ever going to keep you living hand to mouth and exposed to the elements. The next 24 months needs a replacement for the emergency bivouac; a more structured and strategic toolkit for growing a bright future out in the open.
Tooling Up to Take Control
Where to go next is where McKinsey's Kevin Sneader and Bob Sternfels pick things up; setting out the following 4 key areas where business leaders can take control to thrive in the next normal – not just survive. Recovering, rebuilding, rethinking, reimagining.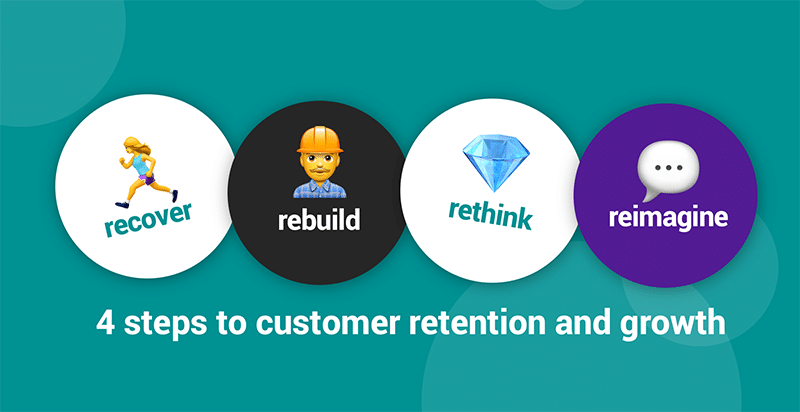 Recovering Revenue
This is all about going fast and being agile. Some of the key actions here include:
Adopting a start-up mindset where rapid testing and tuning should be prized above laborious research and analysis.
Understanding what customers will value post-Covid and building playbooks around use cases and tailored experiences that build on those insights.
Prioritizing targeted campaigns to win back loyal customers, adjusting promotions based on new data, automating processes and reskilling the sales force.
Maintaining the feverish pace of innovation achieved in the immediate response to Covid, but in a sustainable way.
Putting in place new operating models based around the customer, supported by the right processes and governance.
What's immediately clear in all this is how integral customer feedback is to achieving these goals. Rapid testing and tuning instead laborious research? Understanding what customers value in response to unprecedented triggers? These necessitate rapid, lightweight customer feedback collection capabilities that let you engage customer reactions at precisely the right time in the right context. In fact all of these revenue-oriented goals benefit from a sustainable, non-obtrusive customer feedback loop that gives you actionable insights.
The trick is to be more imaginative in where customer feedback opportunities can be capitalized on to support all kinds of business processes from product development to marketing outreach. Every customer journey has plenty of natural touchpoints already, so it makes sense to map them all out. You can even engineer new ones without disrupting the logical flow.
Rebuilding operations
This is all about making sure supply chains and service networks operate at peak performance with new levels of visibility, agility, productivity and end user connectivity. Key actions include:
Accelerating end-to-end digitalization of value chains. Leveraging new digital and analytics tools and approaches.
Supporting the future or work with workforce engagement, enabling tasks to be successfully completed remotely.
Using operations to drive competitive advantage, such as through accelerated product development, customer experience innovation and mass customization.
Again there are some real hooks for customer feedback here, particularly in terms of accelerating iterative product development and personalising customer experience.
But McKinsey touches on another important area for feedback: colleagues and teams. This has become critical now that so many are empowered to work from home. They no longer have the same formal and informal engagement opportunities with team-mates and line managers to develop close working relationships and acquire knowledge.
This sudden lack of serendipitous, ad hoc check-ins affects colleagues (no longer in the office) and customers (no longer in the store) alike. Likewise, the town hall meetings, one-to-ones and brown bag lunch 'n learns. Video calls and webinars aren't the answer to everything; you fundamentally need to understand who you're communicating with and what they want.
Rethinking the organization
This is all about grasping the opportunity to express the value of your organization and create a new covenant with customers. Key actions include:
Finding your organization's identity, so that leaders and employees have a shared sense of purpose and customers know what you stand for.
Institutionalizing the successes garnered by short-circuiting hierarchical decision making processes with small, nimble teams getting stuff done.
Having a plan for growth based on a deep understanding of the customer, data and analytics embedded in decision making and the ability to experiment and learn at scale.
Picking up again on this issue of workforce engagement, one of the most useful applications for employee feedback is promoting a unifying sense of togetherness and shared aspirations. Feedback plays a vital role here; doubly so if your unifying call to arms is to become more customer centric.
Accurate, timely intelligence will be the lifeblood of thriving businesses in the post-Covid era. This is why more and more are actively following McKinsey's lead in embedding analytics and live business data about customers into their decision-making processes. How do you obtain such insights? By asking the right questions in the right way at the right time.
Reimagining through faster digital adoption
This is all about getting geared up for the longer term by committing to an ambitious digital agenda, delivered quickly enough to thrive in the reopening of the global economy (and disruption from second/third waves). Key actions include:
Rethinking customer journeys and focus digital efforts to reflect changing customer expectations.
Using data better and faster, such as through real-time decision making.
Improve tech modernization to reduce IT cost and use cloud and automation technologies to make your IT platform fit for purpose.
Get faster and more productive at rolling out digital solutions, potentially via internal 'digital factories' that focus on solving business challenges and converting opportunities.
Everything here mostly ties together the core themes of the first 3 areas with the requirement for investments in digital technology to drive interactions, leverage data insights, achieve productivity and minimize cost.
This enables organizations to keep pace with rapidly changing consumer demand, employee working practices and unprecedented restrictions compared to how goods and services were accessed pre-Covid.
But the same is also true in the B2B realm, where digital is playing an essential part in business success.
Doubling the digital dividend
According to McKinsey research among 3,600 B2B decision makers in 12 industry sectors worldwide, the shift in customer preference from traditional interactions to digital has doubled across the board and is as high as 3x in the UK and Spain.
The likelihood of companies that provide outstanding digital experiences between chosen as a primary supplier is twice that of companies that do not. And when researching suppliers, B2B decision makers favor live chat as their number 1 engagement channel.
Whatever the technology, this process of digital adoption needn't be painful; on the contrary, with plug-ins and APIs with key platforms it can be straightforward to run proofs of concept and implement digital solutions steadily team by team before committing organisation-wide.
____________________
Don't wait for the future to take you by surprise
Now more than ever, customer feedback matters. Using it to understand and how they feel is critical and will give you valuable early signposts to what's coming next. Get feedback easily, digitally and in an engaging way with Customer Thermometer. Your trial is totally free here:
https://www.customerthermometer.com/img/toolbelt-2.png
408
1160
Lindsay Willott
https://www.customerthermometer.com/img/[email protected]
Lindsay Willott
2020-08-03 08:59:25
2020-08-03 10:57:25
How to Upgrade Your Technology Toolbelt to Retain Customers