A Guest post from Kustomer
In the past, customer service was seen as an overhead cost, a necessary price to pay to keep customers happy. The arrival of new digital technologies have changed that, making it easier than ever to understand customer preferences and behavior. Now you can track the financial impact of your customer service efforts, and see how they lead directly to revenue.
If your CX organization's mindset is that your agents are there to do more than just answer the phone—that their job is to make customer happy—then you need to be fully informed on both operational and qualitative metrics. That includes Customer Satisfaction, Net Promoter Score, Customer Effort Score, and Sentiment. While these metrics are a great way to get the big picture on your your service's effectiveness, they won't fully tell you how your service is making an impact on the bottom line.
Lifetime Value and Customer Feedback need to become key parts of your strategy if you want to know to shift your service organization into a true profit center.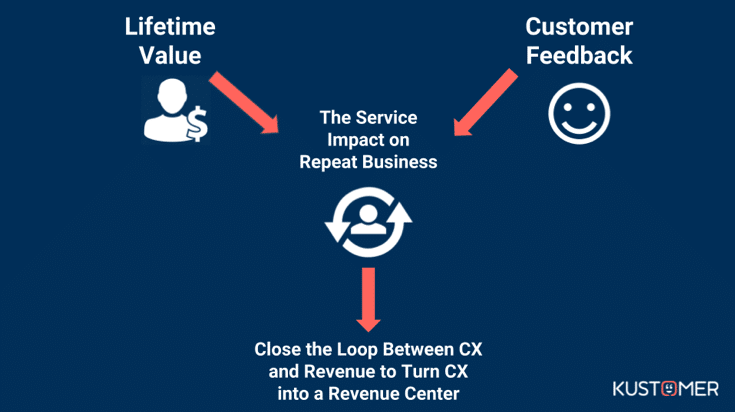 Lifetime Value Predicts Success
Lifetime Value is one of the best ways to predict your brand's future success. According to Bain & Company, a mere 5% increase in customer retention can increase a company's profitability by 75%. Customer experience is what will keep customers coming back for more.
Positive interactions and prompt replies from agents, an easy return process, and frictionless shopping are proven to lead to repeat business. You may need to compile a variety of customer experience metrics to determine LTV, but doing so is crucial for your CX organization to get a seat at the table—showing that service provides a major impact on overall business health. If you can trace the effect of service on LTV, you have a direct window into how it impacts revenue. Kustomer, which tracks every order, action, survey response, and interaction across channels in a single timeline for each customer, makes it easier than ever to understand the lifetime value of each.
Customer Feedback Closes the Loop
Customer Feedback is the other crucial part of your strategy that will close the loop between your other metrics and give the crucial qualitative insight you need to take a service-oriented approach to generating revenue. Glossier is a great example of a brand that's banking on CX to drive their financial success. By drawing on the knowledge of the employees that are closest to customers, they develop new products, consult and up-sell their existing range, and grow their brand in real time from customer to customer. Glossier's "editors" provide real value to the brand, and customer feedback is crucial to their approach.
Glossier's CX team is one of the first groups to test new products, as they have the best idea about what questions customers will ask or difficulties they'll have because they have the most contact with customer feedback. They learn about customer needs and preferences by speaking to customers firsthand. This feedback also informs product design and innovation as well. Customer Thermometer helps companies like Glossier provide the kind of instantaneous, high-level service that customers respond to, using feedback to constantly understand and improve every aspect of the experience.
By combining a full view of every customer's interactions with responsive feedback into every one of your buyer's behavior, you can begin to orient your CX organization towards driving conversions and investing in the best experience imaginable.
https://www.customerthermometer.com/img/Picture2.png
339
974
Lindsay Willott
https://www.customerthermometer.com/img/[email protected]
Lindsay Willott
2018-07-01 14:17:57
2019-02-05 07:22:45
Turn Service into a Revenue Center