It's time to do things differently.
Send your customers a one click  – Email Thermometer.
Build it in under 10 minutes – no developers or designers required.
______________
Simple. One click. Feedback. Without the pain.
Keep reading to find out more.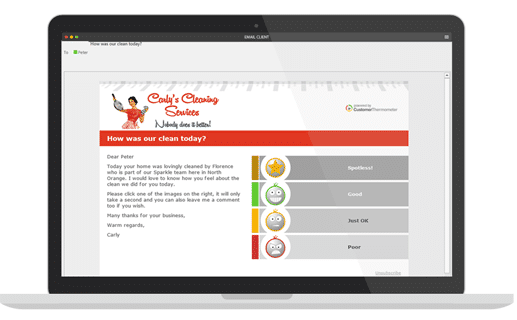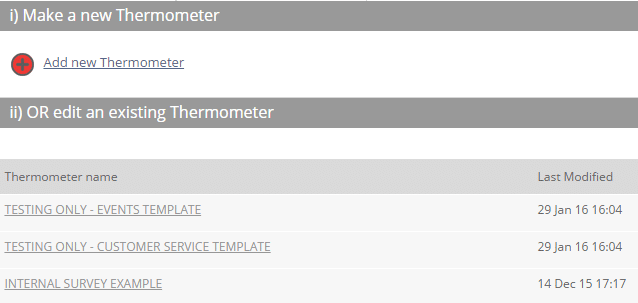 Setting up an email survey template is simple
The service builds your Thermometer emails for you – you just need to customise a simple template, following our prompts.
To give you a headstart, there are three templates preloaded when you get started.
If you can use MS Word, you can use Customer Thermometer. We reckon it takes most new users 5 minutes to get the hang of it.
Ask one question
in each Email Thermometer
Why not ask your customers how they are feeling?
It's our favourite type of question – make your surveys human – is there a more important question to be asking your customers?
Are they happy? Are they disappointed?
It's what you don't know which can be so damaging.
One question, 4 possible answers. Being 'average' isn't an option
Choose an icon set (we add seasonal icons too) or upload your own icons to perfectly suit your brand and color palette.
You then need to define your 4 possible answers… Leave one or two blank and only two or three will show.
You can also use our 1,2,3,4 number icons to ask a voting question.
Create your List of email survey recipients
Either type or paste your contact data into the relevant boxes, or import via a CSV file – which can easily be created in Excel using the template provided.
Create separate lists for different surveys – seminar week 1, Southern accounts, David's territory, new starters.
Edit, delete and add extra contact information with ease.
Connect together a Thermometer with a list and send your Blast
Once your Thermometer template is set up and your list of recipients created, the 'Send a blast' screen marries the two together. You can choose to send immediately or time your blast for a future time and date.
Your emails are then created in the system and sent via carefully managed email servers to ensure your messages are delivered correctly and not seen as spam or junk.
Sit back and enjoy receiving actionable customer feedback
Our email surveys (like some others) aren't anonymous.
Customer Thermometer's mission is to to let you know which of your customers are happy or disappointed at any point in time.
Watch your results build up in real time – and when someone leaves a comment – you'll see the comment symbol. You can also delete a response if someone has made a mistake and ask them to click again.