Delighted customers will become your biggest promoters; there's no denying that. However, how can you ensure every single customer is more than happy with your product or service? The answer is quite simple: ask them. Customer satisfaction surveys will help you monitor and analyze every aspect of the customer journey; from their experience with your website through to after-sales support. What is a customer satisfaction survey, however? And why are they so important? We'll take you through the basics before showing you some of the best example questions and templates for 2021.
What is a customer satisfaction survey?
Put simply, a customer satisfaction survey is a way of discovering whether your customers are happy or not with your product or service. Of course, it is slightly more complex than that. There are many different ways of conducting a customer satisfaction survey, types of feedback questions you can ask, and even methods of analyzing the data at the end. What you learn from a customer satisfaction questionnaire can help shape every aspect of your organization; whether that be fine-tuning the website, upgrading aspects of your products or services, or even providing better customer service.
Throughout this guide, we will look at the different ways you can conduct a customer satisfaction survey, along with the best customer feedback questions to ask. We'll also include a few of the best customer survey satisfaction templates to help you shape your own.
Why are customer satisfaction surveys so important?
Before we delve into the best customer satisfaction questions and templates, let's consider the importance of conducting a survey in the first place. Why spend the time putting together and then conducting the perfect customer satisfaction survey? Here are just some of the reasons why these surveys should be a vital part of your business model:
Find out what you're doing well – A customer satisfaction survey will let you know what you're getting right which serves two purposes. Firstly, it's a significant morale boost for the team. Secondly, it will help you define your unique selling points. What do you do better than your competitors?
Find out what you could improve on – While receiving positive praise is great for an ego boost, constructive criticism is far more critical. A customer satisfaction survey will highlight areas of the business that need improving; allowing you to enhance the customer journey.
Come up with new ideas – Sometimes, your customers' feedback may help you glean new insights about the direction your business should be going on. Perhaps your customers are looking for a product or service that you don't do, but that would complement what you already offer.
Prove you care – Asking your customers for their honest feedback can actually improve customer retention. Nothing says, "We care what you think," more than outright asking people what they think! Plus, if you act on any negative feedback from the surveys, then your customers will know that you've taken their thoughts into consideration.
How to conduct a customer satisfaction survey
There are three main ways to conduct a customer satisfaction survey, depending on your business and customer type. Each survey method also comes with its own list of pros and cons, so let's take a look at them:
E-mail and online surveys: The easiest and most cost-effective to conduct, this type of customer satisfaction survey is the most popular. They are easy for respondents to complete and can be taken at a time that suits the customer best. However, you may find lower response rates to an e-mail or online survey than any other type unless you use something eye-catching and easy for customers to respond to. You can take advantage of our free trial to see what we mean!
Telephone surveys: The second most popular method is by calling customers and asking for their feedback on the phone. This works well in B2B industries and can be relatively low cost for most business types. However, not everyone likes to be hounded on the phone, and some may not even pick up at all.
Face to face surveys: If the majority of your customers are in one location then you may also consider face to face surveys. While these may take longer and be more expensive, it is easier to build a rapport during this kind of customer satisfaction survey. This would be an excellent method for key customers, but not if they're located all over the country.
The best customer satisfaction survey questions to ask
We've looked into the importance of a customer satisfaction survey and how to conduct one, now let's consider what kind of questions you're going to want to ask. Carefully planning your customer satisfaction questionnaire will ensure you cover all bases and can glean the data you need for analyzing. We're now going to go through the different types of customer satisfaction questions, along with how you can utilize them in your own survey.
Yes or no questions
If you want quick data that is easy to analyze, consider asking simple 'Yes' or 'No' questions in your customer satisfaction survey. The biggest benefit of this type of customer feedback question is that it's easy for the respondent to answer. However, due to the lack of detail, you might not understand exactly why the customer said 'Yes' or 'No.' It can be a useful customer satisfaction survey question to draw respondents in, but it will definitely need to be followed up with other types that we will go into shortly.
5 examples of yes or no questions
Were you satisfied with your experience today?
Would you recommend us to a friend or family member?
Did you find what you were looking for on the website today?
Did our product/service meet your expectations?
Would you buy from us again?

Scale questions
Another easy way to analyze customer satisfaction data is through the use of scale questions. The benefit of asking scale questions is that you will be provided with more data than a simple 'Yes' or 'No,' and this data can then be used to come up with scores based on the responses. Again, this is an easy enough question for the respondent to answer and you may find that this kind of survey question has a better response rate than some of the others on our list. Using scale questions means you can aggregate scores to see how satisfied a wide range of customers are and they can be used for practically any aspect of the customer journey.
3 examples of scale questions
How likely are you to recommend us on a scale of 1 to 10?
How satisfied were you with your experience today on a scale of 1 to 10?
How easy was it to find what you were looking for? Answers ranging from very difficult to very easy.
Multiple choice questions
If you want to dig a bit deeper into customer satisfaction, then multiple choice questions provide ample opportunity to do so. They work in a similar way to scale questions in that you're offering a range of options for respondents to pick from; however, they can cover more detail than a simple 1-10 answer. You can also use multiple choice questions to segment your data based on the type of customer. This will give you a good idea of what kind of customer is most satisfied and which ones you need to work on.
3 examples of multiple choice questions
Which best describes your job role? E.g., Director, Manager, Marketing Executive, etc.
What was your reason for your visit to the website today? E.g., to find out more information, to purchase a product/service, to ask a question, etc.
Which of our products/services have you purchased from us in the past – or which of our products/services are you most interested in?
Open-ended questions
Finally, if you want to glean the most information from your customer satisfaction survey, then you're going to want to look into open-ended questions. While these are some of the most valuable questions in your survey, they can also be some of the hardest to get responses for. People don't usually want to spend ages filling out a customer satisfaction questionnaire unless they have something they want to say; either glowing praise or a scathing complaint. However, that doesn't mean you should give up on open-ended questions completely. Instead, consider starting with one of the other types of question, such as a scale question, and then ask for more information to explain why they gave you this score. You can also use the answers from open-ended questions to come up with fresh ideas on how to improve the customer journey.
4 examples of open-ended questions
What could we have done to get a 10/10 today?
What could we have improved on/done better?
How would you explain our product/service to a friend, family member or colleague?
Do you have any suggestions on how we could improve our website/product/service/customer service (dependant on what information you're hoping to gain from the customer satisfaction survey)
Three customer satisfaction survey templates
Some of the best organizations in the world know how to use customer satisfaction surveys to their advantage. If you're looking for some inspiration then here are some of the best customer feedback templates that you can adapt for your own use.
1. Uber
The customer satisfaction survey at Uber works just like feedback, in the fact that you're rating the driver and your experience. These guys have made it extremely easy for you to let them know how satisfied you were as a passenger, using a scale question in the form of stars. They also provide multiple choice questions by asking if there was anything you particularly liked or disliked about the journey. Finally, you'll be given an option to add comments with their open-ended question.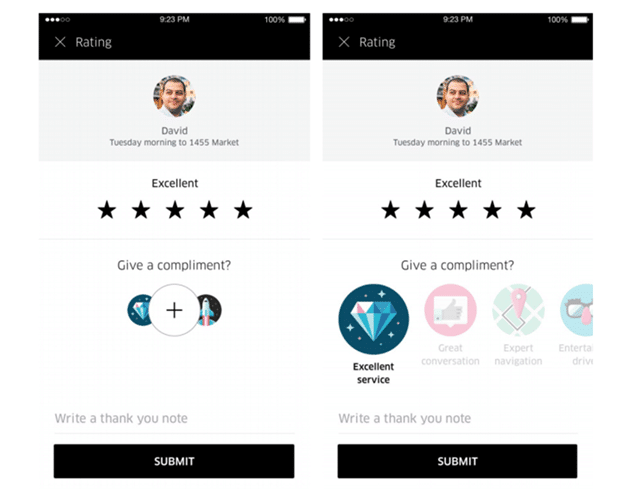 2. Facebook
This social media giant has been trying to regain the trust and loyalty of their customers in recent times, which means that many users have seen far more customer satisfaction surveys on their feed in recent times. Usually, these relate to the adverts you see in your feed and will be in the form of a scale question: How relevant is this ad to you? You are also given an open-ended question and/or multiple choice questions if you feel like providing more information on your answer.
3. Airbnb
The home sharing platform is quick to drop users an email once they have stayed somewhere; something you'll often find in the travel industry. In this email, they explain that they'd like to use your experience to improve and offer up a 3-minute survey. In the survey itself, you'll find a range of multiple choice questions which they use for segmenting, along with an open-ended question for customers to provide feedback.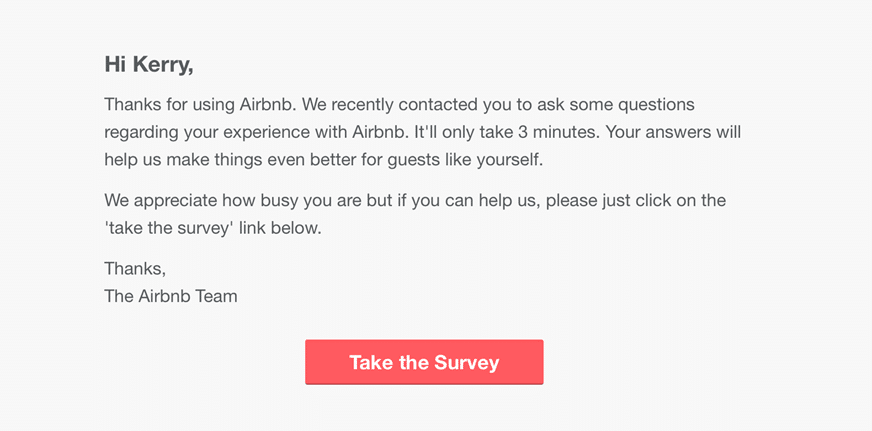 The next time you receive an email asking for your feedback, take some time to look through the customer satisfaction survey you've received. Did it start with a Yes/No question or a scale question? What did the questionnaire itself entail? If you buy products or services online regularly, then your inbox is likely to be filled with inspiration for your own customer satisfaction survey questions.
You can also use Customer Thermometer to build intelligent customer satisfaction surveys into your website and email. Simply add the easily embedded buttons, and you'll be able to watch the feedback responses in real-time.
Why not send yourself an example?

https://www.customerthermometer.com/img/18-best-customer-satisfaction-questions-and-templates-2019-blog-header.png
248
710
Lindsay Willott
https://www.customerthermometer.com/img/[email protected]
Lindsay Willott
2019-10-16 01:00:59
2021-07-05 16:46:15
18 Customer Satisfaction Survey Questions for 2021