Making a purchase has always involved some level of customer trust.
You trust that the product or service will be as advertised. You trust that the seller will deliver it on time. The seller trusts that you will pay them for their product in return.
In today's sharing economy, trust has become even more important. The sharing economy – accepting rides on Uber and our homes on Airbnb – insists we rely on the people we do business with. You wouldn't get in a car with an unsafe driver, or rent your home to someone who might trash it. E-commerce transactions can bring even more uncertainty. There's no substitute for picking up a physical product in stores before we purchase it. When we shop online, it means we're trusting strangers to deliver the product as described.
But how can we build our confidence in strangers?
As it happens, we turn to other strangers.
The power of customer feedback and online reviews
Trust is defined as the willingness to be vulnerable to another party, based on the confidence they will do and act as they say. While companies are very good at telling us what they will do through advertisements and marketing strategies, it's very difficult for us to take their word for it
The problem is that companies, and humans, are self interested. Of course a company would promise the very best service. As customers, we're wise to that fact, and retain a certain level of doubt that companies are completely honest about their shortcomings.
Instead of trusting everything companies say, we turn to their customers who can speak truthfully about their experiences. If customers have had a bad experience, they are likely to share their experience honestly. In fact, NewVoice Media found that 31 percent of people will post online after a poor experience.
Online reviews build trust exceptionally well. BrightLocal's 2016 survey found that 84% of people trust online reviews as much as a personal recommendation from friends or family.
Recruiting reviews and feedback
So if you want to win over customers, you've got to recruit positive reviews from customers. And not just one or two from friends. 85% of potential customers believe they need to read up to ten reviews to make an informed decision before purchasing. Here's four tips on how you can recruit reviews to build trust online:
Ask at the right time
While 7 out of 10 consumers will leave a review for a business if they're asked to, you want to make sure you're asking at the right time.
When's the right time? You want to make sure customers have had time to evaluate their experience. For example, make sure the product has been delivered before requesting a review. Otherwise, customers will either forget to return and leave a review later – or worse, leave bad reviews about the long delivery time.
You can also use Customer Thermometer feedback survey as a screening tool for reviews. If a customer rates you highly on your internal survey, make sure to request a public review after they submit. If the customer leaves negative feedback, take the time to respond and follow up after the survey before prompting them for public reviews.
Review in the right place
When you want to choose the best restaurant for dinner, you might visit Yelp or Tripadvisor. But if you're in the market for a new help desk provider, these review sites wouldn't give you much information.
Determine what sites your potential customers are looking at when deciding what to purchase. It might be Amazon or on-site reviews for retail, or GetApp or Capterra for software. For apps, iTunes or the App Store would be the perfect place to drive traffic.
When a customer gives a positive feedback rating, direct them to the most appropriate site for your industry. Don't let them wonder about where to review you!
Don't stop recruiting reviews
73% of consumers think that reviews older than 3 months are no longer relevant, according to BrightLocal. You can't just collect a bunch of reviews once and then let them sit there, getting stale. Potential customers want to know the latest information on how your service and product is performing.
Collecting reviews consistently also means you can show how you're improving over time. If you launch a new product or resolve a common issue, newer reviews will be more positive.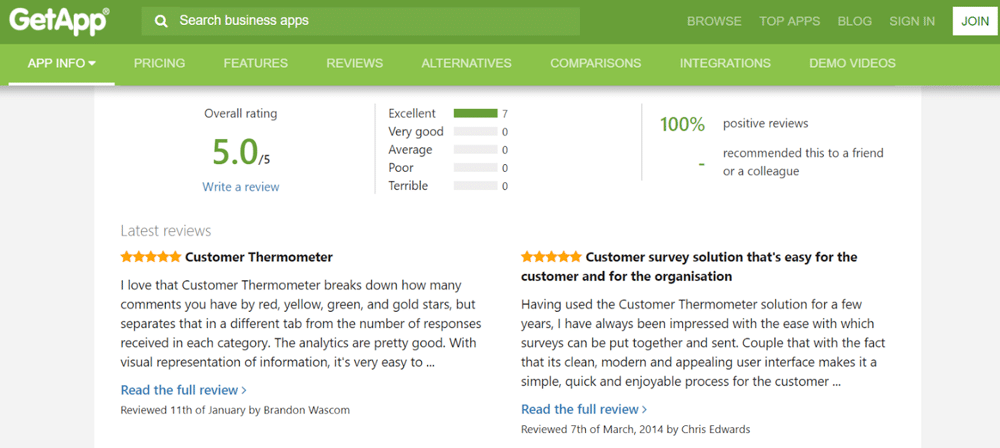 Deal with negative reviews
If you're actively recruiting customer feedback, you might receive a negative review. It might be tempting to delete them if they are on your own site, and ignore them if they aren't. But that's the wrong thing to do.
Customers actually expect to see negative reviews mixed in with the positive. If they don't, 95% of consumers suspect the company of censorship or faking reviews. In fact, customers value transparency and honesty so much, conversion rates actually improve by 67% when bad reviews are included amongst the good.
Plus, every negative review is an opportunity to show that you're listening and care about the customer's experience. Even if you don't make it right for that customer, potential customers will see your response as a positive thing. Jay Baer and Shep Hyken are strong advocates for responding to every negative review.
Things can always go wrong, but it's how you respond to unhappy customers that makes the difference.
Displaying reviews
We love displaying some of our favorite reviews on our Happy Customers page. We often add a picture of the customer we're quoting to show that feedback is personable, and to underline how real it is.
For e-commerce stores, it's possible to display product reviews right on the product description page. Reading reviews from customers who have similar body shapes and athletic abilities helps Lululemon shoppers identify why a product may or may not work for them. For example, if all bad reviews state that the sleeves are too long, but that's something you need, you'll be more likely to try out the product. People trust the opinion of people they identify with.
The more social proof you can provide to potential customers as they evaluate your product, the more likely they are to trust your marketing claims. "Makes my run more comfortable?" they'll say, "They've got 80 other people saying the same thing… must be true!"
And when public reviews aren't an option?
In many cases, public reviews are not appropriate. For many companies, it doesn't make sense, or it's simply not right, to recruit online reviews. This can be due to customer feedback on staff performance, security requirements, confidentiality issues or contractual reasons. For many companies, they simply want feedback they can act on quickly in private, that's not in the public gaze.
But even if you're not publicly displaying feedback, it doesn't mean you shouldn't seek the feedback in the first place. 
It's still important to collect feedback and respond quickly to customer concerns. In this case, using a transactional feedback method like post-interaction surveys can be a great way to understand what customers think. One-click simple surveys provide all the power of online reviews but without the drama and headaches that can come with them. They give you fast, actionable insight into the customer experience. Incorporating opportunities for feedback at every stage can keep your team laser focused on providing a great service, alongside a great product.  
Convincing customers to trust you
Hemingway has said "the best way to know if you can trust someone is to trust them." Once you get customers in the door, the quality of your product and your service will hopefully keep them around. But getting customers to be vulnerable just that first time can be tough.
This is why we need a consistent strategy for building trust through feedback and reviews. Recruit reviews on the right sites, frequently and you'll see conversion rates increase. Ignore reviews, or forget to ask for them and see your competition take advantage.
Looking for a way to increase your customer trust?
Customer Thermometer drives reviews, feedback and ratings in a way you control. Try it free now:
https://www.customerthermometer.com/img/building-customer-trust-header.png
248
710
Lindsay Willott
https://www.customerthermometer.com/img/[email protected]
Lindsay Willott
2017-09-27 11:39:51
2017-11-10 12:16:08
How to build customer trust