Co-working, shared office spaces seem to be springing up everywhere. The good ones are designed to cater for entrepreneurs, remote workers and freelancers searching for a vibrant working environment.
The very best – like PLATF9RM in Brighton and Hove, UK – combine a great working atmosphere with being ecosystems of talent and ideas. Here, one of the most valuable benefits is simply the other people you share it with.
Understanding individual customers, at scale
Founded in 2016 at a single property with a few seed tenants, PLATF9RM now hosts 600 members across its two sites, with another base coming on stream soon. Members range from individual professionals who drop-in for a few days a month, to multinational microbusinesses that need 24/7 access to facilities.
Jessica Samson is PLATF9RM's Community Lead, looking after members' needs and working to facilitate their interaction with one another through community events and other activities: "A really important element of our community is knowing everyone's story and having the right kind of connection with our members. By understanding and listening, we can make the space work for them and keep on improving the environment to fit their needs."
PLATF9RM is like the fictional bar in the sitcom 'Cheers' because, in both, "everybody knows your name." According to Jessica, the challenge can be keeping on top of everyone's points for improvement when you've grown from 50 members to 600 in the space of 18 months.
Keeping it human, not weird
"We will always talk to members, but having enough conversations to learn what everyone thinks and wants is more than a full-time job," she explains. "We felt there must be a technological solution, but were concerned about putting barriers between us and our members. A relationship should be natural and we didn't want members thinking we'd made it 'weird'."
Another concern was the impact of self-selecting bias. This is where organizations that listen most to customers who shout loudest and most often, run the risk of overlooking the needs of everyone else.
"People are different," says Jessica. "Some are chatty, others not so much. We had to come up with a way of making sure it was super-easy for members to share their views with us – even if they are busy or shy."
Learning that short surveys are the best
In 2017, with membership beginning to skyrocket, PLATF9RM experimented with Google Forms as a way of gaining comprehensive insights through a customer satisfaction questionnaire.
"Looking back, although we got a good amount of feedback we realised some flaws in that approach. People have better things to do. We learnt that interrupting our members with a set of formal questions doesn't net a good response rate. And it felt at odds with our friendly, informal approach to community relationships. We were also asking the same questions to all members, regardless of which office they used or what plan they were on. It wasn't giving us a true picture, and probably irritated a few people too."
Things changed when a PLATF9RM member suggested Customer Thermometer as a way of non-disruptively embedding single question, one-click surveys into email.
Unique tone of voice
"The simplicity of Customer Thermometer is just perfect," says Jessica. "Rather than send a specific email out asking for feedback, we can inject questions into our ongoing community communications. We also love how it's so flexible and customizable. For our first test, we even designed our own yes/no response emojis to reflect our own 'tone of voice'."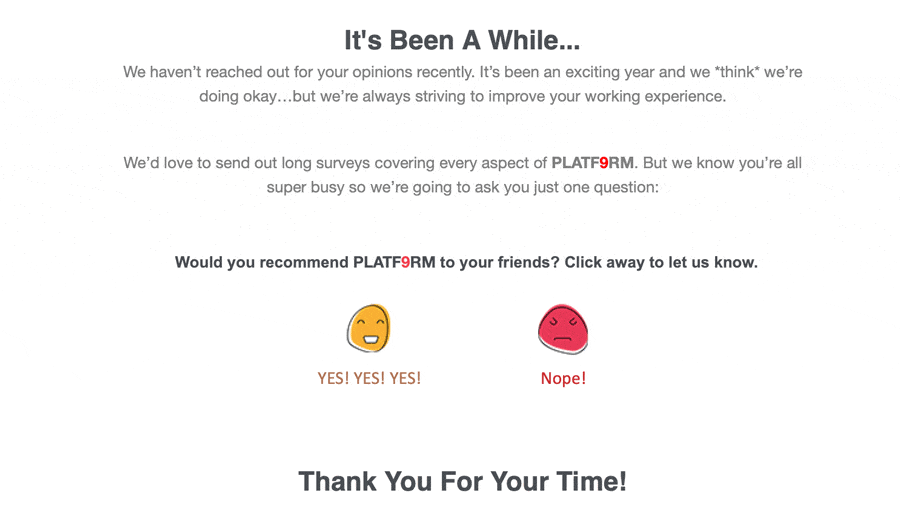 Rather than conform to a regimented schedule of emailing members, PLATF9RM takes a more sporadic approach; notifying sub-groups about events and other updates when there's something worthwhile to say. Everyone typically gets between four and eight emails a month, – in the future each one is a potential opportunity to get some feedback."
NPS metrics and more
PLATF9RM's initial use of Customer Thermometer has centered on a simple Net Promoter Score (NPS) methodology where members are asked if they would recommend PLATF9RM to a friend.
"The response rates are really strong, because it's so easy for members to tell us what they think. It's also enabled us to uncover members who we never suspected harbored a negative opinion of us. We were able to invest the time to follow these individuals up for a chat about their broader views and come up with tailored action plans to improve their experience."
Another time-saving attribute of the system is the reporting and analytics dashboard, which Jessica uses to track feedback in real-time and share insights with PLATF9RM management colleagues at the touch of a button.
"It's great that everything is in one place so I don't have to go searching through separate emails, plus it's nice to hear such wonderful comments from our members."
Staying true to founding principles
As PLATF9RM's use of Customer Thermometer matures, Jessica is already eyeing other ways of using the embedded survey capability.
"There's definitely more value to come, and a potentially endless list of questions we can ask. We can target very precise aspects of the service and how they are perceived by particular types of members at specific sites."
"Using Customer Thermometer is helping us stay in touch with our members as we grow. By keeping those conversations going, asking the right questions in the right way and listening intently, we'll never lose those special things that define our business and our community."
If you want to get more customer feedback in a light-touch way, try Customer Thermometer free today:
https://www.customerthermometer.com/img/Platf9rm-Blog-Header-1.png
248
710
Lindsay Willott
https://www.customerthermometer.com/img/[email protected]
Lindsay Willott
2018-10-25 00:01:54
2021-05-05 12:43:32
PLATF9RM talks co-working customer satisfaction