We're always reading about brilliant customer service ideas. If you are looking for a little bit of inspiration from our recent reading pile, here are some of our favorites. If you needed a little bit of motivation or just wanted to catch up on current conversations in customer service, we've got them for you here…
1. It's all about the customer
Often, there's a belief that improving customer service is merely an expense, therefore it must have a good return on investment (ROI) for it to be worthwhile. Forbes argues that this is the wrong way to look at it – continuous improvement of customer experience should be integral to the business, not an extraneous cost.
In order for your business to become customer-centric, you must deliberately commit to design the culture to put the customer at the center of all you do. What that means is that you (and your entire organization) make no decisions without asking: How will this impact our customers? How will this make them feel? Will this help them solve their problem?
The question the article asks is, if you're not thinking of your customer all the time, then who have you built your product for? It's easy to forget in the hubbub and challenges of everyday life, but try changing the conversation across the company and this will really help your customer service offering to flourish.
2. Create surprise and delight
Brand loyalty from customers doesn't just come from satisfaction in an exchange – people need to feel delighted to really remember their experience with you. Inc's article on surprise in customer experience includes some research to evidence this – surprise triggers a big emotional response in the brain, which in turn makes the experience much more memorable.
Of course we can't delight our customers with surprises all the time, otherwise it wouldn't be a surprise! Instead, we should keep it minimal enough that it doesn't increase expectations unrealistically, but still keeps customers happy, engaged, and, most importantly, loyal.
The added bonus is for your employees – they'll be that much happier when their customer service interactions are more often delightful than effortful.
3. The power of moments
We recently reviewed Chip and Dan Heath's brilliant The Power of Moments on surprising and delighting customers (see previous point). With a saturation of choice in the market now, it takes a lot more than a good product to really draw in and keep customers. The next vital step is the customer service wrap.
Take The Power of Moments' example of the Magic Castle Hotel in Los Angeles – a slightly outdated, worn, and uninspiring hotel, but number four in the list of hotels in all of LA. How? Through "defining moments":
Visitors at the hotel's pool can pick up a red phone on a poolside wall to hear, "Hello, Popsicle Hotline." They request an ice-pop in their favorite flavor, and a few minutes later, an employee wearing white gloves delivers it on a silver platter, no charge. It's a small defining moment that doesn't cost much to produce, but has paid off for the Magic Castle Hotel.
The Magic Castle Hotel defines their customers' experience through the opportunity to create moments for them, and the connection created has clearly worked wonders. The significant thing about creating moments is that they don't need to be produced at every touchpoint for them to be effective.
It could be just one or two touchpoints altered to surprise and delight your customers, yet the impact on customer service satisfaction could be huge.
4. Keep friction minimal
The challenge to offer more convenience than ever is arguably reaching an all time high. Forbes ask, with companies like Amazon and Uber smashing it out of the park when it comes to customer service, are the rest of us also offering the most frictionless experience we can for our customers? Good customer experience is increasingly reliant on convenience and expectations are high – offering a self-service, simple, and user-friendly product is the best way to please your customers, and the easiest way to lose them if it's not there.
Speaking of convenience, customers don't see each channels of communication as channels – they just want to get in touch with you the way they see fit. Most importantly, they don't want to wait, or answer loads of questions, or be passed around different departments. We'd be remiss not to add that they also don't want to have to fill out lengthy surveys just to let you know what they thought of your service.
And for your employees, it's a similar ethos. They want to be able to do their job without loads of hurdles to jump – too many computer applications to open everyday, for example. Reduce the friction between your employees and your customers, bring innovation into your systems, and you've minimalized the trivial nuisances that get in the way of excellent customer service from both sides.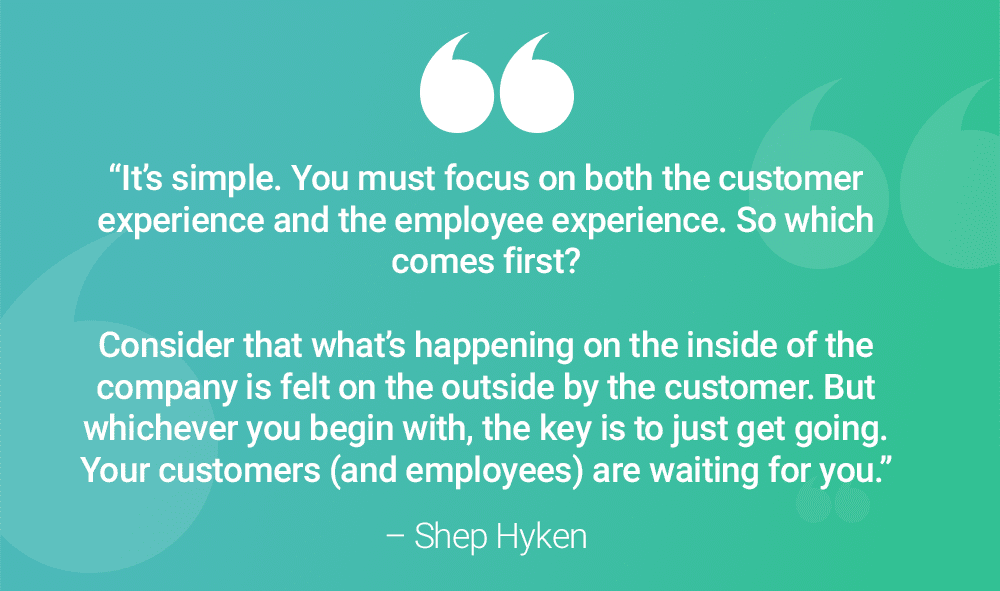 5. Manage customer expectations
Customers have an expectation of what good customer service is, but managing expectations is a key factor in how this is decided. Marketing Week write that Deliveroo's Chief Marketing Officer stresses the importance of consistency, and in delivering good customer service from start to end:
"One of the most interesting things about customer experience is around expectation – generally the perception of a 'good' customer experience will depend on setting expectations rather than a defined standard of what 'good' is. Delivery times are a suitable example of this. If you pay for next-day delivery and it doesn't arrive, that is a terrible experience. If you agree to standard delivery of three to five days and your item arrives in three days this feels really positive."
We mentioned earlier that customers have an increasingly high expectation for customer service as a result of the sheer quantity of innovative brands, Deliveroo and British Airways, for example, that have constantly developed and grown in convenience. Their excellent product and domination of their industries that have awarded them their customer loyalty, but they maintain their customer base through utilising their customer service wrap to manage – and then exceed – expectations.
Give Customer Thermometer a trial and find out how your customers feel! You will quickly see how easily implemented, simple surveys deliver great response rates that will improve your customer service.

https://www.customerthermometer.com/img/5-Brilliant-Customer-Service-Ideas.png
248
710
Sophie Leaver
https://www.customerthermometer.com/img/[email protected]
Sophie Leaver
2019-08-19 18:58:56
2019-09-03 10:51:44
5 Brilliant Customer Service Ideas