The words we choose to use, when speaking, have an enormous influence on a listener's experience of the interaction.
This is starkly apparent in customer service where negative words and sentiments can potentially disturb a customer and cause additional upset.
When a customer contacts your service department or desk they want to be greeted by a positive customer service agent who shows empathy and will confidently resolve their issue, without causing them any further grief. You want your customer to have a very positive experience which they will likely share with their friends and family.
Your service service team need to always be courteous, well-mannered, respectful and of course helpful. You want your customers to be treated so well that they experience the service they have received as exceptional.
This can often be challenging, especially when dealing with demanding customers with complex service issues. By ensuring that your customer service and support staff are fully versed and trained to use positive language and avoid negative terms you can be confident that even your most demanding customers will have a great service experience.
Positive Scripting
Positive scripting pre-defines responses and phrases for service reps to use in order to minimise customer frustration and keep customer communications flowing in a positive direction. Scripting is quite controversial in customer service as many say that it isn't liked by customers and tends to ignore the unique nature of every customer interaction.
But some service agents and representatives can benefit from the guidance provided by positive scripting, especially when dealing with a difficult customer support issue.
Positive scripting can help ensure that an agent is never lost for words or uncertain of the direction in which to take a customer interaction. Positive scripting can be particularly useful in training new customer service representatives and in the early days of their deployment.
But it must be remembered that customers do not like interactions with agents who inflexibly use pre-defined scripts. If a customer detects that the agent they are speaking too is referring to a script it can damage their confidence in the agent's ability to resolve their issue and will reflect negatively on your brand.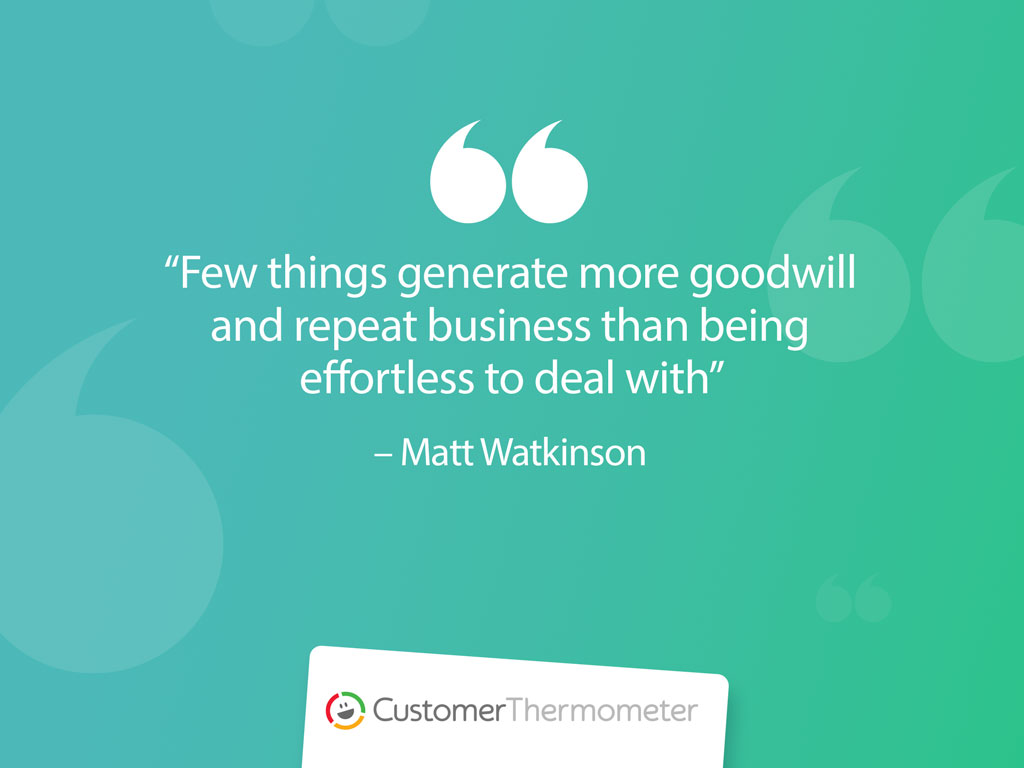 Positive Words
A good starting point is to build a vocabulary of positive words which can be beneficially incorporated into your customer service communications. Here's a shortlist of just 40 words which all convey positivity.
Absolutely
Amazing
Brilliant
Certainly
Completely
Creative
Definitely
Enjoy
Essential
Exactly
Excellent
Exceptional
Exciting
Exclusive
Expert
Exquisite
Fantastic
Fascinating
Favorite
Friendly
Fully
Generous
Great
Ideally
Impressive
Interesting
Marvellous
Memorable
Outstanding
Positively
Quickly
Recommend
Renowned
Sensational
Skillful
Splendid
Superb
Terrific
Thriving
Unbeatable
Let's now look at how to incorporate some of these words into excellent, positive customer service communications at every stage of the process.
Welcoming Customers
What's said at the very beginning of a customer service interaction is vitally important.
It sets the stage for all subsequent communications so it is vital that the greeting is warm, genuine and positive. The importance of identifying the customer service representative by name is well known as this immediately conveys friendliness and a personal connection. Here are a few welcome messages which have been widely tried and tested.
Good morning/afternoon, thank you for calling [COMPANY NAME], you're speaking to [AGENT'S FIRST NAME]. How may I assist you?
Thank you for calling [COMPANY NAME] today, my name is [AGENT'S FIRST NAME]. I'm here to provide you with the very best service?
Hello, thank you for calling [COMPANY NAME]. My name is [AGENT'S FIRST NAME], how may I assist you today?
Good day. You are speaking to [AGENT'S FIRST NAME]. How may I assist you?
Thank you for calling [COMPANY NAME]. I am [AGENT'S FIRST NAME]. How can I help you?
Acknowledging a Customer
When in conversation with a customer it's important to positively acknowledge what they are saying. This can often be achieved with single word responses, but it's useful to have a few useful response phrases in the repertoire. Here are a few acknowledgements that work.
I realise that this situation is difficult, but rest-assured we will find a solution for you.
I would feel the same if this happened to me. We will sort this out.
I'm sorry to hear you are having these problems. We will get this resolved as quickly as possible.
Absolutely

This single word response provides a positive agreement with what the customer has just said.

Certainly

This word conveys confidence and positivity.

Great

Used in response to a customer's description of their actions, this simple word can make them feel good about their efforts to resolve the problem.

Eliciting More Information
When a customer is describing the details of their issue it's often necessary for service agents to gain additional information, in order to diagnose the issue and find a fix. Customers may not be technically competent or familiar with jargon, so it's vitally important to use language that is appropriate, engaging and positive in order to gain additional insight. Here are some phrases which have been found to be effective.
So that I can [PROVIDE A FIX / DETERMINE THE CAUSE OF THE PROBLEM etc.] it would be marvellous if you could [ACTION REQUIRED FROM THE CUSTOMER].
From what I understand [DESCRIBE THE CUSTOMER'S ISSUE]. It would be excellent if [ACTION REQUIRED FROM THE CUSTOMER].
Reassuring a Customer
After a customer has described their problem the mood of the communications may have turned a little negative. It's important at this stage to reassure the customer and move the interaction in a positive, more upbeat direction. Here are some suggestions which have worked for others.
Definitely, I will make certain that this gets resolved quickly for you.
Thank you. We can certainly help you with this.
Thanks for alerting us to this, we really appreciate your feedback. Now lets look at how we can fix things.
Providing Guidance
Many customer service calls are resolved by providing guidance and instruction. It's essential that these instructions are conveyed in a friendly and genuinely helpful manner. They must not be complex, open to interpretation or ambiguous and they must be easy for the customer to carry out. Here are some ideas.
Here's what you can do to [DESCRIBE RESOLVED ISSUE].
If you can do this [DESCRIBE ACTIONS] that will fix your issue.
We recommend that you [DESCRIBE RECOMMENDATIONS].
Building Customer Rapport
Building a rapport with customers is very beneficial. Using the customer's name is a simple technique that can help. It can also be useful to be aware of personal aspects of the customer such as their location, whether it's their birthday a national holiday that may have occurred or be imminent. Here are some examples.
Do you prefer to be called [FIRST NAME] or [Mr X / Ms X]?
What I will do for you now is [DESCRIBE NEXT ACTIONS].
We will investigate this issue immediately [Mr X / Mrs X. ] and get straight back to you.
This will be fixed for you by [ACCURATE DEADLINE] sir / madam.
What's the weather like where you are today?

Dealing with Angry Customers
Interacting with irate customers can be extremely challenging. Remaining positive is absolutely vital and the key is to positively influence the customer's mood. The language used when interacting with angry clients is enormously important. In general it's beneficial to remain very formal when dealing with angry or upset customers. Here are some phrases that demonstrate how best to handle these situations.
I am sorry to hear that you feel this way [Mr X / Ms X].
Your feedback is enormously valuable to us so we greatly appreciate you taking the time to call [Mr X / Ms X].
I'd like to call you back to give you an update, when would be the best time to reach you?
I completely understand how you feel [Mr X / Ms X].
I fully appreciate the inconvenience this has caused you [Mr X / Ms X].
Thank you for your understand [Mr X / Ms X], we are doing everything we can for resolve your problem quickly.
Concluding the Service Call
The manner in which a service call is finally closed is very important as this will be the final interaction between the client and the service agent. Of course the final message will be influenced by the success of the call. Here are a couple of example call conclusion phrases that are appropriate after a successful service call.
Thank you for calling [Mr X / Ms X / FIRST NAME], your feedback is extremely valuable to us. Please don't hesitate to call us again if you have any questions.
I'm very pleased that we've been able to help you today [Mr X / Ms X / FIRST NAME], please call again if you need help.
It's great that we have answered your questions today. Thanks for calling [COMPANY NAME]. Have a wonderful day.
If you have any suggestions or recommendations for customer service phrases that have worked for you we would love to hear from you.
Want to improve your customer survey response rates? Customer Thermometer's 1-click survey will up your feedback game. Send yourself an example:

https://www.customerthermometer.com/img/Excellent-Customer-Service-Phrases-Every-Team-Member-Should-Use-Blog-header.png
248
710
Lindsay Willott
https://www.customerthermometer.com/img/[email protected]
Lindsay Willott
2019-01-21 09:21:26
2019-09-26 15:56:20
Excellent Customer Service Phrases Every Team Should Use