The 4 steps to using ITSM to transform customer service
According to the 2017 CIO WaterCooler ITSM survey, organizations mainly use IT service management processes and tools to improve the quality of their IT-related services. In 35% of cases, the objective is to support the customer experience.
Proponents of ITSM highlight a range of benefits above and beyond improved customer satisfaction and service quality. Good ITSM should minimize IT costs and risks, improve governance and make the organization as flexible as possible to introduce new services.
Measure and empower the help desk
Customer Thermometer is routinely deployed as part of ITSM strategy, by organizations who want to test how customers feel about their help desk experience.
So we thought we'd scratch beneath the surface of this trend and plot the four stages of transformation when using ITSM principles to improve customer service.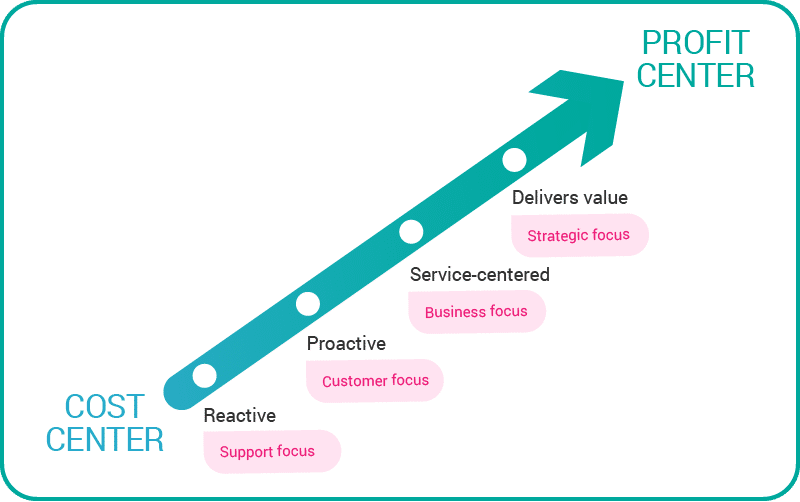 Stage 1: reactive response
Organizations adopting ITSM for the first time will not have a structured process for dealing with incoming queries, and certainly not for any kind of CSAT evaluation. The organizational culture is task-driven and technology led, with expertise stranded in silos.
Any service or product documentation is inconsistent and primarily designed for internal consumption rather than by external customers. Individuals working the help desk will perform to differing levels and have widely distributed perspectives on how customers perceive their performance.
What you should be thinking about at this stage:
Implementing CSAT tools to complement a core ITSM platform
Achieving consistency and repeatability of service delivery
Collecting customer feedback in a structured way
Stage 2: proactive response
Having implemented a core ITSM platform (e.g. ticketing system), the organisation will be geared up to deliver a good, consistent standard of proactive support to incoming queries. Knowledge sharing processes will be developed, as will the ability to automate repeatable responses to commonly-encountered issues.
CSAT levels will be determined by 'smile-sheet' feedback invitations triggered by the closure of each ticket. Benefits are tangible and somewhat bankable, but potential isn't being properly realised.
What you should be thinking about at this stage:
Assigning process owners internally
Establishing CSAT KPIs
Stepping up depth of CSAT analysis
Stage 3: service focus
This is where investments in ITSM processes really start to pay off and add greater value into the organization. By analysing CSAT, and listening to customers on an ongoing 'transactional' basis rather than only following crisis or failure events, technical and service issues can be accurately anticipated.
This feeds into a sustainable process of continual improvement where customer confidence increases in line with IT service quality. Staff morale also tends to increase when these conditions are present.
What you should be thinking about at this stage:
Moving from an incident management to a problem management approach
Aligning fully with future business goals
Wielding ITSM-driven customer service as a competitive weapon
Stage 4: creating and delivering value
With ITSM processes fully optimised for customer service, IT service departments become catalysts for innovation and strategically critical to the overall goals of the business. This is a million miles from the status of the Stage 1 'reactive response' IT service department that acts as a financial drain on the business rather than acting as a potential profit center.
By this fourth and final stage, ongoing analysis of CSAT metrics is not only feeding into process improvements but also future service design and financial planning. CSAT questioning tools are oriented both for the measurement of prevailing customer sentiment and probing more pointedly into – for example – user preferences, pricing sensitivity and competitive pressure.
What you should be thinking about at this stage:
Leveraging customers as the impetus for innovation
Measuring the 'dollar value' of your CSAT / ITSM investment
Becoming a recruitment beacon for talent
ITSM Customer Service: a cultural shift
Taking your customer service approach on the ITSM journey is as much about a cultural shift as implementing new processes, tools and workflows. In the eyes of customers and internal management alike, the help desk transforms from a whipping boy to a strategic service partner of real value.
This has significant advantages for those on the receiving end of IT services, but is also a huge and positive change for help desk personnel. The results are measurable gains in customer loyalty, profitability, competitive advantage and motivated employees.
Customer Thermometer doesn't just apply to IT services of course, as our hundreds of case examples across multiple sectors demonstrate.
And neither, it seems, do ITSM principles. In fact, the entire edifice of ITSM has been proven to apply in non-IT customer support organizations, as part of digital transformation.
Where is your organization on its journey through these four stages?
If you'd like to get more feedback into your ITSM customer service process, give Customer Thermometer a go. We're loved by some of the world's top IT teams and companies. Simply pop your email address below and choose a password, no credit card or other details needed:
https://www.customerthermometer.com/img/ITSM-customer-service-process.png
248
710
Lindsay Willott
https://www.customerthermometer.com/img/[email protected]
Lindsay Willott
2018-05-30 15:34:49
2019-02-04 14:40:37
ITSM customer service: 4 key steps