The idea of implementing a 'continual improvement' strategy across the entirety of an IT service management organization lies at the heart of both ITIL and ITSM.
(If you're not familiar with these terms, they are a set of practices for IT service management that helps align IT services with the needs of a business.)
End users have become more and more familiar with technology. In many cases an employee's home 'tech' outstrips the user-friendliness and customer experience they get at work.
So a major challenge for IT service management is to try to bring that 'consumer tech' customer experience into the workplace.
In order to do so, a great deal needs to change – from upskilling employees across the business around digital transformation, right through to how service desks sense and respond to feedback.
In seeking to measure continual improvement, you need a feedback mechanism that is – frankly – continual. One that can be used frequently whilst minimising survey fatigue and maximising actionable response rate.
This is why we often hear from our customers that using Customer Thermometer gives them a well-rounded understanding of their service desk experience over a consistent period of time.
So, what should your service desk experience strategy for continual improvement look like? Let's break it down into more palatable sections.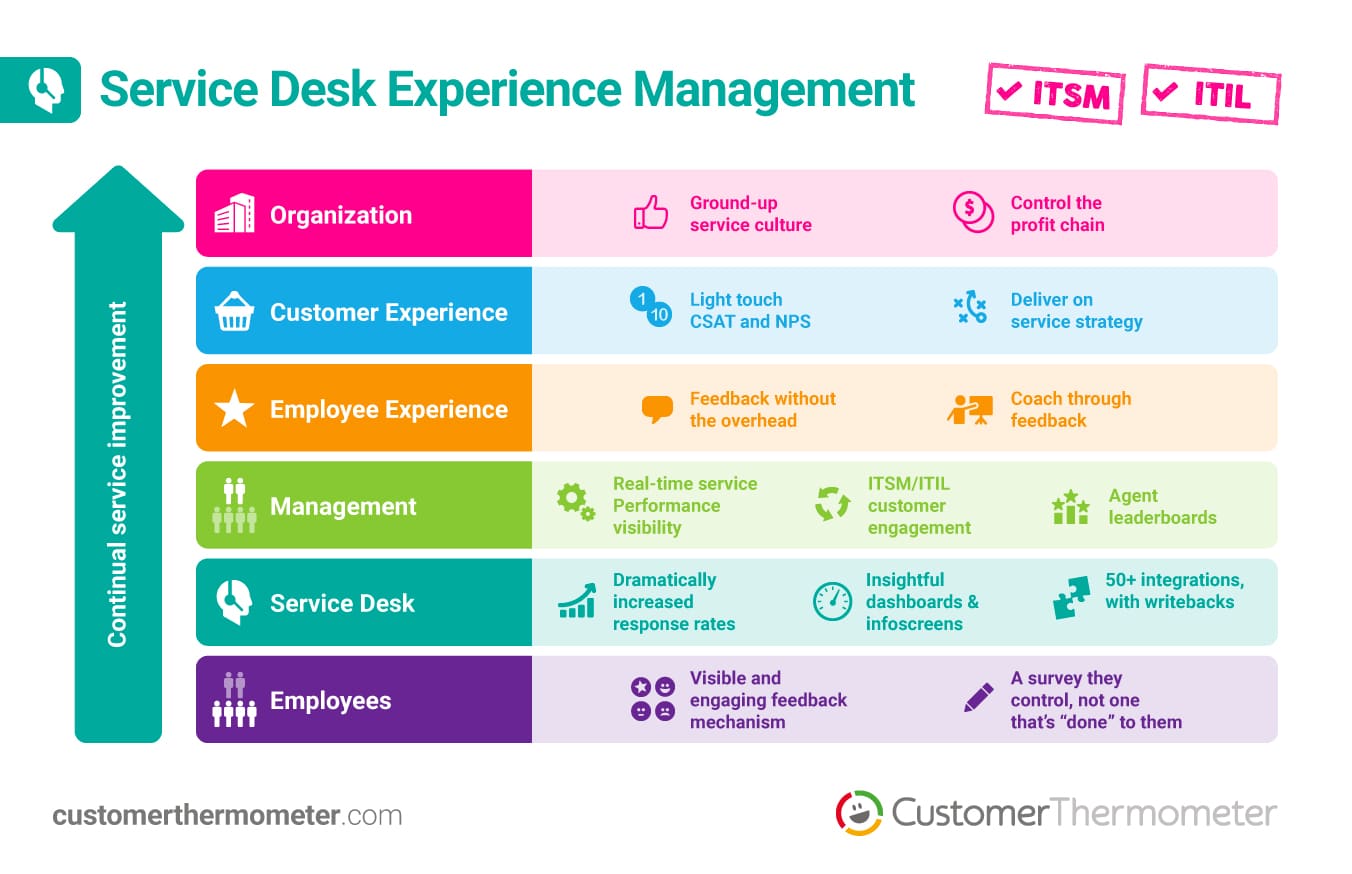 We've highlighted the key sections of continual improvement as established by the ITSM Service Desk essential handbook. If you think about how customer feedback can help to improve on service in this way, it makes it not only easier to understand but also it makes the return on investment of such a solution much more tangible too.
Now let's have a look at each section.
Organization
How customer-centric is the company? Are your teams, from bottom to top, engaged with the customer service strategy and aware of the impact this has on the business? Gathering regular customer feedback can help to create a connection between excellent service and company success, which makes continual improvement that bit clearer.
Customer Experience

Customer feedback is the key to awesome CX – how else will you know where improvements are needed and when customers are unhappy? Regular interaction with customers throughout their journey – be that in surveys measuring Customer Satisfaction surveys (CSAT) or Net Promoter Score (NPS) – provides data that acts as a constant measure of how things are going, enabling the team to improve their Service Desk experience.
Employee Experience
Regular, actionable feedback is not only good for CX but also for your employees' experience – authentic feedback enhances coaching and makes it infinitely more effective for your team members. Not only this, but the positive feedback is a major motivation booster and drives continual improvement even more.
Management
Do your management team have the tools available to measure customer satisfaction and service performance? An inadequate feedback solution (or indeed no solution at all) is likely to give a flawed picture of the situation, preventing management from making changes where required. Not only this, but the ITSM standard of engaging with customers is almost impossible without being able to identify on a day-to-day basis where interactions have gone wrong or customers (or team members) might need a bit of extra support.
Service Desk
If you've got the standard 'click here to fill out our survey' link in your signature, it might be time to change it. It's almost guaranteed that response rates to such long-form and laborious are not going to be great, and even with any responses, what's being done to make it actionable? A solution such as Customer Thermometer means that respondents will enjoy clicking colourful icons and having their response instantly recorded, so there's no hassle for them.
Then, responses get pushed into the reporting dashboard for senior team leaders to monitor and respond appropriately – you could even send an alert to Slack, MS Teams, or countless other integrations to make it truly a dynamic system. With your teams being this in-tune with your customers, continual service improvement is inevitable.
Employees

Your employees are the frontline of your service offering – customers will possibly form an impression of the entire business from one individual, so it's key to support your team to continually improve. For every interaction your employees have with customers, there's the opportunity for customers to let them know how it went, but it's entirely present for the employees to take ownership. We often hear that the team are much more motivated by a survey that they control, i.e. one that's not "done to them" without their input.
We hope this helps in your ITSM and ITIL processes – we certainly have seen the impact that gaining regular feedback has had for our customers with their Service Desk experience, and it's a really inspiring thing.
Interested in adding a brilliant customer feedback solution to aid your Service Desk customer experience? Send yourself a test Thermometer and get started:

https://www.customerthermometer.com/img/ITSM-and-ITIL-Service-Desk-Experience-Management-Header.png
248
710
Sophie Leaver
https://www.customerthermometer.com/img/[email protected]
Sophie Leaver
2020-02-27 15:41:02
2020-02-27 16:03:54
Service Desk Experience Management for ITSM and ITIL