I've rarely been more fired up to write a book review for our blog than the moment I finished Subscribed: Why the Subscription Model Will Be Your Company's Future – and What to Do About It by Tien Tzuo, Founder and CEO of Zuora.
For several months I've been grappling with the best ways to express the strange, beautiful and alchemic dynamic between product, service, customer and experience. What is it that makes up customer experience? How are products changing in the modern economy and how do you put the customer first and learn from them without just blindly doing everything they ask you for?
Happily, Tien has saved me from inner struggle, and has done it for me in the most erudite of ways.
I absolutely love, and highly recommend, this book. Whether you run any kind of team, or look after any kind of product or service, you should be changing how you do things based on putting customers at the heart of what you do. And not in an old fashioned Peppers and Rogers kind of way (although I still love ya, guys)
This is a whole new rodeo, and this kind of thinking will help you get ahead.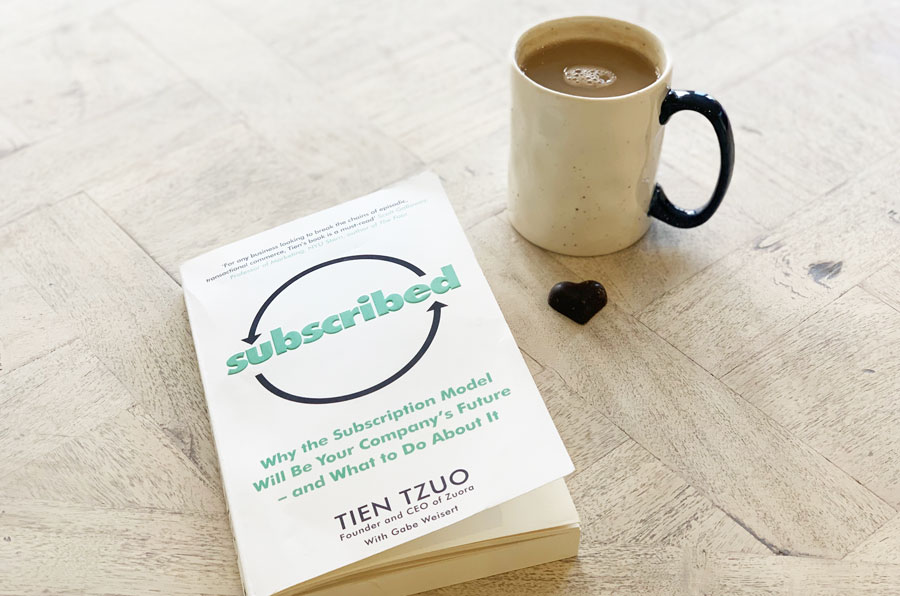 Subscribed review: Top 5 takeaways
Want to grow eight times faster than the S&P 500? Build a subscription company. Why? Because unlike product companies, they know their customers because they start and finish, with their customers. As Tzuo points out, a competitor can copy your product's exact features, but they can never copy the feedback you get as a company from an engaged and loyal customer base. It's the very best economic moat going.
Adapting to the subscription economy takes more than just deciding to sell subscriptions instead of products. You'll have to reinvent your company from the inside out. Companies need to reassess not just physical products. It's everything from how the company promotes itself, what it's like to deal with digitally, how it can create ongoing, delightful experiences for subscribing customers, and how to generate ongoing word of mouth. It reaches right down into how the company is set up to invoice/bill the customer, how it accounts for that, what the legal terms look like how the servicing and sales teams are trained. It's a through-and-through change to all departments, for companies making the switch. And that doesn't even include fundamentally overhauling the culture, which is the most important thing of all.
Customer data is crucial. Corporate use of customer data has had a bad rap recently and rightly so. The line between good (using customer data to help them by making their lives more efficient, their choices more straightforward and their experiences more delightful) is actually dangerously close to the bad (using customer data to gain a monopoly, narrow variety and options, and get growth at any cost). The key seems to be focusing everyone in the organisation on customer success over time. So all employees are empowered to see and be an active part of the customer journey, so they can sense and respond with that customer. With everyone focused on the customer, it really helps prevent silos building up across the company. Tzuo advocates a model he calls PADRE – which stands for Pipeline, Acquire, Deploy, Run, Expand.
Ownership is dead: Products used to be designed, manufactured and then delivered to customers in a single, linear chain. The subscription economy changes all that. Tzuo points out that we should look at our business models as being circular, not linear. Basically it stands to reason that people don't want to outright own something any more. People know new models are coming soon and want reasonable access to the latest gear. Plus, it's getting harder and more expensive to throw things away. The original manufacturer is much better placed to do it. Tzuo posits this diagram to show the new model's operation:
Outcome is king. Tien points out numerous compelling examples of how companies can succeed by focusing on what the customer is looking for by way of outcome (as opposed to what they are looking for by way of product). He cites new airline Surf Air, which sells you an 'hours in the air" package instead of individual flights. Then there's software company Adobe, which 4x its valuation by swapping to a subscription model. Legendary guitar-maker Fender still sells guitars, but realizes that most people who buy a guitar only ever buy one because they give up trying to play it 6 months in. So Fender has tried to help its customers solve this problem – ultimately aiming to create lifelong guitarists –  by teaching beginners to play. Not part of their original core business but it helps spread the word and encourage the all-important LTV.
Subscribed review: Top 5 quotes
"Today successful companies start with the customer. They recognise that customers spend their time across many channels, and wherever those customers are, that's where they should be meeting those customers' needs. And the more information you can learn about the customer, the better you can serve their needs, and the more valuable the relationship becomes."
"Ownership is dead. Access if the new imperative. International Data Corporation (IDC) predicts that by 2020, 50 percent of the world's largest enterprises will see the majority of their business depend on their ability to create digitally enhanced products, services, and experiences."
"…the original point of 'beta' was to let you put a product out before its ready, gather up lots of feedback from you customers, and then incprirapte that input before you finally freeze the product and ship it… what they [the Gmail product team] realized is that if you can get out of that mindset and think about what you're making as a living, breathing experience instead of a static product, they why not enlist your customers as innovation partners all the time? Why not stay perpetually in the beta mindset?"
"Today IT is where you compete. It's where you spin up new services, new experiences. It's where you iterate and scale. It's where you find the freedom to grow. And more and more business systems are enabling this kind of freedom because they're based on subscribers, not SKUs. "
"Think about it — when your customers are happy, then they're using more of your service, and telling their friends, and you're growing. You get to start every quarter with predictable revenue. You get to make smart, data-driven decisions. You get to benefit from your own customer insights, which are a huge competitive advantage. We call this the world of happy business: happy customers, with happy companies, reinforcing one another, iterating forever, with no beginning and no end."
So… definitely get this book. (Even if you think you don't need to.) You really do. Your customers will thank you for it, and you in turn will build a more successful and more exciting business. – Lindsay
Where next?
We love bringing you the latest insight, books and reviews from across the CSAT and business world. If you liked this Subscribed review, check out a couple of our other recent ones here:
https://www.customerthermometer.com/img/subscribed.jpg
248
710
Lindsay Willott
https://www.customerthermometer.com/img/[email protected]
Lindsay Willott
2019-03-14 01:44:33
2020-03-05 16:56:44
Subscribed: Book Review