How is our survey creator doing for you?
One of Customer Thermometer's customers is a big PR agency. I wanted to share with you the way that they are monitoring their most important customer accounts, and how they've built the process of regularly checking how their customers think they're doing, into their monthly client management approach.
So imagine that today I'm the head of client services for this big PR company, Boggle PR.
I create and send (in less than 10 minutes, with no technical skill) a Customer Thermometer 1-click email, to send out to a number of important stakeholders in one of my major accounts, Microcloud.
This is something I do every month, to see how they are feeling about our service.
I log in to Customer Thermometer, create my email, which asks "How are we doing for you?" and offers 4 options for response: Gold star – you are doing fantastically well, Green – you are doing well Amber- you're a bit below expectation and Red – you are doing very badly. I upload the names and email addresses of the people I want to receive it and send out the blast.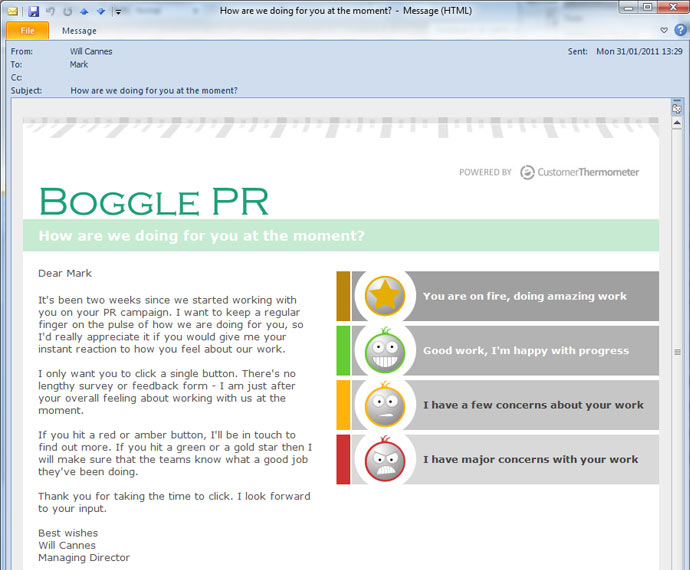 I choose to send it to a number of stakeholders, not just my regular day-to-day contacts, because I want to make sure that everyone is happy with our work.
Over at Microcloud, my emails are delivered. My regular day-to-day contact, David Clarkson, Marketing Manager, is at his desk in Chicago and he opens the email.
He was really happy with the PR launch we did this month and so he hits a green button "you're doing well at the moment" and leaves a comment saying that the launch went well and everything is progressing as expected. He goes back to his work.
He's had no major interruption, he's been able to respond in real time and get back to what he was doing. I know that there's no issue and so I don't have to follow up.
The ultimate budget owner for PR at Microcloud is Miranda Brown, Director of Sales & Marketing. She receives the email on her iPhone as she lands in Paris for a conference having reviewed the press clippings on the plane.
She responds from the airport as she's waiting for a taxi. Miranda has hit a red light, meaning that she's very unhappy with our service at the moment. I am immediately alerted to this via email myself and call her on the spot.
One of the great things about Customer Thermometer is that you can see who has clicked what in real time and you can act straight away.
Miranda is pleased that Boggle PR has responded so quickly. She tells me that although the press launch went well, she is concerned that the number of leads being generated from the ongoing PR campaign is falling. I commit to resolving it and book a meeting with Miranda and David when she returns to Chicago to present back Boggle's plan.
A week later the meeting has taken place and the new plan has been agreed to. By being so proactive, Boggle has ensured that client issues were rectified immediately and stopped Microcloud from becoming disillusioned and seeking another supplier.
When I send out my next Customer Thermometer the following month, David clicks a gold star and Miranda a green light. Swift service recovery and action has kept a major account on board and turned around their experience and perception of Boggle.
In a recessionary world, we believe that "retention is the new acquisition". If you act to retain and delight existing customers, word of mouth will spread through the social web and new ones will arrive at your door.
https://www.customerthermometer.com/img/[email protected]
0
0
Lindsay Willott
https://www.customerthermometer.com/img/[email protected]
Lindsay Willott
2011-05-19 09:28:56
2016-11-22 17:43:03
The critical question: how are we doing for you?