A major challenge for IT Service Desks is to provide excellent customer support with often quite technical and complex IT solutions to problems. From upskilling employees across the business around digital transformation, right through to how service desks sense and respond to feedback, there's a lot of plates to continuously spin.
With excellent customer service more in demand than ever, the Service Desk industry is being asked to push their offering even further, which might have left you feeling frazzled. Why not take a minute to have a breather, grab a coffee, and read some inspiring quotes? Here's our ultimate Service Desk quotes for inspiration.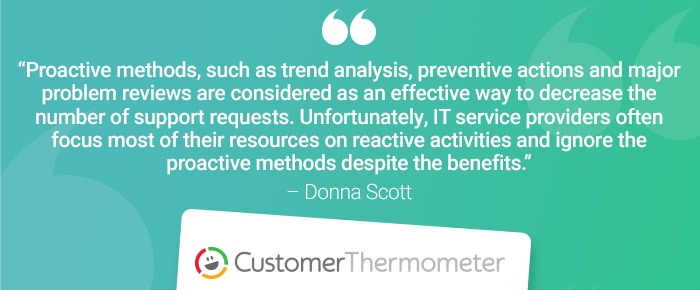 "Proactive methods, such as trend analysis, preventive actions and major problem reviews are considered as an effective way to decrease the number of support requests. Unfortunately, IT service providers often focus most of their resources on reactive activities and ignore the proactive methods despite the benefits." – Donna Scott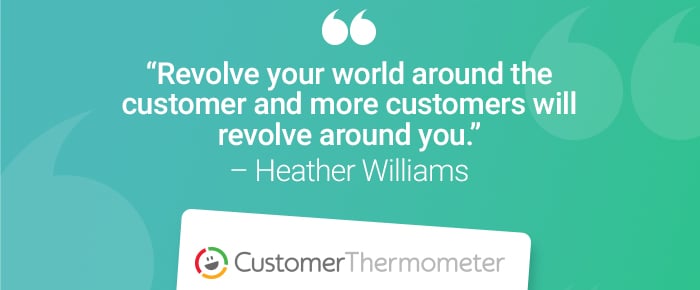 "Revolve your world around the customer and more customers will revolve around you." – Heather Williams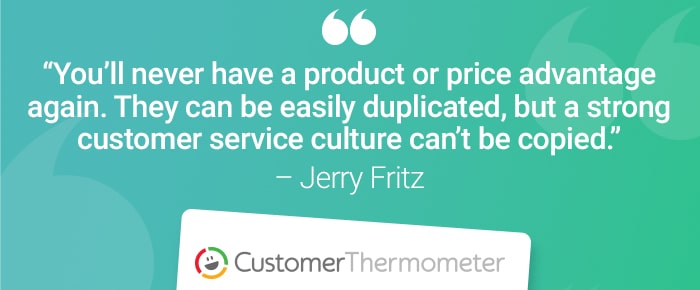 "You'll never have a product or price advantage again. They can be easily duplicated, but a strong customer service culture can't be copied." – Jerry Fritz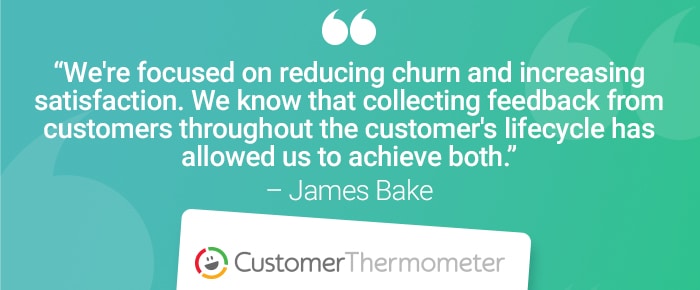 "We're always focused on reducing churn and increasing satisfaction. We know that collecting feedback from customers throughout the customer's lifecycle has allowed us to achieve both." – James Bake
"Observe how your users approach information, consider what it means, and design to allow them to achieve what they need." – Donna Spencer, Writer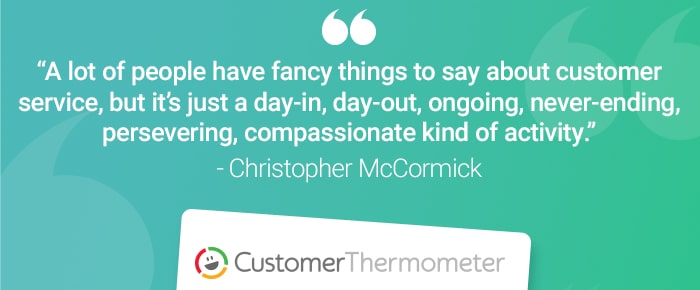 "A lot of people have fancy things to say about customer service, but it's just a day-in, day-out, ongoing, never-ending, persevering, compassionate kind of activity." – Christopher McCormick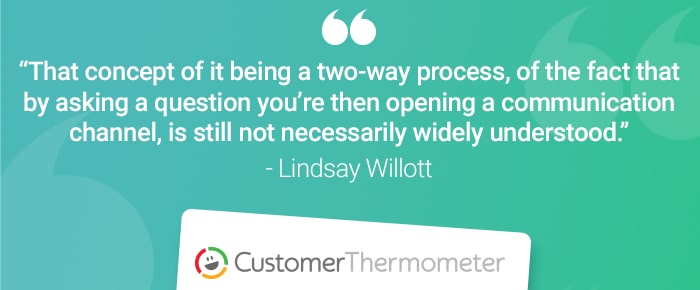 "That concept of it being a two-way process, of the fact that by asking a question you're then opening a communication channel, is still not necessarily widely understood." – Lindsay Willott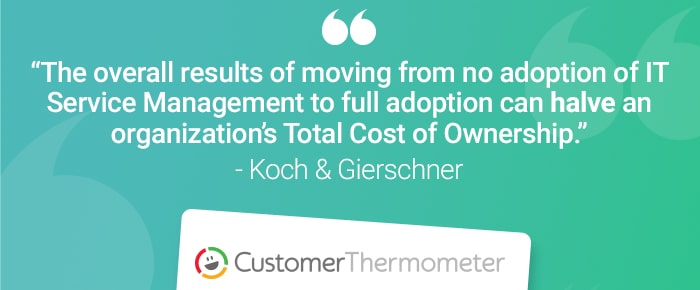 "Gartner's measurements showed that the overall results of moving from no adoption of IT Service Management to full adoption can halve an organization's Total Cost of Ownership." – Koch & Gierschner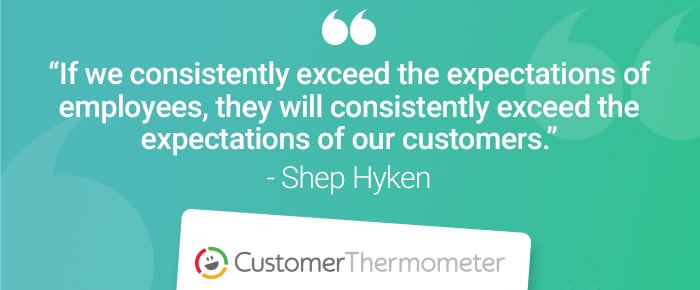 "If we consistently exceed the expectations of employees, they will consistently exceed the expectations of our customers." – Shep Hyken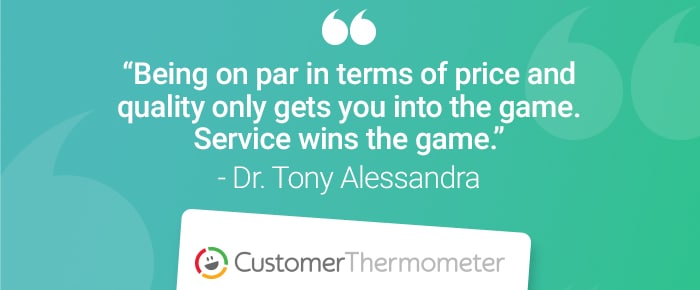 "Being on par in terms of price and quality only gets you into the game. Service wins the game." – Dr. Tony Alessandra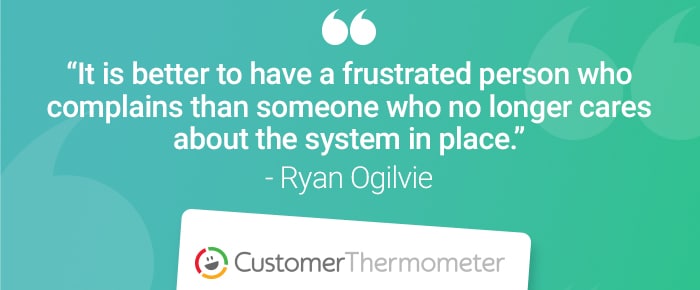 "It is better to have a frustrated person who complains than someone who no longer cares about the system in place." – Ryan Ogilvie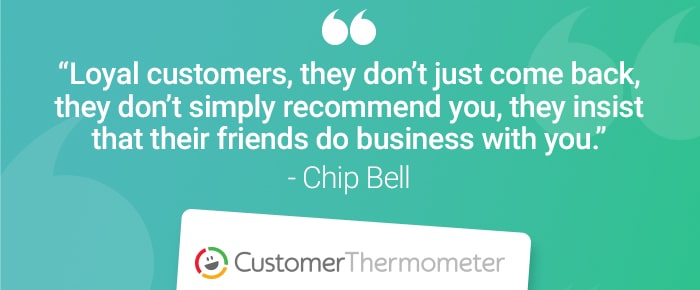 "Loyal customers, they don't just come back, they don't simply recommend you, they insist that their friends do business with you." – Chip Bell
"When the customer comes first, the customer will last." – Robert Half
Now you're hopefully feeling refreshed and inspired, why not give our customer feedback a go? Our Service Desk customers have excellent response rates and are able to use the data to meet the requirements for their continual service improvements.

https://www.customerthermometer.com/img/ultimate-service-desk-quotes.jpg
248
710
Sophie Leaver
https://www.customerthermometer.com/img/[email protected]
Sophie Leaver
2020-03-11 17:40:01
2020-03-11 17:41:31
The Ultimate Service Desk Quotes for Inspiration