Now's the time to switch your physical customer touchpoints to virtual. If you haven't already adapted your customer engagement for the long-term effects of Covid then do not despair.
There are plenty of reasons to 'virtualize' physical touchpoints and avoid being one of those brands who've not managed to swap important offline customer contact online.
Mapping the customer journey
We've blogged a lot about mapping the customer journey and identifying the touchpoints where you come into contact. Why? Mainly to show that there are more than you think. And that all are opportunities to ask a quick, direct, non-obtrusive, contextual question that creates feedback to improve your business.
When physical touchpoints disappear (because of something like Covid) their associated feedback opportunities dry-up too. That's why you need to swap them for a virtual equivalent.
The mistake many companies make is identifying this issue but doing nothing about it. That's understandable, perhaps, if you're concerned about extra budget, time or expertise you simply don't have. The counterpoint to that is – often – all it takes is a little creativity. What's more, costs can check out lower than the physical equivalent, for the same if not better upside and benefit.
Swapping physical customer events for virtual
A good example, particularly in the B2B sphere, is physical customer events. Whether small-scale local or large-scale global, these are tried and trusted opportunities to share product updates, listen to market needs and reinforce important sales and marketing messages.
Keeping these physical events in the current climate is risky, which explains why virtual alternatives have increased more than 1,000% according to one specialist provider.
Of course there are some brands who don't seek to provide that virtual alternative. You sense it's because of a fear of failure i.e. not being able to 'do it justice' and instead producing an inferior compromise.
Cancelling such events altogether can also be tempting because of the money it saves. But that can be a false economy when you consider all the value that drains away and – worse – customers losing the habit of participating with you.
There's a stronger case for being proactive in keeping the touchpoint in place, even if it doesn't feel quite the same. Smaller, shorter online events perhaps; ones that don't try to recreate entire day-long events but that amplify the value of individual elements. For example, short punchy webinars around a consistent theme, complemented by virtual cocktail hours for networking and even games.
It might not be a 2-day jaunt to Vegas but the content is there, and so is the same effort and sincerity. Critically, the customer touchpoint is preserved and – being digital – can be maximized in subtle yet valuable ways.
The virtual 'love pack'
One of our favorite touchpoints at Customer Thermometer is 'the love pack'. It's a little treasure trove of goodies we like to surprise select customers with from time to time. They'd always contain a few candy bars, some branded stationery, cartoon puzzles and a copy of whatever great new book on customer experience we think is worth reading.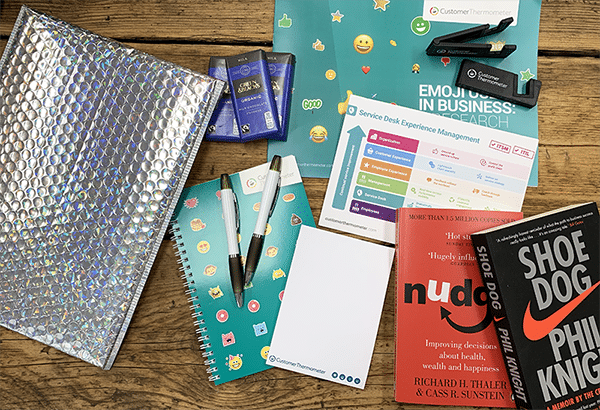 It's not a tactic for every business, but it's the way we like to roll. From a business perspective, it's a good way to keep top of mind with our customers. At the very least a talking point for the next discussion, and a sincere way of showing that we value their ongoing custom.
With people no longer working from their offices, sending love packs in the mail no longer made sense. But rather than just stop, we 'virtualized' them.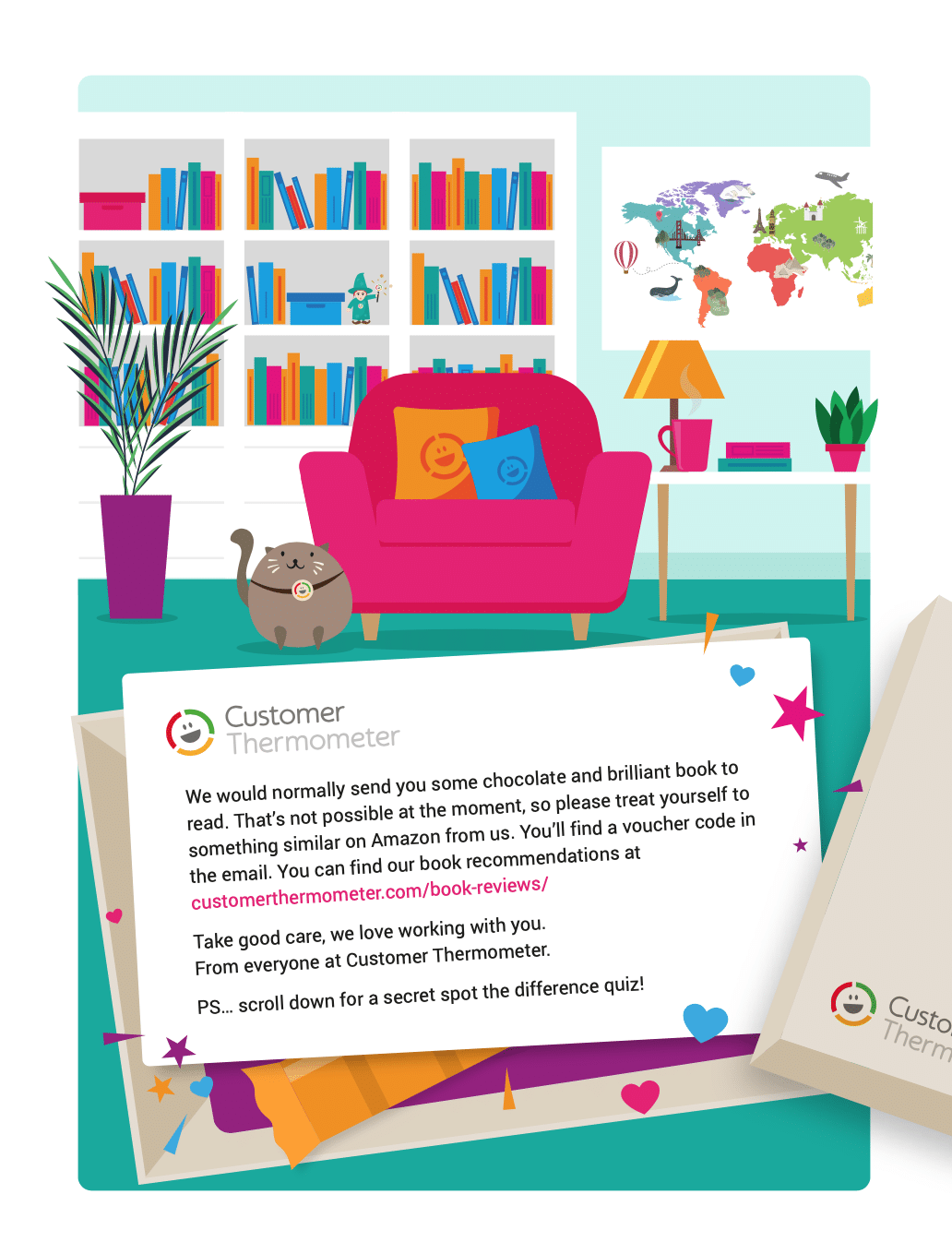 Customers received an email rather than a parcel, with enough e-vouchers to treat themselves to a sugary treat and a good book plus (just for fun) a PDF'd spot the difference puzzle!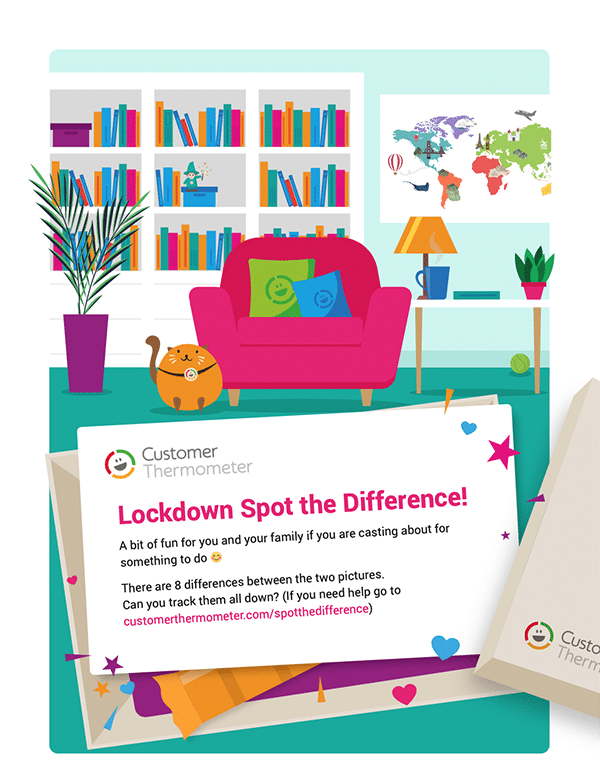 Was it worth it? Absolutely. We got a great response and at least as many customers as usual took time to acknowledge their gift. More importantly, we created an additional touchpoint with our customers – or rather, we preserved one!
Digital touchpoints are just as important as physical touchpoints
Customer Thermometer can help you map your customer journey and make the most of your newly digitalized touchpoints. Get started on a free trial or get talking with one of our expert team – we're here to help!
https://www.customerthermometer.com/img/digital-customer-success.png
248
710
Lindsay Willott
https://www.customerthermometer.com/img/[email protected]
Lindsay Willott
2020-09-21 17:45:46
2020-09-21 17:45:46
How to do digital customer success and delight