The truly great sports teams don't just get great results. They each have their own unique character that inspires loyal fans. They set standards for the next generation to beat.
And what about the acclaimed teams from TV and film like Ocean's Eleven, The A-Team and Ghostbusters? All feature their own blend of skills and experience directed at achieving a single shared goal.
We feel the same about some of the all-star customer support teams out there. Here we profile 3 of the best and what you can learn from their illustrious achievements.
Forget the A-Team – Meet the gTeam!
Makeup and skincare brand Glossier are practically worshipped for their awesome approach to customer support.
It all stems from a genuine curiosity about customers that makes the team eager to instigate and facilitate personalised one-to-one interactions.
"Instead of limiting interactions with customer service, which is the norm in the industry, we strive to create conversations with our customers," said Jessica White, the executive director of customer experience, in an interview with Digiday:
A bride-to-be wrote in panicked that the website was out of Haloscope highlighter, which she was hoping to use on her wedding day. One of the gTeam messaged everyone in the office to find out if they might have an unopened Haloscope sitting in their own makeup bags to send. They tracked one down and sent it her way. The newlywed was so pleased, she sent some of the wedding pictures back to her gTeam contact.
Unlike many other customer support teams, gTeam is fully integrated into the Glossier company and its input is sought internally on everything from product development to marketing content.
CEO and founder, Emily Weiss calls it the "people-powered beauty ecosystem." Her advice: "Involve her. Don't just make her feel involved. Reward her… Say thank you. Use that feedback loop."
Ocado – Putting Robots in Their Place
Ocado is a multi-award winning UK online supermarket that has grown from zero to £1.5bn revenues since 2002. It uses automation in a big way, with distribution warehouses run by robots that pack grocery bags and prepare orders with precision.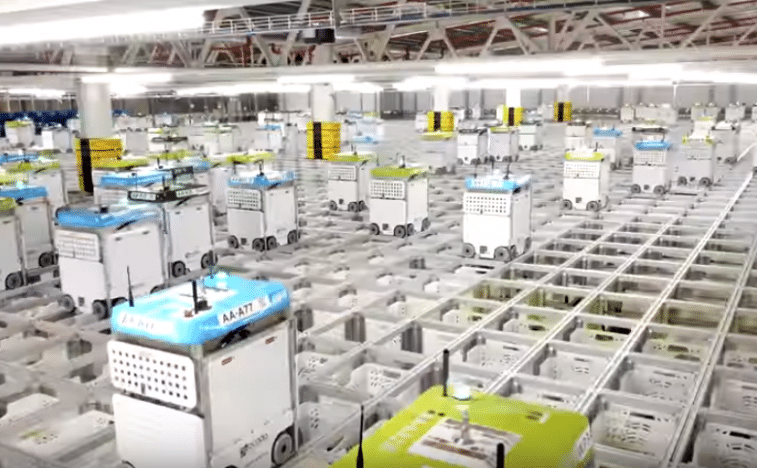 But technology can be impersonal, which is why Ocado won't let automation anywhere near its customers – instead putting humanity at the heart of its customer support operations. Got a problem or need to complain? Ocado not only makes it super-easy, but also makes you glad you bothered.
Here's what happened when vegetarian Clare Lauwerys emailed a complaint after getting an Ocado offer for free groceries containing meat:
I got an automatic reply saying they aim to respond within 24 hours. And they did. And it was a lovely reply. Not a standard form letter, but written by someone who had taken the time to understand why I wasn't happy. It had a personal touch as well as an explanation and an apology. It also contained a voucher I can spend it on whatever veggie treats I want. As a result, they have a someone who will shop with them again and will tell people about it. Winners all round.
What's remarkable about Ocado is the scale it operates at without diluting this customer-centric commitment. You'd expect personal customer care from a small firm offering a premium product, but this is a major corporation processing around 260,000 orders per week for groceries and similar goods with slim margins. It serves 600,000 customers! But the investment in a skilled and committed customer support team is clearly worth it.
Under the Spell of The Ministry of Magic
We're so proud of our own Customer Thermometer customer support team, and their recent success winning a Gold Stevie Award for Customer Service, that we just had to include them here. We call them our 'Ministry of Magic' – the name inspired by a customer who suggested we name all customer service agents 'magicians'.
It fits because customer support teams need an edge to help differentiate their overall service offer from competitors – something more than just hitting response times or similar metrics. Something that makes people happy. You might call that care or love or heart or soul. We call it 'magic'.
The sense of tribal identity that comes from being part of the Ministry of Magic makes for a cool working environment, where all the team understand their guiding objective: looking after customers as much as possible, all the time. We even have a training manual for new recruits, "Good Customer Magician, Bad Customer Magician" that breeds the right attitude as well as teaching best practice.
As fun as that all sounds, the underlying purpose is deadly serious. Like any business, we want to be successful and beat the competition. In the last year, the Ministry's results have delivered an average satisfaction score of 95.8% and a customer retention rate of 88%.
Tips to make your customer support team more like these
Give them a positive purpose. Get them motivated to aim high and aspire to make a difference. Thinking in terms of 'damage limitation' only is highly damaging.
Give them an identity. Living up to shared standards and practices is easier when your team feels like a team and shows up like one.
Be human. Empower support agents with the time to personally address customers who've had a bad experience. Give them the resources to react faster and try to make it better with refunds and/or appropriate gifts.
Be proactive. Engage with customers' stories and experiences. Go further than empathizing with customers to truly understand them and use this to feed back into the business.
Integrate customer support with the rest of the business. Use it to escalate real-time intelligence into decision making, product development, marketing and other business functions.
Keep the faith. Stick with it as a long-term project to enhance your customer reputation. Don't become one of those companies who 'used to be great at customer service' before you got too big and successful.
Get feedback about how your customer service teams are doing in real-time with Customer Thermometer, give it a spin for free:
https://www.customerthermometer.com/img/3-customer-support-teams-you-should-know-about-blog-header.png
248
710
Lindsay Willott
https://www.customerthermometer.com/img/[email protected]
Lindsay Willott
2019-03-04 07:03:00
2019-03-13 03:18:32
3 customer support teams of the future