If you haven't begun to use Customer Thermometer, you won't have experienced the challenge of dealing with lots more customer feedback than ever before. This is what happens when the feedback floodgates open; having to plan how to respond to, interpret and report against customer feedback at scale. The new Agent View feature from Customer Thermometer is designed to help – enhancing performance by giving faster, more flexible customer feedback visibility right down to each customer-facing agent.
Why agent-by-agent customer feedback matters
A key opportunity with customer feedback is highlighting the performance of individual customer-facing employees, or 'agents'. Looking into feedback at an agent-by-agent level should allow you to:
Identify which agents are getting the most positive feedback so you can pinpoint the reasons why

Find which agents get the worst feedback and intervene as necessary

Create motivational leaderboards that further encourage best practice.
This goes hand in hand with your wider customer feedback strategy which can look more holistically at feedback in general to:
Build bespoke processes for dealing with common forms of feedback

Drill into customer feedback content to enrich internal training materials

Develop a system for translating customer feedback into improvements to the customer journey. 
However, the opportunity that's frequently overlooked is giving agents their own view into customer feedback performance –not just having that data available to managers. Making this a reality encourages agents to take greater ownership over their customer feedback results, as well as the individual learning opportunities that arise off the back of specific interactions. And while Customer Thermometer has always supported this capability, until now it's been necessary for agents to log into their corporate CT account. That's all changed thanks to Agent View. 
How Agent View optimizes customer feedback success
Agents are the ones who typically send CT feedback surveys out to customers, either through emails they send or via automated workflows that generate email notifications assigned to their ID. With Agent View they can view the results of these surveys, presented in a dashboard with a number of preloaded data visualization templates.
Agent View is still in beta, which means the feature is free to use and will remain so, in perpetuity, for however many agents you set up on CT before its full release. Here we explain how it works – more details are available here. 
How to set up an agent
The Agent View feature will first need to be enabled by a member of the Customer Thermometer Success or Support team. Once done you can start to set up your agents and their personalized dashboards. Please note you must be a Global Admin in order to complete this.
To add your agents head to your Users tab in the Account area and then enter your agent's email, ensuring to tick the Agent box and Send invitation boxes only.
How to customize agent reporting dashboards
Once the agent is added you can then start customizing the dashboard they'll view by clicking the magnifying glass icon.
Learn more by watching this video.
There are several default report options to choose from including:
Satisfaction ratings

Temperature ratings

Net Promoter Score (NPS®)  

Rating count

CSAT

Happiness factor

League table
You can choose four ribbon graphs and then optionally show a customized table breakdown.
Below is an example of creating a dashboard for a specific agent. Naturally, you should ensure that any reporting data that you want to display in your dashboard is first being captured by your Customer Thermometer. For example, if you are not capturing a department name in your reporting, you will not be able to create a report on a specific department.
Here is a video with more information.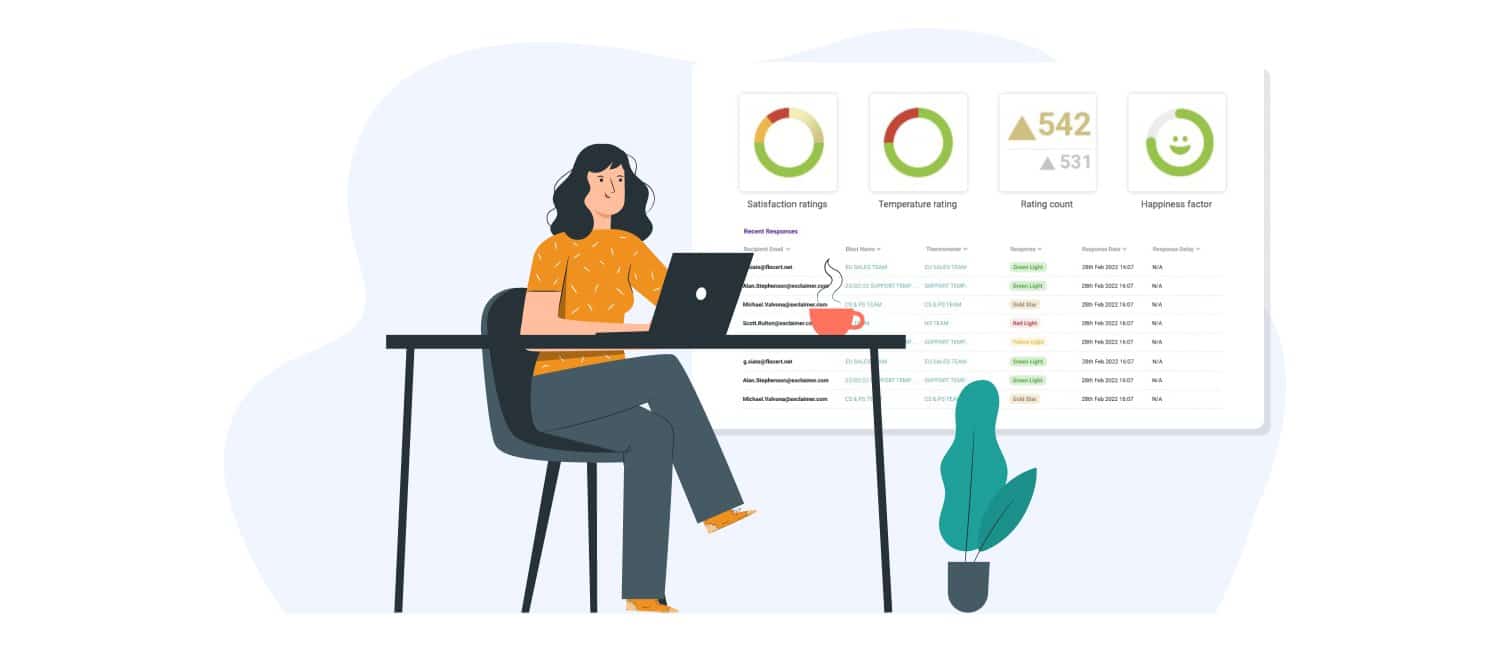 How agents can use the dashboard data to improve their performance
Agent View really opens up the power of CT to a wider user base by enabling agents to access live data that's directly applicable to them. Each agent can use their unique login and password to be taken to their own dashboard created by you. This limited, read-only access ensures complete data integrity as agents do not have access to the main Customer Thermometer portal and cannot make changes or edits. They can, however, filter on date ranges to view their stats within that range.

Agent View is a great way to make customer feedback data more transparent across your organization, by making it instantly available to the customer-facing employees who helped generate it. To see how easy it is to build a customized view of feedback on an agent-by-agent basis, contact our Customer Success team to have it enabled or experience a demo.
https://www.customerthermometer.com/img/Blog-38.jpg
496
1420
Elisabeth
https://www.customerthermometer.com/img/[email protected]
Elisabeth
2023-03-30 11:45:45
2023-03-30 11:45:45
Personalized dashboards with Agent View