We've learned a lot working with IT MSPs around the world. Like how the leading MSPs use customer feedback to maximize lifetime value (LTV) and create significant business advantages.
We've published a new playbook full of bright ideas and best practices, designed to help MSPs boost value in every aspect of their business: from service design and development to marketing, pre-sales, sales, onboarding processes, training, in-life support, staff retention and contract renewals.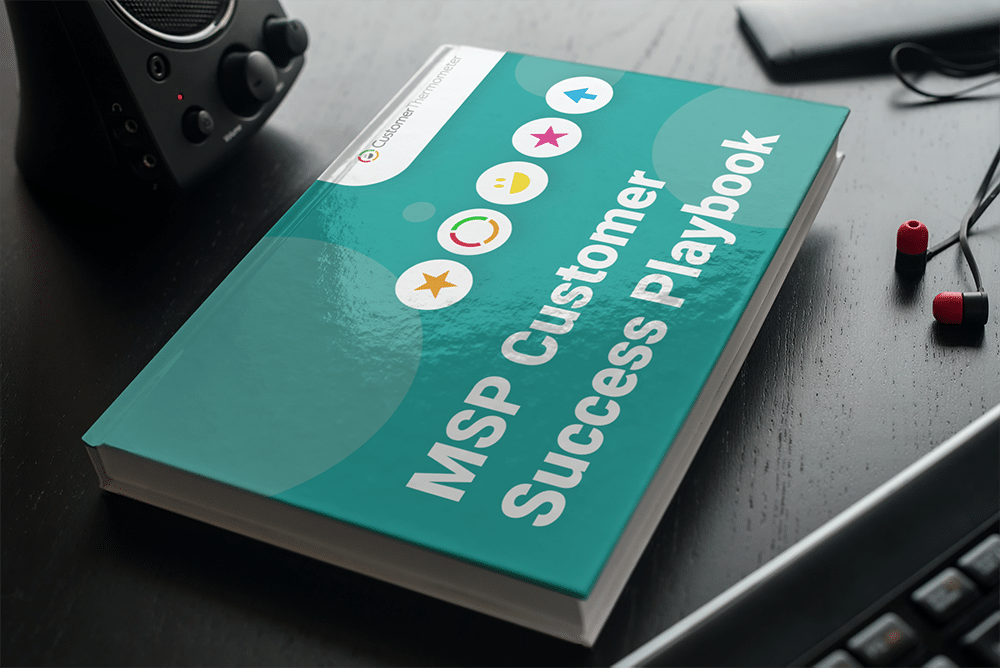 Why the best MSPs harness feedback
MSPs provide services that their business customers depend on, to a standard way beyond what the customer could do themselves. Demand for MSP services is growing because customers value the business continuity and opex flexibility you get from cloud-based IT.
The result is a highly competitive market, with new and established MSPs vying for attention and market share. Many potential customers remain yet to migrate from legacy on-premise IT and need reassurance and a strong marketing message to convert. Those who've already taken the leap could be at risk of switching to another MSP, but rarely because of price.
In fact, according to research from Kaseya, an MSP customer is 19 times more likely to switch because they are unhappy with the service they are getting, rather than due to price.
MSPs are geared up to make the most from asking for customer feedback
As the new Customer Thermometer MSP Playbook explains, MSPs are in a unique place regarding their CS and CX opportunities:
They have a significant number of customer touchpoints, each of which represents a chance to elicit and learn from customer feedback.
They already use ticketing systems and processes to measure the impact of customer interaction: a great starting point for driving greater value from feedback.
They are services companies (the clue is in the name!) and need to keep this front and center in their attitude to customers (i.e. it needn't dilute their value as technical specialists).
They know how important it is to engage customers well at the outset, onboarding services smoothly to set the tone for a good ongoing relationship.
They typically target progressively upselling existing customers onto larger services plans, and need solid foundations on which to have those conversations.
They engage with their customers at multiple levels, often with business, financial and technology decision-makers on one 'plane' and IT users on another. They need to ensure satisfaction for both groups is optimized appropriately.
They understand how important it is to keep pace with individual customers' changing needs, both from technology and business perspectives, in order to stay relevant and reduce churn.
Start by mapping the customer journey
At the heart of good MSP customer practice is creating a typical customer journey map and plotting all of the relevant touchpoint opportunities. A standard MSP customer journey has 4 stages:
Pre-sales & sales
Onboarding
Usage, support & service
Renewal & growth
Within these will be specific touchpoints such as "initial user training", "in-life support issue" or "QBR". You can flesh out a complete journey map by considering sample questions to ask customers at each of these e.g. "did you get everything you needed from the training?", "how did we perform on your service request?", and "what more could we do for you?". Think beyond simply asking "are you satisfied?" or "would you recommend us?" You can also plot the systems governing each touchpoint (e.g. CRM, ITSM) so that these can be readily integrated with your feedback process.
Fresh insights need to be learned from
In the context of the customer journey, there really isn't a bad place or time to ask for feedback. Just make sure you ask in the right way and make it quick and simple. There's even a good case for asking for feedback from customers who've just terminated their service. In fact, that kind of insight could be very valuable. In the words of Bill Gates: "We all need people who'll give feedback – that's how we improve."
Customer feedback is pretty useless when you fail to act on it. Many CT customers in the MSP space have designed great ways of responding to feedback, good and bad. For example, following up customers who've given 'Gold Star' responses with a special thank you and an invitation to join a Beta program for a new service. Or participate in a video testimonial for mutually beneficial brand building. Likewise, following up customers who've given negative responses with an appropriate and timely apology, and a genuine desire to understand their problem and do whatever it takes to make it better.
MSP users of Customer Thermometer also share similarities in how customer feedback is used to motivate employees and inform the best, most impactful internal training programs. And it's not just the customer support agents who experience these benefits – it's the whole team whether they're customer facing or not!
Putting customer success front and center
Another great idea is flipping customer feedback collection from being a back-office affair into more of an externally visible process that reflects your company values. Being forthright about your commitment to listening lets customers understand what having you as their provider will be like.
Your whole customer delight framework can be used as a differentiator!
MSPs are using customer feedback in all sorts of ways. They're using it to increase NPS and other CSAT metrics, improve offerings and improve a host of business processes. MSPs are also using feedback far more frequently then the classic 'annual' survey, and eliciting some amazing response rates.
Check out the MSP Playbook above to find out how you can best apply flexible, fast customer feedback to improve how your business engages with customers and operates more generally.
——–
If you're ready to get started on seeking feedback from your customers, we can hook you up with a free trial account here:
https://www.customerthermometer.com/img/MSP-customer-success-playbook-header.png
248
710
Lindsay Willott
https://www.customerthermometer.com/img/[email protected]
Lindsay Willott
2020-07-14 10:37:31
2021-06-14 14:37:08
The Ultimate Guide to MSP Customer Success