It's very clear from the newest research I've been reading, and compiled below by Customer Thermometer, that long format survey methods are not keeping up with the changes in customer expectations and behaviour. The typical customer survey response rate is often below 2%.
Think about how we all now interact. It's all short format. Much of it is visual: Facebook, contactless payment, Instagram, paperless boarding cards, Snapchat… the list goes on.
Customers' attention spans are rapidly diminishing.  People know what their time and input is worth. Will anyone really be filling in long online survey forms 10 years from now?
We compiled some pretty astonishing facts about the way customers have changed in the last few years. We explored this in a recent article for MyCustomer.com, where our CEO Lindsay Willott explained how these changes in customer behaviour can really can really affect your survey response rate.
If your survey response rates are down, these stats will help explain why:
Interesting survey response rate facts infographic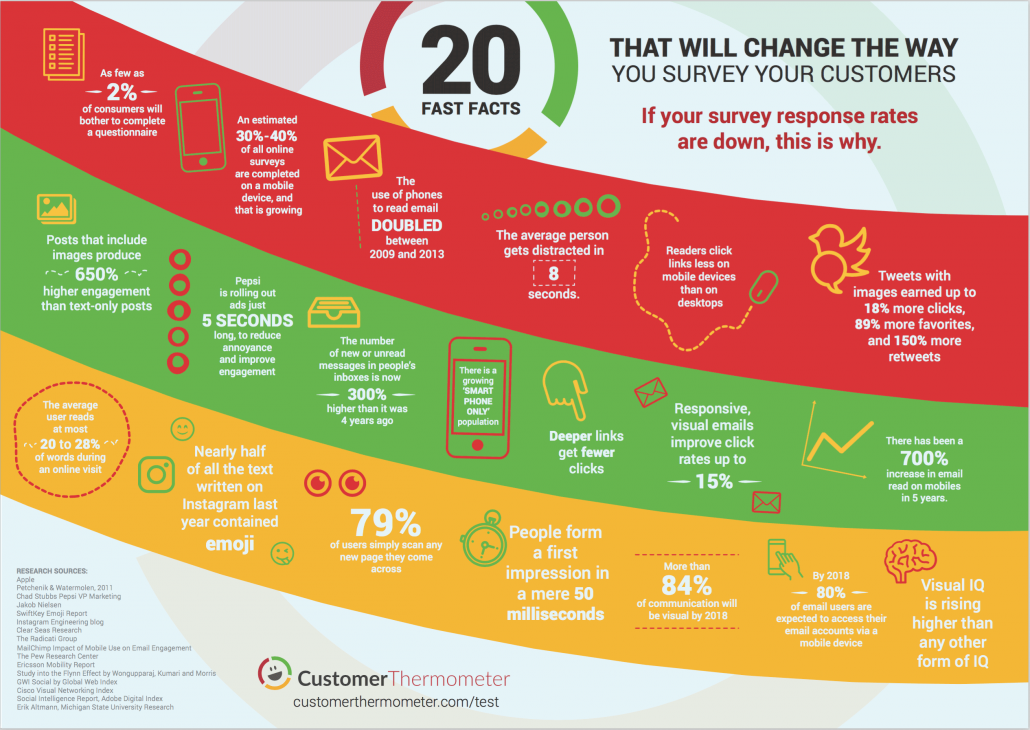 Combatting a low customer survey response rate
These trends are worrying, because businesses need feedback. It's impossible to perfect staff training without customer feedback. It's a real challenge to uncover the "unknown unknowns" that exist in your business without customer feedback. Creating awesome new products and services becomes nigh on impossible.
It's critically important that customer experience professionals don't bury their heads in the sand if they experience a low customer survey response rate. If yours are down, not only are you missing out on information you need but your results will probably be hugely skewed by just the angry people who could be bothered to respond.
We've written a full post 14 Ways to Improve Your Survey Response Rate which will help you combat a low or declining customer survey response rate.
Want this customer survey response rates stats infographic as a PDF?
Download it here:
Liked this? Get more customer survey assets and resources from Customer Thermometer:
https://www.customerthermometer.com/img/customer-survey-response-rate-statistics.png
248
710
Lindsay Willott
https://www.customerthermometer.com/img/logo@2x.png
Lindsay Willott
2016-06-13 09:00:46
2018-08-31 11:04:50
20 Customer Survey Response Rate Facts | Infographic