When creating and distributing a new survey, people often want to know what response rate they are likely to receive. And unfortunately, because response rates are influenced by a multitude of factors, it's never easy to forecast.
But, by being aware of recent survey response rate metrics, along with key influencing factors, you can establish some realistic expectations.
What is a Survey Response Rate?
Survey response rate is generally represented as a percentage. It's calculated by dividing the number of respondents by the total number of surveys sent. So if, for example, a survey is distributed to 1000 people and 200 of them complete it, then the survey response rate would be 20%.
The big question is whether this is a good, poor or average survey response rate.
The Good, The Bad and The Average
An article published in April 2018 determined that the average survey response rate was around 33%, but it acknowledged that there are many influencing factors. So what is a good survey response rate?
Typical Survey Response Rates
A survey response rate of 50% or higher should be considered excellent in most circumstances. A high response rate is likely driven by high levels of motivation to complete the survey, or a strong personal relationship between business and customer.
Survey response rates in the 5% to 30% range are far more typical. Businesses with little person-to-person contact with customers can expect response rates at the low end of this scale.
Surveys distributed from unknown senders tend to receive the lowest levels of responses.
Factors Affecting Survey Response Rates
There are many factors that influence survey response rates, with varying levels of impact:
Distribution Method: Web-intercept surveys which use non-intrusive pop-ups to optimally present the survey when a potential respondent is engaged in brand-interaction (e.g. on a business website), or has just completed an interaction, can deliver response rates as high as 83%. The experiences of respondents are fresh in their minds which increases the likelihood of response.
Industry: There can be significant differences in survey response rates from various industries. Also, as previously noted, B2B surveys tend to have notably higher response rates than B2C.
Brand Recognition: Surveys distributed by well-known, recognized brands tend to attract better response rates than those carried out by unknown organisations.
Demographics: If your target groups are millennials and baby boomers then you are likely to see higher survey response rates than from people aged 65 and over.
Simplicity and Size: Complex, lengthy surveys involving long questions with bewildering answer choices will get far lower response rates than simple surveys with minimal questions.
Respondent Relationships: If potential respondents have a relationship with a brand or organisation they are far more likely to respond to a survey request. An established relationship involves trust which influences survey response rates.
Incentives: Often, the most significant incentive for a potential respondent to complete a survey is knowing that their opinions are valued and will result in real improvements. Other forms of survey completion incentives, such as discounts, freebies or preferential treatment, will also help to deliver great response rates.
Survey Invitation: When, where, and how you ask for a survey to be filled out is vitally important.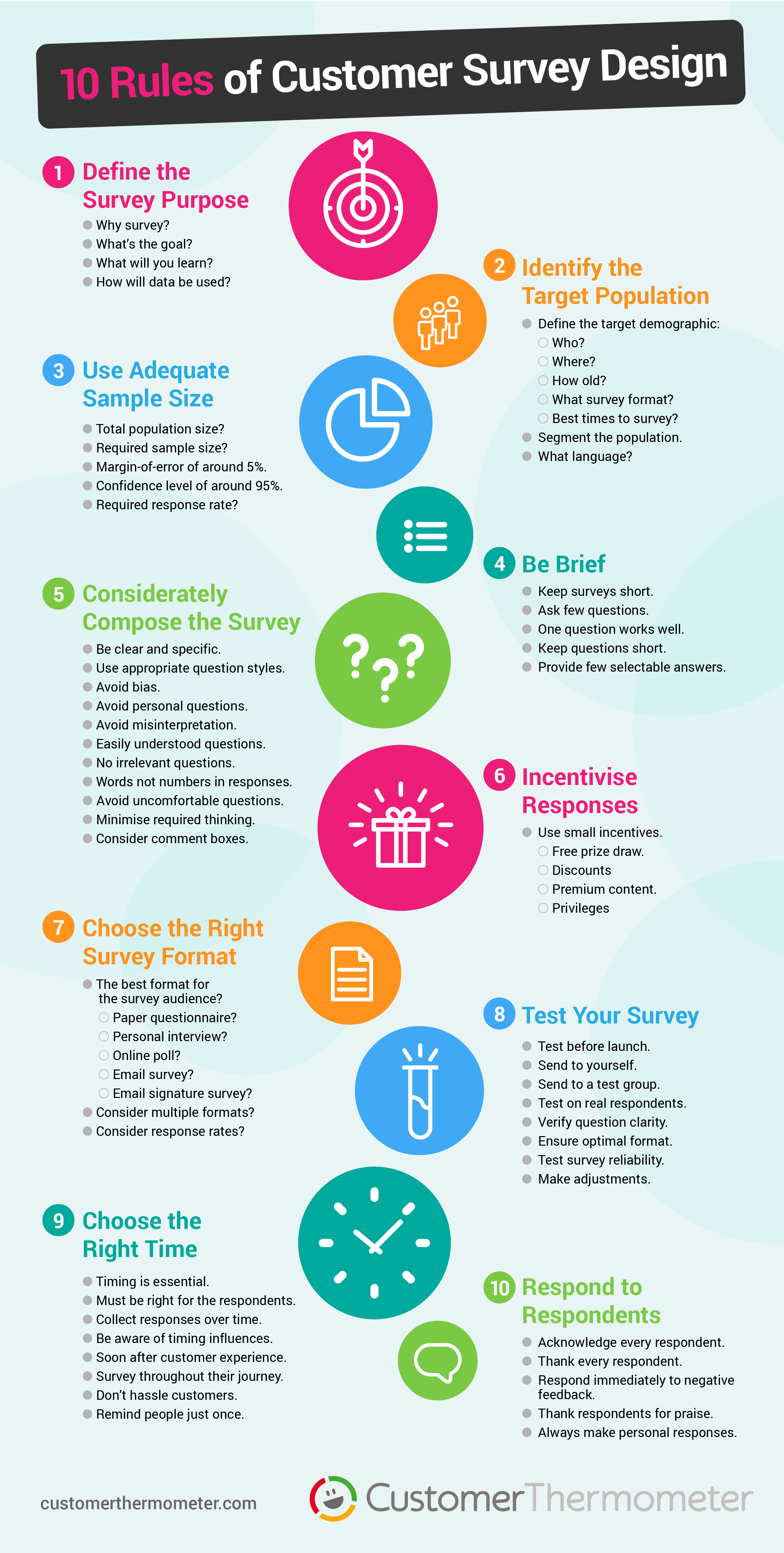 The Issue with Long Form Surveys
Long form surveys are laborious and time-consuming for your customer, and can actually result in an almost 0% response rate. Furthermore, what you might find is that the only customers motivated to fill out long form surveys are the unhappy ones, which can severely imbalance your score.
In contrast, 1-click feedback offers a light-touch and fun way to measure customer feedback. Customer Thermometer customers find response rates from anywhere between 50 and 85%, after previously receiving little to no feedback on their old long form surveys.
What is Your Acceptable Survey Response Rate?
While it's useful to understand the factors affecting survey response rates, alongside some typical figures, what's important to most organisations is what is acceptable for them.
An acceptable survey response rate for any business or organisation is one that provides the information necessary to make valid business decisions. This is calculated with statistical metrics:
Confidence level

A measure of how confident you need to be in your results.

Margin of error

Based upon the standard error and confidence level.

Standard deviation of the sample

The standard deviation of the survey responses is a measure of the spread or range of scores.
Standard error is equal to the standard deviation.
We'll be looking at how to calculate acceptable survey response rates in a subsequent post. Here are some additional blog posts we've written on survey response rates recently.
How to Distribute Surveys for Great Response Rates
Survey Email Subject Lines for Great Response Rates
30 Customer Survey Response Rate Facts
What Survey Response Rate Should I Expect?
14 Ways to Improve Survey Response Rates
---
Want to improve your customer survey response rates? Customer Thermometer's 1-click survey will up your feedback game. Send yourself an example:

https://www.customerthermometer.com/img/Average-Survey-Response-Rates-What-You-Need-to-Know-Blog-Header.png
248
710
Lindsay Willott
https://www.customerthermometer.com/img/[email protected]
Lindsay Willott
2019-07-12 10:04:55
2019-07-12 10:07:04
Average Survey Response Rate – What You Need to Know