Businesses strive to deliver a great customer experience that's unique to their brand. That means bringing the brand into every customer touchpoint – including when collecting customer feedback. Even here, there are cool things you can do with feedback icons to keep your brand front and centre.
On-Brand customer feedback survey icons
Fast customer surveys need feedback icons that customers can click without thinking. This keeps the survey process fast and frictionless. Many of today's feedback icons are heavily influenced by emojis. Emojis are used billions of times every day, after all. Everyone knows what they mean – particularly younger demographics. Simple smiley face feedback icons and traffic light colours are among the most commonly used.
Going this route is great for instantly recognisable survey icons. It's a well-worn path, which means nothing ever has to be explained to customers. If people choose not to respond, it won't be because they didn't know how to answer. 
There are lots and lots of examples in our feedback icon playground to explore.
Customer feedback icon survey 'real estate'
It's really important to bear in mind how powerful feedback icons can be. Sticking to tried and trusted feedback icons naturally means having the same or similar feedback icons as everyone else. The survey itself should always be branded up with your logo and brand colors, to create points of difference. But should you choose to go beyond the standard feedback icons, you're harnessing a sizable piece of customer-visible real estate upon which to push your brand a little further. 
Which got us to wondering, what can brands do to emojicize meaning into their customer feedback response icons? In other words, instead of giving customers a standard range of feedback icon options – what if they could really let loose with on-brand creativity?
The artistry of on-brand customer feedback survey icons
Numerous Customer Thermometer customers have wanted to customize their feedback icons, and we've been only too happy to help.
Our Custom Shop takes that concept to the next level. Not just facilitating something a little different, but working out how to make the whole feedback experience totally on-brand.
It's an experiment at this stage – a 'spray cans in the subway tunnel' art project – but take a look and you'll see where our thinking is going.
Some of the examples we've created are intended to chime with well-known brand properties. For instance, the various incarnations of the Toad character from the Mario franchise for Nintendo.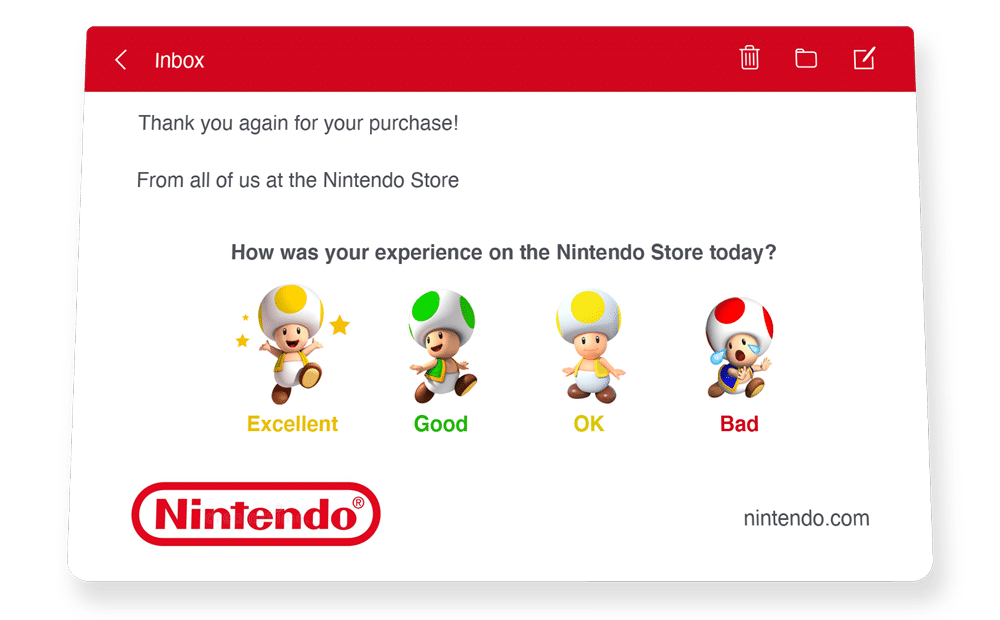 In others, like Pets at Home, each feedback icon is replaced with photography (of some seriously cute pups!). In every case, the key has been to use our imagination and work out what customers of these brands might expect as part of a consistent experience.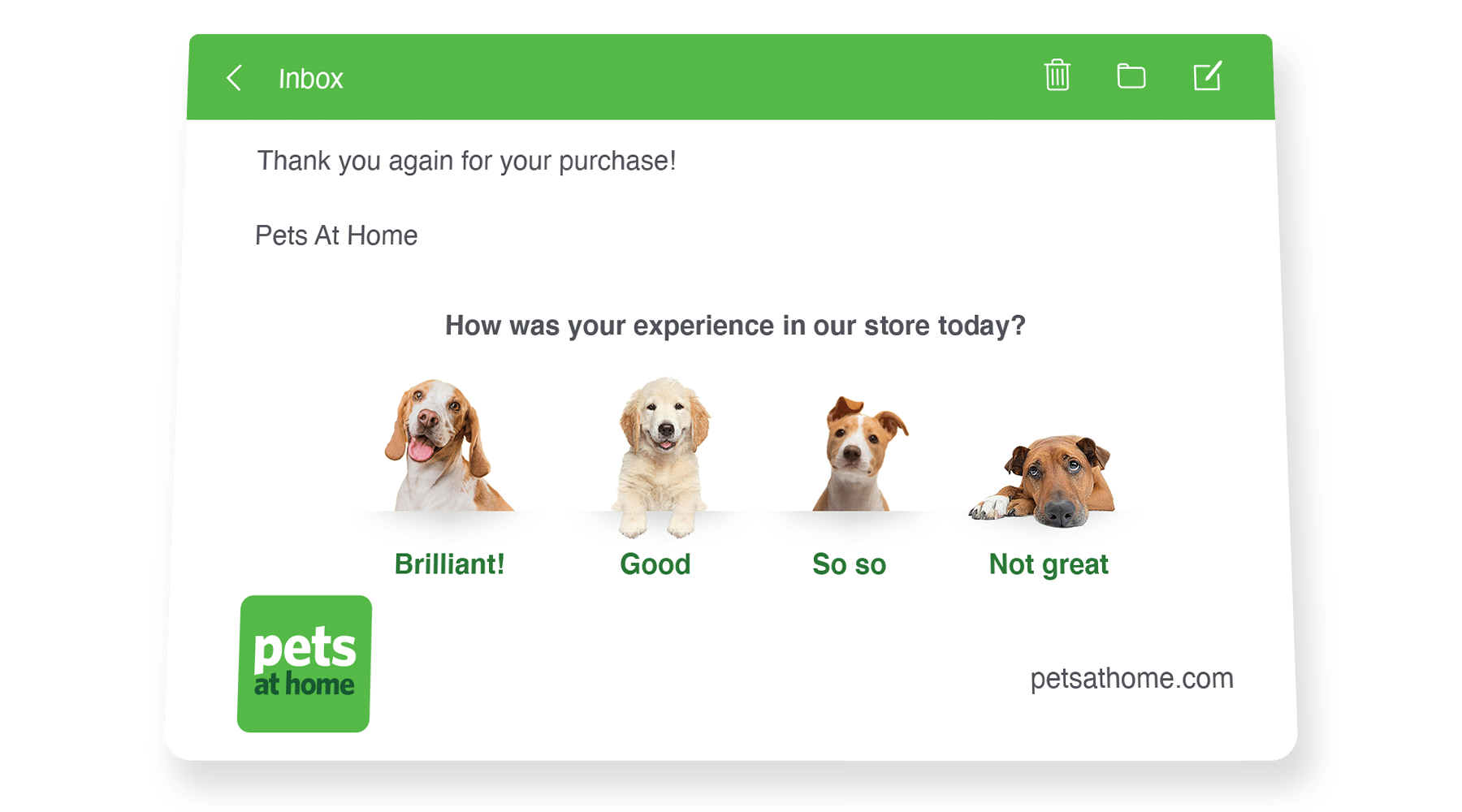 Unique customer feedback survey icon options for unique brands
You can have great fun with this, and we certainly have. Working on a variety of famous brands with instantly recognizable visual cues is great for the creative process. But remember the objective is making meaning – there are no prizes for coming up with something pretty, just for the sake of it.
Get that right and then move onto your own brand. See the journey through your customer's eyes: what will spark their recognition, raise a smile, show that you're being thoughtful and consistent?
Consider inviting your customer support team into that process as well as the marketing experts. Customer heroes have just as much to contribute as brand experts! And bear in mind that your choices have to be equally applicable to customers who are in a bad place, as those who want to shower you with praise.
Branded custom feedback survey icons updates
The Custom Shop has got lots of people talking and the feedback from customers and others has been great. We'll doubtless be adding more to the rogue's gallery of top brand feedback icons in the coming months. So check back to see the latest creations.
In the meantime, if this inspires you to dream up on-brand feedback icons for your brand (or anyone else's!) then we'd love to see them.
If you're inspired, you can create your own Custom Icons and send them out at no charge with our free trial. Just complete the form below and get cracking!
https://www.customerthermometer.com/img/On_brand_survey_icons.jpg
496
1420
Lindsay Willott
https://www.customerthermometer.com/img/[email protected]
Lindsay Willott
2021-08-11 11:18:21
2021-09-02 14:36:26
On-Brand Customer Feedback Survey Icon Ideas Your Customers Will Love