Emojis are everywhere on messaging platforms, and messaging platforms are even more popular than social media (which is also saturated with emojis).
Bottom line: it's an emojitastic world out there, and everyone including grandma is emoji-literate.
Going beyond emoji faces on a customer feedback brand continuum
It all started with faces: smiley faces, sad faces, faces that go "meh". Now there are thousands, and while standard face icons are still powerful ways of showing emotion, they are vastly outnumbered by all the rest.
Which got us to wondering, what can brands do to emojicize meaning into their customer feedback response options? In other words, instead of giving customers a 1-5 scale – what if they could really let loose with on-brand creativity?
And lo, the Customer Thermometer Custom Shop was born.
State of the art on-brand customer feedback
Numerous Customer Thermometer customers have wanted to customize their feedback icons, and we've been only too happy to help.
Our Custom Shop takes that concept on to the next level. Not just facilitating something a little different, but working out how to make the whole feedback experience totally on-brand.
It's an experiment at this stage – a 'spray cans in the subway tunnel' art project – but take a look and you'll see where our thinking is going.
Some of the examples we've created are intended to chime with well-known brand properties. For instance, the various incarnations of the Toad character from the Mario franchise for Nintendo.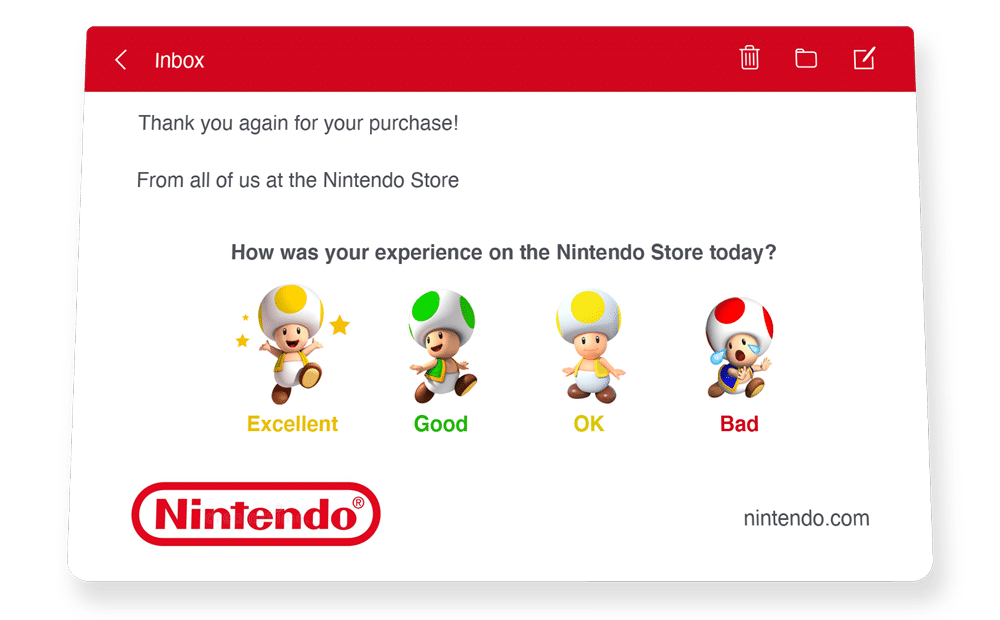 In others, like Pets at Home, icons are replaced with photography instead (of some seriously cute pups!). In every case, the key has been to use our imagination and work out what customers of these brands might expect as part of a consistent experience.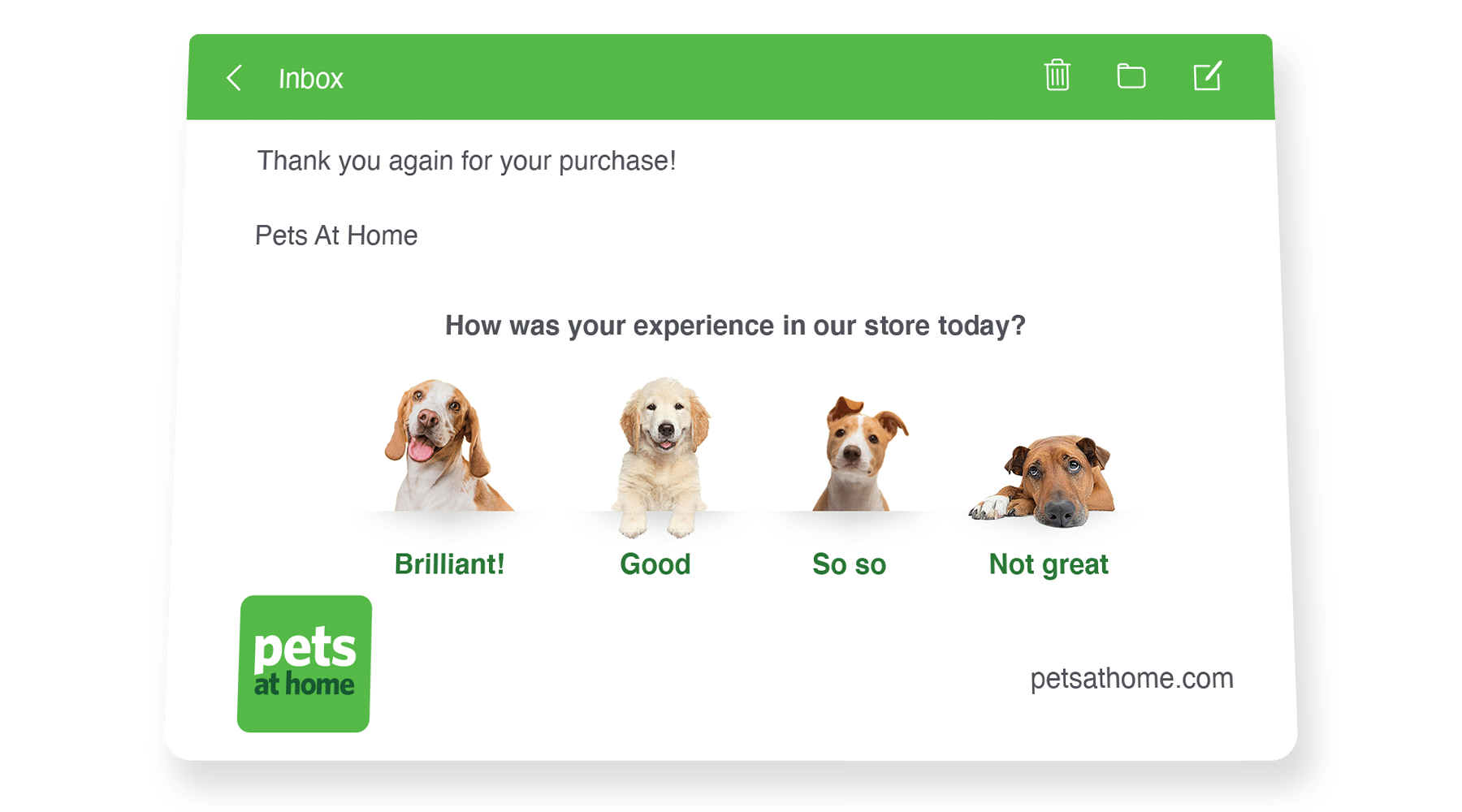 Unique feedback response options for unique brands
You can have great fun with this, and we certainly have. Working on a variety of famous brands with instantly recognizable visual cues is great for the creative process. But remember the objective is making meaning – there are no prizes for coming up with something pretty, just for the sake of it.
Get that right and then move onto your own brand. See the journey through your customer's eyes: what will spark their recognition, raise a smile, show that you're being thoughtful and consistent?
Consider inviting your customer support team into that process as well as the marketing experts. Customer heroes have just as much to contribute as brand experts! And bear in mind that your choices have to be equally applicable to customers who are in a bad place, as those who want to shower you with praise.
Check back for updates
The Custom Shop has got lots of people talking and the feedback from customers and others has been great. We'll doubtless be adding more to the rogue's gallery of top brand feedback response options in the coming months. So check back to see the latest creations.
In the meantime, if this inspires you to dream up on-brand feedback options for your brand (or anyone else's!) then we'd love to see them.
_______________________
If you're inspired, you can create you own Custom Icons and send them for free with our trial, or choose from our gallery:
https://www.customerthermometer.com/img/custom-brandable-feedback-survey.png
248
710
Lindsay Willott
https://www.customerthermometer.com/img/[email protected]
Lindsay Willott
2020-10-11 11:18:21
2021-05-05 12:42:38
On-Brand Customer Feedback Icons Bursting with Creativity and Meaning