So, now we know that 1-click feedback is a great way to get genuine and real-time customer ratings in email. But now the question is, how do we do this in the most effective – and awesome – way possible?
We have a few of our own for our customers to use, but we've also seen a lot of great examples from our customers over the years, and we wanted to share some of the really brilliant features that can help to go that extra mile.
Customer Ratings in Email: Our Top 6 Examples
Bring in the Colour!
It might sound obvious, but making sure you've got feedback buttons that are eye-catching and engaging will really push those customer response rates. Our example below shows bold and varied word icons that are noticeable yet simple in style.
In a world full of Instagram and Snapchat users, we are learning to appreciate the value of visual engagement in the way that people communicate online – including in the workplace – and this is no exception!
Keep it Simple
Our MSP example below includes pops of eye-catching colour, but it's mainly kept pretty minimal. Simple star ratings in email, or things like ticks and minus symbols really make it clear what customer rating options are available.
Retention rates in short-form, simple surveys are great, not just because they're short and sweet, but because they don't ask long and complex questions with unclear options. In the example below, all we are asking is if you'd give us a lovely green star for our service.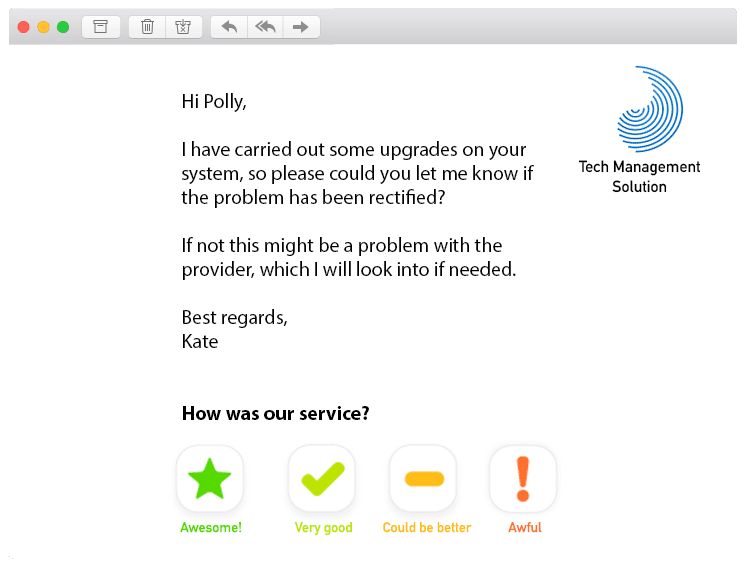 Customize to your Brand
This example of customer ratings utilizes the retailer's brand to get customers engaged. Not only are they making use of the power of emoji, but using brand-specific versions give that little bit of extra character for the customer to connect with the company.
1-click customer ratings in email are all about fun and engaging ways to relate to your customers and motivate them to give feedback, and what better way for this pet shop than with little emotive dogs?
Create Your Own Pizza (and Icons)
There are plenty of 1-click buttons for customer ratings in email out there, but why not think about your company's logo and branding and come up with your own?
Not only are you personalizing to your brand, but it's consistent and pretty pleasing to look at, too. Here's how you can do it with Customer Thermometer.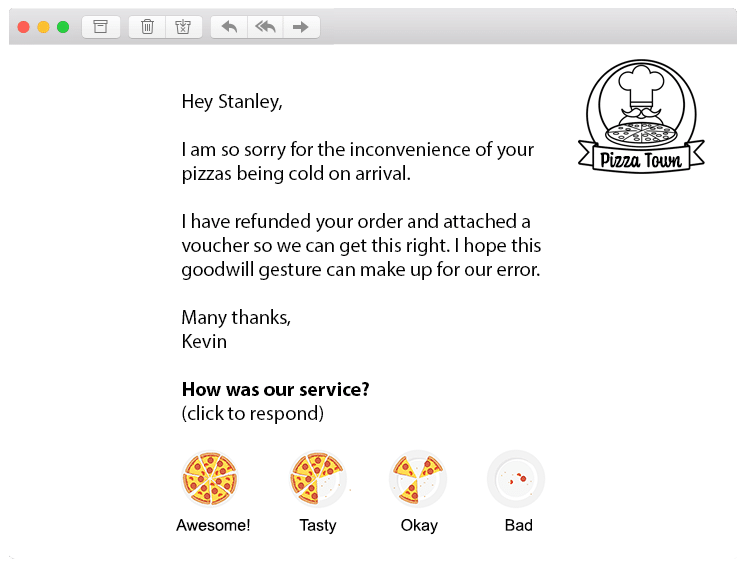 Relate to your Audience
This example comes from a university, where you'd expect to find a lot of Generation Z students leaving customer ratings in email. A generation that's grown up with social media is likely to feel very familiar with clicking a thumbs up or down to leave feedback, so it's a wise choice.
It's a great idea to think about your target audience and what icons might really relate to them to get them well and truly engaged.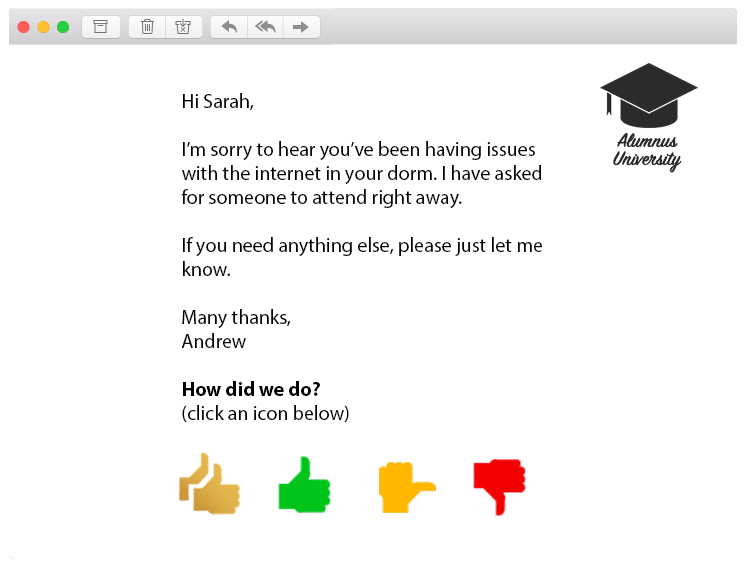 Go for the Original
World Emoji Day is celebrated on July 17th, so we think it's very apt to mention them. Our example of customer ratings in email below uses some of the most commonly used faces in emoji, so it's going to hopefully capture a lot of your audience.
Smiley faces in email also keep things light and personable – text underneath can be added to clarify the meaning of each button, but really these faces are pretty universal.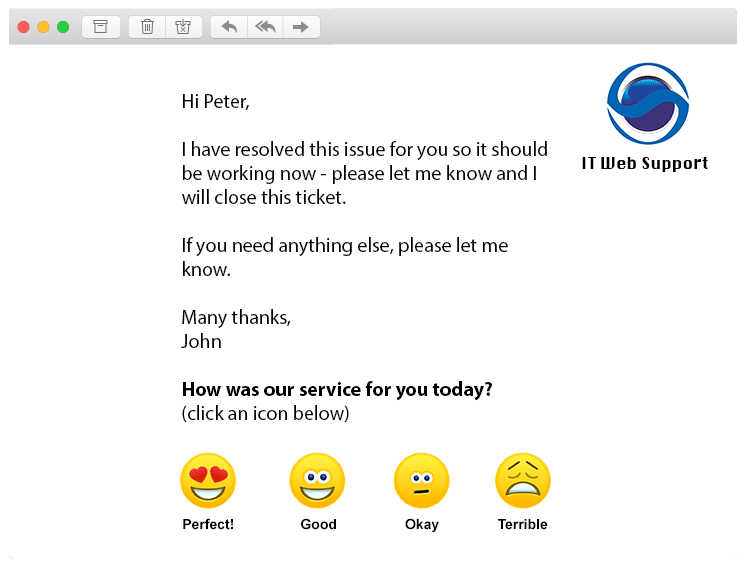 Hopefully we've got you thinking about all the ways you can get awesome, customizable icons in your 1-click feedback setup. If you want to give it a go for yourself, look no further…
If you're looking for a better way to get customer feedback, give Customer Thermometer a try for free. We're like the Instagram of customer feedback; simple, quick and visually-engaging:
https://www.customerthermometer.com/img/6-awesome-customer-rating-examples-header.png
248
710
Sophie Leaver
https://www.customerthermometer.com/img/[email protected]
Sophie Leaver
2019-07-19 14:34:14
2019-07-19 14:34:14
Customer Ratings in Email – 6 Awesome Examples