Embed a survey in an email: Do you know what your customers think of your email?
You can easily embed a survey in an email to understand how customers feel about the service being given by your business.
Everybody from your support team to your sales team, through to the people in your front desk and reception, are answering customer, supplier and stakeholder emails every minute of the day. Do you know what your customers think of the emails they are receiving from you?
What if you were able to see on a customer-by-customer basis, how they feel about your email responses, like this…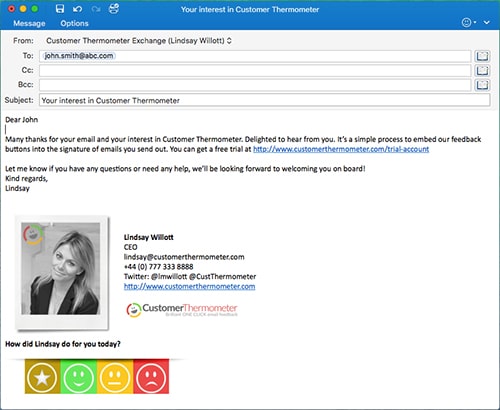 By allowing your staff to send emails, you empower them to become part of your customer support and marketing team. What they say, and how they write, really matters.
Email makes up a huge percentage of your company's communications efforts.
Don't believe me? "The average corporate user sends and receives 125 emails a day." (Source: Radicati Tech Research Group)
Or, take a look at this blog. This little post has had a load of shares, all over a great customer service email the blogger received from Shopify:
"Bottom line is, no matter how many times we get impressed by the big, fancy features of a product, little things like these (a great customer service email) still matter to your customers and would definitely get me sticking with their services for that much longer." Aaron Lee
There are hundreds more examples of this from all over the web, from Lego and Zappos through to Sainsburys and Amazon.
Your customer-facing email matters. So instead of burdening your customers with long feedback forms, why not embed a simple survey in the email you send them to get their instant feedback? Customer Thermometer works with Outlook and Gmail, as well as most leading CRM, helpdesk and customer service systems.
Embed a survey in an email today. Try Customer Thermometer for free:
Need a bit more info about why to embed a survey in email you send?
It's our firmly-held belief that written communication will become one of the most important skills of the 21st century.
If you want to know whether your team's emails are up to scratch, embed a survey in email coming from your customer-facing teams. A simple click and option for the customer to leave a comment is all that's needed to get real, actionable management information flooding back.
Let your customers know you care about their email feedback by asking them to rate the emails your staff send.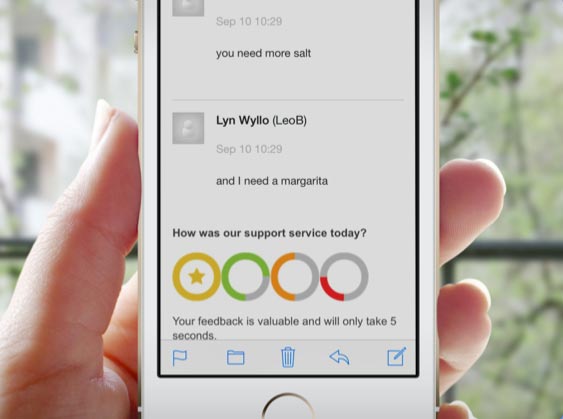 Think about how much email your business sends to customers
Today, email is the most vital comms channel for any customer service organisation. Long queues in call centre call management systems are the exception rather than the rule, because we all email businesses we deal with, and expect them to reply in short order.
This has brought with it is huge change in the habits of the average worker. All businesses dealing with customers, now spend a great deal of time communicating with those customers via email. So much in fact, that the average worker spends 28% of their work week on email related tasks (Source: McKinsey)
This brings with it a host of challenges, as well as opportunities. It means that your staff not only need to have the ability to communicate effectively, they also need to have the ability to write effectively and to understand the tone of voice of the customer's email effectively, in order to generate the right reply. After all "Good communication is the response you get".
What's even more important now is that when that email is sent, if your customer has waited several hours or full working day for it, that the email fully answers their question. In so many cases, the agent has replied quickly and not accurately answered the question, causing immense customer frustration.
Embed a survey in an email today. Try Customer Thermometer for free:
https://www.customerthermometer.com/img/embedded_image3.jpg
600
1200
Lindsay Willott
https://www.customerthermometer.com/img/[email protected]
Lindsay Willott
2016-09-18 11:53:37
2016-09-29 13:09:46
Embed a survey in an email – get great email feedback