Your audience has changed.
Is the online survey you're planning on running in the future fit for purpose?
Consider the following:
Communication has become abbreviated.
A large percentage of emails are now opened on mobile devices.
Customers REALLY dislike filling in long surveys.
Long online surveys make it hard to respond to individual customers quickly. Anonymous surveys make that impossible.
This current generation of customers grew up with Facebook. They can "like" things in a second. If it's faster for your customers to jump online and write a negative review than to fill in your online survey, you've got a problem.
By the time you find out they're unhappy, it can be too late.
Have you tried filling in the customer survey you're about to send out on your own iPhone or Android phone? Go ahead and give it a try…. chances are it isn't fit for purpose but you're sending it out of habit.
So, why not change the game right now?
The alternative online survey which actually works!
Customer Thermometer allows you to send one click surveys to your customers, staff or partners. It can then alert  you in real time to incoming responses. Follow up and you can find out what went wrong for that customer and fix things, before they become out of hand. Things do go wrong – everyone accepts that. It's how your business deals with problems which ensures you stand out from the crowd. Have you experienced the service recovery paradox?
Think of Customer Thermometer as your own easy and quick private feedback network. Stop the bad word getting out by responding to issues quickly.
When embedded properly, we've seen our customers drastically reduce their bad online reviews on Tripadvisor and Yelp. On the flipside, you can encourage public reviews from people who leave you positive 1-click Customer Thermometer ratings, using our customizable Landing pages.
How to evolve your company's online survey
We've put together a simple infographic for you to explain our points. Why not download it today and hold a discussion with your team?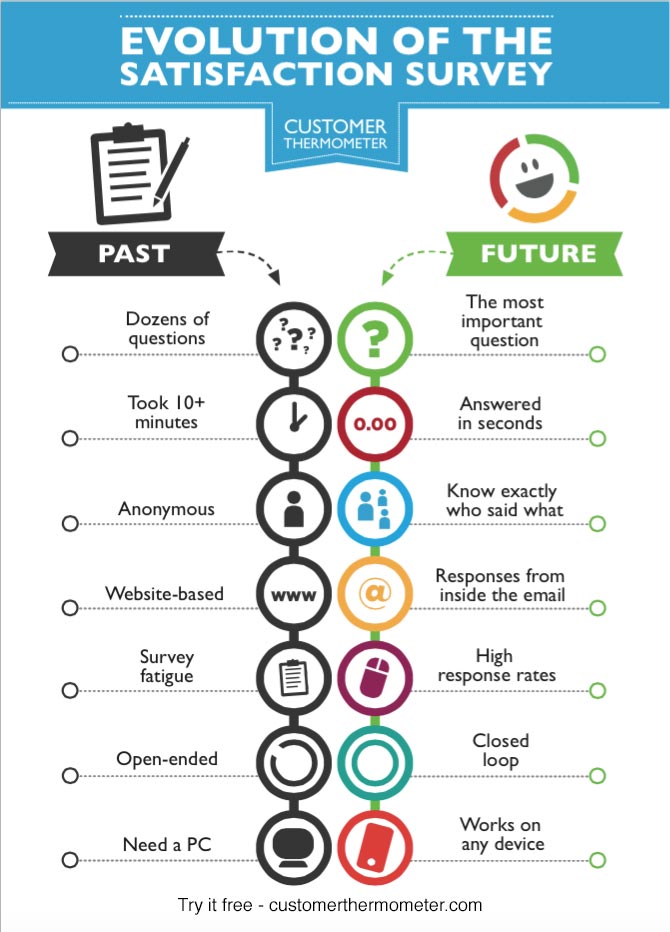 Is the tool you're currently using only in place due to lethargy or habit? Things change. People change. Survey fatigue really is a 'thing' today.
There are some other questions for you to consider below…
What results is it getting for you?
How are you changing your processes as a result?
What is your response rate?
Do you act of feedback?
Do you bonus your teams on performance, based on ratings?
Why not join the survey revolution? Instead of response rates of less than 3% on your customer survey, how about response rates of 30%+ … all the way up to 90%+ for the most engaged customers?
You can test us out in minutes – sign up for a free account today:
https://www.customerthermometer.com/img/survey-evolution.png
248
710
Lindsay Willott
https://www.customerthermometer.com/img/[email protected]
Lindsay Willott
2016-06-14 09:00:15
2018-08-31 11:04:50
The evolution of the online survey